Currently, there is a tendency in US banks to shift from issuing tap-and-pay cards. Instead, they are promoting usage of a branded digital wallet with virtual cards for contactless purchases. This solution is intended to help banks save money they would otherwise spend on physical cards and promote their brand.
Mobile wallet offers a reliable and convenient payment option for users. The world is swiftly transforming into an all online business set up where all business transactions are being done online. As this revolution occurs, service providers are innovating virtual wallets to carry out money transactions.
Statistics for mobile wallets in the US
The US has been hit with significant progress in the telecommunication industry. Over the years, there has been a sudden increase in the number of smartphone users. According to the statistics provided by Statista, by 2022, the number of smartphone users is expected to hit over 270 million in the US. The mobile tech industry is bound to increase with the rapid growth of the market. As this growth occurs, it facilitates the rise of the mobile service providers. Companies providing e-wallet services are bound to prosper, especially with the large market demand.1

Smartphone Users in the US2
Why should you build a mobile wallet app?
The telecommunication industry is among the best performing industries in the modern society. Rapid growth is occurring in the tech world and creating huge business opportunities in that sector. There is a very big likelihood of future success for a well thought of the concept in this industry. If you can come up with a convenient problem-solving solution that makes life easy, your future is bright.
1. Convenient and reliable
Easy access to smartphones has led to the increased use of mobile wallets. With most businesses being online, you can barely use your card to physically make a money transaction, but with the aid of a mobile wallet, the transaction can be easily made regardless of your location. What happens when you forget cash at home, or you don't have your wallet with you and hence you can't access your credit card? In this digital set up, the likelihood of you leaving your phone is very low. So how convenient would it be if you could make that money transaction using your phone? That is brilliant, right? In other words, the convenience and reliability aspect of the mobile wallet has led to an increased demand making it a lucrative business idea.3
2. User-friendly
In the e-commerce market, mobile apps are being invented daily. To access some of the features in the apps include carrying out money transactions, creating the need for a mobile wallet. The e-wallet is user-friendly and at the same time convenient for the app developer, which makes it possible to easily carry out monetary transactions.
3. Easy to adapt
Mobile wallets are easy to adapt, especially for large and small enterprises. This aspect has made merchants list their businesses with various mobile wallet service providers. In the end, the digital wallet companies are making profits out of every amount of money transacted online.
4. Lucrative business idea
It's without no doubt that e-wallets are viable business opportunities, especially with the increase in the number of people accessing smartphones. The possibility of success in this business is very high.
Mobile wallet providers
There has been an influx of mobile wallet providers as the world swiftly switches into a digital set up. The e-wallet providers are targeting individuals, financial institutions, and commercial businesses. It's normal for there to be competition in a thriving business opportunity. However, premium brands tend to do exemplary well regardless of the heat present in the market.4
Some of the top mobile payments providers in the United States are PayPal mobile, Google wallets, Apple pay, Square and Visa Checkout.
Based on the findings of the global payment market report, 2017-2021the industry has grown with some of the mobile wallet providers doing exemplary well.5 The top 10 companies include:
Alibaba Group. It has its headquarters in China. In the e-commerce sector in China, it has been one of the leading service providers. The mobile wallet has rapidly spread across the world, including the US.
Apple pay. it was developed by Apple Company to help its users easily carry out online monetary transactions. 15% of the users are US residents and the remaining 85% are spread across the world.
Google pay. its formation resulted from a merger between Google wallet and android pay. Like its counterparts, the mobile wallet has been experiencing tremendous growth in recent years.
Samsung pay. consumer Electronics Company first launched the e-wallet in 2015 in South Korea. The mobile wallet is currently available in 15 countries.
Pay pal. eBay, one of the leading e-commerce formed Pay pal.it provides payment options across a large population by providing services in different languages and 24 currencies.
Square. Jack Dorsey founded square in 2009. In the modern-day is among the leading mobile wallets in the US, Canada and Japan. Its success is attributed to strategic partnerships, excellent hardware, and software solutions, and working well with different merchants.
One97 communications. it's a parent company of Paytm, one of the leading mobile tech companies in India. The company has spread globally across the years and experienced growth making in among the leading mobile payments app.
American express. The service provider was established in 1965. Its revenue is generated from products earning interest and network processing transactions. This is one of the most used e-wallets in the United States.
Citrus payment solutions. it was founded in 2011. The company offers a wide range of products, including citrus cube, Turbo-Checkout, and citrus cash application. The wallet is user-friendly as it supports a wide range of devices.
Level up. it serves more than 200 companies across the world. It's rated among the leading online food ordering platforms. The brand has acquired partnerships with leading online platforms such as Facebook and Google which has led to it acquiring more clients.5
The market of mobile payment apps is predicted to keep experiencing growth, mainly due to the large population that is embracing the use of e-wallets.
As people engage in digital currencies such as cryptocurrencies, there is an emergence of many developers in this industry. These developers are working with mobile wallet providers for the sake to smoothly carry out their monetary transactions. Some of the companies making this possible include: airbitz, bitpay, circle, coinbase, coinplug, hive, lazycoins and mycelium.6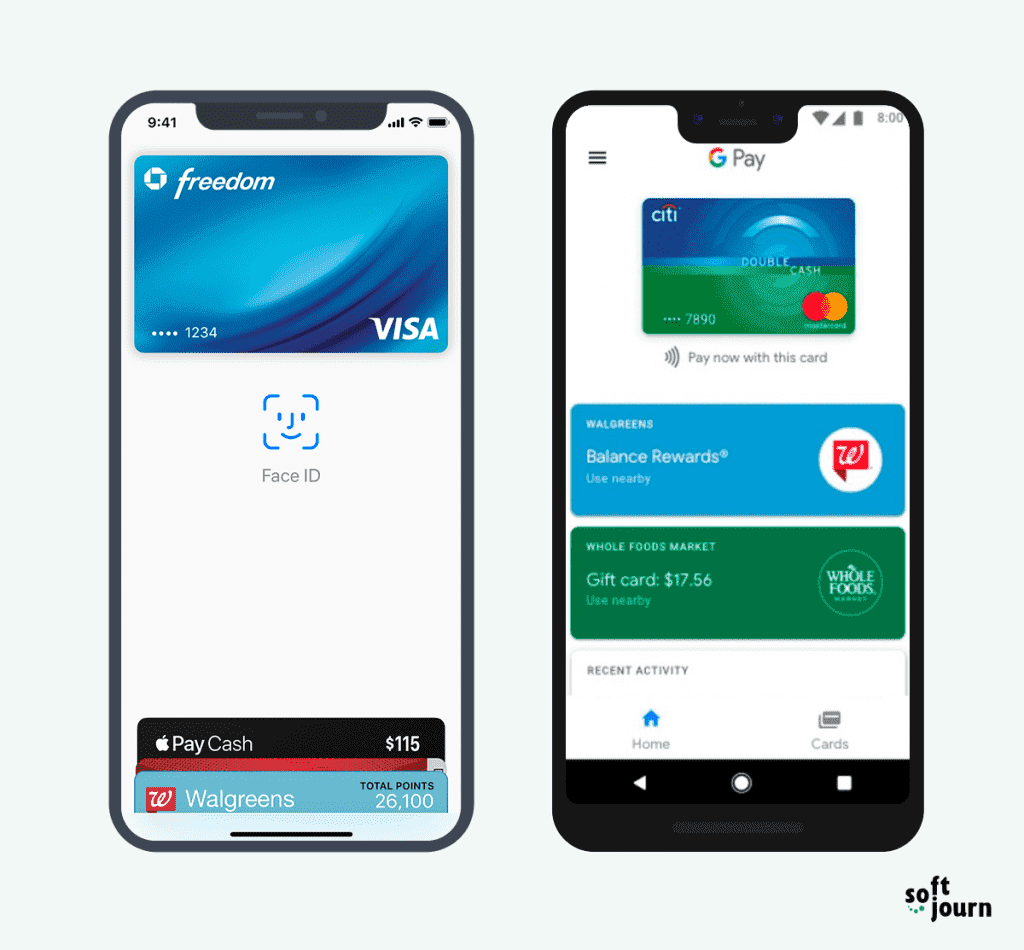 Mobile wallet integration
Digital wallet integration is mostly API-driven. When you decide to go with a particular digital wallet, the vendor provides you with an API and authorization and then you use those API features to integrate the digital wallet into your shopping cart. Below are some guidelines on how you can go about e-wallet integration:
Make it easy for consumers to manage offers. The wallet should user-friendly in that it properly records all the transactions made in a way that is easily accessible to the user. To do so, it requires to prioritize, import and sort coupons.
The mobile wallet must be cloud-based and accessible in any device anywhere. When synced across channels, the mobile wallet can easily support online and in-store purchases.
Consumers must be able to easily switch wallet providers. A consumer might fear to switch from one service provider to another in fear of losing information. To regulate this, ensure you provide an e-wallet that addresses this concern and makes it possible to retain previous records.
Ensure the consumer's privacy is maintained. By providing a system that protects the personal information provided by the client, you gain their trust.
Provide security that protects the consumer from fraud.
Incorporate a system that is certified and tested. Ensure a system is threat free and one that promotes the confidentiality of the consumer.7
How can Softjourn do?
For more than ten years, we've partnered with different financial institutions and fintech companies building creative solutions or augmenting their in-house technical teams to provide incremental technical support and project-specific expertise resulting in revenue-generating features. We help our customers to grow!
We can help you to:
Create your mobile wallet.
Integrate with third-party wallets.
Determine whether custom mobile wallet solution is within your budget for this year, so help estimate what it will take to develop it.
Analyze mobile banking apps to see how many changes are needed to meet the expected requirements if you are integrating third-party providers like Apple pay or Google pay.
There is a rapid rise in the use of online monetary transactions. Mobile wallets are doing well as technology takes over. This innovation has perplexed many and to some, it remains a metaphorical dilemma they are yet to understand. The whole idea of having your money online is thrilling. United States residents have well embraced the idea of e-wallets, making it a lucrative business idea. Investing in mobile wallets is likely to provide optimum results.