Softjourn's SaaSua Service Methodology:
Step 1: Getting Started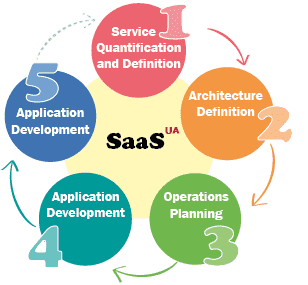 Both Softjourn and your company look at all of the questions that are involved with taking your current application and moving to a service available via the web model. The transition will be looked at from both business and technical direction.
Step 1 answers the question, does it make sense from a business perspective to develop this service or not, and if it does make sense, what functionality will this service have?
Step 2: Service Architecture Definition
The new service application needs to be architected to take in to account the expected transaction volume, security requirements, as well as functionality. Softjourn works through all necessary questions together with you to make sure the architecture works for today's solution and lasts while transaction volume is growing.
Softjourn experience includes architecting for open source solutions as well for Microsoft platforms.
Step 3: Operations Definition
Operations for a web-based service will be different than that for an installed-based application. Based on the questions that were worked through in Step 1 - Preparation, this step includes a deeper exploration of these questions and the development of a plan for initial and ongoing operations support for both IT services and customer support.
Step 4: Development
Initial development - Step 1 defined the initial look at the functionality for the new service. During this step initial functionality will be further flushed out, the new system designed, developed, and tested, all with your input. Refer to Softjourn's Agile Development methodology.
Further development - No application stands still and your service is no exception. Your company continually has competitors to beat and more market share to grab. A dedicated team which knows your application and how your company works provides optimum productivity and input in to the growth of your application. You have final say in the team structure and the extent to which you want to interface with them. For further information on possible team assembly and management models refer to Softjourn ATMua service.
Step 5: Operations on-going
Remote IT support - Your new service application will need to be hosted and managed in order to maintain the support level you need to provide to your customers. Softjourn advises on hosting firms, and negotiates for you the type of server and server support you need and works directly with the hosting firm to load your application and make it available to your clients. This includes loading any other necessary software and tools to support your application. Other activities include monthly maintenance including backups of your application for contingency and disaster recovery. Support needs can be as few as 5-8 hours a month or more, depending on the situation.
Customer support - For your initial service, customer support may consist of one person full-time for live chat support, or IM, and/or email support. The actual level of customer support to be provided will be based on decisions made together with Softjourn during Step 3 - Operations Definition. The effectiveness in both quality and quantity will be periodically reviewed together and adjustments made as needed. Over time your needs may change to include accepting in-bound calls and involve a combination of onshore resources as well as offshore.
Software maintenance - Once your new service goes live, minor changes will most likely be needed. Software maintenance will work in close conjunction with customer support tracking both immediate changes required and requests for future changes. Softjourn will advise and choose together with you, a system and methodology for tracking changes.
Your company can jump to the appropriate step within this cycle, depending on your requirements.
Wherever you are in the cycle, Softjourn can help you move forward.