To save client support and test engineer time, the Softjourn team built a solution consisting of a Web application that can be hosted on premises or in the cloud; a Web API that can run a particular scenario or automate testing a service (including load testing); and a server that receives and processes transactions. The Web application allows users to generate transactions, setting specific parameters such as a limit on daily spent, one-time transaction spend, day-of-the-week spend or other.
Users of the solution, can include a card administrator at a prepaid card service's client or a QA test engineer at the prepaid card service itself. We developed the Web interface to enable anyone, with minimal training, to set parameters and generate the transactions necessary to test a specific scenario. 
Figure 1  Transaction Workflow 
How the solution works
A card administrator, for example, has modified the message that cardholders receive via push notification when sufficient funds are not available to make a purchase. The administrator configures sample transactions simulating purchase requests that are returned for lack of funds and runs tests to see if the new message has been set correctly and the new push notification received. Another scenario could include preventing a cardholder from making purchases on Saturday or Sunday, in the situation of an expense card. 
Cardholder-originated transactions include—but are not limited to—purchases, withdrawals, deposits, refunds, reversals, balance inquiries, payments and inter-account transfers. The configured API receives an authorization request in JSON format, converts it into ISO8583 messages and passes it on for processing. The server processes the request, generates an ISO8583 response and sends it to the simulator. The simulator receives the response, converts it back into JSON format and returns it to the client as "approved" or "declined."
From the screen shown in Figure 2, the transaction simulator user can see the list oftest transactions that have been generated.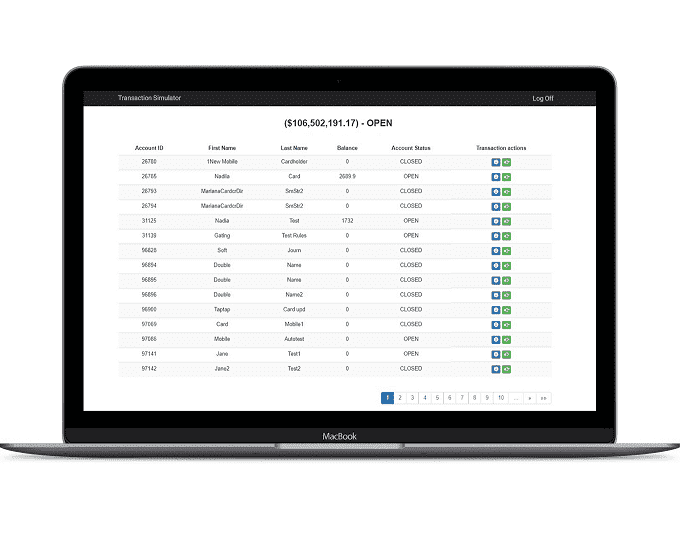 Figure 2  List of Test Transactions 
Clicking the green button for any account displays the screen shown in Figure 3: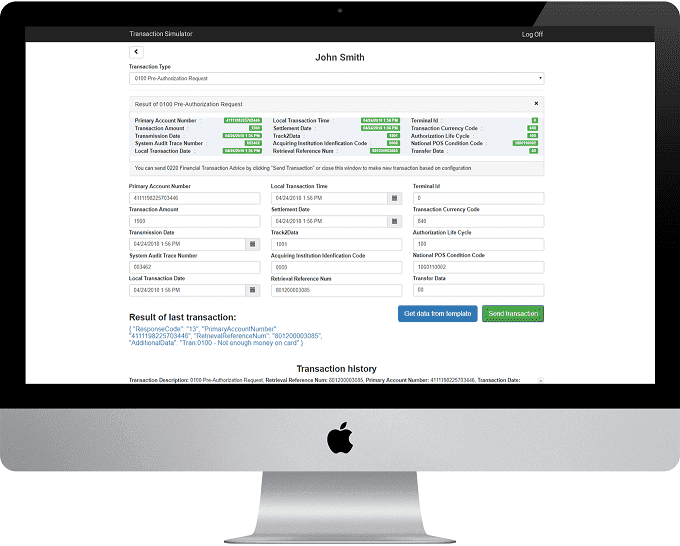 Figure 3  Test of Mobile Cardholder John Smith
The Results
The customizable Softjourn transaction simulator is an intuitive interface that automates testing of complex financial transactions. It provides a complete testing solution from origination to authorization, making it possible to test transactions quickly and efficiently, which is particularly valuable to clients in the prepaid card space. Using the detailed interface saves time as well as ensuring that testing is more thorough. This offers piece of mind when new functionality is pushed to production or when a new configuration is set for a card holder.
Additionally, simplifying the creation of transactions for users without technical knowledge frees up client support and QA test time.
Going forward, the Softjourn team plans to add testing scenarios and automate new transaction sets, as well as moving from a virtual server to hosting a transaction simulator on a client's production server.
To learn more about this project or discuss your own transaction needs, please contact us at info@softjourn.com.