Updated: 1/4/2023
Prepaid Card Industry Overview
If we were to describe the prepaid card industry in two words, we would use 'competitive' and 'expanding'. We have seen more businesses getting involved in the prepaid market arena and duking it out against the big players.
While big enterprises like American Express, Master Card, Green Dot, Kaiku Finance, and Netspend are still dominant, companies such as PayPal, Venmo, Square, and Apple are entering this highly competitive landscape.
We are seeing increasingly high user demand for prepaid cards in various markets and industries. The unbanked and under-banked population has long sought a safer way to obtain access to banking services, and prepaid cards have proved to be reliable banking substitutes. This demand has bumped the market value of US prepaid and debit card providers to rise to $15.9 billion in 2022, with a growth rate of 5.5%.
COVID-19 cannot be overlooked as an influencing factor in this industry, as it has accelerated the need for cash alternatives and overall demand for cards. Prepaid cards allow for faster payments for gig workers and are easily accessible through digital wallets.
The prepaid card market is substantial, but there is still a lot of room for expansion.
Gig Workers Prefer Prepaid Card Payments
Prepaid cards offer a solution to the issue of providing contact workers with timely payment for the completion of work. Gig work has been growing around the world for some time, and is accelerated by the pandemic. In the U.S., the labor market lost 3.9 million jobs due to Covid.2 Workers instead turned to gig work to make ends meet, with Upwork reporting an increase of 2 million within the first six months of 2019.
Contract work offers benefits for both workers and companies. Workers have more flexibility in assignments and scheduling. Businesses don't have to worry about health benefits or additional labor costs. It's predicted that by 2028, freelancers will make up more than half of the U.S. workforce.3
According to the PYMNTS 2018 Gig Economy Index, 84% of survey respondents said they would do more work if they were paid faster. This desire is difficult to meet with legacy payment systems, and gig workers contracting with larger enterprises can be subject to 90- or 120-day payment terms. This, of course, makes it difficult for gig workers to balance expenses and bill paying within those terms.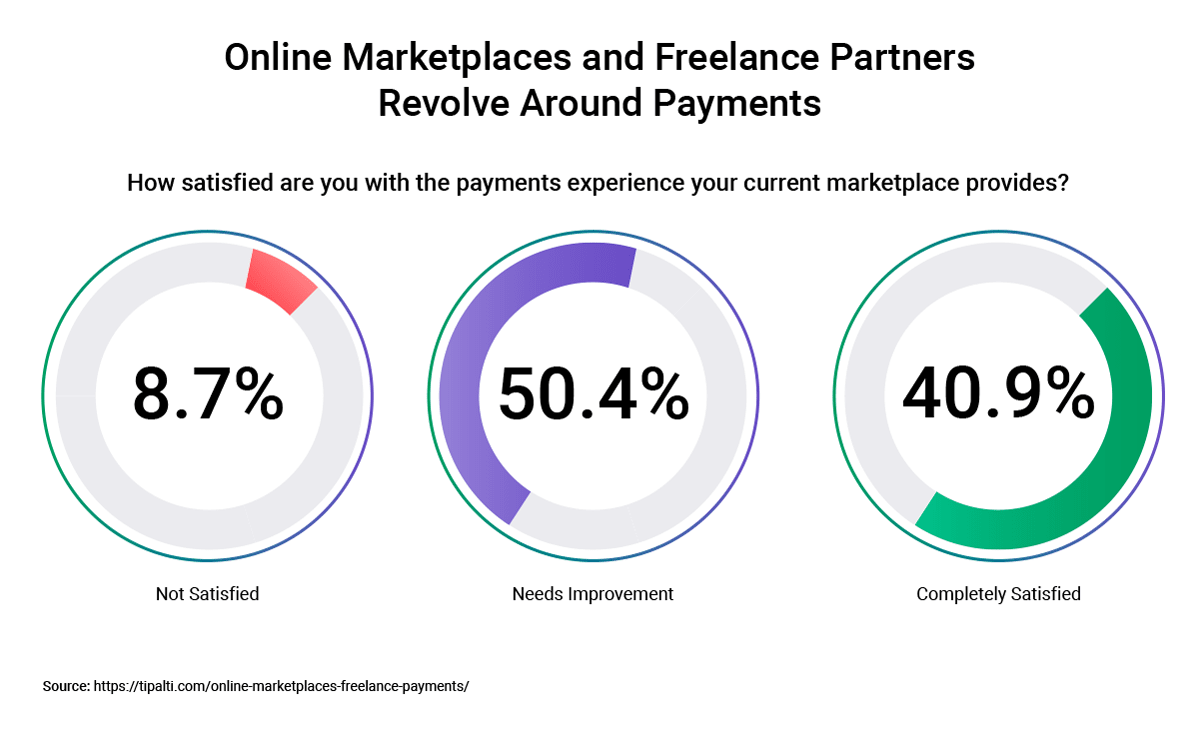 Freelancers report that their payment experience with clients could be improved upon, according to a Tilpalti study. (Credit Tilpalti)
Faster payments provided through prepaid cards help both freelancers and companies. Freelancers get paid in real time. Companies can avoid time-consuming and expensive reimbursement processes. They also don't need to collect sensitive information like bank account details required for a direct deposit. Both enjoy a stronger working relationship.
Real time payments also represent an opportunity for companies competing for in-demand contract workers with specialized skills. A new 2021 survey of independent contractors found that 40% cited faster pay as a reason why they chose to work for one company over another.4
Softjourn Insight:
Prepaid card issuers can offer batch payments for prepaid cards used to pay gig workers. This functionality could significantly decrease accounting expenses.
Growing Prepaid Card Adoption Among Millennials
Prepaid cards have become a preferred payment for millennials, often complementing other payment methods. According to B&C Media, over 29 million U.S. millennials chose to have their paycheck loaded onto a prepaid card instead of check.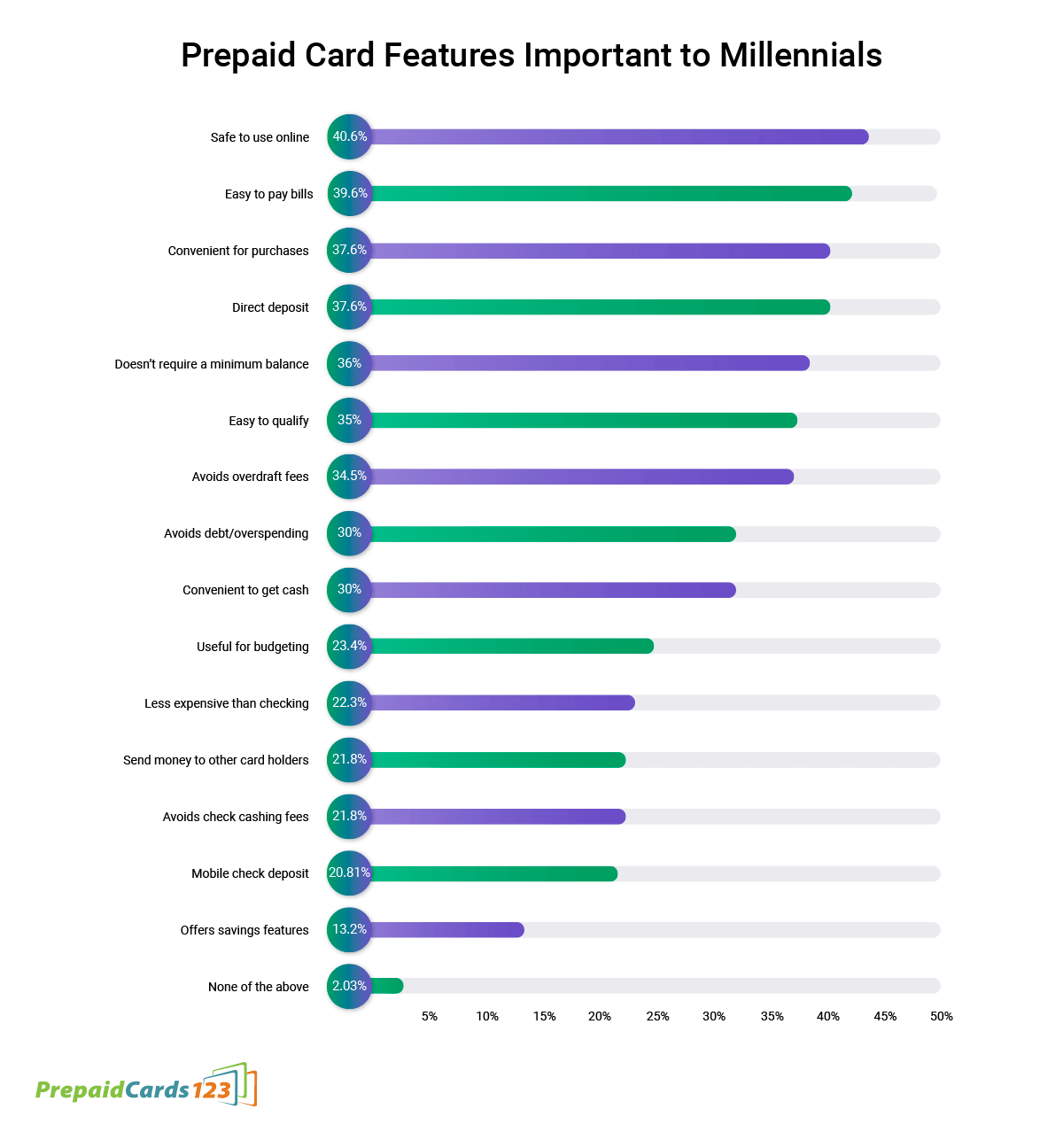 Millennials responding to an online survey reported that their most important preference in a prepaid card was online security.
(Credit PrepaidCards123)
Millennials prefer prepaid cards because of benefits like ATM withdrawals and online shopping without linking to checking accounts. They can also avoid other risks traditionally associated with a checking account, such as overdraft fees, maintaining a minimum balance, high fees, etc.
The preferences of the largest demographic in the U.S. workforce is attracting digital natives to the industry: Venmo and Square both rolled out physical and virtual prepaid debit cards that enable both in-person and online transactions.
Softjourn Insight: Millenials live fast and love gadgets. They don't want to spend a lot of time on checkouts or purchases. Prepaid card issuers should offer features that millennials prefer to capitalize on this growing demographic: quick checkouts without required registration, contactless payments, smart devices with NFC, and QR codes can all streamline the purchase process.
Virtual Prepaid Cards Take Off in B2C and B2B Payments
The pandemic forced consumer behavior changes, causing a huge spike in ecommerce. This also led to a huge uptick in using virtual prepaid cards as a security measure for shopping online. Virtual prepaid cards allow consumers to avoid revealing sensitive information online, such as card information or Social Security numbers.
Online consumers can use tools to generate new virtual card numbers that can be used with different merchants, further increasing their online security if a merchant should suffer an attack from hackers.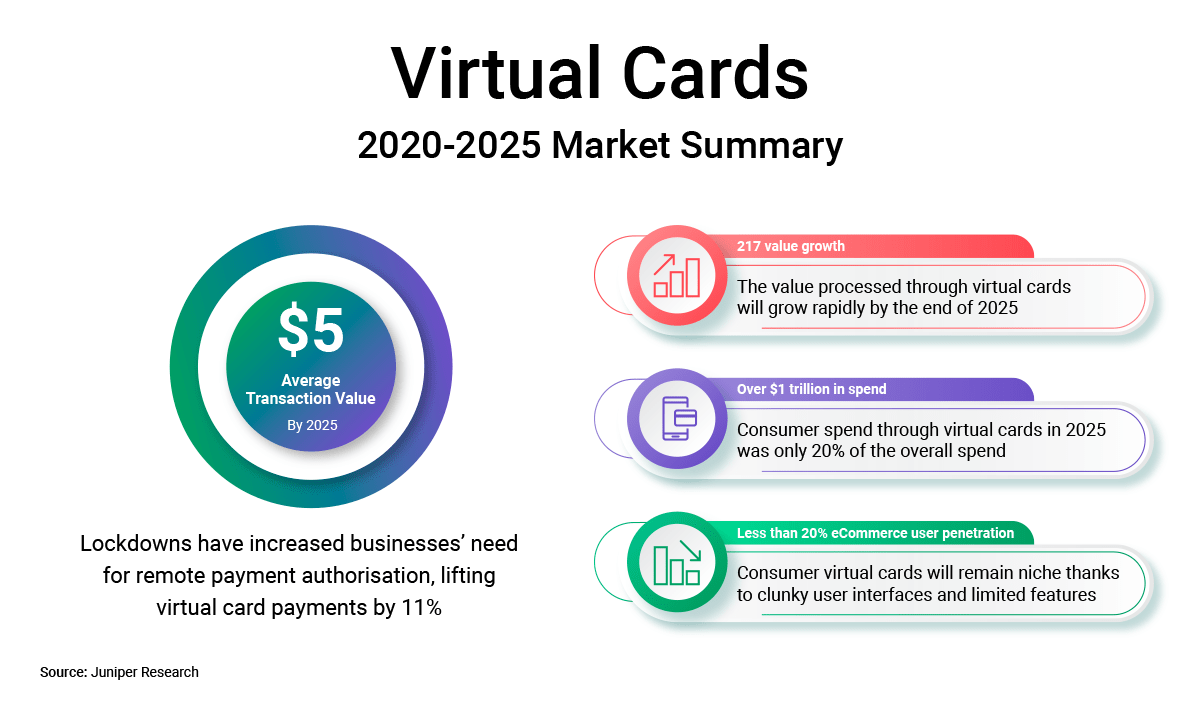 Virtual credit cards have a lot of potential for the prepaid card industry, but work still needs to be done. (Credit Juniper Research)
Netspend reported that its virtual card spending rose 793% YOY during Q3 2020, and the number of virtual card transactions grew 458% YOY during the same period.
Businesses can benefit from virtual prepaid cards as well. They can replace traditional corporate prepaid cards and improve business payments by increasing transparency, streamlining processes, and protecting businesses in the same way they protect consumers.
Softjourn Insight:
Prepaid card businesses can offer virtual cards for both online and in-store purchases. They can advertise virtual cards as another way to protect online payments, and also offer
instant digital issuance and push provisioning
to immediately add their virtual prepaid card to popular digital wallets like Google and Apple Pay for use in contactless payments at participating retail locations or for mobile ordering services like Uber.
eGift Cards Witness Robust Growth
Digital gift card and eVoucher sales grew by nearly 50% YOY in the UK as lockdowns and social distancing requirements forced consumers to buy from home.5 In the U.S., eGift sales rose 44% YOY.6 According to PaymentsJournal, websites that enable the buying or selling of gift cards saw the highest level of traffic at 16% in 2020.
There's still one problem: 46% of consumers aren't aware of these websites.
A potential remedy for this issue is tapping into social marketing, using social media channels like Facebook, YouTube, or TikTok — the latter of which is especially popular with Gen Z — to showcase their product or service. Twenty-one percent of users surveyed by Blackhawk Network said they had purchased a product directly from a social media channel.7 Thirty-one percent of respondents to an Aimia survey said their purchases were influenced by social media posts.8 Forbes has also shown that 78% of consumer purchases are impacted by social media posts.9
31% of online shoppers said their purchasing decisions were influenced by social media, especially when it comes to selecting gifts for others (61%). (Credit Amia)
Electronic gift card businesses can also lean into virtual personalization. For example, Home Depot's eGift cards let consumers upload photos or capture live video to better express the sentiment behind the gift.
Softjourn Insight: With so many social media sites to choose from, prepaid card and gift card issuers should approach social marketing strategically. Users are growing increasingly concerned about their online privacy, which Google is responding to, and are also wary of an advertising landscape crowded by brands trying to get their attention.

Partnering with influencers who already have a built-in audience can help reach business goals, but brands should also spend time on getting to know their consumer base to find ways to converse with them unobtrusively.
Prepaid-as-a-Service White Label Solutions on the Rise
10.7 billion U.S. prepaid card transactions worth a collective $290 billion is attracting outside players to the prepaid card market. Competition from tech giants like Apple, Amazon, Venmo, Square, and Paypal is forcing incumbent prepaid card providers to revolutionize their services.
And one option many are choosing is partnering with those tech giants. For example, Apple's Cash Card is powered on the backend by Green Dot. This allows consumers to use their Apple-branded prepaid card to collect and spend daily cashback earned on their Apple credit card.
White label prepaid card programs give prepaid card issuers a new revenue stream potentially worth billions.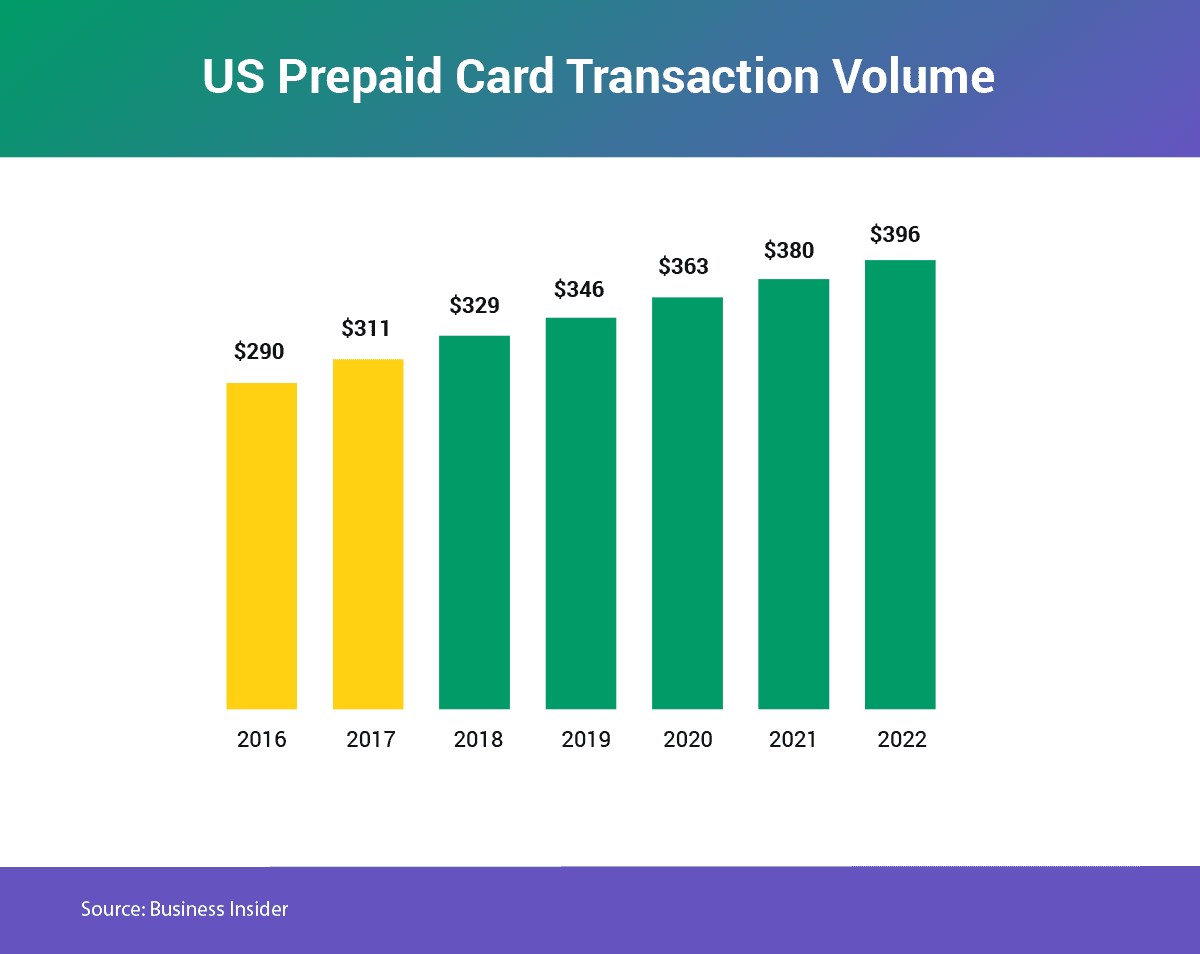 Business Insider projects U.S. prepaid card transaction volume to reach $396 billion by 2022. (Credit Business Insider)
Another example of prepaid-as-a-service is Axiom Prepaid Holdings offering a white label prepaid card program. The program allows companies to place their name and logo on a single-use or general-use prepaid Visa or Mastercard.
Axiom provides a frontend consisting of a website and portal that ties into both iPhone and Android apps, allowing for card management, spending payments, and other card services. The backend includes administrative portals, API connection, secure encryption for sign-ups, KYC, sponsor banks, call centers, and fulfillment centers.
Softjourn Insight:
Companies interested in offering white label prepaid card services need to take several areas into consideration, not least of which is fraud protection and the regulations involved. Implementing the appropriate RegTech can go a long way in complying with PCI DSS, PSD2, and others.
They should also carefully consider a payment processor that will meet their prospective clients' needs, whether that means geographically, transaction type, volume, or other. Also offering in-demand, end-customer functionalities like P2P transactions, mobile check deposit, and money management features can put them on the front foot within the market.
Final Thoughts
The volume of e-commerce sales is one of the major drivers for the prepaid card industry. Leaning on digital tools has never been more in focus, as there were a lot of changes in consumer behavior, especially following the COVID-19 pandemic.
Whether it's simply long-simmering trends that have been accelerated, or a renewed understanding of the convenience of digital payments, businesses and consumers are navigating a new normal that brings new risks and rewards.
If you have questions or ideas on what you feel are the biggest challenges the prepaid industry faces, or trends we should be covering - please don't hesitate to get in touch.
Do you agree with our assessment of the current prepaid card industry trends?