Eight months into a pandemic, what does the future of events look like? Some sporting and entertainment events are starting up again, with mixed results. Venue owners and organizers are trying a variety of things to see what will and what won't work to restart live events. Although much is still uncertain, there's also much to discuss and dissect.
In September, Sports Business Journal and AXS hosted the two-day 2020 Sports Facilities & Franchises and Ticketing Symposium, to examine the latest trends in ticketing, maintaining relationships with ticket holders, and how sports facilities are adapting to new guidelines and health mandates.
Here are our top takeaways from the event. First off is the question on everyone's mind…
Will fans come back?
Even when events will be able to resume, the concern that fans won't return is on the minds of many event professionals. Panelists were hesitant to speculate when events might be able to host a sold-out room. They were quick to point out that doing so will rely on several factors, including local guidelines on how large of groups would be allowed. Panelists said that they were working closely with government officials to include health and safety measures into their event planning.
Still, panelists were largely optimistic. Amy Howe, President and COO of Ticketmaster, noted that 86% of fans held on to their tickets for rescheduled events rather than asking for a refund. According to Jessica Gelman, CEO of KAGR, about half of KAGR's sports clients did not opt out of renewing their season tickets. Sezin Aksoy, Senior Vice President of Global Data Strategy and Analytics at AXS, noted that only 16-18% of customers requested a refund. The consensus was that, while sports and entertainment businesses are hard hit, there are signs that patron demand is there.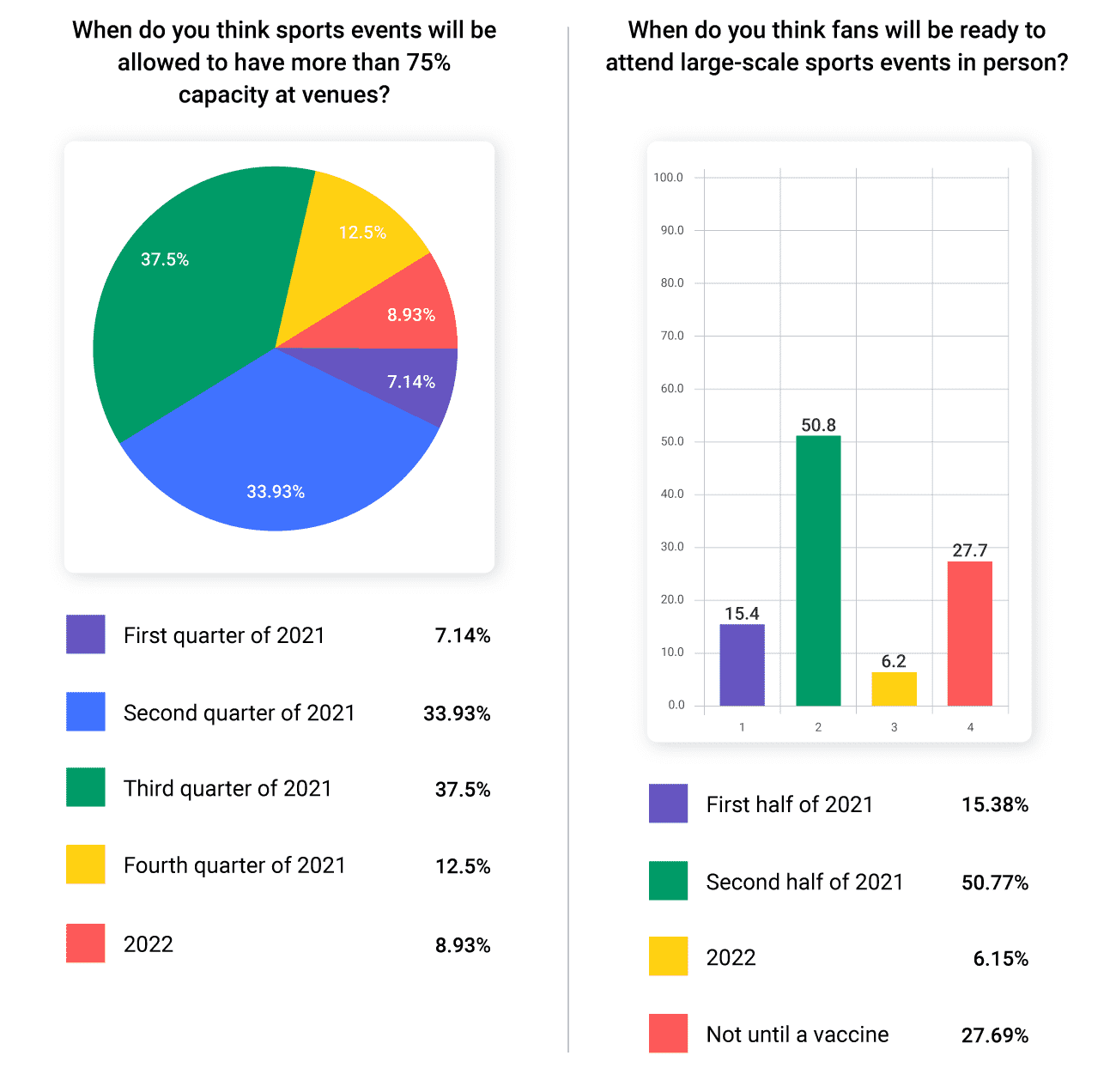 Two conference surveys show that respondents feel events will not return in force until later in 2021.
(Credit to Sports Business Journal and AXS.)
There's also some indication of steps event organizers can take to help restore patron confidence.
"Recent surveys show that 90% of people are still getting together in small groups of friends and family," said Russel Scibetti, Vice President of Strategy for the New York Giants. "People still want to socialize, but in ways they feel protected. One of the biggest results from the surveys was not just others at an event wearing PPE, wearing masks, but also the enforcement of others wearing masks; there's the sentiment that if patrons aren't wearing masks, they shouldn't be here [at the event]."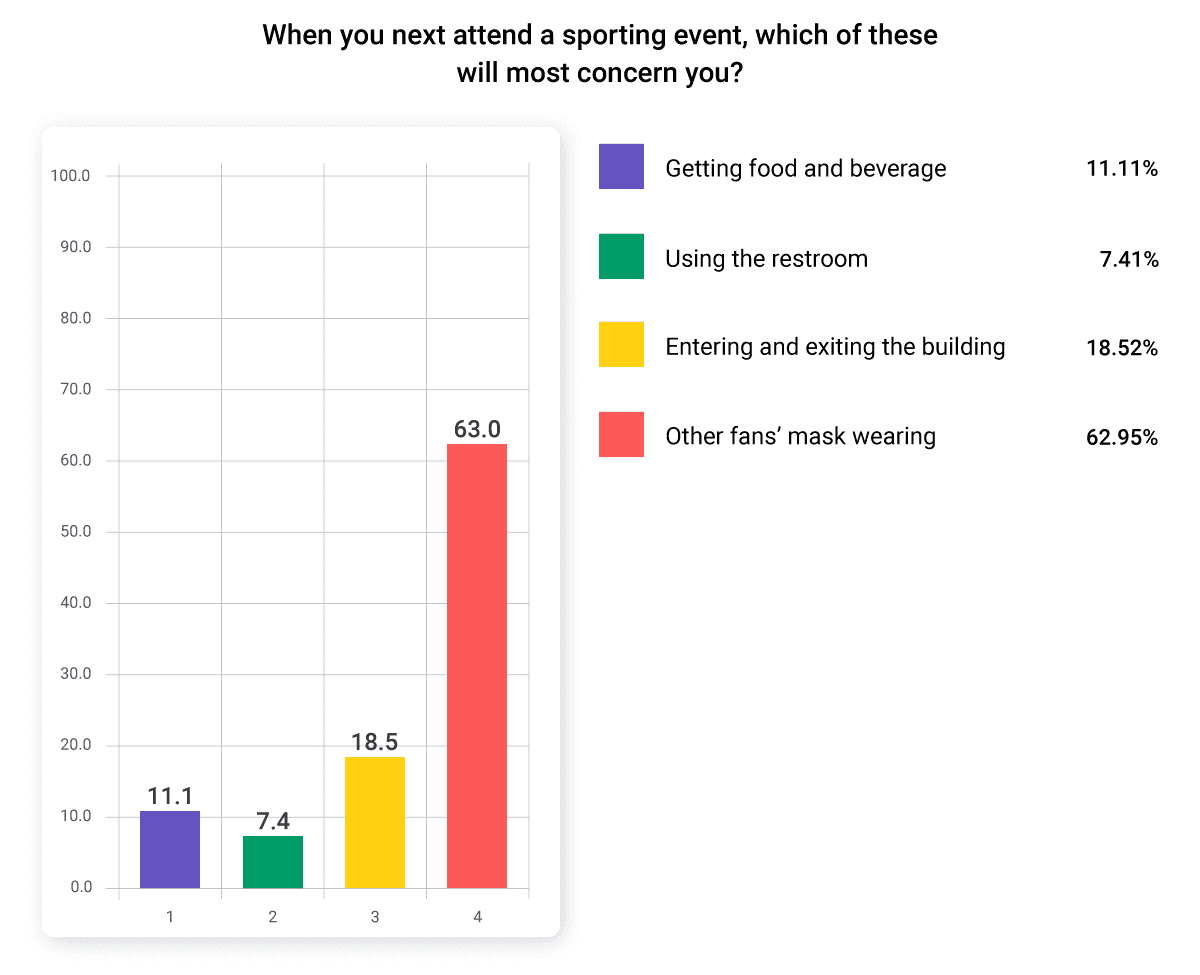 A conference survey shows that respondents feel mask enforcement will be the biggest patron concern.
(Credit to Sports Business Journal and AXS.)
This was just one of many best practices noted throughout the symposium.
What are some of the best practices that helped events that did happen during the pandemic?
The main takeaway from many panelists was that there wouldn't be a one-size-fits-all plan that every event would be able to draw from. Instead, many speakers said they were planning for a range of scenarios. Still, there were consistent points throughout the whole of the symposium.
Onsite Testing and Contact Tracing
Testing capabilities were near the top of many of the panelists must-haves lists. One prime example of the efficacy of onsite testing is Professional Bull Riders (PBR). PBR were first out of the gate early on during the pandemic. Their example creates a blueprint that other event planners can look to when crafting their own events.
"We were ready to go mid-April with protocols and plans," Sean Gleason, Commissioner and CEO of Professional Bull Riders, said. "We've had no outbreaks; we've caught cases and traced them back. Our goals and protocols are working."
PBR implemented stringent testing protocols, social distancing, and strong policies for each event they held. Gleason noted that the biggest challenge was limiting work crews to 25 people or less; in the end, they narrowed each staff grouping to six employees or less working in a specific bubble. They also decreased touchpoints and implemented rigorous cleaning procedures with the help of ASM Global's VenueShield.
"We've put several of our staff members through the CDC contact tracing protocols and classes, and they've graduated," Gleason said. "So, we have several people capable of contact tracing in accordance with government guidelines. We've relaxed the strict distancing between groups of people."
"If you're tested more often, the more likely you are to [catch someone who has it]," he continued. "We are more and more certain that we can catch it before the spread occurs."
PBR is now testing all staff members in their home markets, well before anyone travels to an event site. "This makes our community safer," Gleason said. "If they're positive, they're not even coming here. We have run into positive tests, but our protocols have allowed us to isolate them."
"We can't get rid [of the virus], we just have to deal with it responsibly."
Social Distancing
Social distancing has become a vital factor in any event planning during the pandemic. Grouping seats into pods and then selling the accompanying tickets in block format has become a new trend.
"Pod size is a hot topic over the last two weeks," Eventellect CEO Patrick Ryan said. "The bigger your pods, the more people you were getting through the door, but fewer people want to buy all of those tickets. Everyone has different data, which needs to be applied in what you're doing."
Patron response to pod size can vary. Some might see the additional space as a bonus. On the other hand, it can discourage patrons from making a purchase, since they are asked to buy more tickets than they initially wanted. Event organizers can use historical data and analytics to predict what pod sizes and groupings might work for a particular venue or event.
Many venues have added social distancing configurations to their seating plans to abide by seating capacity limitations instituted by local governments. Whether pods work for a particular venue and what configuration is best, let alone what sort of algorithm to implement, will vary.
Overcommunicating with Staff and Patrons
Since almost the beginning of the closure, companies have kept consistent dialogue with ticket holders, sponsors, and internal staff. Surveys went out to ticket holders, asking what would encourage their return to events. This information, paired with analytics, can help businesses potentially predict which demographics might return first.
"Machine learning is going to be important," Gelman said. "Technology will be the great enabler to make all of this new data that we're getting more impactful. What we can learn from deferrals, from people that are attending the games as that attendance is happening."
Internal communication has also grown. Many organizations focused on the mental health of staff and set up touch points to keep lines of communication open during remote work. Honesty and transparency were stressed in many panels as indispensable for keeping team engagement and morale up.
"You have to be honest and transparent to keep your team engaged," said AEG Chief Revenue Officer Todd Goldstein. "Arm your sales team with as much information that is fact and reality. We can't pretend we're going to host an event with fans on Oct. 1, but we can talk about future events that we've booked on the back end of 2021."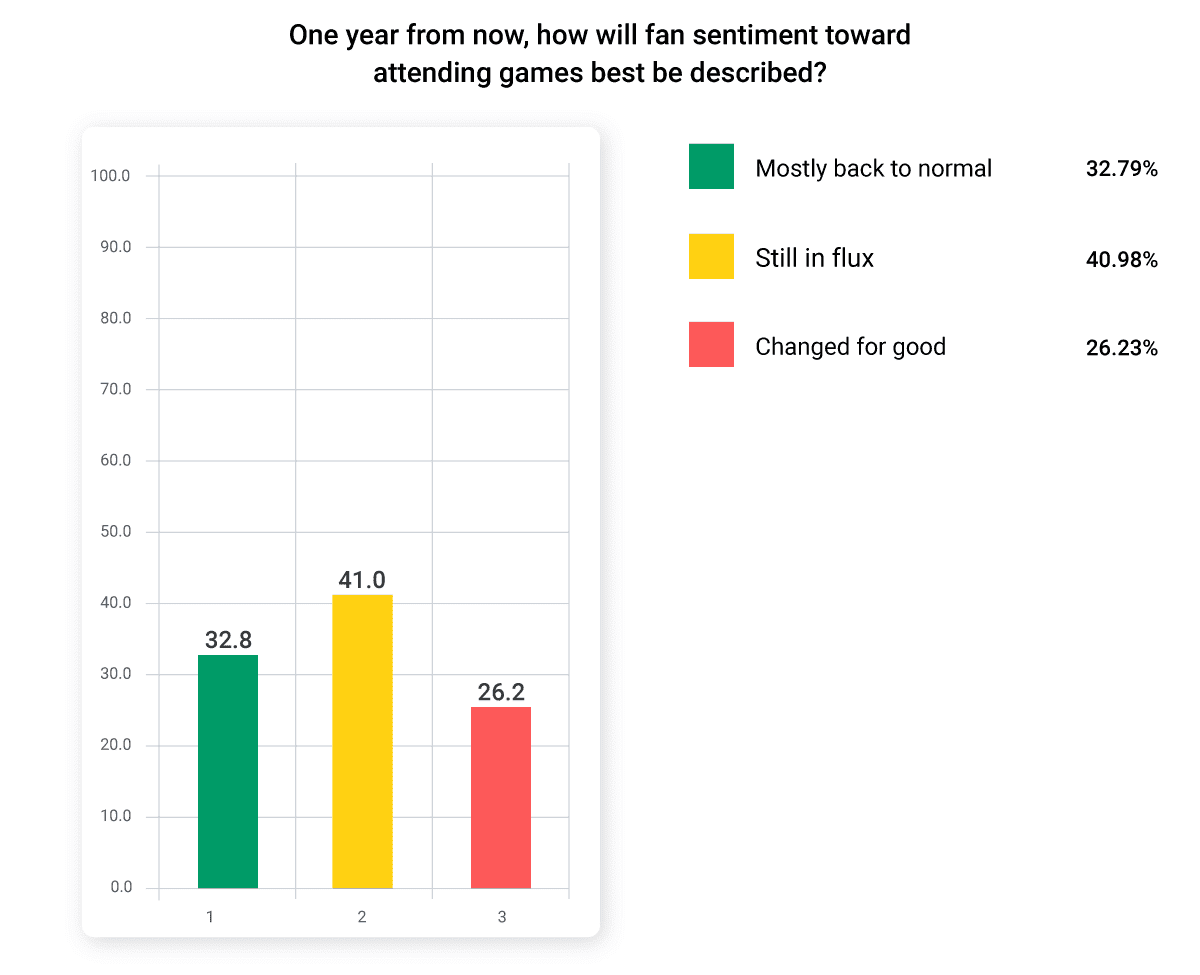 A conference survey shows that attendees feel fan sentiment toward game attendance will still be in flux a year from now.
(Credit to Sports Business Journal and AXS.)
For those who have been able to hold events during the pandemic, communication was crucial to managing patron's expectations. It was also useful in capturing what did and didn't work, in order to pass on that knowledge.
"When you look at a single event, you might have one, two bites at the apple for that event," said Mike Burch, Chief Strategy Officer for Speedway Motorsports. "But we put on 13 of these a year. How do we get smarter as we go from Bristol to New Hampshire? How do we communicate those best practices?
"Just like with fans, you can't overcommunicate internally enough. All those best practices are being captured and implemented as we move forward."
His advice regarding communication with fans was applicable across the board. "At the end of the day, creating that community of your fans to help them understand that they have a big role in this, an opportunity to attend these events in the future. They need to follow these protocols; you can't build enough physical structures to maintain social distancing, you can't hire enough people to go around and monitor mask compliance."
"Those are things fans have to understand, if I want to keep coming to this event that I love, I have to do these things. Do it for the sport, for fellow fans. If we follow these rules, these protocols, it's going to help us all go out and do the things we love. Future events and sports rely on the success of these things now."
What will be COVID-19's legacy?
Mobile Adoption Accelerates
The pandemic has ticketing and event professionals rethinking all aspects of the patron journey. Although contactless has been evolving for some time, the pandemic is accelerating adoption.
"We've never seen this kind of acceleration," Kim Damron, President and CEO of Paciolan, said of preparing colleges to bring fans back to their football stadiums. They equipped almost half of their schools with technology to enable 100% contactless ticketing as the pandemic changed contactless from a nice-to-have to a must-have.
"We went from one school to 70 in one season. It's a big technology improvement that's coming quicker because of the pandemic."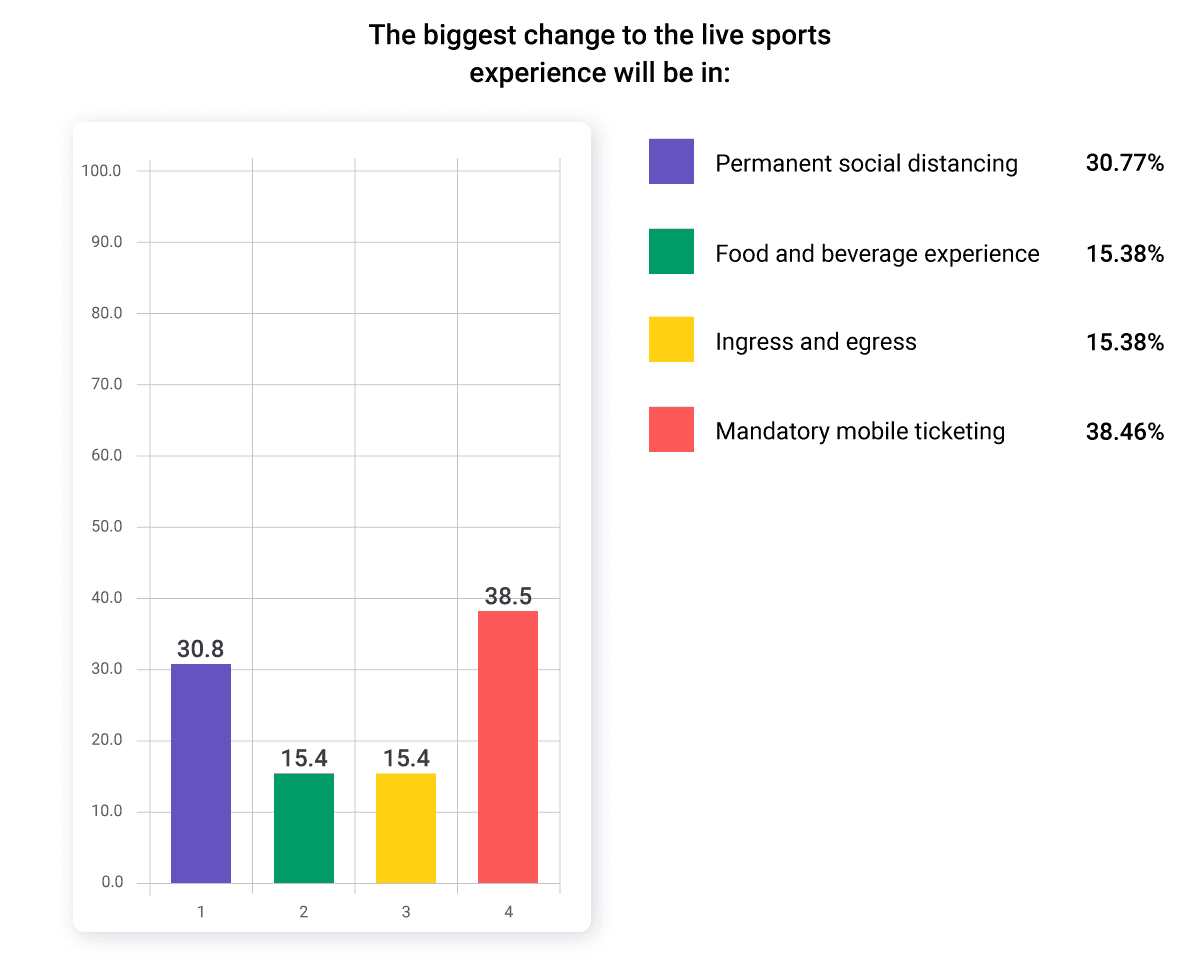 A conference survey shows respondents feel mandatory mobile ticketing will be the biggest change to the live sports experience.
(Credit to Sports Business Journal and AXS.)
Throughout the conference, many cited contactless as the technology that will enable events during the pandemic. From digital tickets and pedestal scanners to in-seat ordering for concessions and merchandise, everyone grappled with how to provide a great experience with as little contact as possible.
"Mobile is something that has been added to the food and beverage experience," said Jaime Faulkner, CEO of Levy's E15 Group. "Everyone must be able to go mobile. The mobile experience on the street has gotten better. You don't even have to get out of your car to make a pickup.
"The actual user experience has to be at the level where they're getting everything else."
Greater Sanitization Standards
Many panelists agreed that communicating cleanliness procedures and methods, along with displaying sanitation badges clearly throughout venues, would help reassure fans and patrons that their health and safety are taken seriously.
ASM Global created VenueShield, a comprehensive set of programs and procedures designed to help venues grapple with creating a safe environment to hold events. VenueShield is being implemented at 325 ASM facilities worldwide.
Other examples of sanitization programs include Global Biorisk Advisory Council's STAR Facility Accreditation program, described as the cleaning industry's only outbreak response and recovery accreditation, and the International Well Building Institute, which is helping venue owners and event organizers re-evaluate their surroundings.
The panels for each of these programs emphasized that cleanliness and sanitation were two separate steps, and that there were many areas to consider when creating a safe, clean event environment.
"Cleaning is preparing a surface for sanitization," explained Patty Olinger, Executive Director at the Global Biorisk Advisory Council. "There are different levels for removing pathogens. Disinfection is moving into a six-log kill rate." Logs are medical shorthand for denoting what level of disinfection or process is needed to kill a given germ. "There's something called a 'dwell time,' which is how long [a surface] has to stay wet to truly disinfect it.
"And we are hyper aware that cleaning needs to be visible. Showing patrons and others what we're doing, how we're doing it."
What can ticketing platforms and event organizers do now?
While there is no universal plan that can be applied to all, there are a few areas event organizers and ticketing platforms can note. Planning for different scenarios as far in advance as possible will set events and businesses up for success. This is an opportunity to re-evaluate the customer journey. If you haven't already, reach out to patrons to find out what would make them feel safest and most comfortable in coming back to an event.
"We don't know when it will happen, but we do think our companies will need to be prepared six months in advance," AXS CEO Bryan Perez said. "Getting into an operating rhythm again is something we are preparing for."
"That's what we're focused on, making sure we have a solid plan for restarting the engine, so to speak, when we get the all clear."
Perhaps most importantly, sanitation and safety are at the front of patrons' minds. Creating a safe environment is intensely important, and there are resources available to help event planners and venue owners achieve this. Investigating different protocols and procedures is paramount. Realizing them will need time and practice to get right.
Most forecasts for when fans might be able to come back are for late 2021, if not later. This means there is ample time to research, test, and plan.
"I have every confidence that we as an industry will be able to do this as safely as possible," Goldstein said. "People are clamoring for that experience, seeing their favorite team live. I have a good level of optimism that '21 will be a great year for the return of live events."