Base Products
Transaction Simulator
Take the guesswork out of your development process with a transaction simulator and you'll always know what to expect.
Take the guesswork out of your development process with a transaction simulator and you'll always know what to expect.
Understand

Your Future Transactions

Transaction Simulator (TS) is a web app developed by Softjourn to mimic real-life financial operations in a virtual space. It is configured to process transactions according to the ISO 8583 standard, and it is highly customizable to fit a client's changing needs.

The flexibility of the Transaction Simulator allows for it to be integrated and customized for any customer payment system that operates on ISO 8583. When our clients need to analyze their transaction models, TS is the solution that provides enough data to further understand how to improve their processes.
What a Transaction Simulator Offers
What makes our solution unparalleled? Beyond analyzing transaction models, our transaction simulator allows you to:
Automate testing of complex financial transactions
Test transactions quickly and efficiently
Customize it to fit your needs
Have a complete testing solution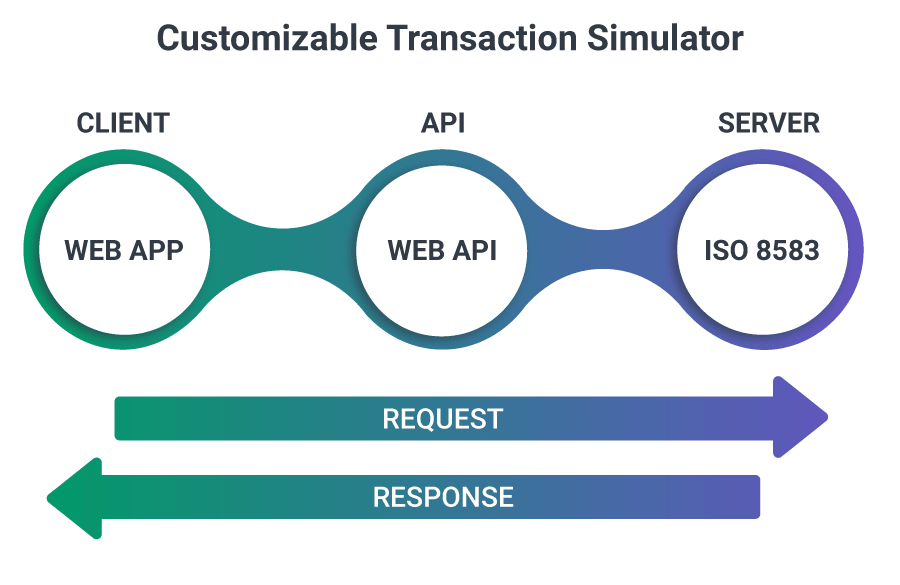 Main Features of Softjourn's Customizable Transaction Simulator
The primary functions of the Transaction Simulator (TS) are its ability to build and run transactions, generate and run test cases, test suites, and to compare expected and achieved results. Additionally, the simulator is equipped with additional features to automate parts of the process and ensure the accuracy of its results.
Rules
Rules exist to help verify the Transaction and serve as a validation factor for the test entity. According to rule restrictions, if the result received does not correspond with the result expected, it constitutes a failed transaction.
Account Number Limitation List
The Account Number Limitation List section provides an overview of bank account/credit card numbers set up in the system. Later, this data is used as validation during the transaction run.
Templates
To ease the test generation process for users, the Transaction Simulator provides a template library, which consists of transaction templates that can be used to build various test cases.
Generating Test Cases
To set up a test case, you need to specify both scripts and messages. Messages exist in the form of XML files, and messages consist of a field and value that can be either fixed or variable.
Running Test Cases
Users can either run a whole test case or separate iterations of the same one. Once the test case is running, there are options to stop it or change the sequence of iterations.
Test Sets
Test sets can be grouped in a test tree for easier navigation. A test set consists of test cases grouped by similarity.
Iterations
Test cases are broken down into iterations. Each iteration has its name and ID. An iteration consists of a message sent and a message received with different field meanings.
Errors
The system compares expected and actual results. If an error is detected, it is shown in the log files and on the GUI screen. It's up to a user to determine the classification of severity since users can choose to only display test cases beyond a certain severity level.
Log Files & Reports
With our TS, generating detailed reports is easy in .odt format. Users can identify saving paths and store test results in log files.
Multiple Users
Several users can work in the system simultaneously, and all of them are considered to be at the admin level. The permissions are set so that one user cannot influence other test cases.
Which Companies can Benefit from a Transaction Simulator?
The prepaid card industry operates in a transaction-heavy environment. As companies in this space roll out new or enhanced solutions, they must test the speed and accuracy with which transactions are processed as well as whether or not these transactions work within the required parameters they have set. Hence the use of simulators that mimic both high-volume and specific types of transactions and essentially virtualize the end-to-end payment chain.
Softjourn has built several transaction simulators that generate a high volume of card transactions quickly and accurately.
Who can benefit from using Transaction Simulator:
Merchants who want to use eCommerce APIs
Companies using payment gateways
Software development companies working on financial software
Nearly any business in the banking and insurance industries, with Visa and Mastercard transactions (which use ISO 8583 protocols)
How The Transaction Simulator Improves Our Clients' Processes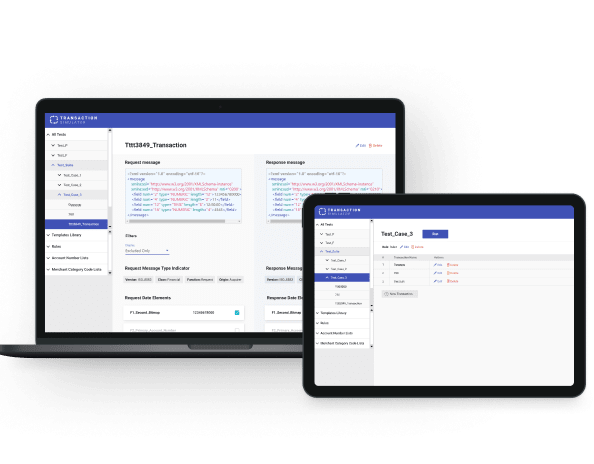 Softjourn has helped implement our transaction simulator for many satisfied clients in the fintech industry. When our client UPC began to plan an upgrade of its servers, it needed to run a load test to make sure that the new server configuration would meet the required transaction processing time. Read More.
With Softjourn's solution, UPC liked our simulator because of:
Improved efficiency. More tasks are handled by operations staff due to a new reporting system on failures, actions performed, and requests to the servers.
Increased customer satisfaction. Fewer complaints due to upgraded infrastructure.
Reduced costs. Reducing development costs means clients won't be overspending on hardware.
Regained confidence. Through better control of the testing process, unserstanding the limits of a system becomes easier.