Our mobile phones continue to make our lives easier with each passing day, as tech companies further expand the devices' abilities. And that doesn't even take into account the number of wearables and other smart devices that are causing us to rethink how we perform daily tasks.
We are always looking to understand how technology can be applied to our various areas of expertise. Contactless payments already offered many benefits to the financial sector, so we were curious to see how contactless might benefit the events and ticketing industry.
In many ways, contactless ticketing, sometimes called mobile ticketing or NFC ticketing, is a no-brainer. Since digital tickets have become increasingly popular, nearly eliminating the use of paper tickets, placing the digital ticket in an electronic wallet was a natural progression.
With our research, we know how NFC and contactless ticketing can benefit not just ticketing platforms, but everyone involved in the event process—from the vendor to the customers themselves.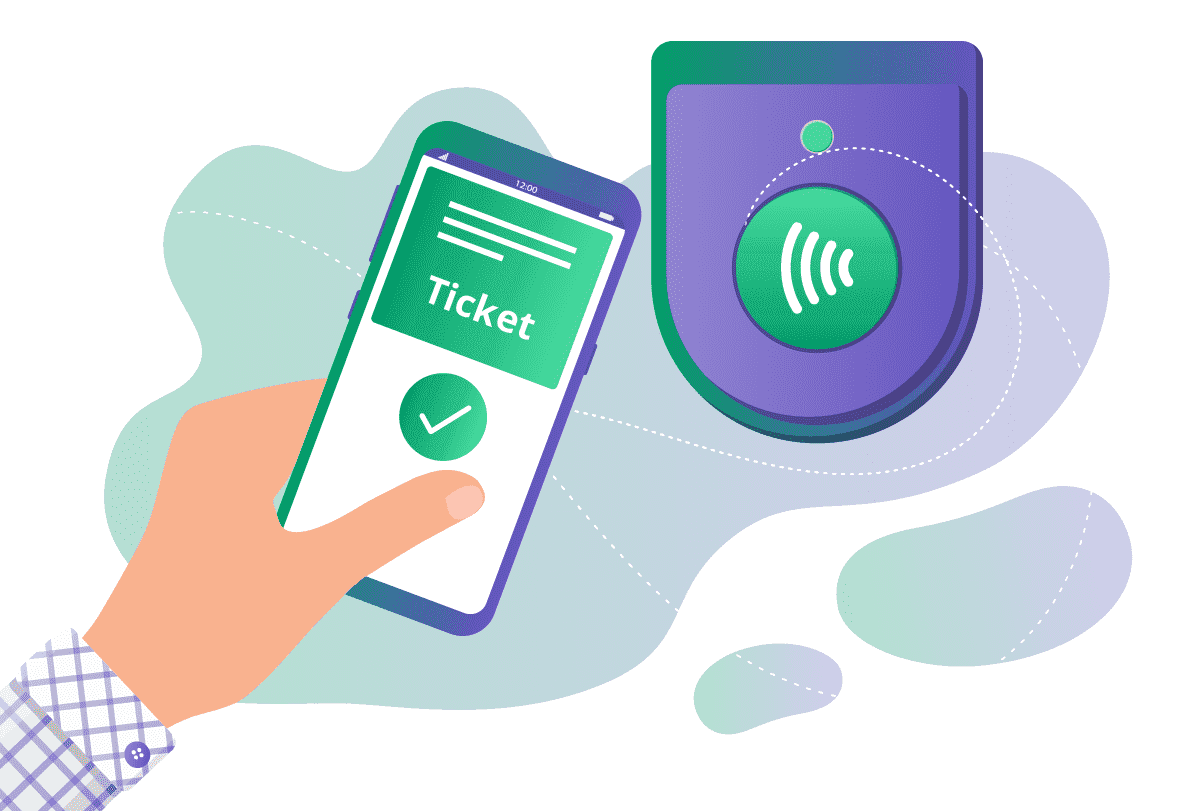 How Does Contactless Ticketing Work?
Contactless ticketing makes use of NFC, or near field communication. NFC enables two devices to communicate wirelessly when they are within a specific distance of one another. NFC is actually a subset of radio-frequency identification, or RFID.
RFID allows for identification via radio waves and has been used for decades in things like scanning grocery items and luggage in baggage claims.
You have likely used or seen NFC in contactless payments; if you have patronized Whole Foods, Walgreens, or Office Depot in the last few months, you might have seen someone hold their mobile phone to a card reader. This allows for a transaction that requires no physical contact between two devices—hence, a contactless payment.
It's the same idea with contactless ticketing. By loading a ticket into an electronic wallet, patrons can hold a mobile device near a reader and, voila! Quicker queues and less time digging around in pockets looking for a printed ticket.
Where is Contactless Ticketing Being Used?
Many industries that create ticketed events are using contactless ticketing.
Just this year, Paciolian announced that fans would be able to use Google Pay to enter stadiums at participating colleges. It provides a faster way to get through stadium gates, reduces fraud, and offers insights into which games attendees are most interested in.
Fifteen thousand fans have already used contactless tickets in Australia's Suncorp Stadium in Brisbane as of May 2019. The stadium was the first in the country to offer contactless tickets on iOS devices. Sixty percent of mobile ticket users loaded their tickets into their Apple Wallet, allowing them to easily and speedily enter the stadium. Once attendees arrived at the venue, they received a push notification that allowed them to quickly access their tickets.
Ticketmaster's SafeTix makes use of NFC technology to also implement a frictionless tap-and-go experience. Just as in the Suncorp Stadium contactless process, simply holding a mobile phone near a reader is sufficient to scan a ticket loaded into an electronic wallet.
During the 2018 season, as many as 97% of fans entered NFL games using Ticketmaster ticketing technology. That means more than 8.3 million fans used contactless ticketing for 300 regular season NFL games.
Another implementation of NFC technology and contactless tickets is Oveit, which creates NFC wristbands that are then digitally connected to attendees' tickets. They can also act as an electronic wallet and provide access to balances, perks, data, and access credentials. This has the potential to create a great and unique live event experience.
With the number of NFC-enabled mobile devices worldwide increasing to 1,907.4 million by 2018 alone, it's clear that this type of technology is poised to explode within the ticketing industry.
What Are The Benefits of Contactless Ticketing?
Contactless ticketing offers many benefits, including:
Higher security: Contactless tickets use RFID antenna, which require a reader to be in close proximity to the mobile device where the ticket is stored. Digital tickets stored in electronic wallets are further protected by a pair of chips the wallet uses: one that accesses and encrypts information, and the NFC chip that transmits the information. Tokenization (which translates information into a token, or a randomly generated string of numbers) and biometrics can provide additional security to the process.
Fast recognition: Ticket readers identify mobile devices and tickets quickly. The mobile devices' application, such as an electronic wallet, can even be programmed to anticipate a reader within a certain distance, and open on its own, independent of the user's knowledge. This means that the technology can share relevant details quickly in order to get patrons through event entrance gateways faster.
Data protection: With encryption and tokenization, user data and the ticket itself are protected from fraud. This can be especially important for events with headlining artists and other situations that can anticipate being in high demand, and thus increasingly attractive to fraudsters.
Unique identification: Each digital ticket is uniquely numbered, and thus can be closely tracked by ticket vendors. This provides insight into the secondary market, gives details on the audiences interested in different types of event tickets, and also provides scrutiny for increased security.
Extended memory: Contactless ticketing provides room for increased functionality within the ticket. Why stop at just letting patrons into an event? Allow them to put funds or link to a bank account in order to easily purchase food and beverage, or buy the jersey of their favorite player or a memento from a great concert.
More reliability: Contactless ticketing eliminates the need to rustle around in pockets for missing paper tickets, or even quickly open a particular digital file in order to manually read a barcode or QR code.
Process waiting patrons faster: Contactless tickets work through handbags, wallets, and virtually any other type of container, which means queues move faster and customers get to where they want to go quicker. Nothing needs to be inserted, swiped, or dipped, which means processing is faster and easier.
Maintenance cost reduction: Contactless readers have no moving parts, and thus are exposed to less stress over time. Since there's no need to scan or touch another device, they simply read the NFC tag that's programmed for them within the correct distance and can function without human assistance.

Softjourn's Experience with Contactless Ticketing
Through our research and development, we developed two mobile ticketing applications. These apps, one for iOS and one for Android, enabled the scanning of NFC tags within mobile devices.
Each application was able to scan an NFC tag, transmit data to a server, and pull relevant details to the device for display on the screen. The scanner functioned regardless of lighting conditions, indicating that it would work to process queues for events in the middle of the day or at night.
Depending on what data the ticketing platform or event organizer wishes to collect, these details could include number of entrances, redeemed visits, information about the customer, and the logo and information related to the event.
With Android devices, the application didn't need to be opened by hand; simply by scanning the NFC tag, the application was programmed to open and function independently.
Because of our R&D, we were able to prove that NFC tag scanning is faster than scanning a QR code. It also easily allowed the user to check any "balances" attached to their ticket, such as funds for purchasing food and beverages at the event.
Conclusion
Contactless ticketing offers many benefits for venues, event organizers, and customers; it also promises to help ticket vendors prevent fraud by increasing the security around their inventory.
This new type of ticketing is being increasingly used, and might even become the new status quo expected by event patrons.
If you're interested in learning more about how contactless ticketing can benefit your ticketing platform or event registration system, contact Softjourn today.