Our mobile phones continue to make our lives easier with each passing day, as tech companies further expand the devices' abilities. And that doesn't even take into account the number of wearables and other smart devices that are causing us to rethink how we perform daily tasks.
We are always looking to understand how technology can be applied to our various areas of expertise. Contactless payments already offered many benefits to the financial sector, so we were curious to see how contactless might benefit the events and ticketing industry.
In many ways, contactless ticketing, sometimes called mobile ticketing or NFC ticketing, is a no-brainer. Since digital tickets have become increasingly popular, nearly eliminating the use of paper tickets, placing the digital ticket in an electronic wallet was a natural progression.
With our research, we know how NFC and contactless ticketing can benefit not just ticketing platforms, but everyone involved in the event process—from the vendor to the customers themselves.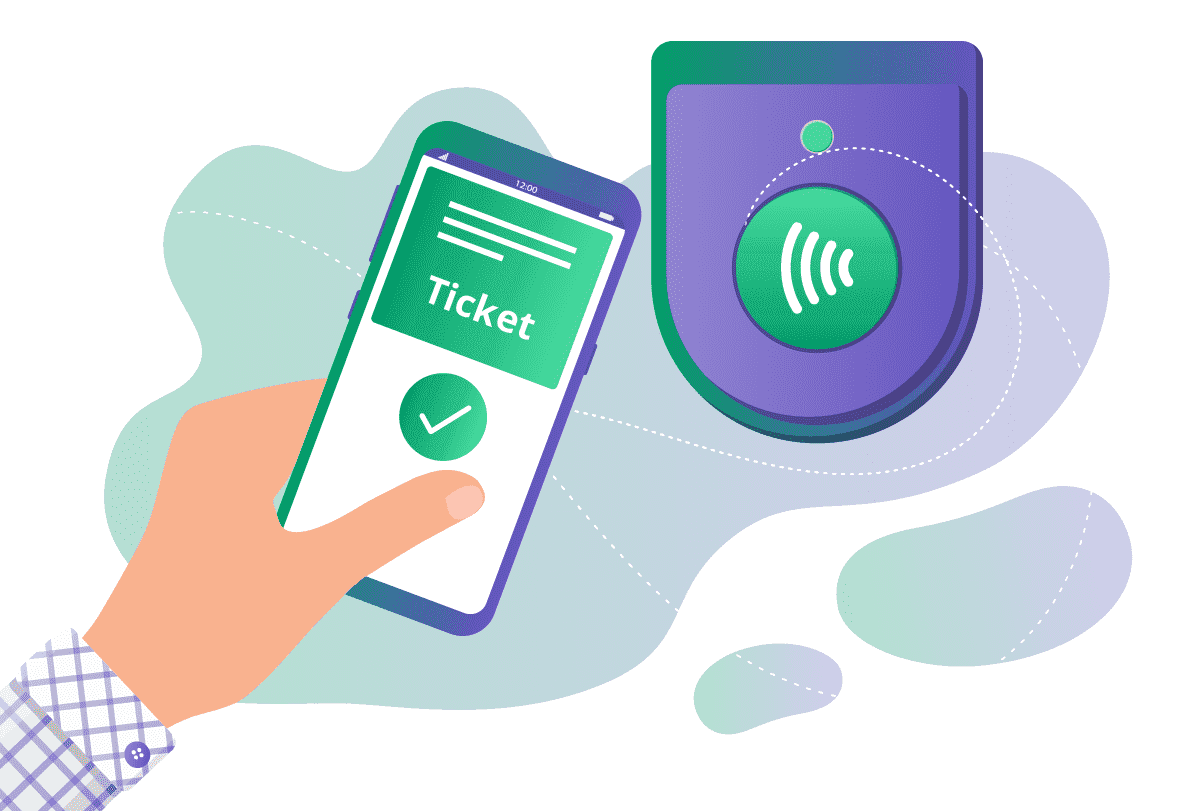 How Does Contactless Ticketing Work?
Contactless ticketing makes use of NFC, or near-field communication. NFC enables two devices to communicate wirelessly when they are within a specific distance of one another. NFC is actually a subset of radio-frequency identification or RFID.
RFID allows for identification via radio waves and has been used for decades in things like scanning grocery items and luggage in baggage claims.
You have likely used or seen NFC in contactless payments; if you have patronized Whole Foods, Walgreens, or Office Depot in the last few months, you might have seen someone hold their mobile phone to a card reader. This allows for a transaction that requires no physical contact between two devices—hence, a contactless payment.
It's the same idea with contactless ticketing. By loading a ticket into an electronic wallet, patrons can hold a mobile device near a reader and, voila! Quicker queues and less time digging around in pockets looking for a printed ticket.
Where is Contactless Ticketing Being Used?
Many industries that create ticketed events are using contactless ticketing. The ticketing market is currently expected to grow from $17.39 million in 2023 to $29 million by 2028. NFC tickets will become a substitute for traditional paper-based ticketing due to the recent transition to digital ticketing.
Just this year, Paciolian announced that fans would be able to use Google Pay to enter stadiums at participating colleges. It provides a faster way to get through stadium gates, reduces fraud, and offers insights into which games attendees are most interested in.
Fifteen thousand fans have already used contactless tickets in Australia's Suncorp Stadium in Brisbane. The stadium was the first in the country to offer contactless tickets on iOS devices. Sixty percent of mobile ticket users loaded their tickets into their Apple Wallet, allowing them to easily and speedily enter the stadium. Once attendees arrived at the venue, they received a push notification that allowed them to quickly access their tickets.
Ticketmaster's SafeTix makes use of NFC technology to also implement a frictionless tap-and-go experience. The technology links fans' digital tickets to their Ticketmaster account with an encrypted barcode that automatically refreshes and prevents resellers from exploiting the screenshots. To use it, it's enough to simply hold a mobile phone near a reader to scan a ticket loaded into an electronic wallet. It was originally launched in 2019 in North America, and since then its rolled in New Zeland, Australia and Mexico.
Another implementation of NFC technology and contactless tickets is Oveit, which creates NFC wristbands that are then digitally connected to attendees' tickets. They can also act as an electronic wallet and provide access to balances, perks, data, and access credentials. This has the potential to create a great and unique live event experience.
With the number of NFC-enabled mobile devices worldwide increasing to 1 billion, it's clear that this type of technology is poised to explode within the ticketing industry. Today, 20% of the world has access to NFC technology, and according to ABI research, there will be 1.6 billion NFC-enabled devices by the ends of 2024.
What Are The Benefits of Contactless Ticketing?
Contactless ticketing offers many benefits, including:
Higher security: Contactless tickets use RFID antenna, which require a reader to be in close proximity to the mobile device where the ticket is stored. Digital tickets stored in electronic wallets are further protected by a pair of chips the wallet uses: one that accesses and encrypts information, and the NFC chip that transmits the information. Tokenization (which translates information into a token, or a randomly generated string of numbers) and biometrics can provide additional security to the process.
Fast recognition: Ticket readers identify mobile devices and tickets quickly. The mobile devices' application, such as an electronic wallet, can even be programmed to anticipate a reader within a certain distance, and open on its own, independent of the user's knowledge. This means that the technology can share relevant details quickly in order to get patrons through event entrance gateways faster.
Data protection: With encryption and tokenization, user data and the ticket itself are protected from fraud. This can be especially important for events with headlining artists and other situations that can anticipate being in high demand, and thus increasingly attractive to fraudsters.
Unique identification: Each digital ticket is uniquely numbered, and thus can be closely tracked by ticket vendors. This provides insight into the secondary market, gives details on the audiences interested in different types of event tickets, and also provides scrutiny for increased security.
Extended memory: Contactless ticketing provides room for increased functionality within the ticket. Why stop at just letting patrons into an event? Allow them to put funds or link to a bank account in order to easily purchase food and beverage, or buy the jersey of their favorite player or a memento from a great concert.
More reliability: Contactless ticketing eliminates the need to rustle around in pockets for missing paper tickets, or even quickly open a particular digital file in order to manually read a barcode or QR code.
Process waiting patrons faster: Contactless tickets work through handbags, wallets, and virtually any other type of container, which means queues move faster and customers get to where they want to go quicker. Nothing needs to be inserted, swiped, or dipped, which means processing is faster and easier.
Maintenance cost reduction: Contactless readers have no moving parts, and thus are exposed to less stress over time. Since there's no need to scan or touch another device, they simply read the NFC tag that's programmed for them within the correct distance and can function without human assistance.

Enhancing the Fan Experience with Contactless Ticketing
Contactless ticketing technology has the potential to greatly improve the overall event experience for fans. One of the key benefits of contactless ticketing is the convenience and ease of use for the fans. Instead of physically printing tickets or carrying them on their mobile devices, fans can simply tap their contactless-enabled device or card at the gate for entry. This eliminates the need for fans to keep track of physical tickets, reducing the risk of lost or forgotten tickets and making entry into the event smoother and faster.
Another way contactless ticketing can enhance the fan experience is through data and personalization. Contactless tickets can be linked to a fan's account, allowing venues and teams to gather data on the attendance and behavior patterns of patrons.
This data can then be used to personalize the fan experience and offer targeted promotions and incentives. For example, a team can use data from a fan's past attendance and purchasing habits to offer them a personalized package deal for upcoming games, e.g. an upgrade to a VIP seating package or a bundled deal for upcoming games.
Additionally, contactless ticketing allows for real-time updates and notifications, such as gate changes or weather alerts, to be sent directly to the fans. This improves the overall communication and information flow between the venue and the fans.
Contactless ticketing technology can enhance the fan experience by providing convenience, data and personalization opportunities, and real-time updates. By implementing this technology, venues, and teams will provide a more seamless event experience for fans.
Maximizing Revenue with Contactless Ticketing
Contactless ticketing technology can be used to maximize revenue for venues and teams. One way to do this is through dynamic pricing. With contactless ticketing, venues and teams have the ability to adjust ticket prices in real-time based on demand, allowing them to take advantage of last-minute sales opportunities and increase revenue from high-demand events.
Additionally, contactless ticketing can also help increase revenue by reducing costs associated with traditional ticketing methods. For example, it eliminates the need for physical ticket printing and also reduces the cost of handling cash and credit card transactions.
By utilizing contactless ticketing, not only is there the chance to personalize and boost the experience for each individual fan, but the collected data can be leveraged to identify new upselling and cross-selling opportunities, such as offering merchandise or VIP upgrades during their visit based on their purchase history.
Implementing contactless ticketing can lead to increased revenue for venues and teams by offering dynamic pricing, reduced costs, and additional sales opportunities. By utilizing these benefits, venues and teams can improve their overall financial performance.
Steps to Implementing Contactless Ticketing
While implementing contactless ticketing technology may seem daunting, it is a worthwhile investment for venues and teams. But how do you get started?
The first step in implementing contactless ticketing is to conduct research and choose a provider that best suits your organization's needs. There are several companies that offer contactless ticketing solutions, each with its own unique set of features and capabilities. When making your selection, consider factors such as compatibility with existing systems, scalability, security, and reliable customer support.
Once a provider has been chosen, it is important to ensure that all staff members are trained on how to use and manage the new system. This includes onboarding employees on how to process contactless tickets at the gates, how they can troubleshoot any issues that may arise, and where to access the data collected from the system.
Additionally, it's important to communicate the new system to patrons. This will likely entail educating fans on how to purchase and use contactless tickets, why contactless will be beneficial for them, as well as any changes to entry procedures at the venue. Clear and effective communication will help ensure a smooth transition for both the fans and staff.
Finally, the contactless system should be regularly monitored and evaluated to make sure it's performing up to par. Be sure to track key metrics such as adoption rate, customer satisfaction, and system downtime to thoroughly understand how well the system is working and identify areas for improvement.
It's clear that contactless ticketing technology is a worthwhile investment, but it does require careful research, proper training, effective communication, and ongoing monitoring and evaluation in order to properly implement it. By taking these steps, venues and teams can provide a better experience for fans and improve the efficiency of their operations.
Ways of Implementing Contactless Ticketing
Implementing contactless ticketing technology requires a significant investment of time, resources, and expertise. There are two options that should be considered once you decide to implement contactless ticketing technology.
The first option is to develop a solution in-house. This approach can be beneficial for organizations that have sufficient resources, expertise, and experience to design and develop a contactless ticketing system that meets their unique needs. When developing a contactless solution in-house, it is necessary to provide ongoing support and maintenance to ensure the system runs smoothly and is regularly updated to meet new regulations and industry standards.
Pros of developing a contactless ticketing solution in-house:
Complete control over the design and development of the system.
Ability to ensure the system meets the unique needs and requirements of the organization.
Avoids the costs associated with hiring a third-party development company.
Development of in-house knowledge of the technology for future projects.
A deep understanding of the organization's operations and processes, leading to a more efficient implementation.
Cons of developing a contactless ticketing solution in-house:
Requires significant investments of time, resources, and expertise.
Organizations may not have the necessary resources, expertise, or experience to design and develop the solution effectively.
In-house teams may not have access to the latest technologies and industry standards.
Ongoing support and maintenance can be an enormous burden on already overloaded IT teams.
It may take longer to develop and launch the solution.
It may end up costing more than other solutions, especially if the team lacks experience or the necessary tools.
The second approach is to partner with a software development company. There are custom software development companies that have specialized experience and expertise in event ticketing. By working with a reliable partner, you will be able to design and develop a contactless ticketing solution that is tailored to the specific needs of your organization.
Once the solution is developed, expert teams familiar with the solution can provide ongoing support and maintenance to ensure the system runs smoothly and is updated to meet new regulations and industry standards.
When choosing a custom software development company, it's important to consider factors such as their experience in the ticketing industry, their understanding of your organization's unique needs, technology stack, and their ability to provide ongoing support and maintenance.
Pros of outsourcing the development of a contactless ticketing solution:
Access to the latest technologies and industry standards.
Deep expertise and experience in designing and developing contactless ticketing systems.
Quicker time to market.
A more cost-effective solution, as development companies often have economies of scale and can spread development costs over multiple clients.
Reduced burden on in-house IT teams.
The ability to scale and update the solution as needed.
Access to a wider pool of talent and resources.
Cons of outsourcing the development of a contactless ticketing solution:
Less control over the development of the system.
Dependence on the development company's schedule and resources.
Lack of in-house expertise pertaining to the technology.
Ongoing maintenance and support may come with an additional cost.
Communication and coordination with a third party can be challenging, depending on the company.
Differences in culture and work styles between in-house and outsourced teams.
The implementation of contactless ticketing can be a challenging task, and venues and ticketing companies have the choice to either create their own solution in-house or partner with a custom software development company. Both choices have their pros and cons, so it is crucial to evaluate the specific needs of your organization before making a decision.
Many of our clients find that consulting with an experienced ticketing advisor is extremely beneficial, as they are able to gain an external and unbiased perspective on the status of their current resources, an analysis of what will be required to develop the desired solution, and how best to proceed depending on their business priorities.
When it comes to outsourcing the development of a contactless ticketing solution, it's important to choose a partner that will help you overcome common pitfalls and wisely leverage your current resources. That's where Softjourn comes in.
We have extensive experience in designing and developing contactless ticketing systems, as well as a deep understanding of the latest technologies and industry standards. Our team of experts will work closely with you to ensure that the solution we develop will meet your unique needs and requirements, while also providing ongoing support and maintenance.
With Softjourn, you'll enjoy the cost-effectiveness that comes with outsourcing, without sacrificing quality or value alignment with your organization. We have a reputation in the ticketing industry for our strong communication and coordination skills, as well as our ability to scale to your needs. Trust us to be your perfect partner in your contactless ticketing project, and join the ranks of the many successful companies that have already partnered with us.
Through our research and development, we developed two mobile ticketing applications. These apps, one for iOS and one for Android, enabled the scanning of NFC tags within mobile devices.
Each application was able to scan an NFC tag, transmit data to a server, and pull relevant details to the device for display on the screen. The scanner functioned regardless of lighting conditions, indicating that it would work to process queues for events in the middle of the day or at night.
Depending on what data the ticketing platform or event organizer wishes to collect, these details could include a number of entrances, redeemed visits, information about the customer, and the logo and information related to the event.
With Android devices, the application didn't need to be opened by hand; simply by scanning the NFC tag, the application was programmed to open and function independently.
Because of our R&D, we were able to prove that NFC tag scanning is faster than scanning a QR code. It also easily allowed the user to check any "balances" attached to their ticket, such as funds for purchasing food and beverages at the event.
Conclusion
Contactless ticketing offers many benefits for venues, event organizers, and customers; it also promises to help ticket vendors prevent fraud by increasing the security around their inventory.
This new type of ticketing is being increasingly used, and might even become the new status quo expected by event patrons.
If you're interested in learning more about how NFC ticketing can benefit your ticketing platform or event registration system, contact Softjourn today.