Ticket Printing
Optimize Ticket Printing With a Customized One-click Software Solution.
Are lengthy and complicated printing processes using Boca printers affecting event experiences for you and your attendees? We've got the solution.
Are lengthy and complicated printing processes using Boca printers affecting event experiences for you and your attendees? We've got the solution.
Looking for

a Simplified Printing Process?

Tailored to ticketing vendors, our desktop thermal ticket printing app works on both Windows and Mac OS with just one click. Our app allows you to streamline your ticket printing process, and additionally, includes status messages for easy error detection and resolution, and detailed printing logs for transparency and simplicity. With PDF and FGL supported, our app is all you need to quickly and easily print tickets with your Boca Printer.
Softjourn's Ticket Printing Expertise
Ticketing platforms and ticket printing companies can partner with Softjourn to offer their customers better control over ticket design and an easier printing process.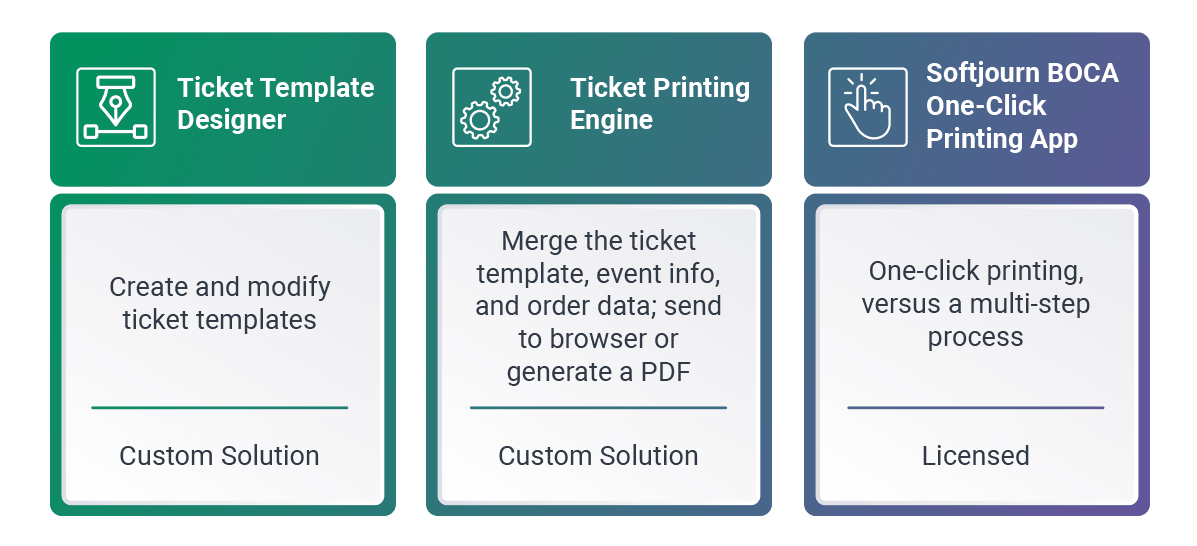 Simplify Your Ticket Printing Down to Just One Click!
Every ticket vendor wants a simplified ticket printing process—and knowing this, we have developed ticketing software tailored to these requests. We've eliminated unnecessary and complicated steps and resolved all the issues that can arise during set-up. Additionally, our software resolves common issues in detecting printer errors on Windows and Mac, as well as problems connecting to a network's printer. We've made ticket printing as easy as one click.
Advantages Over Standard Ticket Printing
Whether you just bought and installed your Boca printer or you've had a printer for some time, your printing process probably looks like this:
Select your tickets.
Generate a PDF for your tickets.
Open those tickets in a PDF reader.
Select the required Boca printer.
Send the tickets through the system menu to the printer.
Click the "Print" button.
While this process is clear, it can be much simpler. With our one-click app, the process is streamlined to just two steps: Choose your tickets and click print.
Choose

Simplicity and Ease of Use

Softjourn's thermal ticket-printing app involves only a one-time installation and integration. The only thing ticketing vendors need to do is install the app, then call the API from the print page.

The interface is uncluttered, and for simplicity sake, the menu includes only three options: "Select printer," "Settings," and "Exit." Clicking on "Select Printer," lets users choose a default printer that tickets will be sent directly to when printed. Users can also choose a setting to select a different printer each time they need to print tickets.

The app eliminates the need to check whether a print worked; after printing, users receive a notification with information saying the tickets were printed successfully. Our app also can detect errors or status messages like "Out of Paper" or "Printer is Offline", and allows you to print test tickets.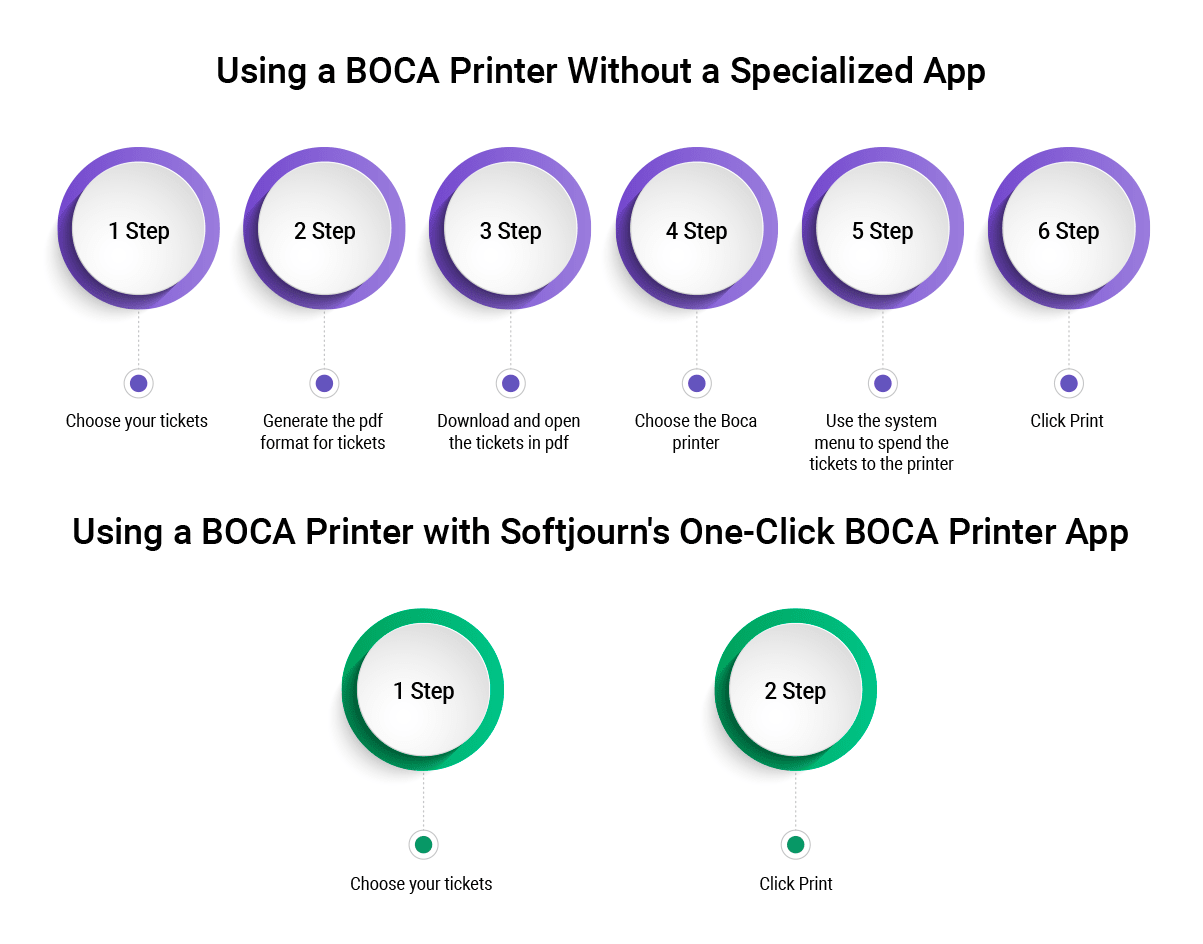 What Our App Brings To The Table
Our two native desktop applications allow for a quick set-up and come with several useful features:
One-click printing
Windows app and Mac app
Status messages
Print logs
PDF and FGL support
Ease in selecting a default printer
The ability to print test tickets