Consulting
Software Development Consulting Services
For almost two decades, Softjourn experts have been offering software development consulting services to clients across many industries. Whether upgrading or creating new code, our specialty is mitigating the risk involved. Combining technical experience and domain expertise in Fintech, Media & Entertainment, and Ticketing, we give our clients not only great software but the solution their business needs to evolve confidently.
For almost two decades, Softjourn experts have been offering software development consulting services to clients across many industries. Whether upgrading or creating new code, our specialty is mitigating the risk involved. Combining technical experience and domain expertise in Fintech, Media & Entertainment, and Ticketing, we give our clients not only great software but the solution their business needs to evolve confidently.
Stay

One Step Ahead of The Competition

Today, companies need to stay agile and think fast. Whether you need assistance with a current project, support for ongoing maintenance, guidance or advice for further development—Softjourn's pros have the industry expertise to provide you with answers.

Our software development consultancy services will firm up your product definition to generate comprehensive, effective roadmaps ready for software development. And, if you have an existing project, we can set up a dedicated team to ensure you have everything to start working.

Our consultants will help you clarify your ideas, maximize the power of your data, boost operational performance, and improve your customers' experiences. Our overarching goals are to support you in identifying challenges, provide you with all possible solutions, and guide you to make an informed decision that's right for your business.
Consultation Services We Offer
Softjourn provides software development consultancy to companies that want to excel in their business. To successfully develop the features that consumers demand, it's important to follow a clear roadmap for software development. We believe that to stay competitive, businesses of all sizes should embrace digital transformation, as it's made easy with the support of an experienced technology partner.
How our Software Consulting Process Works
1. Identify Problems and Challenges
Our most-requested service is requirements definitions for new functionalities or applications. We help you contextualize how those enhancements might fit into your system or how to create a new one.
2. Ideate Solutions
Our business analysts work directly with you to define user needs and desired outcomes for new functionality or applications. In this phase, our experts provide you with a solution and an implementation plan. With a clear strategy, you'll know how to be one step ahead of your competitors.
3. Create Roadmaps
We collaborate with you in working sessions that can last between one and one-and-a-half hours. We walk you through user types, required workflows, and outcomes. Softjourn's business analysts define workflows and functionality in both visual and text formats so you can easily see how your new app or functionality will work.
4. Implement Improvements
Once we complete the planning phase, the next step is implementing the improvements or developing your entirely new solution. Our IT consulting services will give you a new perspective on your business model and help you resolve technology challenges that your organization is likely to face.
Software Consulting Services Case Studies:

Babyquip: Can Your Original Codebase Support a Growing Business?
Babyquip, a successful business catering to traveling parents by offering baby equipment rentals, needed to enhance its rapidly growing platform. As a result of Softjourn's software development consultancy service assessment, Babyquip understood what was realistic from a business viewpoint and gained a deeper understanding of their product from a technical perspective.
Technologies:
PHP
CakePHP
MySQL
Stripe API
Case Study: Overcoming Problems with Software Maintenance
Maintenance time and cost were out of hand for a U.S. healthcare business with a mobile ordering system. Another major concern was security vulnerabilities. Softjourn conducted a code audit and suggested a complete application rewrite. In the end, our client knew what new technologies would benefit their application and had a development plan set in place.

TicketRiver: Java-Based Event Registration System
A healthcare startup was interested in market validation and uncovered issues with their solution that needed to be resolved. Softjourn performed a technical assessment of their existing mobile-first solution. After the audit, our client gained a deeper understanding of the product as well as what the next steps to reach project milestones.
Magic Software: The Extra Step We Took to Ensure Exceptional UI/UX Design
As design consultants, Softjourn's expert team collaborated closely with Magic Software to enhance the UI/UX design of their financial app. We ensured a high level of transparency and consistent communication throughout the project, enabling us to understand the client's vision and provide valuable suggestions for improvements.

Strategic Technology Consulting: A Case Study on User Experience and Cost Reduction with Cinewav
Through technology consulting, Softjourn helped Cinewav implement a multi-regional deployment and optimize their CDN. This strategic approach improved the overall user experience and reduced AWS costs by 30%.
Technologies:
Node.js
Kubernetes
Amazon RDS Aurora
CloudFront
Highly-Requested Guidance We Provide
Requirements & Features
Wondering what features to prioritize in your product? Before your product goes live, Softjourn's software development consultants will help you determine the needed requirements and the best set of features tailored to your product. We will take out the guesswork and provide the knowledge, careful research, and forward-thinking consultancy warranted to help you make the best decisions for your product.
Fraud Prevention
A major dilemma in every industry is how to prevent fraud, especially in the digital age. If you are looking to better protect your customers with next-generation technologies, we will find you the best and most secure solutions, from traditional rules-based approaches to innovative security measures, like AI and machine learning, Blockchain, and biometrics.
Emerging Technologies
Are you considering whether blockchain or other trending technologies are right for your product? Our software development consultants have a deep knowledge of industry cases and will guide you to understand if adopting new technologies – like Blockchain, AI, ML, or OCR – makes sense for your product.
Build vs. Buy vs. Hybrid
Should you build, buy, or go hybrid? We'll provide software consulting services that will help you get an idea of the costs involved in each option, available solutions, and the time it would take to develop and implement different solutions. Softjourn's guidance will help you decide what is the best option for your project.
Customized Approach
Every project is different, and our software consulting teams are ready to leverage our domain experience and explore different technologies, approaches, and projects to provide our clients with the highest level of consulting services.
Reduce Product Expenses
We will provide you with useful input based on our substantial experience in software development so you can reduce expenses through automation and closely monitoring infrastructure spending.
Take Your Business To The Next Level
Build an Entirely New Service from Scratch
At the heart of every change lies a new opportunity. For a winning strategy, you need expert tech and industry insights to make sure you are taking the right steps. Softjourn's professionals will help you put together solutions that bring value to your customers.

Applying New Technology
Our teams have domain expertise to come up with innovative solutions and ensure your business is adapting effectively to new technologies. Partnering with us will help you define and answer strategic questions in order to overcome obstacles, and drive performance and growth.
Modernizing Legacy Code
We support clients during the legacy code modernization process by applying our in-depth industry expertise and analytics. Our software development consultancy services ensure that our clients go through a technology-driven transformation and innovate in their domains.

Building Versus Buying
Capitalize on our software development consultancy services to support you during mergers and acquisitions, and to help you revise and enhance your strategies. Experts from Softjourn will combine deep industry knowledge with new technologies to provide you with roadmaps.
Looking for a trusted software development consulting company?
Tell us more about your project!
Industry Expertise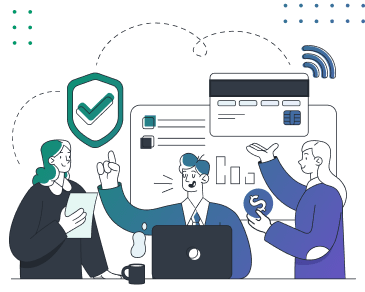 We give informed & unbiased guidance to our fintech clients on their most pressing questions:
Should I buy or build my own card processing service?
How can I implement Blockchain at the greatest value to my business?
How do I migrate my outdated tech stack without interrupting my users?
What automation or tools can I utilize to reduce my team's labor?
Should I offer a white-label mobile banking app solution to smaller banks?
How can I upgrade my Elasticsearch without disrupting my users?
What do I need to do to offer a closed-loop payment service or a Direct Pay feature?
During consultations, we help our ticketing clients answer various questions, for example:
What's the best way to increase revenue for next year's events?
Which tools will help me learn more about my patrons and their needs?
How can I transition from traditional paper tickets to e-tickets or NFT tickets?
What services or features will help my clients to spend more at events?
How do I get a recently-acquired ticketing platform up and running?
How do I better my service to find and re-up sponsors and donors for my clients?
How can I expand my system to sell reserved seating as well as general admission?
More about Ticketing Consulting Services
What Services We Offer