In the U.S., we tend to think of financial services ideas drifting from West to East—in other words, from the States to Europe and the rest of the world. And, certainly, the U.S. has the world's largest and most complex banking system. But, perhaps, because of the size and complexity of the U.S. banking system, there's been a change in the past few years—with significant financial services ideas flowing East to West.
Without the fragmentation and huge investment in legacy infrastructure of the U.S. banking system, it's easier for smaller countries or geographic regions to deal more nimbly with financial services. Certainly, we saw this reverse flow of financial services innovation with the adoption of EMV chip cards and contactless payments and, more recently, with faster payments. And, now, a newer East-to-West financial services trend is emerging—open banking, now mandatory in Europe under the EU's Second Payment Services Directive (PSD2).
Heading a company with one foot firmly planted in the U.S. and the other firmly in Europe, the movement towards opening banking is interesting to watch. As a company, we're currently working on open banking-related projects in Europe, while we watch open banking emerging in the U.S. Because of my dual citizenship in the financial services world, I hope I can be helpful in putting context around open banking and help my fellow Americans think about it constructively.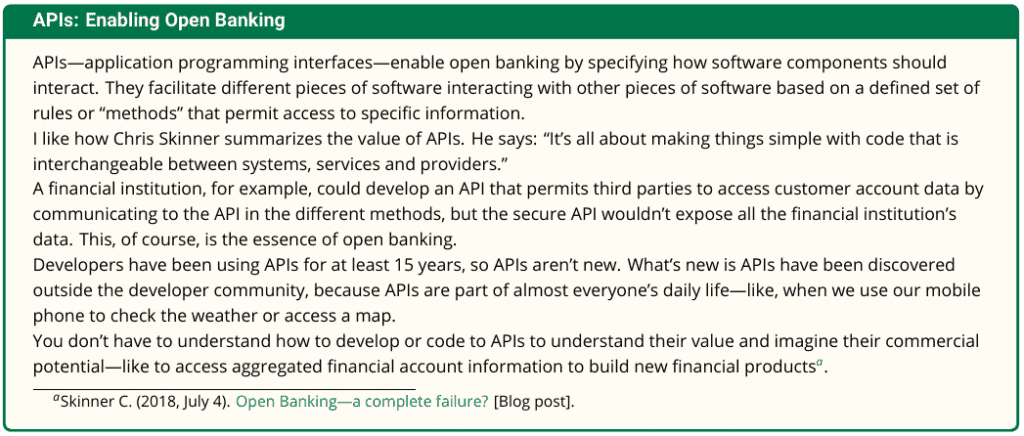 What's Open Banking?
So, what is open banking? It can be defined in many ways, but the way I like to think of it is making customer account information at traditional banks accessible via APIs to third-party providers, called TPPs—which can be nonbanks (such as fintechs, tech companies or credit agencies) or even banks (traditional or challenger). Once a customer authorizes a TPP to access his/her bank account, the TPP interacts with the account-holding bank (through APIs the bank provides) to obtain the information it requires to deliver services.
Admittedly, open banking sounds a bit scary because it's based on financial institutions making their data available to unrelated third parties (albeit qualified third parties, not just anyone). Financial institutions traditionally have built fortresses around their data, because unauthorized access could violate privacy laws and have serious direct financial consequences, along with harder-to-measure indirect consequences resulting from loss of reputation and trust. Data security is always an important topic, but there's none bigger than in open banking.
If open banking is enshrined in a law or regulation, the even bigger issue for financial institutions is being required to provide would-be competitors with the raw materials (in this case data) to build products and services to compete against them. In an age when data is the new oil, it must be hard for financial institutions—even those not currently fully utilizing the value of that data—to think about sharing an asset to benefit potentially competing third parties. And, of course, open banking also introduces liability issues (i.e., Who's responsible if privacy or data is breached?), which I won't focus on, but I mention because of its significance.
Open Banking Rolls Out
Financial institutions in Europe, including the UK, might have had those concerns about open banking. But, with the adoption of PSD2—which, among other things, requires financial institutions to open their data to third parties—those affected must comply. The social forces advocating for more transparency and more competition in financial services prevailed over financial institutions' concerns.
Let's focus on open banking on the UK, because it's taken PSD2 to a new level—requiring financial institutions not only to open their data to third parties but to do so in a standard format. The UK took this extra step with the support of the government's Competition and Markets Authority, with the goals of promoting financial services innovation, making financial services more transparent and increasing financial services competition by opening account access to nonbanks. (Don't forget, London styles itself the fintech capital of the world!)
As a practical matter, open banking in the UK requires nine of its largest banks—Allied Irish Bank, Bank of Ireland, Barclays, Danske, HSBC, Lloyds, Nationwide, RBS and Santander—to share aggregated customer data online in a secure, standardized form with authorized third parties that can use it to build new products on top of the banks' data. Other UK financial institutions, outside the required nine, are participating or have announced their intent to participate voluntarily in open banking.

How Is Open Banking Faring in the UK?
Although it appears all nine UK financial institutions required to offer open banking have the full set of v2.1 Open Data and APIs Account and Transaction APIs available to third parties, those in the know predict that the innovative new products that open banking is intended to produce likely won't begin impacting the financial services marketplace for several years. So, there's no hard data to say if the introduction of open banking is accomplishing the goals the Competition and Markets Authority set out.
And, despite optimism from some quarters (see "Three Open Banking Predictions from PwC" at right), some industry observers are skeptical about whether open banking will ever achieve those goals. A recent article posted on the Open Banking Space blog posed the question: "Is open banking a complete failure?" It pointed out that six
months after banks were required to open up to third parties, there were no customer-facing services using APIs available through the open banking initiative in the UK.
The post not so subtly blames financial institutions for this failure, implying that although they might be complying with the letter of PSD2 and open banking, they aren't fully complying with its spirit. The post highlights four unaddressed barriers to successful open banking: lack of rich functionality on the account information APIs; poor authorization journeys on the banks' platforms; technical challenges, such as those posed by a lack of immutable transaction IDs; and the absence of bank-provided, data-rich testing environments.1
Is this criticism fair? Is six months, or even a year or two, too early to suggest that open banking—which, by anyone's standards, is a huge shift in how financial services are delivered—is a failure? Is the blogger rushing to judgment to paint financial institutions in a negative light? Or, do his complaints reflect normal startup hiccups that will be addressed and then forgotten? Or, as he suggests, are banks intentionally slow to address the barriers to discourage TPPs from introducing competitive financial services? Must regulators step in with additional requirements? Or, will all the fanfare around open banking come to naught? Only time will answer these questions, but in the meantime, financial institutions affected by open banking requirements are taking the initiative to partner with fintechs and introduce their own fintech-like services.

UK Banks Are Taking the Initiative
According to McKinsey & Company, "Barclays and Santander each have built open API infrastructure to deliver a virtually limitless suite of services via third-party providers (for example, EverLedger)."2
We'll get back to this later, but I'll point out that this seems a lot like the fintech/bank partnership scenario we're seeing in the U.S.—after banks and fintechs (pretty much) decided that rather than frightening each other, it was best to work together for everyone's advantage.) Although we'll never know if open banking accelerated Barclays' and Santander's interest in working with fintech startups like EverLedger, APIs have expanded the opportunities.
And, Barclays is addressing open banking head on, while also creating reasons for customers to view it as their primary financial institution. On the right is a snip from Barclay's website explaining open banking. Note the third column, explaining "What we'll be doing." Clever!
And, if you click on Barclays' mobile app page, as you're prompted to do, this is what you see—Barclays offering a mobile app with exactly the types of services that open banking is meant to promote: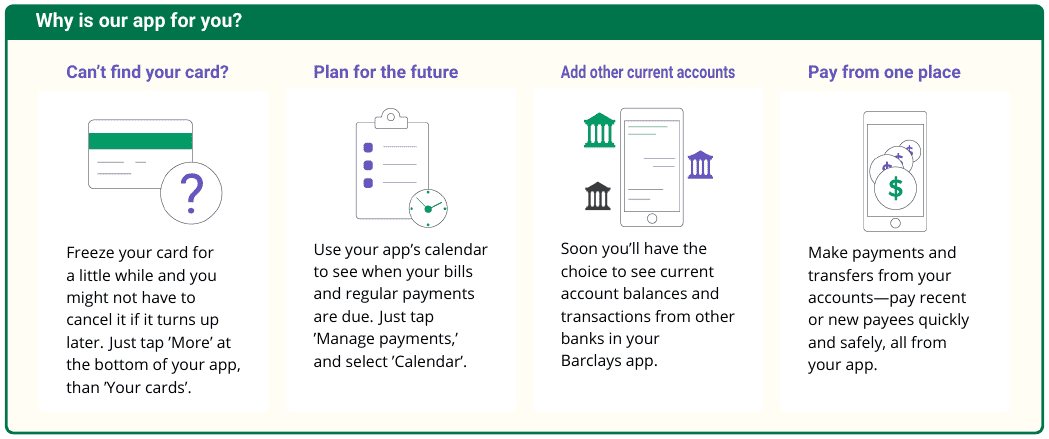 It's also interesting that, as pointed out earlier, other UK financial institutions are voluntarily participating in open banking, "recognizing the open approach will enable them to offer new services and become more competitive."3 Clearly, at least some number of UK financial institutions is viewing open banking positively. Or, if not that, they've committed to making lemonade out of lemons.
Open Banking in the U.S. via Regulation?
Will open banking come to the U.S.? Certainly, the winds are blowing in our direction, but I would argue that open banking is already here in a limited sense. Perhaps, the more relevant question is whether open banking will come to the U.S. via regulation?
No one has a crystal ball, but I'm reasonably certain that although U.S. regulators admire the goals of the UK's Competition and Markets Authority, they don't currently have the appetite to bite off what would be an extremely large bullet to implement open banking by regulation. Their inclination, I believe, is to leave open banking in the hands of the private sector, while providing encouragement in that direction.
Even under a more pro-regulation U.S. administration, it would be challenging to implement open banking by regulation because of the previously mentioned size and complexity of the U.S. banking system. Still, if the pendulum someday swings back to the extremely proactive days of the U.S. Consumer Financial Protection Bureau under Richard Cordray, what happens is anyone's guess—especially if activist consumer groups take on open banking as a cause and encourage a legislative approach.
We also should acknowledge that open banking is emerging in the U.S. without legislation or regulatory fiat. Today, we hear less about the fintechs disrupting or putting financial institutions out of business and more about financial institutions and fintechs working together—each bringing its strengths to the table: financial institutions bring their trustworthiness, experience operating in a regulated environment, existing customer bases and capital; and fintechs bring their fearlessness, understanding of the mobile-first or mobile-only customer's needs and ability to innovate and iterate quickly.
U.S. financial institutions are opening up their data to third parties via APIs and pursuing business arrangements with fintechs—achieving (pretty much) the same goals as open banking in the UK, but without regulation. Will U.S. results be as "good" as the UK's? Certainly, the U.S. won't achieve the relatively quick level of standardization ushered in by the UK's open banking requirements and private arrangements won't provide ubiquitous access to data by qualified third parties, but—again—only time will answer this question.
But, in looking at the U.S. banking system, I also must ask whether a regulatory requirement for open banking is need as in the U.S. as in the UK? In an April 17, 2018, Rowland Manthorpe writes, "Over 80 per cent of us bank with Barclays, HSBC, Lloyds, Santander or Royal Bank of Scotland. We find our bank as a teenager and stick with it for life."4 That statement doesn't seem to hold true in the U.S., where there is a lot of financial services choice and competition—owing not only to the fragmented U.S. banking system but also to the entry of big tech companies into financial services.
In most U.S. communities, there are small bank or credit union options that deliver services equivalent to the biggest banks, overcoming their smaller resources and geographic footprints with mobile and online capabilities through relationships with fintechs and other third parties. Even in communities without the presence of physical financial institutions, there are a wealth of online-only financial institutions that can serve anyone with a mobile phone or Internet connection.
Fragmentation, which often presents huge challenges for the U.S. banking system, might work in its favor when it comes to voluntary approach to open banking vs. a regulated approach.
So, What Should U.S. Financial Institutions Be Doing?
Regulation or no regulation, U.S. financial institutions should be taking open banking extremely seriously— right now. They should incorporate open banking concepts into their strategy to use their technology resources to compete effectively by offering compelling products and services that meet their customers' needs and deliver exceptional user experiences. And, for inspiration, I encourage them to look at PwC's five key areas in which open banking can drive new products, presented earlier. Open banking—particularly when it's approached on a voluntary basis—can be an opportunity for those who are strategic in their thinking and prepare themselves in
the following ways:
— Introducing services to the consumer and SME markets that accurately reflect the needs of those markets and
their preferred channels of interaction.
Expanding accessibility to financial services, especially to disenfranchised and underserved groups.
Pricing fairly and being transparent with all fees, as well as terms and conditions.
Modernizing legacy systems to enable faster and more agile financial services development.
Working with fintechs to establish mutually beneficial relationships that support financial services innovation.
Using its valuable in-house consumer data to create or co-create new solutions to financial services challenges.
Conclusion
The most important lesson that U.S. financial can learn from the EU/UK open banking experience is that putting their customers first will always result in a good outcome. Regulation isn't always adopted based on merit; optics are often more important. If U.S. financial institutions and fintechs continue to work together constructively to bring consumer- and SME-focused financial services—that are transparent and priced well—the U.S. may be able to achieve the opportunities and benefits of open banking without the burden of regulation.