Softjourn recently developed a proof-of-concept mobile parking app for the city of Ivano-Frankivsk in Western Ukraine.
The app has two major areas of functionality, enabling: (1) drivers to pay for parking at public and private parking locations within the city, (2) parking inspectors to determine if a vehicle has past parking violations. The app is easily expandable to include additional functionality, such as payments for venue parking—at concerts, for example—to control ticket-purchase flow and facilitate temporary, overflow parking, and payments for goods and services.
Background
Paying for parking using a mobile phone is the latest and most convenient iteration in the long evolution of paid parking. According to Deloitte's 2015 Global Mobile Consumer Survey, 19 percent of U.S. consumers already have paid for parking via mobile, and one researcher who examined adoption data from across the U.S. predicts, "I now know that mobile will become the dominant form of parking payment in the near future."1 In areas where mobile pay parking is available, user satisfaction appears high (evidenced by strong repeat use).
Mobile pay parking is, however, a local and concentrated phenomenon, dependent upon municipalities (or transportation authorities) recognizing the business case for and installing mobile pay-ready meters or devices. As expected, adoption is higher in heavily trafficked, densely populated urban areas. What may not be expected is participating municipalities/transportation authorities appear to be willing to support multiple mobile parking apps as they become convinced of the validity of use cases.
Tech-based parking trends for 2018, according to the International Parking Institute, include mobile apps that provide real-time information on pricing and availability (nearly 50 percent), technologies that improve access control and payment (47 percent) and demand for guidance systems that help drivers find parking (43 percent)2.
Leading the Way with Parking App Development
The urban landscape is constantly evolving, and with growing vehicle numbers, efficient parking solutions are more crucial than ever. This need has spurred the innovation of parking app development, which merges advanced technology with the everyday task of parking. These apps aim to revolutionize the way we find, reserve, and pay for parking spots in increasingly crowded cities.
Parking apps offer real-time availability of spaces, digital payment solutions, navigation to the chosen spot, and even predictive analytics to suggest where parking might be available at peak times. As urban dwellers seek more convenience and less hassle, the demand for these intuitive mobile tools continues to surge.
Developers and urban planners are now working hand in hand to ensure these apps are not just user-friendly, but also integrated with city infrastructure and regulatory frameworks. By diving into parking app development, businesses can address a persistent urban challenge, offer value to city residents and visitors, and position themselves at the cutting edge of smart city solutions.
The Need
Consumers, governments (municipalities and transportation authorities) and private parking garage owners share the need for a convenient, digital way for drivers to pay for parking.
Consumers
Paying for parking is a universal pain point. City drivers, traditionally, have had to carry exact change and keep their eyes on the time to avoid costly parking ticketing. Or, they've had to search for card-enabled devices or parking garages/lots. In other types of parking situations—such as attending concerts, festivals or other large-scale events—those who arrive by car are inconvenienced by inefficient (often cash-only) and time-consuming methods of parking-fee collection.
But, the problem goes beyond being just an inconvenience; consumers incur substantial costs in their attempts to address parking payment challenges. In 2013, the top-10 U.S. cities for parking fee violations issued nearly $1 billion in parking tickets.3 On top of that, U.S. consumers overpay for parking (to avoid tickets) by more than $20 billion annually.4
Beyond parking fines and overpayments, consumers incur additional costs in their search for parking. "Americans spend an incredible $72.7 billion [based on the driver's wasted time, fuel and emissions] searching for the elusive parking spot," says Bob Pishue, senior economist at INRIX, a global firm specializing in connected car services and transportation analytics.5 Interestingly, these costs could be avoided or mitigated by mobile parking apps that provide services beyond payments—such as real-time information on parking availability, route guidance to available parking, pricing and even e-vehicle parking station availability.
Governments
On the other side of the coin, parking violations are a real problem for cities and municipalities, and parking fines are a source of budgeted or incremental revenue to support state and local governments.
These governmental jurisdictions forgo millions annually in uncollected parking fines and incur substantial costs in their attempts to collect. In 2014, Washington, D.C., alone, was unable to collect on 382,111 delinquent tickets worth $55,313,586.6
And, just as consumers incur significant parking-related hidden costs, so do governments. INTRIX estimates that 63 percent of the U.S. drivers who participated in its 2016 survey, reported "they avoided driving to a destination due to the challenge of finding parking, dramatically impacting local businesses and economic activity,"7 which, of course, also affects the tax base and revenue.
Parking Garage Owners
The costs of parking maintenance depend at least on the infrastructure and available space. But how to reduce these costs while improving the quality of services? One of the possibilities is to reduce quite large expenses related to staff costs by automating processes, as well as implementing mobile payments.
Our Parking App POC Solution
Because a robust, consumer-friendly mobile parking pay app can address the needs and solve significant pain points—with positive economic outcomes, for consumers, governments and parking garage owners—Softjourn's POC mobile pay parking app delivers significant benefits to each audience, with the potential for future extensibility and customization.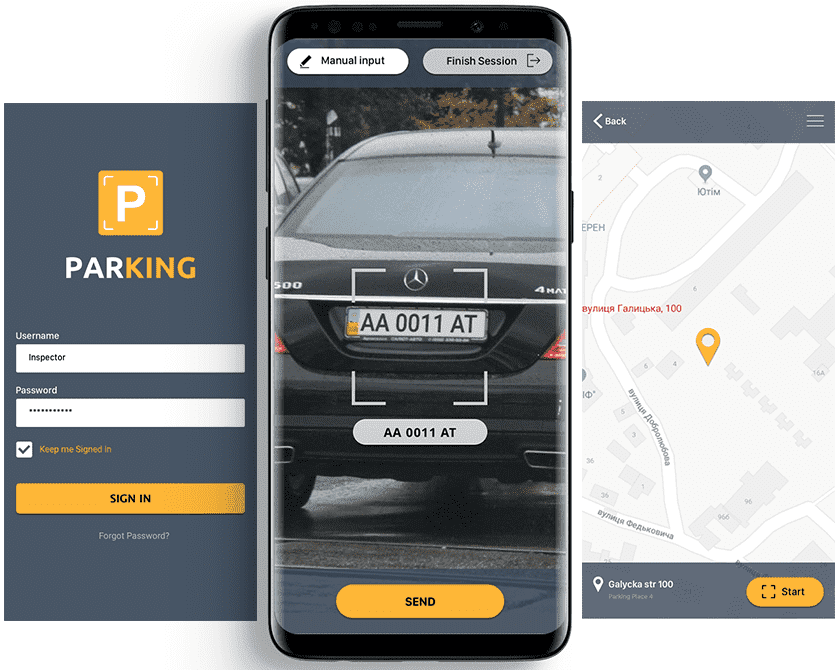 Consumers
The following describes how consumers interact with our POC app. After consumers install and personalize the app--adding their own information, including the license plate—it's ready to use to pay for parking. When consumers arrive at a parking space, they:
Choose how long they need to park.
Receive an instant response with the cost for the chosen time period.
Click the PAY button (if the pricing is acceptable) to confirm the transaction with the payments processor.
Select the desired notification time (e.g., 10 minutes) to receive a push notification as a reminder to extend the parking time or move the car ("Notify me 10 minutes before my time is up.").
Consumers may extend their paid parking time at any point without visiting the parked vehicle.
Governments
The POC also enables parking inspectors to check parked cars for parking violations and create tickets directly from the app. This version of the app includes a real-time license plate recognition service that instantly check cars for violations. Inspectors just point their phone camera at the car and they receive an immediate response with the license plate and current parking violations, if any.
Parking Garage/Lot Owners
The parking app POC features dedicated for the parking owners include:
A dashboard that enables owners to easily change information about their locations, such as opening/closing hours, pricing and parking time limits. All changes made by owners on admin site are immediately shown in consumer app.
A "Payment Service Settings" to select Visa Checkout or Google Pay as the payments processor.
On-demand report generation, including list of parked cars and payment transaction information.
In the future, integrations with iOS Apple Pay mobile application is planned.