A 2017 FDIC survey estimates that 6.5 percent of U.S. households are unbanked. Instead of using banks or credit unions, they rely on alternative financial services (AFS) such as payday lenders or pawnshops.
This scenario presents a challenge to employers such as Burger King and McDonalds, who must find a secure, reliable, and easy-to-manage way to pay employees. It also offers a great business opportunity to savvy financial services firms.
One such firm is Atlanta-based PayPartners—acquired in 2013 by Chattanooga-based TransCard, a provider of innovative, cloud-based prepaid solutions. PayPartners offers an alternative to AFS organizations, which often charge fees ranging from 1 to 6 percent of the face value of a paycheck. PayPartners allows employees to load some or all of a check's value onto a prepaid card. It also allows employers to reimburse employees for travel and expenses and to provide incentive payment cards that reward them for winning contests or meeting company goals.
The Need
PayPartners wanted to build a solution that included prepaid card processing, managed the entire payment processing lifecycle, and enabled employers to issue payment cards to overseas employees. The company also wanted to reduce customer service costs. In addition, PayPartners needed to replace its Lynk processing system with i2C and TransCard processors. (Both card processors have APIs that make it possible to increase the number of bank systems with which PayPartners can interface.)
PayPartners chose Softjourn as its development partner because of our successful projects with iKobo, an international money transfer service, and Nutrition Systems, a nutrition consulting, foodservice management, and purchasing firm. The company was impressed with our prepaid knowledge and experience and ability to create a cost-effective self-service portal designed to address the needs of employers and employees.
The Solution
Given the extensiveness of PayPartners' development needs, Softjourn assigned a five-person team to the engagement.
The team's first task was to integrate PayPartners' back office system with the CHEXAR® check cashing and risk management system. This integration created a new service called Branch Office®.
Each retail bank could determine the forms of identification it would accept. Check-cashing customers would benefit by converting the face value of the check—minus a cashing fee—into cash or depositing some or all of the value of the check to a prepaid card, minus applicable fees. The bank would benefit by being able to more easily reach and provide fee-paid services to millions of the unbanked, by reducing the risk of handling cash for employees and customers, and by reducing the costs incurred by maintaining cash in the vault. Figure 1 illustrates the check-cashing enrollment process.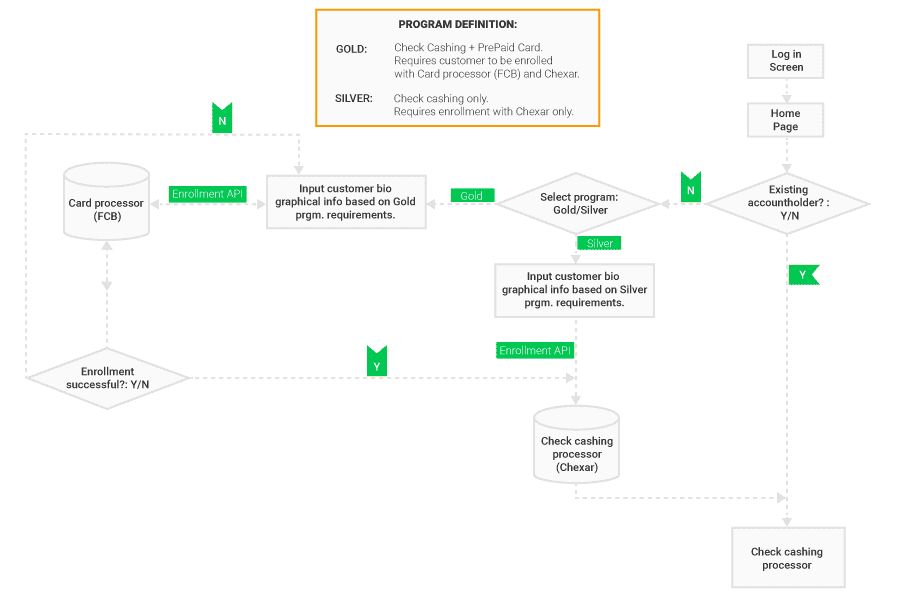 Figure 1 Check Cashing Enrollment
As part of the Branch Office, Softjourn enabled check scanning with a ScanShell scanner and software that reads the magnetic ink character recognition (MICR) line on checks. Because Back Office works on the Linux/Apache operating systems, and ScanShell uses Windows drivers, Softjourn integrated them with Active-X components. This solution made it easier to authenticate checks, saving bank employees time and effort.