Why Design?
January 16, 2019 by Softjourn
---
With any software development project, everyone wants to get to the finish line as fast as possible. So, we're often asked, why "delay" website and mobile app development by spending time on design? Why not go straight to development? Our answer: The design process delivers three key benefits that contribute to a better result for our clients and create greater client satisfaction, specifically:
Saves time and money

. The design process typically saves our clients time and money because we're able to clarify and test their expectations before moving into the more time-consuming and costly development stage.
Avoids frustration. Our designers are experts at translating clients' expectations into the information and tools developers need to work quickly and smoothly to deliver finished projects—minimizing the frustrating back and forth in the development stage.
Creates a better UX. Our designers are focused on delivering the best UX possible for our clients' sites or apps, so they not only deliver the features and functionality our clients need but also a polished, user-friendly experience for customers.
At Softjourn, we build a design component into every website and mobile app development timeline. Our in-house team of designers and illustrators work directly with our clients to understand what they want to accomplish, create design options to achieve clients' goals and then seamlessly transitions the designs to Softjourn developers or, if a client chooses, to their own developers to bring the site or app to life.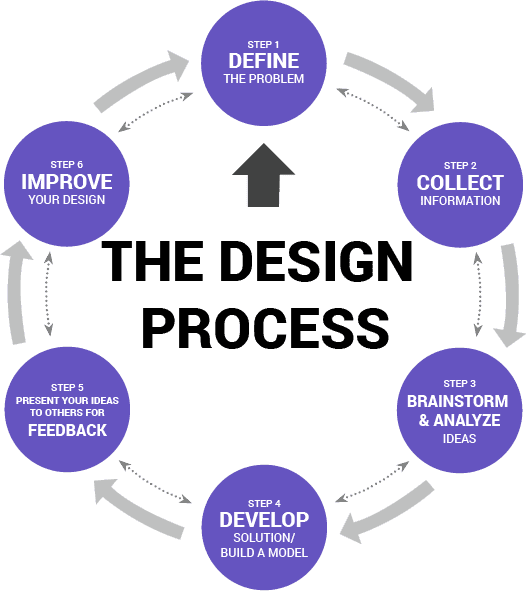 Figure 1 Softjourn's Design Process
Our lead designer, Lidiya Boychuk, shared more of her thoughts about the value of the design process and her tips for clients to achieve great outcomes for all their website and mobile app development projects.


Softjourn: Lidiya, what's the key to designing a great website or app?

Lidiya Boychuk: That's easy, it's communication, communication, communication! I don't mean to boast, but the Softjourn designers are experts at getting into our clients' heads to seek out what they want their sites or apps to accomplish, as well as to uncover our clients' style and preferences. Because we've all had years of technical design experience and work continually to hone our skills, we can even help clients find their voice and refine their ideas so their sites or apps work flawlessly, look great, promote their brand and offer an amazing UX.

SJ: You actually started as a developer. Why did you transition to design and how does your developer background influence your design work?

LB: You're right, I did start as a developer. But, I also have a foundation in art and I found myself drawn to the more graphically creative side of the business. But, having been a developer, I know what will and won't work in terms of creating design solutions that developers can execute. So, we design with the creativity of artists and the sensibility of developers. This means we don't hand over designs that are impractical from a development perspective. This saves our clients time and money, and—importantly—avoids the frustration of developers not being able to deliver a design because it's technically infeasible.

SJ: Does thinking like a developer limit your creativity?

LB: I don't think of it that way. Any medium you work in as an artist has some practical limitations. In a commercial environment where time is money, understanding the practical limitations of your craft is a plus. On one hand, it creates a boundary, so you don't design what can't be created. On the other hand, if you know where the boundary is, you don't have to hold back. You can create right up to border of that limit, knowing that the developers can go where you're taking them. So, thinking like a developer is actually enabling. And, most importantly, it means our clients have a seamless design-to-development process.

SJ: Can you walk us through the design process Softjourn employs?

LB: The process is straightforward and consistent with
industry best practices. And, at every stage, we're communicating with the client. Keeping communication flowing in both directions is the glue that supports the entire process.

We start by working with the client to define what their looking for. It may sound odd, but sometimes clients have only a general idea of what they want. It's our job to probe, ask the right questions and offer direction to help clients clarify their project for themselves and for us. We encapsulate this definition in a design brief document that clients and Softjourn agree to, and that document becomes our touchstone throughout the process.

Then, we go into the information collection phase. This can cover a lot of territory. For example, if the client has an existing brand identity and an established look and feel, we want to collect information about design requirements and parameters. Or, maybe, we're collecting images and ideas that will inspire us or help us get to know clients' businesses on a deeper level.

That leads to the brainstorming phases, when we take everything we've learned about the client and all the information we've gathered and begin to analyze how all of these ideas can come together in a cohesive design concept.

We then create several small-scale preliminary design solutions. This has a dual purpose: On one hand, we have concrete designs to show clients to generate feedback, and, on the other hand, it starts setting the style we'll carry through to additional pages or screens as we complete the project.

The really exciting part is receiving feedback from the client regarding which design—or, often, combination of designs—best captures their vision. Of course, we love it when the client says we nailed it on the first try. But we also love how our design solutions inspire clients to come up with additional ideas that enhance our creativity. While heavy two-way communication is ongoing throughout the process, this is the point that is most interactive and requires not just good but great communication with the client.

After some tweaking and fine-tuning, the client signs off on the design and we extend the approved design to all of the pages or screens the client needs. This, of course, creates another approval round, which is that last step before we hand over the design to the developers. Even after the official handoff, we stay engaged—making sure the developers have everything they need, answering questions and verifying that the developers are executing on the client's vision, including delivering an impeccable UX.

SJ: You make it sound easy.

LB: Well, straightforward and easy aren't the same thing. There's a tremendous amount of work and collaboration, internally and with clients, that goes on related to each of those steps. But, regardless of how much effort it is on our end, our job is to make it as easy as possible for clients.

I should also add that the outline I gave is a general one. There are specific steps we take depending on whether we're designing a website or an app. The client, size and complexity of the assignment also are factors in our specific approach.

SJ: You mentioned earlier that you give developers everything they need. What do you mean by that?

LB: Our goal is to enable the developers to focus exclusively on development. We don't want them hunting for items such as icons or fonts, or graphics or branding elements. We have everything ready for their use to minimize the time they spend on non-development issues. This is an efficiency move that also reduces the time and cost of development, which tends to be more expensive than design, and keeps the developers from improvising because they don't have an element they need, which also eliminates the frustration of clients seeing something unexpected in a website or app.

SJ: So, where does attention to the UX fit in?

LB: Attention to UX is baked into every step of the design process, because we are true believers that you can't have a great website or app without superior UX. Consumers and business customers are too sophisticated and too busy to put up with a poorly designed user journey that require more than the minimum time and effort investment. We aim for simplicity and clear and clean design, and back that up with attention to detail and rigorous testing.

Seriously, hitting one bump in the user journey can cause users to walk away—that is, abandon the website or app or go to another provider. We don't want just visitors to our clients' sites and apps; we want to help our clients build loyal customer bases. And, we believe great UX is a major factor in achieving that.

Once we turn the design solution over to the developers, we're watching them closely to ensure they protect the UX also.

SJ: How does having a design team work to a client's advantage?

LB: Each project we undertake is assigned a dedicated designer, so the client has a point person who is responsible for the project and is the primary communicator during the design phase. But, the dedicated designer can call on the resources and strengths of his or her Softjourn colleagues.

As designers, we all have strengths and unique experiences, so if—for example—a client's project would be enhanced by a type of original illustration in which a colleague is particularly gifted, we'd bring that person into the project to create those illustrations.

The great part is we have this depth of talent in-house, so we can access the talent quickly and without third-party markups. And, for us, as designers, it's inspiring to work in a collegial environment, which contributes to delivering a better experience and end product for our clients.

SJ: Design is subjective. How can a potential client feel comfortable that your design aesthetic is compatible with its own? Or, maybe, how can a potential client understand your range?

LB: The best way to judge what we're able to do for a client is by examining what we've accomplished for others. We have a substantial portfolio of sites and apps that we can share, along with the parameters the clients gave us to work within. In addition, we appreciate seeing designs that clients really like or dislike, as a jumping off point to discuss our capabilities. Finally, we encourage potential clients to ask us their toughest questions. We want to know their aspirations and their doubts.

We'll answer openly and honestly, because as I've said before, the best relationships are based on great communication.
Softjourn is a global technology services provider that finds custom solutions for our clients' toughest challenges. We leverage our domain expertise in Fintech, Cards & Payments, and Media & Entertainment (with a special emphasis on ticketing), to apply new technology that brings our clients' growing needs to life. Contact us to discuss how we can make your idea a reality!