Card Tent, a start-up provider of corporate payments and rewards, enables companies to deliver mass payments to employees, agents, vendors, and customers. Its global money remittance platform utilizes an eWallet which lets recipients choose how to receive their funds. Options include domestic & international bank transfers, virtual prepaid cards, eGift Cards, P2P payments, and an optional reloadable debit card. Cash at Western Union and Crypto are slated as future integrations.
One of the most significant benefits of eWallets is they simplify mass payments. To process a payment, a company simply uploads their recipients' email addresses and amounts to be paid, then initiates a single transfer of funds. Card Tent funds the individual eWallets, which support payments in multiple currencies. In addition, a company does not need to maintain and update beneficiary payment information as details are inputted directly by the beneficiary.
Card Tent's Pay & Reward platform supports both reward payments for employee incentives or consumer promotions and payments to agents and vendors. For reward payments, there is a claim process. The claim process enables Card Tent to provide its client a partial credit back on unclaimed rewards, which may be used for future programs.
Card Tent's platform is banking and regulatory compliant. Its international payments are processed over Corpay, a service provided by FleetCor (NYSE: FLT). Money transfers can be made to almost anywhere except sanctioned countries, and Card Tent offers eGift Cards in over 30 currencies.
This is Card Tent's second partnership with Softjourn since 2012 when they partnered with us on an eGift Card mobile app. By leveraging Softjourn's expertise in pay systems, Card Tent gained access to a domain-dedicated team of experts with a deep understanding of the project needs. In addition, since we were already familiar with their product, project goals, and the third-party API requirements they needed, we were able to provide them with a clear solution road map, help with integrations, and steps in further development.
The Needs
Card Tent felt it was time to scale their business by building and changing some functionalities. They specifically looked to build a payout service, customized emails, and notifications, and create demonstrations of their product for their clients.
However, to build the features that Card Tent required would involve creating a proprietary user interface and API integration. This can be difficult due to different API requirements between the API a third-party uses and the API needed for the desired solution. This is why Card Tent chose Softjourn as a trusted partner to ease the integration process.
Integrating with a service provider can work incredibly well for start-ups wanting to quickly get on the market. They also help start-ups save time, money, and resources, and gain external knowledge. Third-party systems are especially popular for fintechs since they eliminate the often difficult and lengthy processes to integrate with processors and gain PCI compliance.
While there are definite perks to working with a third-party service partner, it is crucial for any start-up to take into account how well their partner's APIs will handle their product's needs and requirements, how well they communicate, and if they offer a secure, flexible, and scalable solution. In Card Tent's case, it took extra foresight and documentation, careful analysis of API requirements, and technical expertise.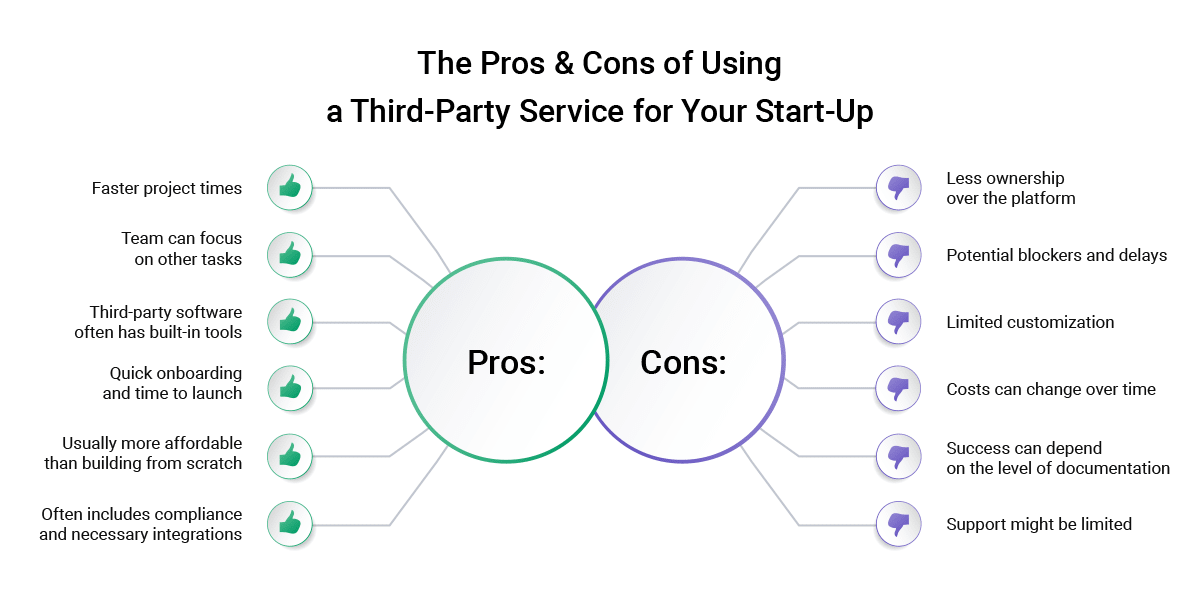 The Solution
When integrating with a third-party product, we recommend our clients conduct an API discovery phase. A discovery phase gives both the client and the service partner the knowledge of what is required and which parts are lacking and can help them map out their API needs.
Fortunately, since we had recently worked with Card Tent on their UI/UX design, we were able to have prior documentation to understand the scope of the project. In our project proposal, Softjourn also identified assumptions and risks that could happen during integrations. For example, we noted that some features may not be possible or work with complications since Card Tent's user flows were not yet validated against the APIs. While these factors could potentially affect the project's timeline and budget, we still were able to give Card Tent a fix-bid estimate for their integration phase.
Additionally, we helped to create and hold product demonstrations for potential clients and investors of Card Tent. Many of these potential investors told our client that the product is clear and interesting and that they saw real business potential. Card Tent and Softjourn received only positive feedback during our demonstrations.
The Benefits
By working with an expert team, Card Tent was able to overcome the difficulties of integrating white-label products on top of third-party software. During our partnership with Card Tent, we focused on doing the following:
Forward Thinking
By doing prior research, we were able to see gaps in the API, and map out what functionalities Card Tent required, as well as what solutions were available via the API.
Consistent Communication
We used frequent meetings and work sessions with Card Tent's team as we always strive to have open and consistent communication. We were lucky to work with very communicative teamswhich made analysis and integrations easier.
Technical Clarity
Our Business Analyst was an important part of dissolving confusion around technical information for the client and was also able to help solve blockers by providing all teams with clear information.
Flexibility
Often, the biggest challenge of working with a third-party solution is not knowing the service well. We assumed from the beginning that there will be some things we cannot prepare for, so we know to always have a Plan B or C, and find workarounds for any issue that might come up.
Proactivity
Our Solution's Architect was involved in the project and created a vision of the business logic on a technical level. We were proactive in recommending high-level solutions and a structured plan for Card Tent.
Expertise
We have nearly two decades of experience in developing fintech solutions, including integrating payout platforms, and our technical expertise helps us solve the toughest tech issues.
Conclusion
Card Tent and Softjourn are still in touch as integrations proceed onward. We were able to help them reach their integration goals, delivering the product on time and within budget. We were told by the client that there was only positive feedback from the demonstration we collaborated on.
Jeff Ehney, the Founder and CEO of Card Tent, recognized the hard work and dedication Softjourn provided to this project:
"The site looks fantastic! The application has exceeded my expectations. Everything is really coming together and I am excited about the launch. Thank you so much for your hard work."
Whether you are building a product from scratch or building on top of an existing product, an experienced partner with expert fintech knowledge will help you reach your goals. We know our way around even the trickiest integrations and tough technical problems!