Putting together an event or show, no matter the size, is a large undertaking for any event producer. On top of booking venues, creating the guest list and much more, there are also technical issues to take into account, such as ticketing. From coat check tickets for a gala to lanyards for a conference, organizers often need outside assistance to ensure everything runs smoothly.
Canada-based myZone Printing has been a life saver for promoters since 2002. It supplies high-quality, custom event tickets, lanyards and wristbands, as well as marketing and web design services for events in North America. Its solutions provide many of the behind-the-scenes needs, allowing organizers to efficiently manage their events and create a seamless experience for attendees.
myZone pre-prints a wide variety of tickets for its customers who have walk-up ticket dispensers, box offices, and more. Printers and related software are evolving constantly and myZone has to stay on top of upgrades to continue to meet its clients' needs. When the company found that it needed an application upgrade to avoid costly printing downtime, it faced costs in the thousands; on average, across all businesses, system downtime costs can exceed thousands of dollars an hour1, which was not affordable. myZone found the perfect solution in the virtual software development services of U.S.-based Softjourn, Inc.
We wanted to work with a company that had previous experience working with Boca code, and from our initial meeting we learned that the Softjourn team had the skills and talent to help us, said Mr. Allen Trottier, CEO of myZone.
Making the Upgrade
myZone's printing services are largely dependent on the use of Boca Systems printers. The printers are the most cost-effective, reliable and versatile options on the market. They are designed to print high volumes of tickets, and there is a model that fits virtually every type of ticket.
As new Boca Systems printer models rolled out, myZone faced an issue with the application used to run print jobs. The software worked with older Microsoft ® Windows 7 products, but would not launch reliably on printers running the robust Microsoft Windows 10 operating system. Finding a solution was especially important not only because of new equipment running Windows 10 but also because Microsoft's Windows 7 support ended in January 2020.2
We would have been susceptible to our software failing, related Mr. Allen Trottier, CEO of myZone.
To meet its clients' needs, the company sought an application that was fully functional with modern operating systems. It wanted to find a developer that was familiar with Boca products and software, and found that Softjourn could meet its needs.
Softjourn offers nearly two decades of virtual software development experience to clients in the U.S and Europe, handling the work from its development hubs in the Ukraine and Poland.
myZone leveraged Softjourn's experience to find a solution to its application challenges. A team of developers determined that it was more efficient to create a new application that would work with Windows 10 than to update the older application myZone was using. The Softjourn team then set about building the newer application from scratch.
As a software development resource, businesses work with Softjourn to develop new applications and systems from the ground up. We augment their in-house staffs when specialized expertise is required, and we can add technology resources during peak periods of development, says CEO and COO Emmy Gengler.
From Blueprint to Printer
Important to the development of the Windows 10 Print Manager application was the ability to send images and templates to the printers, as well as offer the functionality to print sequentially-numbered tickets. To ensure functionality in a variety of settings, the app works with both local and network printers and runs on Windows 10 machines with .NET framework v4.5+.
When launched, the app pulls a list of installed printers into the Printer dropdown menu. When the printer is selected the app reads the printer status and starts a background job to monitor status change.
To send a ticket to the selected printer, the application allows the selection of PCX and BMP files. Loaded files are then sent and stored in the printer's memory and can be reused. The application also allows templates to be stored and edited.
To meet myZone's unique specifications for the application, Softjourn created an option to print single tickets or numbered tickets. From there, users can test the output and start the print run.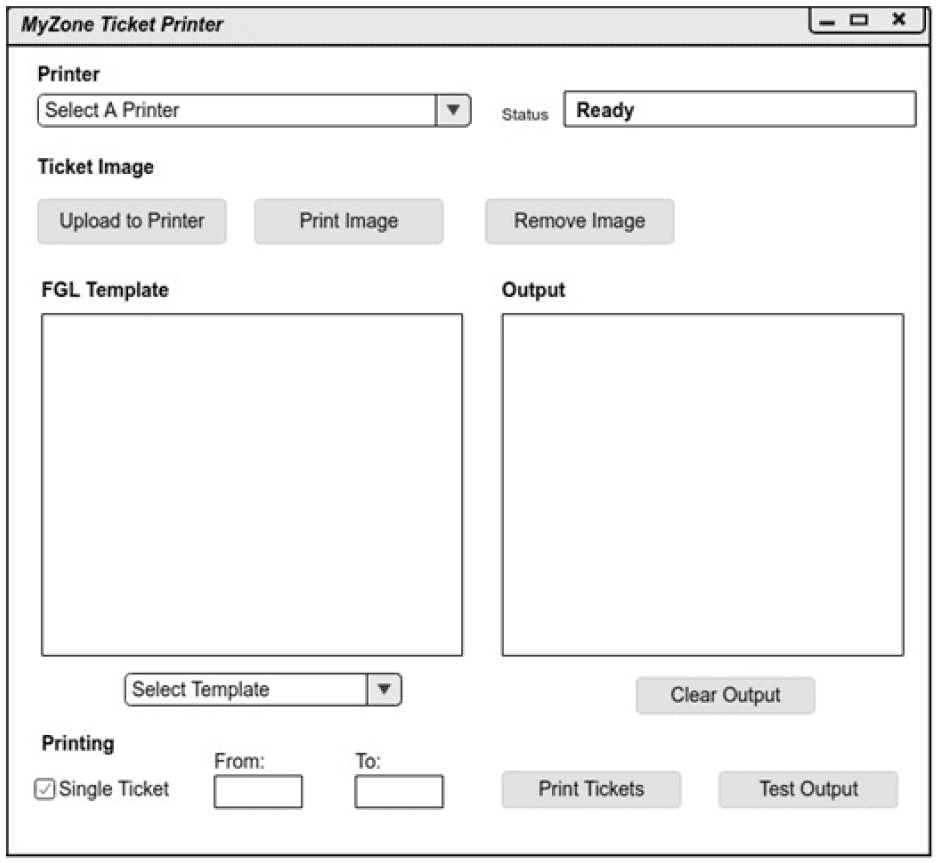 Softjourn Services: Just the Ticket
myZone was able to begin implementing the application upon completion of the project, and it is performing to expectations. In addition to delivering the final product, Softjourn's virtual development services also met myZone's needs for a trusted business partner.
The job was done well, on time and at a fair price, said Trottier. We now have software that works the way we need it to.
1Arsenault, R. (2016). The (Rising!) Cost of Downtime. Aberdeen Group. Accessed March 2019
2Microsoft Support (2020). What Happens When Windows 7 Support Ends? Microsoft. Accessed March 2019.