According to a recent IBISWorld report, the event ticketing industry should grow at an average of 8% in 2022.1 That's why everyone in the industry is now focusing on optimizing their offer and products—and tickets are a good place to start. Ticket-buyers have quickly embraced digital tickets and started using apps, which is steadily moving ticket-buying online.
Creating a solid ticketing strategy could transform your future events, as it will let you control what type of tickets you're offering and for which event to incentivize attendance.
Ticket Attributes
Simply put, a ticket offers a voucher that allows someone to access your events and enter your venues.
Each type of ticket comes with certain features, and event organizers can customize them according to name, price, timeframe, intended audience, or any other aspect.
Title. The category of a ticket: Adult, Student, VIP, etc.
Description. Additional details regarding benefits and any restrictions connected to a ticket.
Minimum order. The minimum number of tickets that have to be purchased in a single order.
Maximum order. The maximum number of a ticket type that may be purchased in a single order.
Quantity. The total available tickets.
Ticket Price. The price of a single ticket.
Available dates for purchase. The timeframe within which a ticket of a given type can be purchased.
General Admission is usually the most basic type of ticket, but today organizers can adjust tickets according to the type of event and the audience expected. By thinking outside the general admission box, you can create ticket types that target a variety of different people planning to attend your event.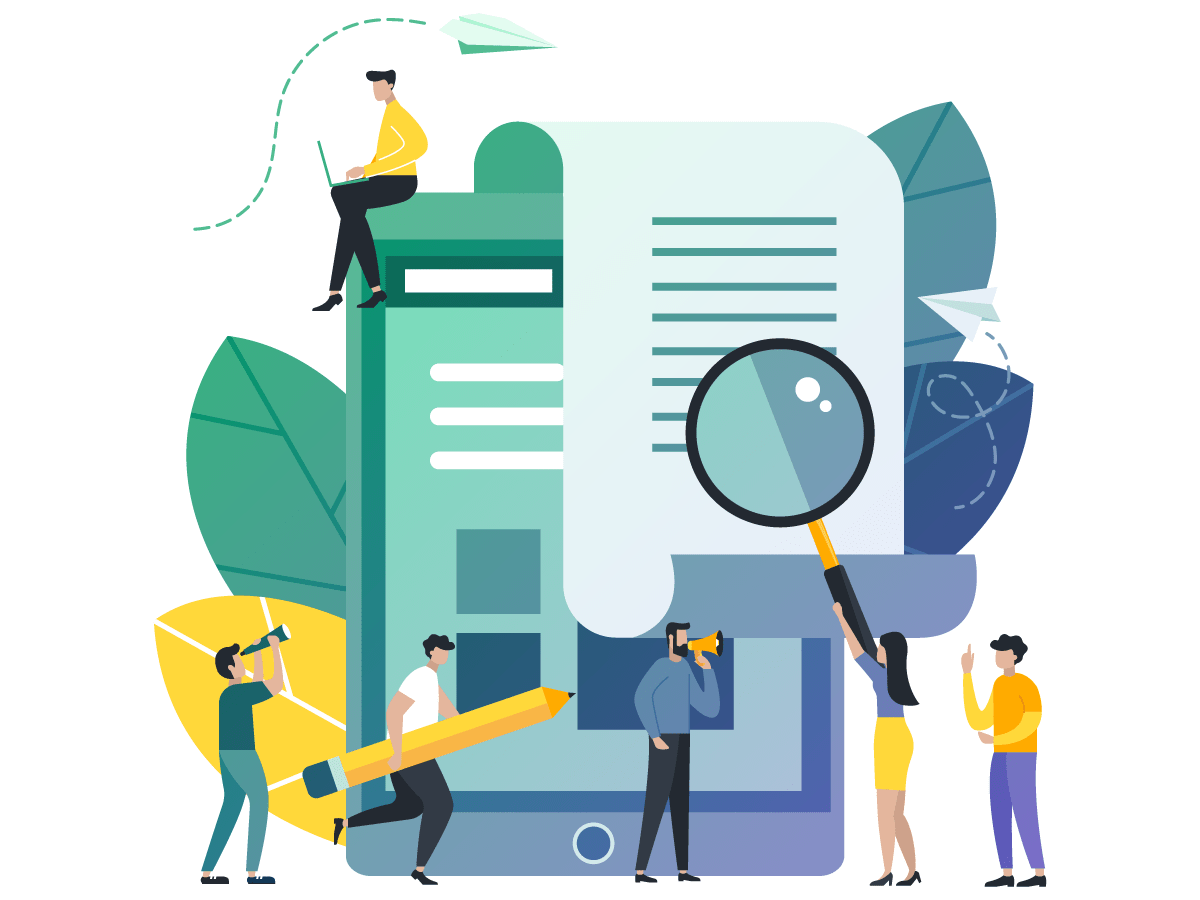 Why Offer Multiple Types of Event Tickets?
When used correctly, multiple ticketing types are useful for supporting large event strategies and revenue goals. Knowing your audience is critical to making good decisions about the types of tickets you offer at the different events you organize. Consider building different event ticketing solutions to attract various audiences and add to your event's success.
While general admission works well for audiences interested in affordable tickets for large-scale events, for smaller events like art exhibits or fashion shows, arranged seating and VIP tickets allow patrons to participate in a more fulfilling event experience. What's more, using specialized tickets, you can attract those willing to pay more for better seating or extra services.
After understanding the concept of General Admission tickets, it's essential to recognize that different kinds of tickets are available to cater to various audience preferences and event requirements. This section will explore several ticket categories you can offer to create a diverse and inclusive event experience for your attendees.
Building A Ticket Strategy
Selling tickets doesn't have to be complicated if done right. Once you know what to take into consideration when planning your event, a good ticketing strategy will determine your event's success. Providing incentives makes the ticket buying process profitable and interesting only if you know your audience and its income level and can offer exactly what people want.
Here's what you need to consider before deciding on what ticket type you will offer:
Event type and size
Venue capacity and accessibility
Attendee age range
Income level of attendees
Event revenue goals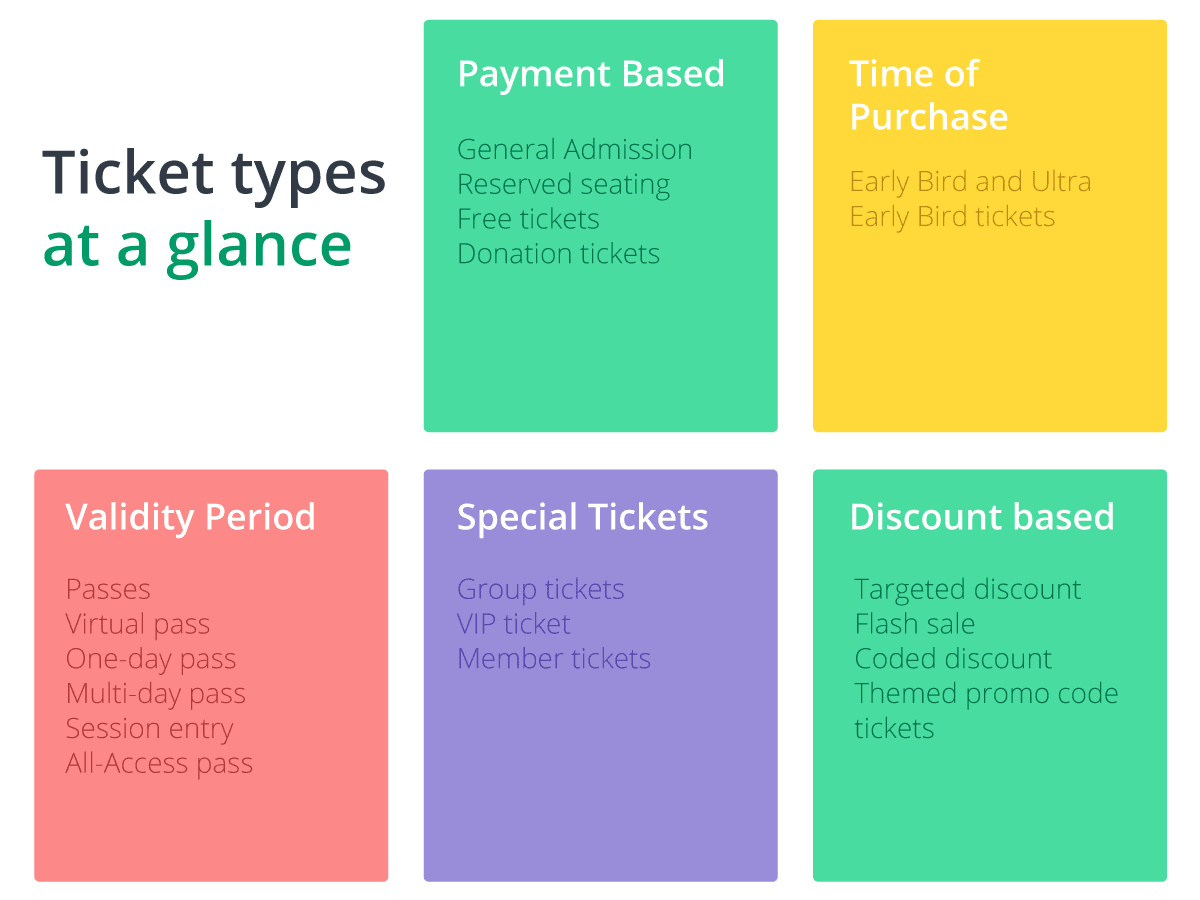 Types of Tickets
General Admission. The most popular ticketing type is General Admission. With this type of ticket, there are no special prices or assigned spots, so the first people to come will generally get the best seats. Event managers use this type for various large and small events, as it's generally more budget-friendly.
Reserved seating. With reserved tickets, event organizers allow patrons choose their seats and venue sections. This allows attendees to arrive at a venue later, and their seats will be waiting for them. Reserved seating works best for music concerts, sporting events, and clubs with limited seating.
Free tickets. This type of ticket is free for both organizers and attendees. Free tickets are used for tracking attendance and are common for volunteer organizations that need to know how many people will show up at their event. Another way to put these tickets to good use is to use them for guest lists, as everyone with free access should register and leave their name and possibly additional information.
Donation tickets. Donation-based ticketing is an effective way to attract a price-sensitive audience. Fundraisers and charities often use this type of ticket, as it allows open-ended pricing, so attendees can leave as much money as they feel comfortable.
Early Bird and Ultra Early Bird tickets. Whenever tickets are released before a certain date, those tickets are referred to as early bird. Typically, they are more affordable and allow attendees to select better seats or get premium service for a better price. Organizers use early bird tickets to boost ticket sales and spark interest in potential audiences. The number of tickets sold also works as an indicator of interest and can fuel future marketing decisions.
Passes. Passes are typically tickets purchased upfront and valid for a series of different events. Event managers offer passes to improve revenue for multiple events over a specific time period. As visitors can't pick and choose individual events, passes often motivate them to explore events they might not otherwise have bought an individual ticket for. Passes are great for conferences, music, art or film festivals that host multiple events and large, roaming audiences. For this reason, they are often used for multi-day conferences with many different events.
Virtual pass. If you want to give people access to a live-streamed event or a previously recorded session, a virtual pass is the way to go. Virtual tickets are cost-effective, as they only exist in a digital format, while still offering value to remote audiences.
One-day pass. Multi-day festivals, conferences, and other big events can be overwhelming for some people. A one-day pass offers them the chance to attend for a single day—and potentially get tickets or passes to the rest of the event. Patrons can come to an event when it's convenient for them, but they could choose to buy a multi-day pass to your next event.
Multi-day flexible pass. If your event stretches over the course of a few days or even a week, you can let patrons buy a customizable multi-day pass. Such tickets are typically ideal for big music festivals and major sporting events, as they allow people to choose which concerts or games they want to attend, at a reasonable price.
Group tickets. Bundling tickets is a fantastic way to allow groups of friends, family, or colleagues to enjoy your event. Instead of selling tickets individually, some organizers offer only group ones to increase the number of spectators to generate a special atmosphere. Group tickets are highly effective for large sporting events, stadium concerts, or family-oriented events.
VIP tickets. This ticket type provides a premium event experience and comes with the highest price tag. Organizers can use these tickets to increase revenue without raising the price for the other ticket types in their offer. VIP tickets typically target high-value customers willing to pay extra for pre-show exclusive events, front row or special viewing booth seats, access to additional amenities, and other services.
Member tickets. Special member tickets have additional value for the biggest fans, who can reserve a spot at the event of their choosing. As a reward for their loyalty, these buyers can be given branded merchandise, access to early bird offers, or additional tickets free of charge. Memberships also encourage fans to join loyalty programs and earn points, discounts, or exclusive offers in the future.
Flash sale tickets. Limited sales that last a short time are known as flash sales. When you have a limited quantity of certain products, in this case, tickets, discounts can help potential customers in their decision-making process.
Themed promo code tickets. A Christmas concert, Halloween party, or any other themed event can be a perfect opportunity to incentivize potential attendees to get tickets. Promo codes are commonly used as a part of early bird offers for those interested in getting the tickets before others.
Ticket Delivery Methods
Thermal tickets
Unlike standard tickets printed in ink, thermal printers use high heat to transfer color on paper. Most of these are far more efficient than traditional laser or inkjet printers. One of the standards in thermal ticketing is the Boca printer.
Softjourn has developed two native desktop printing applications for Windows and Mac OS. These apps allow users to print tickets with a simple click, receive notifications if any issue arises.
Mobile Tickets
Mobile ticketing apps are among the most common ways to buy and validate event tickets and their popularity will only rise due to COVID-19. By reducing the distribution costs connected to traditional paper-based formats like printing and distribution, mobile tickets add convenience by providing customers with newer, simpler ways to buy event tickets.
If you are looking for a way to have complete control over ticket distribution flow and prevent fraud - mobile-only tickets are the solution. They can be delivered through a dedicated mobile ticketing app that controls how to present the ticket for the access control or how it can be transferred to someone else.
Benefits of using mobile tickets:
eliminate ticket fraud
control ticket reselling process (fight with scalpers)
KYC (collecting more information on who is actually coming to your event and who bought the ticket in the first place)
secure and contactless access control
Radio Frequency Identification (RFID) Tickets
What makes RFID tickets, wristbands, and labels so successful is the ease of use. Every ticket has an integrated circuit attached to an antenna on a thin plastic sheet where data is stored. Today, RFID is one of the most flexible and secure ways to identify and track attendees, whether your event is small, medium or large.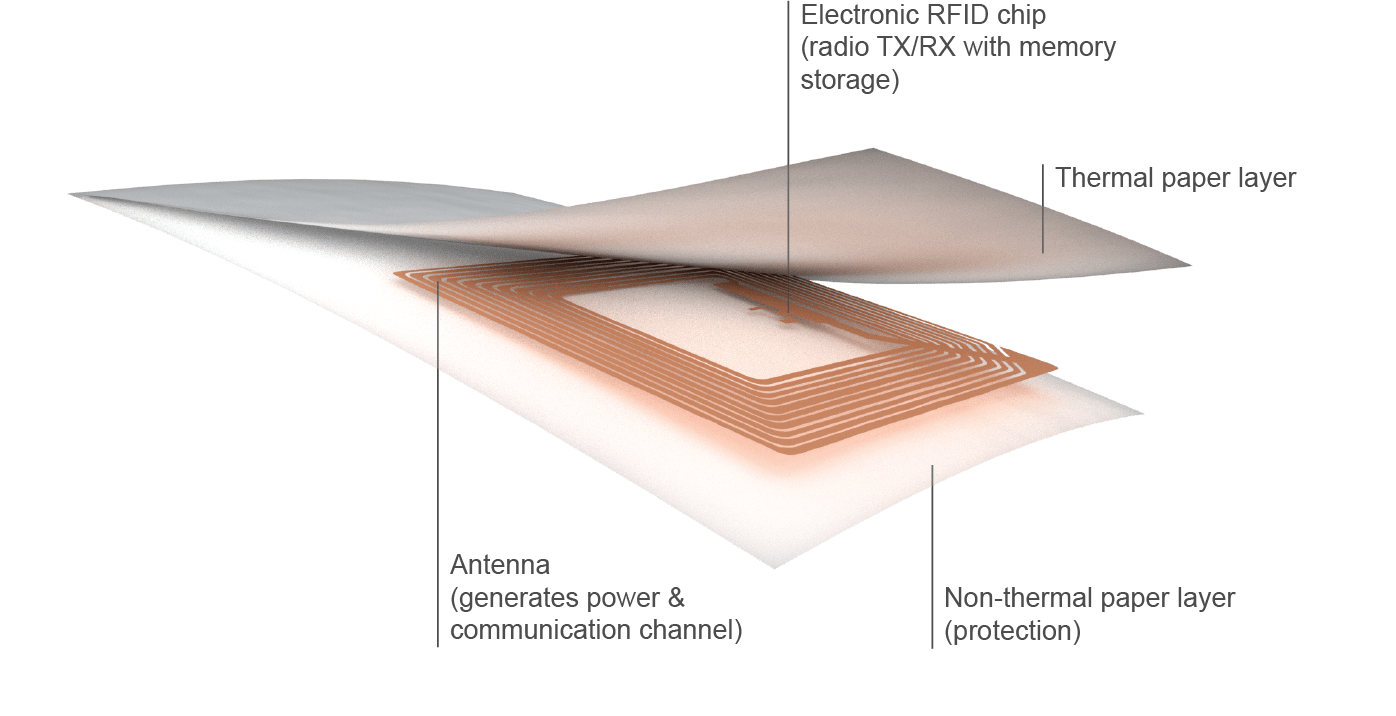 Ticket Pricing Strategies
A number of pricing strategies can be used for your event. They can work well provided that you understand how to use them to avoid unnecessary losses. Before making a final decision, consider that all ticket sales are a delicate balance between the price and number of tickets sold.
Tiered Tickets
Patrons of any given event can vary considerably. By offering a variety of tickets, you are giving them the freedom to choose what fits their needs best.
Early bird tickets are great for people with limited budgets who want to spend as little as possible on tickets. That's a very good reason to include early-bird tickets in your offer, as they are one of the best ticketing strategies. Discounts incentivize attendees to register beforehand, especially if you generate a sense of urgency by adding a countdown to your ticketing platform.
Higher tier tickets, usually VIP, work best for patrons who want a premium experience. If you add value to the event, offering the best seats and access to additional amenities and services, these customers will be happy to pay more.
Dynamic Pricing
At its core, dynamic pricing, aka variable pricing, is the concept of selling the same ticket at different prices based on real-time demand. In ticketing, dynamic pricing is a way to optimize the cost-per-ticket to maximize overall profit.
Until recently, most businesses could apply dynamic pricing only crudely—manually or using rudimentary apps. Today, the available software—including AI-based apps—, along with improved communications and the digitization of the ticketing experience, has redefined dynamic pricing. It enables ticket sellers to alter the prices of unsold tickets in response to customized variables.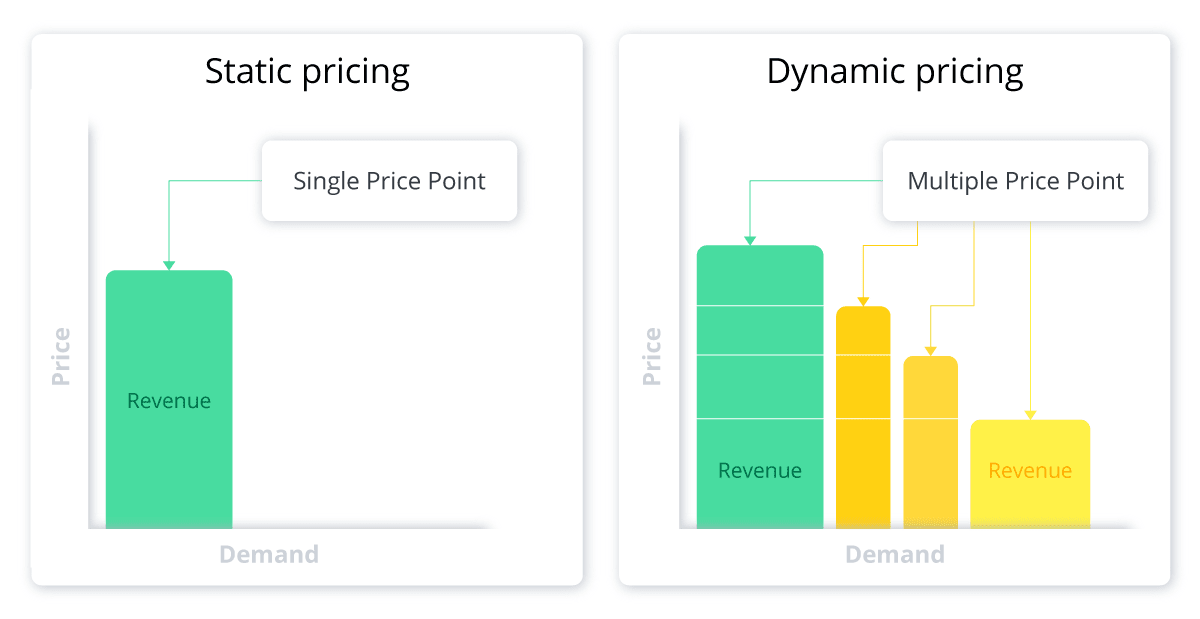 Dynamic pricing software can incorporate numerous variables specific to your ticketing business and needs, such as:
● Sales trends
● Inventory levels
● Competitive pricing and data
● Customer purchasing patterns
● Product demand
● Market conditions
● Pageviews and cart abandonment
Conclusion
Tickets are a major component of the event industry. Every ticket comes with various attributes that allow organizers the flexibility to attract a more diverse audience, support revenue goals, and offer a more fulfilling event experience. By making thoughtful decisions on the types of tickets you can offer, you can positively affect the number of attendees, their satisfaction, and the amount of money they will spend.
Here at Softjourn, we have been working in the ticketing business for almost two decades. Our experts know the industry inside and out and if you need advice on how to build your ticketing app, use blockchain or improve your ticketing system - we're always ready to help you explore your options.
Because ticketing is one of our specialties at Softjourn, we've talked extensively with many firms in the ticketing industry as they worked through the same decisions you may be contemplating right now.
Why not reach out to us and make your next event the best one yet!