Over-the-top (OTT) market has been growing rapidly in the past few years. Today, platforms like Netflix, Amazon Prime, HBO Max and Hulu are considered mainstream because of their successful OTT business models that draw millions of users to watch their content every single day. It has become a fiercely competitive market, with everyone fighting for new subscribers and their wallet share.
According to Grand View Research, the global video streaming market is rapidly growing and is expected to reach a staggering $223.98 billion by 20281. The main drivers of this growth are the growing global use of mobiles and tablets, digitalization, and the popularity of online streaming platforms. The COVID-19 outbreak doubtless contributed to the dramatic increase in consumption of video streaming services as more subscribers flooded the major OTT platforms.
VOD and OTT: Differences and Similarities
For anyone that has ever heard about over-the-top (OTT) media delivery, the difference between OTT and video-on-demand (VOD) might not be clear. VOD is not synonymous with OTT, even if some platforms can be classified as both.
OTT broadcasting model is related to content that's delivered over the internet and not via cable TV or satellite. The biggest names in OTT are Amazon Prime, Hulu, Netflix, Disney+ as well as VoIP services like WhatsApp. What connects all those companies is the fact that they're offering content that allows viewers to bypass traditional broadcasting.
VOD can be any video content that users can watch whenever they want, and Netflix is the best example of a platform that's offers both VOD streaming and OTT. In many cases, the two terms overlap, but that's not always the case. While OTT describes the distribution model and its focus on consumers, VOD is a consumption model that spans various industries.
What Are Consumers Looking For?
Consumer interest in new movies and shows is growing by the day. In fact, viewers are now focusing on high-quality content and they are willing to pay multiple subscription fees for access. What's more, with new market players appearing every day, users have a growing range of options to choose from.
Source: Nielsen Total Audience Report 2019
OTT services attract new users by offering cutting-edge features and technology, and regularly updating existing features that provide users a more enjoyable experience sharing content with friends and family.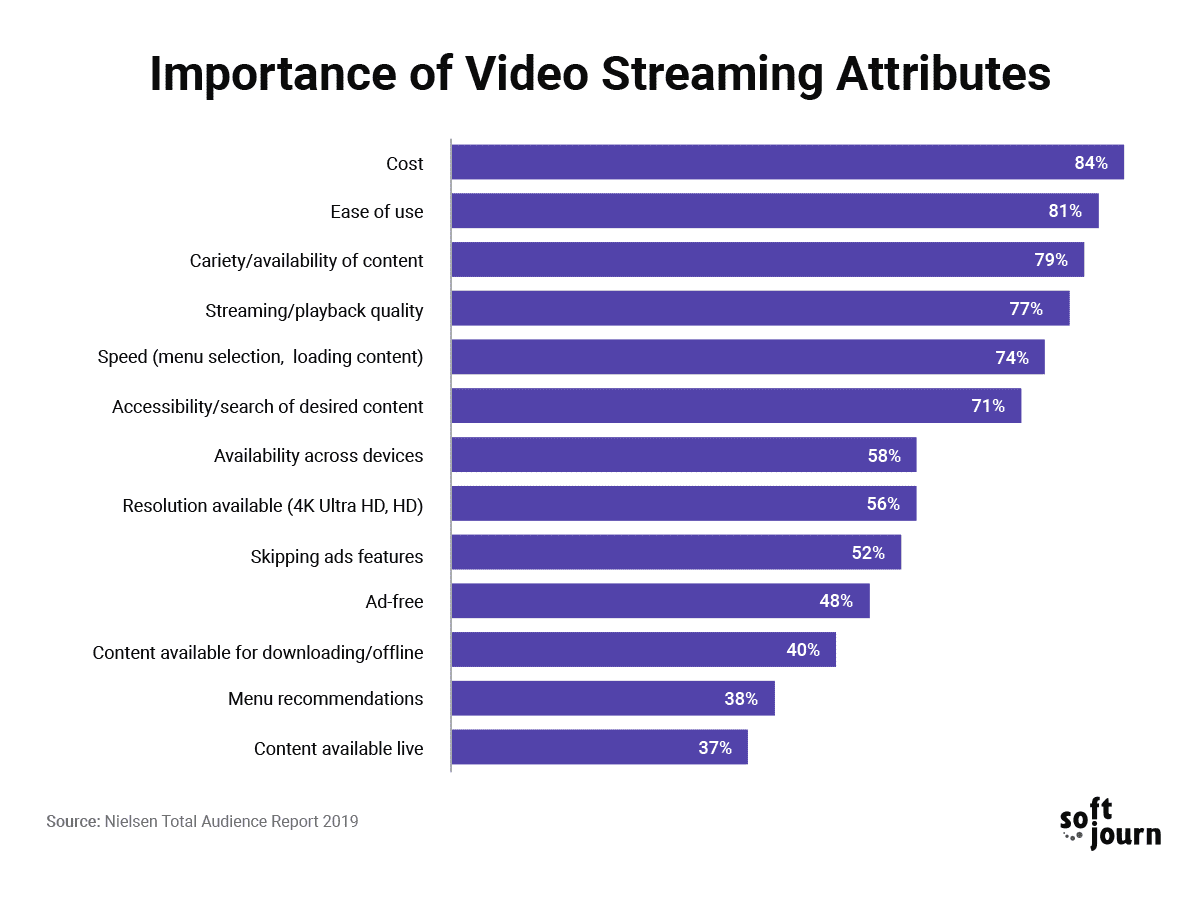 How It Works
OTT and IPTV both use IP technology, but the biggest difference is that cable networks deliver IPTV to the cable receiver, while OTT uses the internet. Another difference is that networks bring IPTV services directly to subscriber homes and over-the-top content has to be requested.
Since OTT video delivery became widely available, users have gained more freedom to choose multiple distributors for specialized programs. Moreover, they can use various devices to stream content: mobile phone or tablet, computer or smart TV.
One of the biggest issues with IPTV content delivery is the network performance and that's why OTT systems are designed to minimize the impact of internet speed to improve the platform's performance. Using adaptive bit rate (ABR) streaming, it's easier to smooth out periods of slow network throughput to allow users to enjoy their favorite content.
Improving The Revenue Model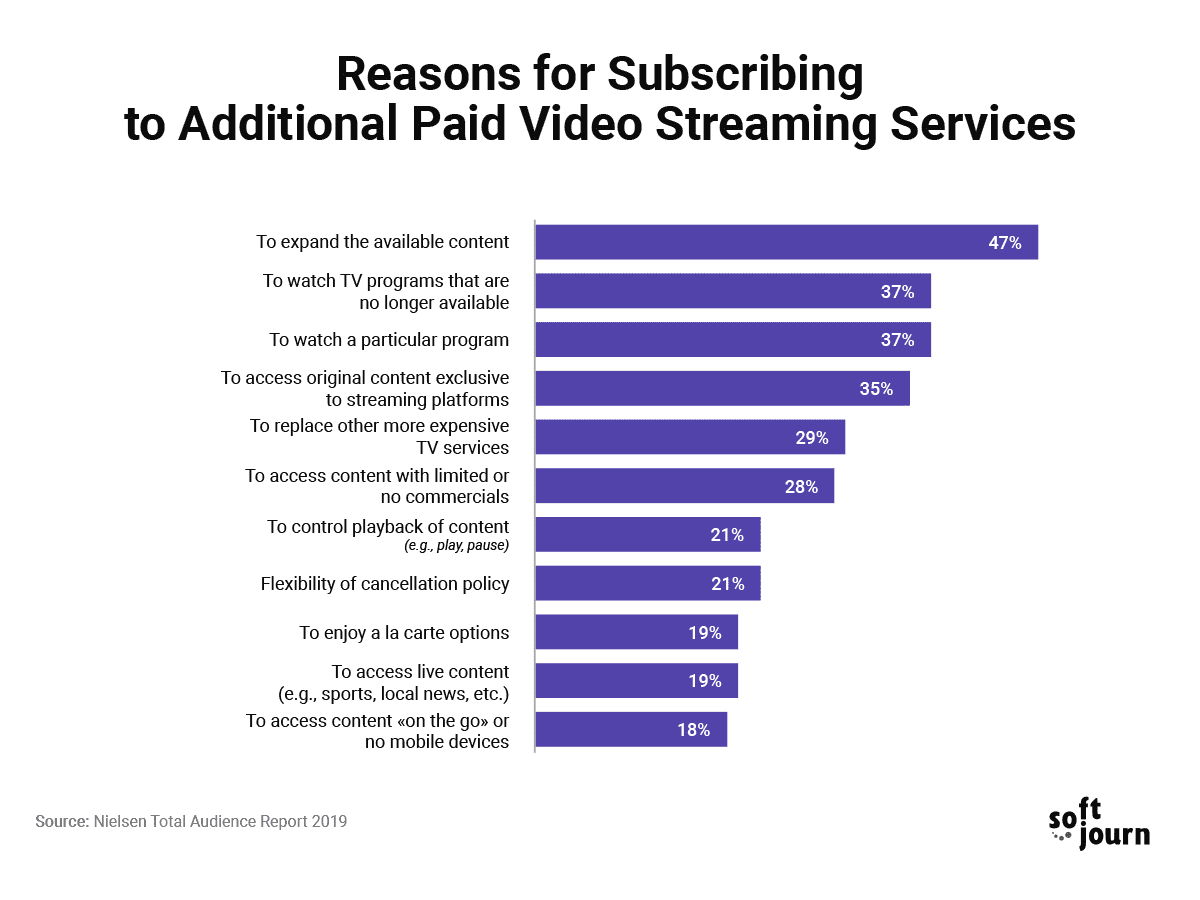 Invest in Original Content
Original content is the best strategy for attracting more subscribers. Users are drawn to new movies and shows, especially if they are trending on social media, and they are willing to pay more to watch. Consequently, all big players on the OTT market use large portions of their budgets to produce and promote loads of new content for various audiences.
Today, there are many ways to find great local content and offer it to viewers in a particular region. With the right strategy, you can target certain audiences by providing content in their language that is culturally relevant and involves actors they will recognize.
Focus On Smaller Market Segments
Standing out in a big crowd is always a challenge. If you want to find a solid niche, consider focusing on smaller segments of the market. Finding a smaller loyal audience is sometimes better than having a large but shifting one. Big services like Netflix, HBO and Hulu attract huge audiences, as the content they offer is diverse. If you are the new name on the market, choose your viewers carefully so they stay with you for a while.
Working within a carefully chosen niche will let you target an audience with greater precision and make it easier to offer customized premium-quality content. Big names in the business can afford to take a broad approach, but for smaller services, finding a niche is the best step forward.
Choose a Solid Monetization Model
The choice of a good monetization model for your platform is crucial. Once you have done the necessary research and are familiar with your market, the situation in your niche, what your competitors are offering, and have a good idea of your potential audience, you are ready to choose what OTT business model you will use.
For OTT services, there are three basic monetization models:
Subscription Video-On-Demand (SVOD)
Transactional Video-On-Demand (TVOD)
Advertising Video-On-Demand (AVOD).
SVOD

TVOD

AVOD

Best for VOD and TV
Steady repeat revenue
High user retention
Access to entire video library throughout subscription period
Additional fee for premium content
Common monetization strategy

Examples: Netflix, Hulu, HBO

Best for live events and VOD
Pay-per-view
Better revenue opportunities for on-demand content
Access to selected content
Ads-free content
No subscription fees

Examples: Google Play, Sky Box Office

Best for linear TV and VOD
Ad-based
Easy to acquire viewers
Split revenue opportunities with advertisers
Free, unlimited access to content
Extra fee for commercial-free content

Examples: YouTube, The Roku Channel
All three OTT business models provide diverse ways to generate revenue from streaming content.
Hybrid Model
The varied access model is based on providing all three types of VOD through different levels of content access. Depending on the subscription plan, viewers can have limited access, watch content with ads, or pay a fee to enjoy more freedom and comfort while watching their favorite series commercial-free.
Pricing your service's offerings should always be a work in progress: as the market changes, you should follow the trends and remain flexible. Coming up with a subscription plan will be much easier once you get to know what kind of content your subscribers use, their spending habits, and other preferences.
Choosing OTT Over Other Distribution Channels
Increased control over content distribution is one of the biggest benefits that over-the-top services can offer. As a distributor, you can select your monetization model, collect valuable data, keep an eye on user behavior, and control your brand.
You should target specific audiences to deliver a premium video experience and boost engagement rates. Ultimately, viewers enjoy having more freedom to watch video-on-demand and not wait for live streaming. That's why the hybrid model is often the best choice
A Final Word
With Softjourn, content distributors can enhance traditional services and create new monetization opportunities. With considerable experience in the media and entertainment domain, Softjourn has built services for a wide range of live events and VOD platforms.
We've also developed ticketing service platforms, fan engagement apps and helped clients build solutions and leverage various OTT business models.
If you are interested in developing your video-on-demand solution, contact us today to discuss your next steps!