Entertainment has become more interactive than ever before, driving audiences to interact with events through mixed reality experiences and transforming how patrons communicate with performers.
The entertainment industry has struggled since 2020 to understand how lockdowns changed fan behavior. Consumer habits were deeply changed and many fans no longer wanted to go to crowded venues, but with additional content accessible from the comfort of their homes fans remained engaged.
Fan engagement has been a key theme for music, entertainment and sports, as well as the gaming (esports) industry. In the past few years, we have witnessed the rapidly growing convergence between social media, streaming, and gaming.
Twitch is one example of how a gaming platform can be transformed into a community-building interactive powerhouse. In 2017 there were 750,000 eSport viewers on Twitch, but by 2023 that number is projected to skyrocket to 3.24 million. Twitch upholds its standing as one of the most-visited websites in the US through user engagement features, like live broadcasting, chat boxes, and interactive content.
Using a clear-cut fan engagement strategy that focuses on fan identification and engagement before, during, and after events can enhance brand loyalty and drive additional sales. Keep reading to learn more about the growing influence of fan engagement platforms on just about every part of the entertainment industry.
What is Fan Engagement in Sports?
The concept of fan engagement is related to how celebrities, performers, sports clubs, and even esports players connect with their fan base. When a franchise is interested in building their following, its online communication can play a vital role in gathering fans, enhancing their engagement, and monetizing their interactions.
Some experts find that fan engagement in sports and other types of entertainment is about the emotional connection that is created between the team or performer and the fans. If fans stopped showing support by no longer attending events and games, buying merchandise, and sharing event-related information on social media, many sports teams and entertainers would fail to succeed.
While in-person activity and attendance has changed since the pandemic, with ever-expanding technologies and potential for innovative fan engagement apps, there is more room than ever to connect with fans. Fan engagement is not simply having fans show up to sporting and musical events. Instead, it's the intentional process of encouraging fans to participate in all matters related to the team or performer.
Fan engagement can be seen through direct participation, through purchasing tickets or merchandise, or it can be indirect, such as when a fan interacts with a team, performer, or other fans through social media or various other platforms. The more a team or artist is part of a fan's everyday life, the more value they will place on the entertainer's brand, leading to an increase in fan satisfaction, brand popularity, and overall earnings.
The Four Quadrants of Sports Fan Engagement
One of the hardest things when it comes to sports fans' engagement is to strike the right chord with fans. Too much engagement can be annoying while too little can make fans forget about events. That's why sports marketers and consultants, Fowler and Wilson, created a matrix that explains how to manage both on and off-site fan engagement needs.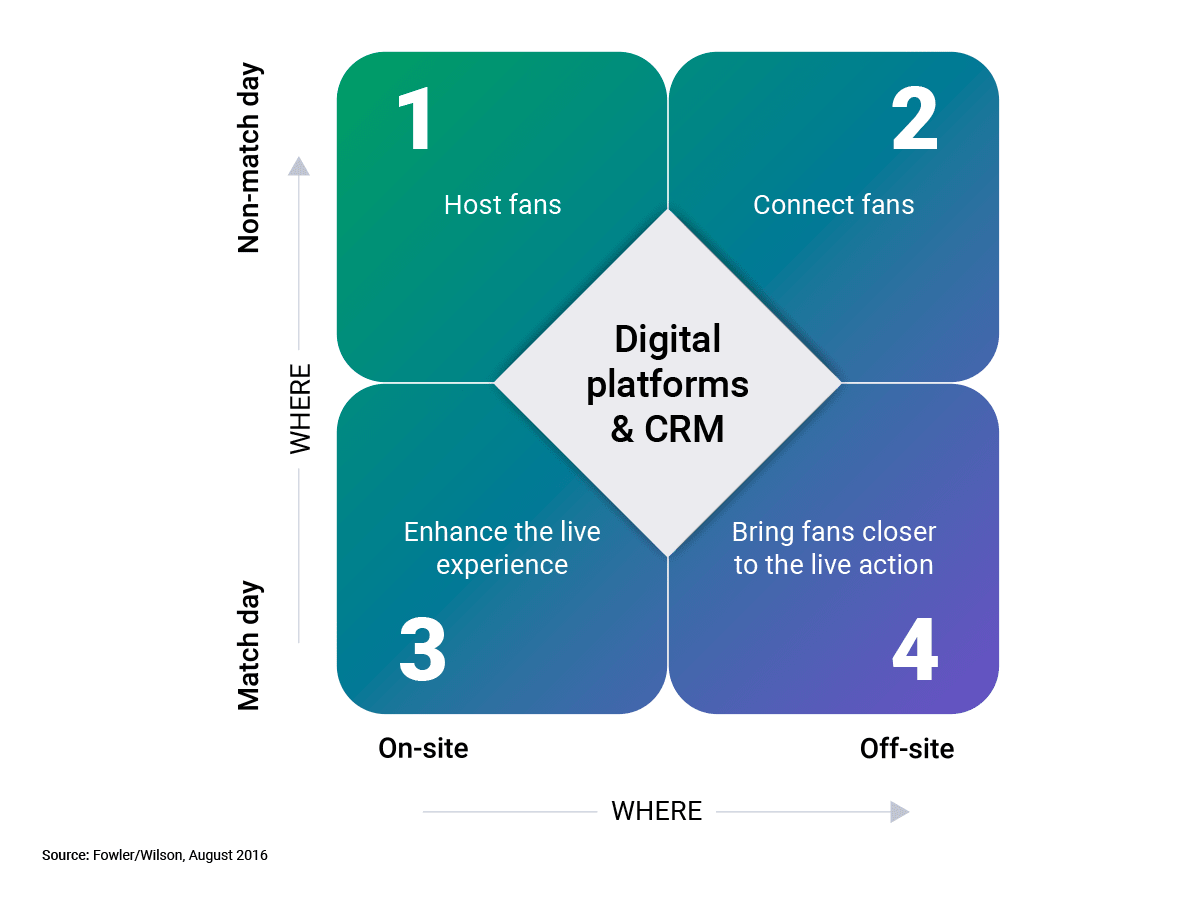 Source: Fowler/Wilson, August 2016
Why Fan Engagement in Sports Matters
Raising awareness is the first step towards establishing a solid fan base. Behind-the-screen videos, interviews, and competitions on social media are activities that encourage fan engagement during a show, and patron continuity in the long-run. A strong emotional connection between a sports player or club and their fans leads to increased brand loyalty and a positive perception of the brand.
Fan engagement activities are not only reserved for game days. Many fans use their mobile devices to follow an event because they are interested in interacting with other fans, watching replays, and checking stats.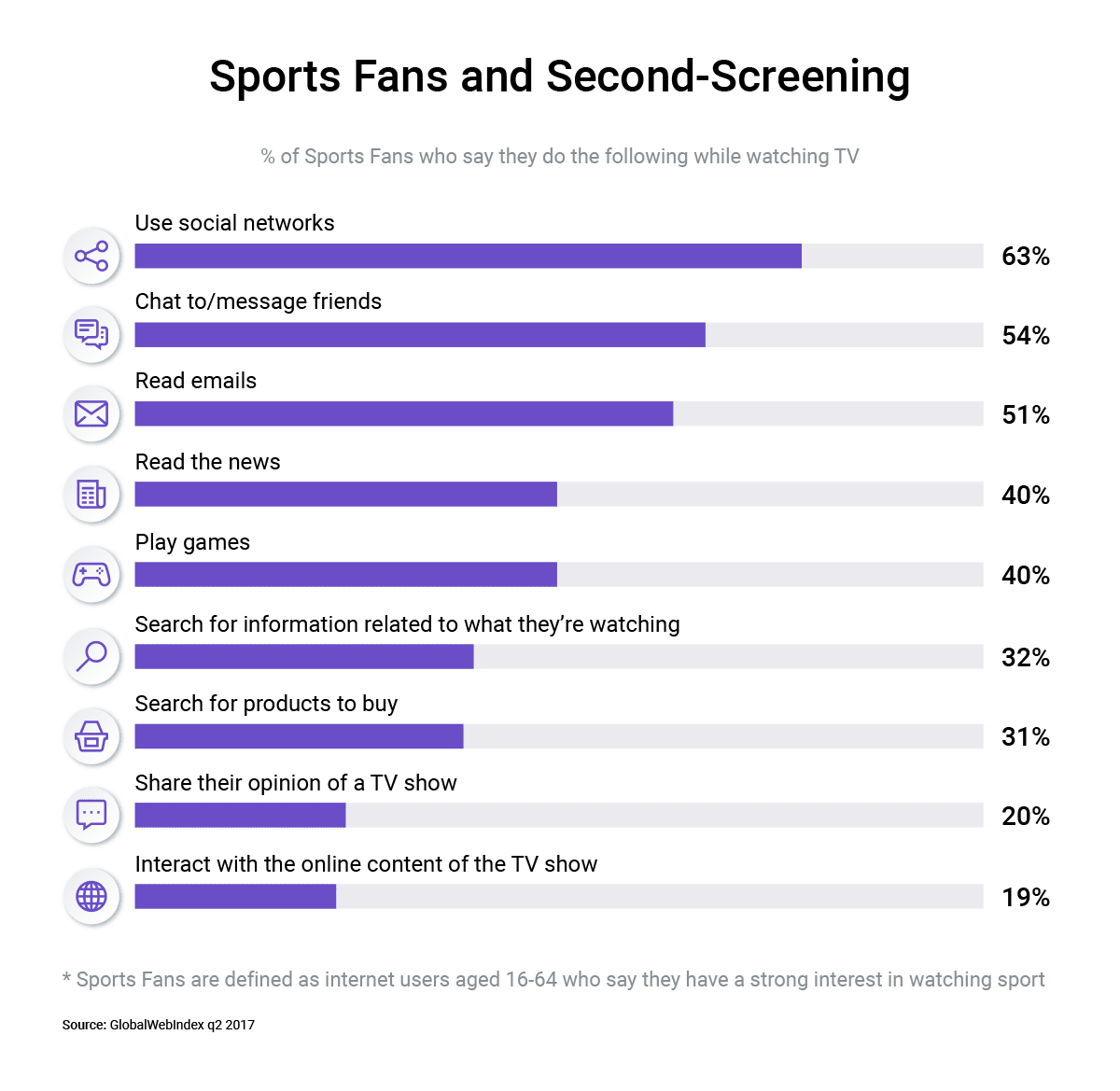 Source: GlobalWebIndex
When watching a game on TV, a large number of fans reach for an additional device. According to the Sports Business Institute, 87% of sports fans are second screening while watching a live sports broadcast, while some are even triple screening or multiple screening.
Perhaps unsurprisingly, the majority of sports fans on their phones engage in social media or message their friends, potentially to share their excitement of the game with friends or other fans and see their reactions.
Sports Fan Engagement Market Overview
The connection between clubs and their fans is growing stronger in the digital era. Sports fans' eagerness for content skyrocketed in the past few years and more than half of them say they enjoy being engaged all year round.
Sports teams have discovered that apps are the perfect way to increase fan engagement. As the line between the fans and teams continues to blur, the need for an interactive experience that keeps fans connected and engaged is paramount. These apps provide just that, creating an enjoyable platform for passionate fans to engage with their favorite teams on a deeper level.
Some popular fan engagement apps in sports include ScoreStream, Sports Pledge, FanAI, and Wooter. ScoreStream allows teams to post game information and updates in real-time, while Sports Pledge rewards loyal fans with exclusive products, experiences, and access. FanAI helps teams and brands understand what drives their fans' engagement by providing in-depth insights into their demographics and behaviors. At the same time, Wooter allows couples to monitor and measure fan engagement levels.
Fan Engagement Examples:
Big names in the sports industry responded by developing enticing fan engagement apps that successfully create value and provide meaningful interactions between fans and their favorite clubs.
The 5th Stand App (Chelsea Football Club)
Source: https://play.google.com/store/apps/details?id=com.chelseafc.the5thstand&hl=en&gl=GB
With over 100 million fans following Chelsea football club worldwide, the club realized how important it is to keep everyone engaged all year round. The 5th Stand mobile app was created to deliver a top-notch football experience to all their fans.
The Match Centre is a feature devoted to delivering match updates, game analyses, and live audio commentary for every match in the Champion's League, FA Cup, and Premier League. Fans can also enjoy exclusive interviews, behind-the-scenes footage, chat options, and breaking news related to the coaches, managers, and players.
Flex NBA AR App
The NBA has been considered to be one of the pioneers of fan engagement, and by launching a mixed-reality app, they've become one of the first to create an Augmented Reality (AR) app in the sports world. Powered by Apple's ARKit, the application allows users to shoot hoops and create an NBA-like backboard. Fans can use it to play different games, create a lineup of rising stars and MVPs, play with their favorite teams, and create leaderboards.
With AR Portals, the app allows fans to enter the backstage of every game and immerse themselves in a 360-degree video of their favorite players and teams.
Mercedes-Benz Stadium App (The Atlanta Falcons)
Source: https://play.google.com/store/apps/details?id=com.ambse.mercedesbenz&hl=en&gl=US
The app includes features like a digital wallet, navigation to a parking space, in-venue navigation, parking booking, and a range of exclusive rewards and discounts. Stadiums have always been iconic for sports fans. Built for thousands of fans, they are the starting point of every fan engagement experience. That's why the Atlanta Falcons partnered with IBM to create a fan engagement app that would deliver an unparalleled experience for all the fans who visit the stadium.
What Fan Engagement Features Should be Prioritized?
Sports fan engagement ideas can include various activities and initiatives to increase fan interaction and loyalty. For example, teams can host fan appreciation days, offer exclusive discounts and merchandise, or create fan clubs and reward programs. Additionally, teams can host watch parties, organize meet-and-greets with players and coaches, or host game-day events such as tailgates and barbecues.
Social media can also be used to engage with fans by responding to comments, hosting Q&A sessions, or creating content that fans can share. Finally, teams can host contests and giveaways or create exclusive content such as behind-the-scenes videos, interviews with players and coaches, or podcasts.
While there are many interesting and innovative ideas and features for sport fan engagement apps, the most common ones are:
Team news and updates
Results overview
Fixtures
Statistics
Game analysis
Replays
Highlights
Radio coverage
Interactive social media feeds
Exclusive content like interviews, podcasts and videos
Others like Fantasy Leagues and VR may be rising in trendiness, but are not necessarily the first tools to prioritize when initially building an app.
Strategizing Fan Engagement in Sports
Engagement never stops. Even when fans are not in the stadium or when players are giving online interviews, fan engagement platforms are there to keep fans interested.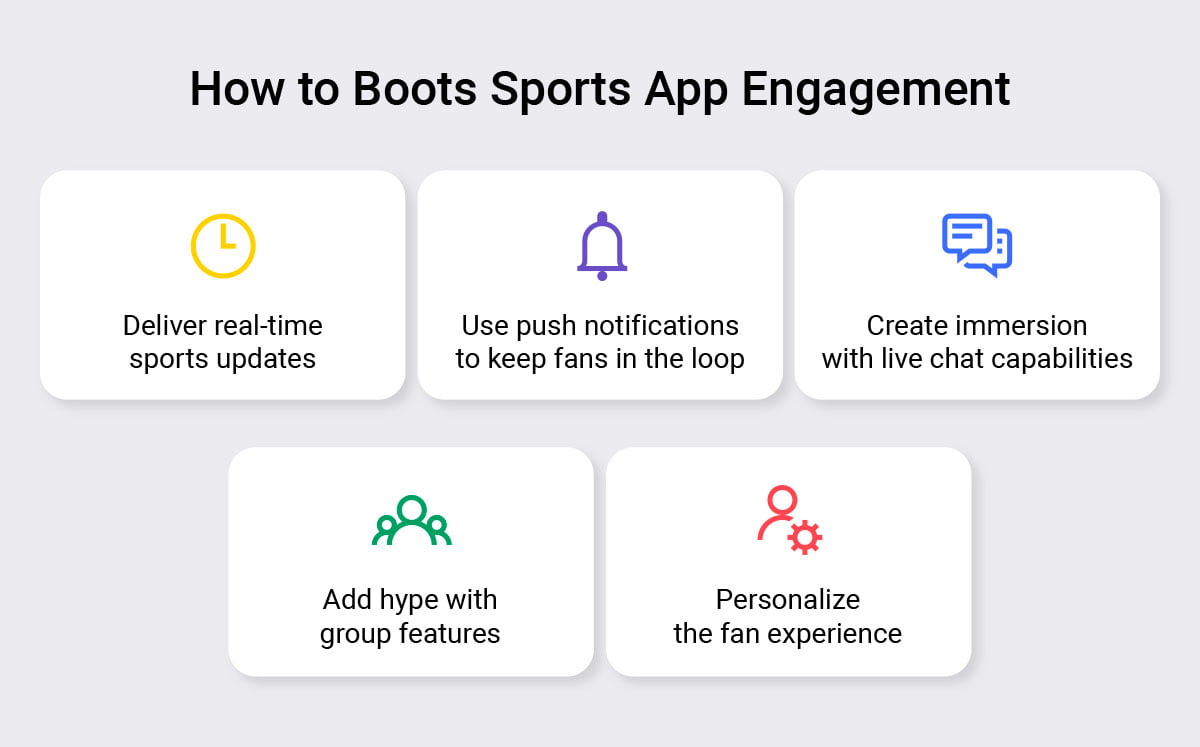 Understand fans' needs. Designing an effective sport fan engagement strategy requires that you understand your fans' demographic, interests, and how they want to interact with each other. For example, when it comes to sports, sharing results and giving more data and statistics allow fans to gain different perspectives on the game they're following.
Personalized messaging. Programs and features designed to communicate with everyone often speak to no one. When fans don't feel included in the conversation, they may not stay interested, or even find a different, more engaging platform. In order to send personalized and captivating messaging to fans, you must first understand their preferences and appeal to their style of communication.
Support loyalty. Rewarding loyal fans is one of the best ways to show how much you appreciate their commitment to your franchise. Special offers and access to additional services can help create organic content for later use in promotional materials. Most successful stars in sports and entertainment create and maintain a culture that fans can quickly adopt as their own.
Holistic approach. Thorough consideration and planning in advance is necessary for fan engagement platforms to have better results in the long run. After every concert or sports game, make sure to let fans know what to expect next, and guide them towards the next big event. Push notifications directly link fans, ensuring that everyone stays connected.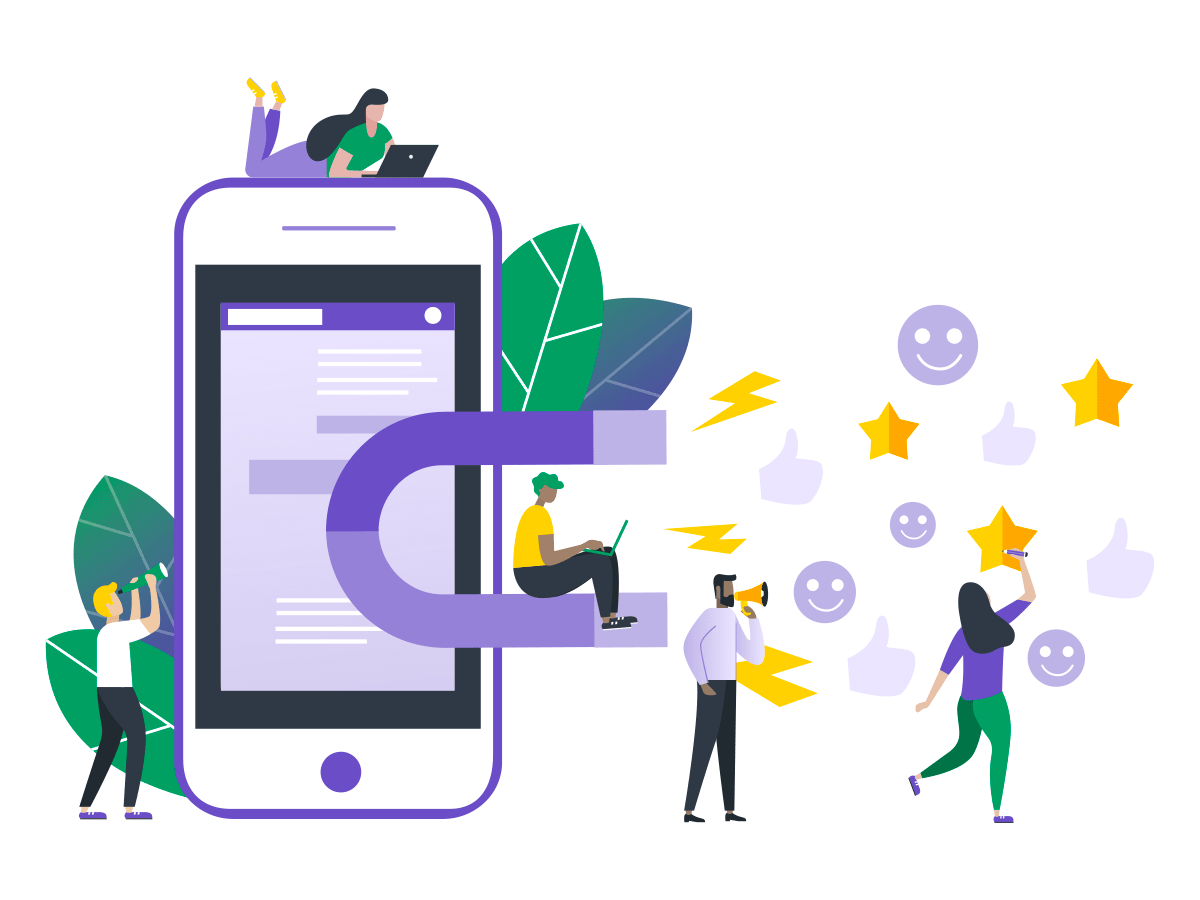 Next Generation Streaming Services
Participation in events can be seen in a variety of interactive forms. Prior to the pandemic, participation was usually bound to physical presence at a concert, sporting event, or conference. Today, fans can participate in many different, yet still meaningful ways.
Streaming content allows audiences to attend and participate in virtually any event remotely, while also having the ability to share their opinions and other relevant information. Audience members feel like they are contributing in a meaningful way by sharing and commenting on the content.
In Japan, Yamaha developed an app, 'Remote Cheerer', that allows fans to cheer for their teams and create a full-stadium atmosphere while watching from the safety of their home. The app enables fans to cheer, chant, clap, and boo from their phones and broadcasts the sounds to stadiums in real-time. Fans are engaged in the streaming content, plus they create an exciting atmosphere for teams playing in nearly-empty stadiums.
Building Communities with a Live Chat and Fantasy Leagues
Communities built around celebrities, musicians, and sports players or teams are created through additional engagement.
Social features, like a chat box, help fans feel more connected and keep them coming back for more related content, such as player updates and leaderboards in the case of sports. Inside a live sports streaming app, fans can have a variety of information available so they are always able to tune in to what is happening.
Fantasy sports apps are another way to build community engagement for sports and entertainment. Fantasy teams compete in virtual championships and leagues based on the statistical performance of those players' in actual games. Fantasy sports range from Fantasy Football drafts to ESPN Fantasy Sports.
Push notifications
Quick updates allow fans to know the latest score, see exclusive content, or get breaking news. Such prompts drive traffic and revenue by reminding users your platform exists and is filled with useful and interesting information about events, performers, and teams they care about.
They also improve the live stream watching experience by making it more immersive. With various topics, fans can be notified and engaged before, during, and after the event, so they don't miss funny and exciting moments.
Gamified Event Participation
Many consider gamification to be a silver bullet that solves problems with brand loyalty. When game mechanics are carefully planned and added to a fan engagement app, users often gain a real sense of satisfaction.
Streaming platforms still haven't adopted gaming concepts, but interest is on the rise. Nickelodeon and the NFL recently powered two strands of gamified participation, which encourage live interactions that work similarly to a game; users can earn badges and collect valuable game points.
Virtual and Augmented Reality
Virtual reality technology is still in its infancy, but sports and other fan engagement apps are beginning to embrace VR and AR, for gamification, mapping tools, marketing, and improved fan experience.. MLB at Bat, NBA AR, and Vikings AR are just a few examples of popular apps that utilize VR and AR to foster fan engagement.
Virtual and augmented reality apps have the potential to allow fans to attend games from their own couch, enhance sporting experiences with special effects, enjoy pregame and half-time entertainment, and even analyze player stats with in-app trackers and computer vision. Enhanced sporting experiences may incentivize fans to virtually attend games which could allow for new types of monetization, such as in-app purchases, sponsorships, and advertisements.
Advanced Analytics
Turning your sports fan engagement app into a revenue stream becomes possible when you understand your fans and can offer services they're interested in using. Analytics are also helpful in understanding what drives the most traffic, what sponsors ROI statistics, and other valuable data.
For example, if you know your fans react well to exclusive discounts and coupons, you can create new revenue-driving opportunities with interactive shoppable features in live streams.
NFTs in Ticketing
Tickets can become NFTs if they are made to be collectible and tradable digital assets. Doing this allows patrons to record the ownership of their tickets in blockchain and trade them online.
For unique festivals, exhibitions, and events, creating tradeable merchandise as NFTs often means higher value and increased interest. Coachella festival decided to offer its fans lifetime passes with their new Coachella Collectible NFTs. The festival partnered with a cryptocurrency exchange, FTX, for this project, and they have built their marketplace on the Solana blockchain.
Another way artists and organizers can use NFT to add unique value to their events is to create additional video or audio content that appeals to consumers. It's possible to offer exclusive backstage video content, footage, or anything related to the event.
What The Future Holds for Fan Engagement in Sports
Big sports and music events are inherently social. The experience of being together with other people with the same interests is what makes events so exciting, and an interactive feature in fan engagement apps allows fans to get a bit of that familiar excitement, even if they are at home watching TV, rather than at a live event.
More interactive streaming products will undoubtedly play a large role in how people consume streamed sports, gaming and music content. Increased personalization and gamification transforms passive viewers into active audiences.
Over 60% of fans say that a great year-round experience would make them more likely to be more engaged with their team in future seasons, with 55% more likely to purchase a ticket at some point in the future. Fan engagement in sports cannot be neglected if you want to be a top industry player.