Estimated reading time: 7 minutes, 15 seconds.
With quarantines and shelter in place orders imposed on much of the world due to the novel coronavirus, consumers have scrambled for distraction and entertainment. And there's no lack of choices: many are rediscovering linear TV, consuming more news, and choosing between 200 + streaming movie options.1 Even so, statistics around online streaming during these unusual times are mixed. Music streaming is down; linear TV viewing is up; and streaming services are so overwhelmed that they're having to downgrade quality to relieve strained networks.
Streaming was already growing, projected to be valued at over $180 billion by 2027;2 in the first quarter of 2020, Nielsen reports that media consumption was up by 60%.3 With social distancing measures expected to last potentially a year, streaming is an important tool for businesses to reach employees, consumers, and each other. However, today's streaming platforms are a band-aid for current needs. Security options, privacy, scalability, and discoverability are all issues highlighted by the news. However, there are technologies, both on the horizon and even in nascent use today, that could change all of that.
Here are three technologies that will create the streaming platforms of the future.

Artificial Intelligence
Artificial intelligence is a hazy concept for some, but it's already being used in many web applications consumers use every day. One very familiar application is that of Facebook, which uses AI to recognize faces and tag photos as they are uploaded.
Streaming can benefit from AI when it comes to streaming quality and discoverability. Over the top (OTT) content creators and providers are largely unable to control a user's quality of experience (QoE), as it relates to start up time, resolution, and pauses or stalling. Adaptive bitrate streaming allows providers and platforms to circumvent these issues, but this solution is still dependent on internet speeds.
Netflix uses AI to get around this issue and offer great QoE to its customers. With AI, the streaming service can detect, analyze, and then apply the right encoding settings for videos based on complexity. This aids in optimizing resources and video quality. With machine learning and deep learning, machines can become aware of the relative importance of video, scene-by-scene. Myelin Foundry, a deep tech foundry based out of Bangalore, is developing deep neural network based quality enhancement tech that can be applied to videos to improve a user's QoE.
And with 200+ streaming services available to the average user, there are millions of content choices to be made. AI can sort and tag content in real time, as it is made available, and make recommendations to users based on their history. Such a platform is being developed by the NBA in partnership with Microsoft. Together, the sports association and the tech giant are building a direct-to-consumer (DTC) platform that will deliver customized live game broadcasts and other content. Microsoft's AI will help the NBA's DTC learn what fans like, and present optimized content over time.
Music streams are another example of a DSP that benefits from AI. The algorithms present in services like Spotify are often able to categorize a song by pitch, tempo, chord progression, and vocal style of a song—along with a user's history—in order to recommend a related track.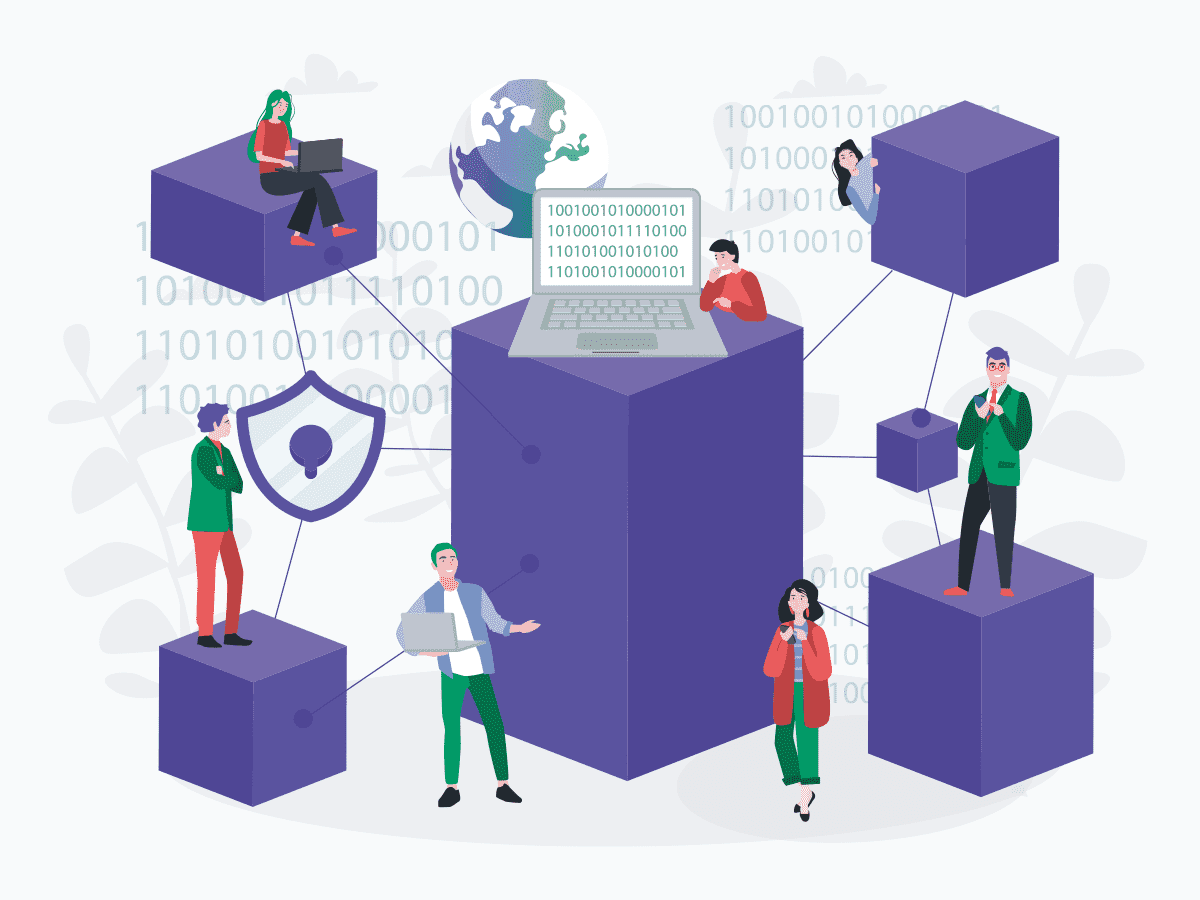 Blockchain
Blockchain promises to really turn the streaming industry upside down. With this technology, its blocks and P2P network can decentralize content distribution models, and clarify much of the confusion regarding accessibility and ownership when it comes to digital IP.
Cloud computing made streaming services scalable, but a blockchain-powered content delivery network can offer a decentralized storage solution by utilizing the collective unused space from users worldwide. An example of this is Livepeer, which pays users for contributing their computer's processing power and bandwidth in service of the overall network. Contrasted with cloud storage, decentralized storage can offer more security and privacy.
With the use of smart contracts, users can recapture that feeling of buying a new cassette or CD when it comes to purchasing a digital track. Music tracks and videos can be encrypted for specific users and only accessible via decryption keys. The same could be done for communication platforms, especially in the case of business meetings. Some examples of platforms doing this are Viewly, which allows content creators to monetize their content, and DTube, which is a community-powered video sharing platform where users vote on videos to reward creators, curators, and influencers.
With companies putting new subscription services onto the market, many are wondering when subscription fatigue will hit. With more than 67% of global subscribers streaming video content, 52% of that group stated that they preferred free, ad-supported streaming over subscription and a la carte services.4 Digital advertising provides a live feed of user behavior that can be capitalized on, but more than 60% of digital marketers lack tools to analyze this information. Blockchain can assist here, too; one example is Visa's cryptocurrency, which reportedly has the ability to pull out more than 240,000 transactions per second.5
By being able to analyze, quantify, and qualify data faster, marketing investments become more targeted and advertisers can better measure which platforms work best for their business.

5G
5G stands for fifth-generation cellular wireless, and the first standards for it were set at the end of 2017. 5G brings three new aspects to the table: bigger channels (to speed up data), lower latency (to be more responsive), and the ability to connect a lot more devices at once (for sensors and smart devices).
The faster the upload and download speeds, the better quality video a device can send and receive—and 5G promises to be a lot faster than even the very best 4G. One of the most exciting applications for 5G is in live events, where it has interesting potential for sports, concerts, and other big events.
Sports teams could stream directly from cameras into user's phones. UK teams have already implemented such in their stadiums: Nou Camp is Europe's first 5G-enabled stadium, featuring several wireless cameras streaming over the 5G network. As more 5G phones and other devices become available, sports and other entertainment can stream directly into people's homes. By using VR and AR, event organizers can immerse patrons in an experience that replicates a live concert or sports game.
This could put fans in a pitcher or goalie's viewpoint, directly on the pitch even while they're in their living rooms. Or they could see the audience through their favorite singer's eyes, and get a backstage view of setup and practice. And when venues, theaters, and stadiums open again, these technologies can be used to augment the actual event itself.
Video games are another digital area that could benefit from 5G, especially when it comes to streaming services. Many companies, like Playstation, Microsoft, and Google, are all looking to offer a subscription service via the cloud. With 5G, these services would work readily with mobile devices, whether or not those devices are latest and greatest (at least, presuming they can connect to a 5G network in the first place) because everything would be handled in the cloud. With a 5G connection, users could play the latest blockbuster games on the metro commute to work—once we're all headed back into work.
Still, it could be some time before we see 5G commercially available; the current forecast is that 20% of connections will be performed on such a network by 2025.6 That isn't stopping companies like Verizon and Sony from rolling out new tech designed around the network, though.
Interested in streaming technology?
Though these technologies are still immature, many are already testing their capabilities to see how they can up-end the current normal. Who's to say they won't become the standard in the near future?
Softjourn, Inc. is a global technology services provider. As domain experts in Media & Entertainment (with a special emphasis in ticketing), we apply our know-how to bring life to our client's ideas. Our 200+ employees skillfully evaluate, identify, and plan innovative, creative solutions. We become a trusted partner by proactively collaborating on all design, build out, and deployment.
In the Media & Entertainment sphere, we have built services for live events, live video, and video on demand. We have also developed ticketing service platforms, including adding new functionality to capture additional market segments, fan engagement apps, access control, and so much more. Contact us today to start talking about your next project!

1The Complete List of Streaming Services - 200 Services. (2020, March 26).
2Video Streaming Market Size Worth $184.3 Billion By 2027. (n.d.).
3Staying PUT: Consumers Forced Indoors During Crisis Spend More Time On Media. (n.d.).
4IAB. (2018, June 13). Live Video Streaming: A Global Perspective.
5O'Neal, S. (2019, January 22). Who Scales It Best? Inside Blockchains' Ongoing Transactions-Per-Second Race.
6Lomas, N. (2020, March 05). 5G is now live in 24 markets, GSMA predicts it'll be 20% of global connections by 2025 - and eyes a big tech break-up.