Estimated reading time: 7 minutes, 15 seconds.
Social distancing measures make it difficult to picture crowds in venues; but that doesn't mean ticketing vendors and event organizers can't invite patrons in via other means.
Live events are starting to see the light at the end of the tunnel, so now is a great time to start planning what event organization will mean for you and your clients. With virtual tours, organizations can offer a unique look at many different steps of organizing an event, and even tie imagery from a tour into their venue mapping and seat picking tool. These tours can improve search engine rankings and even have an impact on a business's bottom line.
Virtual tours are not difficult to create. With photography or video, creating and uploading a virtual tour to a website can take as little as a few minutes, but their impact is long lasting.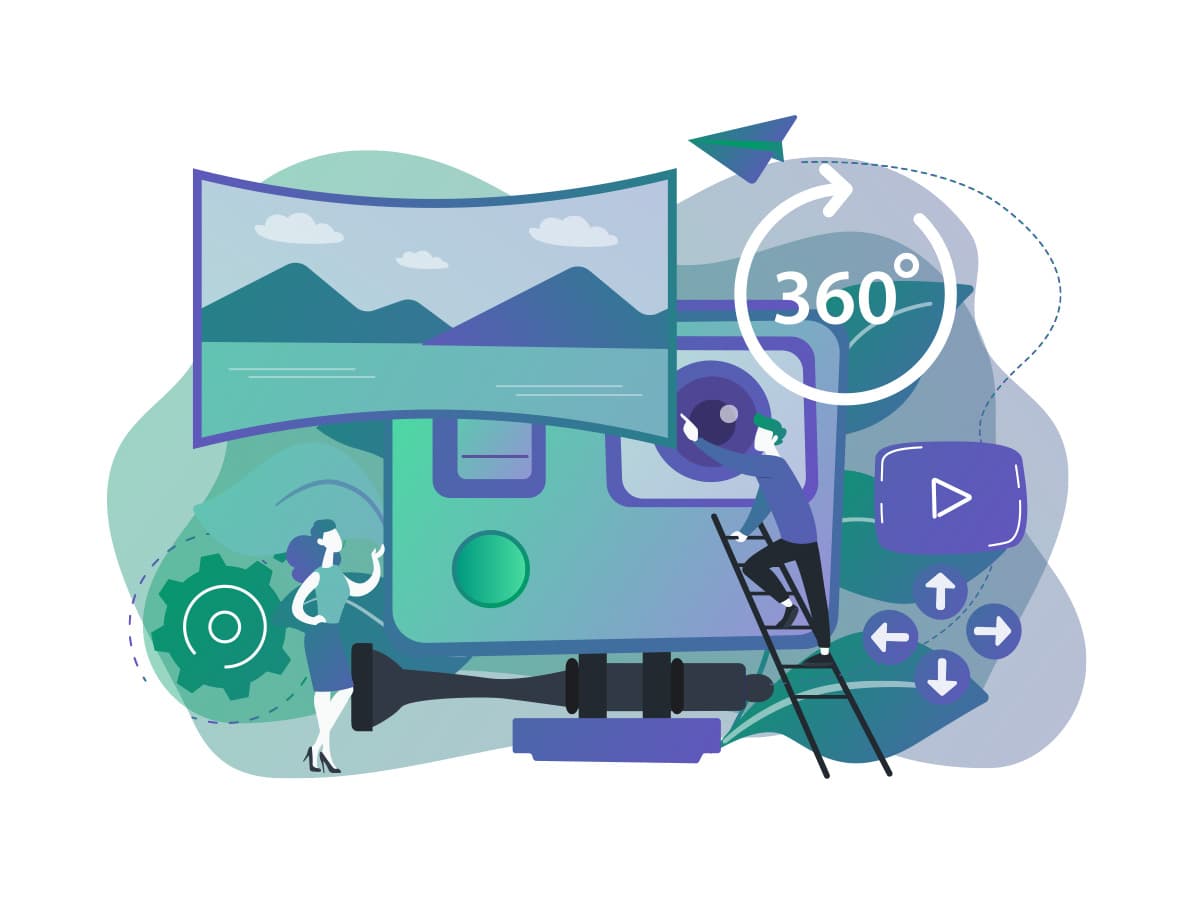 What are virtual tours?
A virtual tour is a reproduction of a physical location using digital means. Several methods are used to create these tours.
One method is the panoramic tour, which recreates a location from a single vantage point to create a 360-degree view of the whole area in front of, on either side, and behind where a viewer would be standing. These can be made from video clips or static images placed in a sequence.
Video tours are composed solely of video footage that is often shot at a walking pace. These tours move from one point at a location to another, using continuous footage.
There are also 3D tours. These tours do not use existing materials other than perhaps reference, as they are created entirely from 3D reconstruction.
Virtual and augmented reality are also useful when it comes to virtual tours, as headsets and devices used to create these experiences can also be used to create immersive experiences.
Benefits of virtual tours for businesses
Virtual tours are bringing new life to places that are temporarily out of reach. They are popping up everywhere, letting users taking a stroll through the Smithsonian museums in Washington, D.C., to visiting national gardens in the U.K.—all in the same afternoon, right from their homes.
With a virtual tour, event organizers can show entertainers what a venue looks like and how an event can be staged. They can also show ticket holders exactly what the view will look like from their seat. This can be an additional augmentation to the traditional venue mapping and seat picking tool. Virtual tours can also be offered as an add-on experience, showing backstage areas or event rehearsals.
In response to a 2015 Google survey,1 respondents were twice as likely to be interested in a business that offered a virtual tour. Customers, whether individuals or businesses, want more information to make a purchasing decision with, and virtual tours provide them with just that. Eighteen to thirty-four-year-olds in particular were 130% more likely to book a reservation. And 67% of respondents wanted more businesses to offer a virtual tour.
Local businesses can especially benefit from having a virtual tour available online. Google is the largest search engine in the world (with very few exceptions), and its algorithm loves interactive content. Google processes over 40,000 search queries on average, and consumers use mapping products 44% of the time.2 Consumers find that businesses that offer a virtual view of their storefront are 94% more likely to be viewed as reputable, and 29% more likely to inspire customers to consider purchasing from them.3
There are an endless number of uses for virtual tours, for all kinds of businesses. Event organizers can place virtual tours of locations or experiences on their website and provide a completely different kind of review that customers cannot get from Yelp. Advertisers can show businesses just how their ad will look in a stadium or on a street, and how much potential visibility they can receive. Restaurants can show off their best tables, and retail locations can visualize how customers might interact with products.
Technologies used to create a virtual tour
Virtual tours are created using augmented reality, virtual reality, and 3D reconstruction.
Augmented reality, or AR, adds to the environment around a user with the use of an external device. Thus, it augments, or changes, a user's current environment. AR layers additional information on top of what a user is already viewing through another tool; for example, a user can point their phone out a window and get weather information via the screen.
With AR, ticketing organizers can add interesting facts or details about their venue or an event throughout the tour. This information can be personalized per user with the help of artificial intelligence.
Virtual reality is the full immersion of a user in another environment, with the use of an external device. There are many such devices on the market, from a simple mobile phone to more elaborate headsets. Virtual reality allows a user to feel as though they are stepping into another location (or, in some cases, another world), especially when the visual experience is layered with other sensory information, such as sounds.
Take patrons on a backstage tour; give them the experience of being a roadie before and after a show; or even let them see rehearsals and setups for the biggest shows.
3D reconstruction is the process of capturing the shape and appearance of real objects. 3D means three dimensional, which is what we see and experience daily. 3D reconstruction adds depth, and thus a deeper feeling of immersion to a virtual tour.
A virtual tour using 3D reconstruction can be amplified even further with the addition of augmented reality; by combining these technologies, users can receive the full experience of not just seeing a location, but getting inside information as they move through a virtual space. Users can learn information about athletes or actors, understand the history behind their favorite venues, or even win trivia nights because of that one special fact they learned by taking your virtual tour.
How to create a virtual tour
Virtual tours look fancy and complicated, but their creation doesn't have to be. Depending on the complexity of the tour you wish to offer, you can develop one using the right software and the right equipment.
Don't forget to add branding to your virtual tour to help with promotion! Design is important in any software development project, so don't leave it out of your virtual tour.
Preparation is the key to success; following our steps below to start developing your own virtual tour. If you have questions or need help, feel free to reach out!
Choose the right equipment and software. All you really need to create a virtual tour is a panoramic or 360-degree camera; some virtual tour software providers offer cameras and lenses or can provide a discount toward the purchase of one. Also invest in a stable tripod with a panoramic mount. With a tripod, your images will line up accurately and be easier to stitch together to create a seamless experience.
Plan your shots. Map out how you want users to move through the space. Find the center of each room and ensure your camera captures everything you want users to see. Make a list of all shots you want to take. This will help you ensure all images needed for your tour are taken, and also help organize them.
Set the stage (or stadium). Now that you know what images you'll need to take, make sure that everything looks as how you want users to see it. Check the lighting to make sure areas are visible.
Level the tripod. If your tripod doesn't come with a built-in bubble level, you can download one on your phone. Use this to ensure all legs of the tripod are even. This will ensure your images are uniform.
Take test shots. Practice makes perfect, so take a few test shots of each location to ensure that lighting, angles, and view are correct. This allows you to make corrections as needed.
Take all shots on your image list. Check off the list you created in step 2 to ensure that all photos you need for your tour are taken.
Create your virtual tour. Now that you have all your images, upload them into the virtual tour software you chose in step 1 and stitch the images together.
Share your virtual tour. The software you choose to create your virtual tour with will provide a link to your tour that you can share with patrons. It should also offer you an embedding code that allows you to place your tour on your website or social media accounts.
As a global technology solutions provider, Softjourn is deeply accustomed to working with customers in a remote capacity. If you need assistance developing virtual tours, let us know! We're happy to brainstorm solutions for your business's growing needs.

1,2The Power of Media-Rich Map Listings. (n.d.)
3Enhance your Google My Business listing with Street View imagery. (n.d.).