Over the last couple of months, the ticketing world has been turned upside down. Still, there is light on the horizon; many locations have started moving toward enabling events again.
Italy, one of the countries hardest hit by the pandemic, has tentatively announced that concerts can resume in June.1 In the United States, New York, California, and more are developing plans to allow sporting events a foothold in current circumstances.2
Softjourn, like everyone else in this industry, has engaged in many discussions on what the current pandemic means for the industry in both the long and short term. Even though many questions remain unanswered, we wanted to summarize the key points of industry discussions and highlight where technology can play a role in getting events going again.
If you see something that we've missed, or if you're facing other challenges, drop us a note. We are happy to help you brainstorm solutions!
VENUES
Handling Safety
By now we've all seen full 2020 seasons be canceled, with organizers looking to 2021 as the time to begin again. For all of those canceled, there are others who are actively planning how they can start up in 2020.
Much of the conversation has been around safety conditions for patrons, but what about staff? Even with timed entry, restroom restrictions, constantly disinfected seats, and wipe kits given to everyone coming in the door, staff and volunteers may still not feel comfortable going back to work.
Tech companies are generating ideas to make areas safe for both patrons and staff, one being NY-based EagleHawk and its drone.3 Originally used for detecting roof leaks, EagleHawk retrofitted its drone to spray disinfectant to clean any indoor or outdoor facility.
Entertainer and athlete safety is a whole other topic. Many are looking to Major League Baseball and Major League Baseball Player's Association for examples as the two entities develop a plan that they hope will get America's much beloved sport going again by July.4 Thus far, the proposal includes:
10,000 tests per week, with players being tested daily.
The league would handle testing and development of testing in a Utah-based facility.
Encouraging individuals who test positive to self-isolate; as of yet there is no isolation plan for anyone those individuals might have come into contact with.
While this plan is one potential solution, it's not feasible for every type of entertainment or venue. What safety precautions look like for a touring company or a local community theater will vary widely.
At the very least, it's clear that additional event crew will be needed, even if attendance drops, and that there will be a heavy burden on those staff members to assure that patrons and artists are kept as safe as possible.
Checkerboard Seating
Incorporating social distancing into seating is a popular but complex area. From a software standpoint, creating checkerboard seating is not difficult. Ticketing platforms and vendors are already working on or have produced ways to generate venue map layouts with spaced out seating in various configurations or allow for killing seats surrounding the one a patron picks.
While limiting seating is important and necessary as a safety precaution, it does have an impact in other areas. DLR Group published research that showed implementing social distancing guidelines in a minor league stadium limited capacity to between 17 and 20% of actual size.5 Because of this, event organizers and venues will need to evaluate alternative means or revenue generation outside of ticket sales leading to filled seats.
Enforcement of social distancing guidelines is another topic altogether. Technology could play a role here and make it easier for event staff to identify when a patron is in the wrong area or seat.
This could take the form of color-coding tickets, which are then viewable on a larger system; SimpleTix has developed such a system for drive-in theaters, one of the few channels keeping live events around during the pandemic.6 With QR codes, tickets are easily scannable and then viewable from a distance due to distinctive coloring. This allows ushers to direct drivers toward the correct area.
Heat map technology has also been discussed here, especially in identifying and dispersing bottlenecks that can create crowded areas. Such technology has already been used in larger festivals, so its application is already proven.7
Enhanced Access Control
Technology can provide some answers as to how social distancing can be implemented within access control.
With thermal scanning, event staff can determine if a patron presents symptoms. Though an organizer can present thermal scanning as concern for patron health, there are many concerns related to the potential invasiveness of this technology. Other questions relate to regulations on how organizations must handle the private information of consumers, such as the EU's General Data Protection Regulation.
Some say the "bag check" is going to be a thing of the past. Will it become normal to deny bags completely? That might work for some types of events, but events like those aimed specifically at families have a bigger challenge. Some solutions might be presented in the reopening of Disney Springs and other theme parks.
Timed Ticketing
Timed entry is not new, but we will see its use more often. Not only can this type of ticketing be tied to a specific hour, timed entry can also be tied to a specific entry point at the event location. Many general admission facilities are beginning to use this ticketing strategy. Timed entry also presents an option for additional revenue due to missed time slots; if a patron wishes to enter at a later or earlier time, that can happen for an additional fee.
Timed entry systems can be automated, whether for selecting an hour for entry, pricing, and/or exchanging. Could this lead to venues of all sizes using something like Disney's express lane? This will likely depend on event type and patron demand, among other factors.
Ticket Scanning
It's likely that patrons and ticket takers will not want to get close to each other. The obvious answer is mounting a scanning device on a stand, or for larger organizations to brand their own mountable devices. See Tickets has already rolled out a solution on this front, providing stands, QR codes, and a mobile application with an increased range for contactless ticket scanning.8
Ticketing organizations can expect to need changes in their access control apps, whether to transition to mountable devices or another solution. One important functionality related to mountable devices is ensuring both patrons and staff understand a ticket was scanned and accepted.
This can be resolved with a sound or other solution, allowing event staff to acknowledge receipt of a ticket from a distance when monitoring multiple devices.
Handling Egress
As the song goes, at closing time, you don't have to go home, but you can't stay here. When an event is over, patrons are ready to leave. How do event organizers prevent patrons from rushing the exit?
It's going to take thought to organize an exit process that would enable a social-distant exit the same as was done for entering. This, as with many other areas, will be dependent on the venue, event capacity, and seating layout, if applicable.
Factoring emergency procedures in is also important, though it's likely that social distancing would go out the window in the event of a fire!
Handling Food and Beverage
Snack kiosks and concessions stands are large areas of concern for social distancing. As with checkerboard seating concerns, how can event organizers map out spaced queues and enforce them during an event? Tech can provide a solution here.
One option is mobile ordering and directing the patron to a pick-up point. The downside of this solution is that patrons will be moving around the location, potentially coming into contact with one another.
With mobile payments, no cash or cards need be handled. Within industry discussions, venues (especially stadiums) are letting their concessioners determine how to handle concessions going forward and how to do it safely.
Event organizers could also widen the use of in-seat delivery, which is typically reserved for VIP patrons. Patrons still order via mobile, but then food is delivered to them. In-seat delivery technology is already in use in many locations. The current situation is likely to expand its usage.
This might be a better option instead of pick-up, as with social distancing measures already in place, delivery personnel are free to move through rows directly in front of or behind patrons.
TICKETS
The Death of Paper Tickets?
Will this be the final blow to paper tickets? Probably not.
Those in the box office still believe that they will be dealing with paper tickets for a while. Most are figuring out how to make their windows safe for patrons. Some have implemented social distancing inside the box office; for example, opening every other window, providing alcohol wipes for patrons receiving tickets, wiping down the area between customers, etc.
Will this situation put an end to box office windows? If it does, who is going to handle the inevitable problems that still arise at events when someone's phone dies, or they can't bring up their ticket? There still needs to be a point of patron support that may need to issue tickets. All of this doesn't include the sale of commemorative or souvenir tickets, which could be popular even for online events.
It's generally believed that the upsell of commemorative tickets will continue. Will more ticketing platforms offer souvenir ticketing in the future? Only time will tell.
Additional Pricing Tiers
It is likely that venues and events will fall more in line with airlines and their tiered pricing structures.
Tiers have always been there for certain locations of the house, and there has been movement for some types of venues/events to add in more levels of pricing based on the location within a row and other seating areas. With the addition of AI, different pricing structures can be better informed through patron data.
Some are discussing VIP-level digital experiences for those who are willing to pay more. Examples include a virtual VIP room where clients enjoy more personal access to artists or have more engaging conversations, photos, pictures, etc. This can bring in revenue while doors are closed, as well as keep patrons engaged.
We can expect that more events will use additional levels of pricing in the future, and ticketing platforms need to keep up with that.
Refund Alternatives
Is the traditional ticketing refund policy over? Patrons have received refunds for postponed and canceled events in droves, which may lead many to believe refunds were always possible but simply denied. With distantly planned events now selling tickets, it's likely that additional cancellations are in our future. How do ticketing vendors and event organizers prepare for this?
Automating a mass refund option will in turn lead to better customer service and happier patrons, not to mention the possibility of fewer chargebacks. The difficulty, then, lies in preserving cash for the organizer/vendor. This, too, can be mitigated with technology by offering alternative options to a cash refund.
To enable ticketing platform clients to save cash now, those platforms can offer patrons the choice of a donation, transferring funds to a virtual wallet with incentives for future spending, or even propose a unique virtual experience, just as a few examples. Some ideas for unique virtual experiences include an online guitar or dance lesson, behind-the-scenes view of rehearsal, or meet-and-greet with performers.
Pictured below is a refund UI, with editable options for refund alternatives:
ENGAGEMENT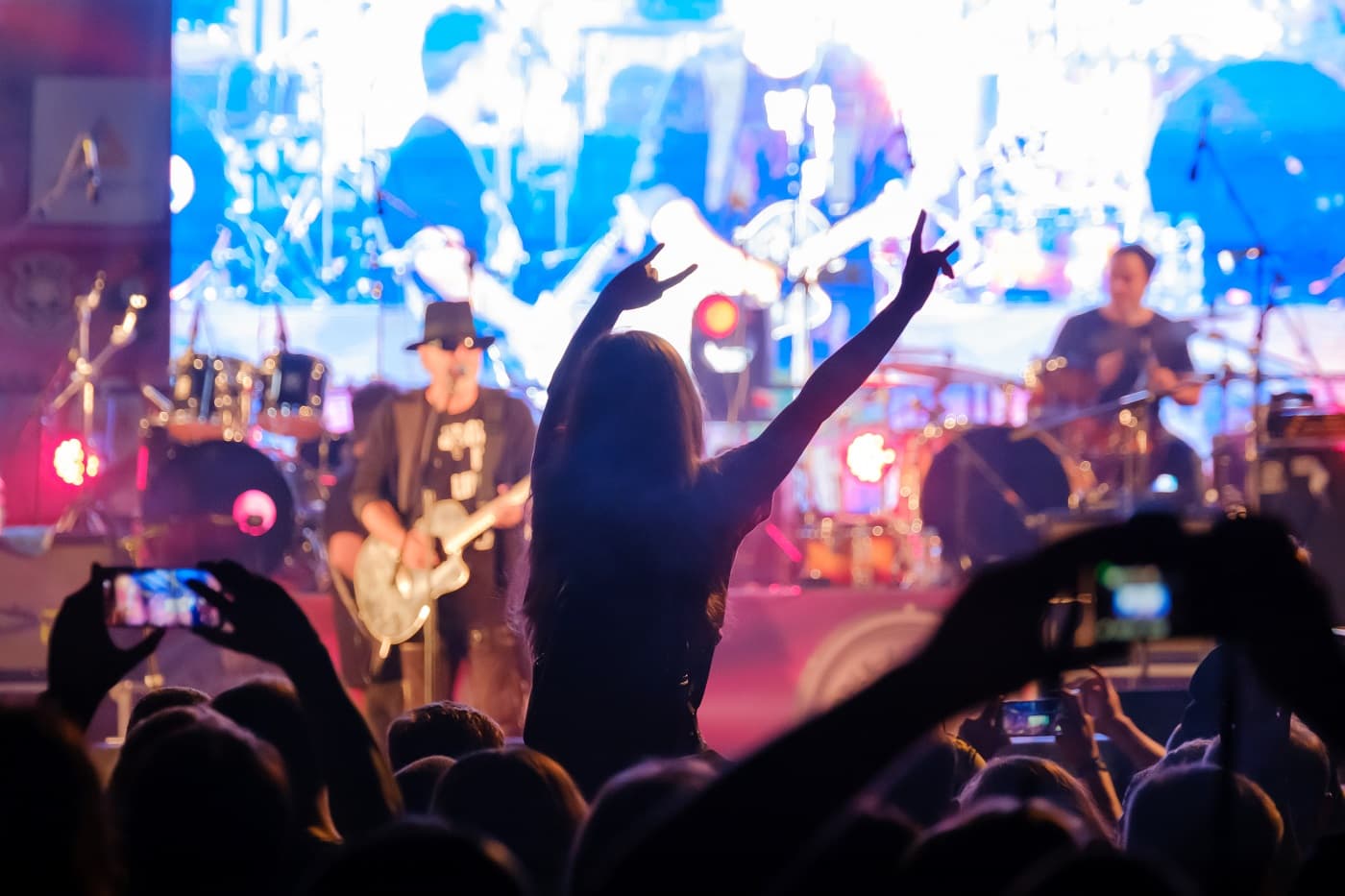 Live Streaming & Hybrid Events
An increasing number of ticketing platforms are pivoting to online streaming, and with good reason. Event management and ticketing website Eventbrite reported in their Q1 financial report that ticket sales actually improved from a low point in March to the beginning of May thanks in part to online events.9 The ability to easily create an event and sell tickets relies on seamless integration between the streaming platform and the ticketing system.
Some organizations are facing difficult decisions beyond what might seem like a simple yes or no question related to streaming: there are ongoing discussions as to whether or not it makes sense to live stream, the necessity to renegotiate contracts for artists to cover live streaming, how to capture a good live stream, etc.
Even so, a lot of box office people are asking, how do we start monetizing our content? They are intrigued by offering online events, or at least starting online before moving to in-venue as things open up.
Many ticketing platforms have already integrated to live video platforms like Zoom, YouTube, Facebook, Vimeo, and Wistia, although a lot of new platforms have also appeared. Additional features such as adding a donation pop-up or button is an obvious add-on that many content owners need. Providing functionality for attendee interaction, polls, data tracking, etc., are also desirable. Securing links to prevent double entry and prevent patrons from sharing to non-paying attendees is paramount.
Live streaming can also reach patrons uncertain about attending events after venues open, but before a vaccine is developed. With online content, venues can still provide content and value even at a distance. For patrons who are interested in returning to venues as soon as it is possible, live streaming presents an opportunity. Venues and organizers can stream events in real time, so there is both an in-person experience and a remote viewing experience.
In addition, this stream can be recorded and offered as VOD. By covering all three types of patrons, venues and organizers not only support in-venue events, but potentially capture new revenue streams as well.
Patron Communication
Keeping in touch with patrons, donors, and sponsors is increasingly vital. Ticketing platforms that can provide customer relationship management and social media integration have been highly prized. The current situation is going to make that type of functionality even more valuable.
Ticketing organizations and event organizers will need to increase communication with their patrons. This may also include additional communication during the ticket purchase process if organizations decide to launch their season online and not in-venue. How do they inform attendees in the right way about the fact that the event will be held online?
Some patrons may still be anxious regarding purchasing a ticket if they believe the event will be held at the actual venue. How can organizations educate patrons that an event is virtual?
When it comes to in-venue events, helping patrons understand the guidelines and requirements they must abide by if they attend is also important. Communicating this needs to be clear, and ticketing platforms can assist their clients in this endeavor.
What about keeping in touch with those patrons who don't come back right away? No one can afford to forget about them. Many venues are actively producing online events to keep their patrons interested until they come back. Providing additional functionality that assists venues/event organizers in creating special events, and enables both simple and personalized communication with patrons will become even more important.
Subscriptions
Subscriptions have been evolving for the last several years, but the current situation is bringing this question to the forefront for more venues and events/content owners. How should subscriptions evolve now with the new options for showing events online?
There has been a lot of discussion as to whether or not subscriptions should be considered more like a membership. For example, because I'm a member I get certain buying or discount rights, or first pick of seating rights.
Organizations are considering offering new subscription types, like online only for live streamed events, venue based, or both for hybrid events that will be live streamed and happening in a low capacity venue.
Additional options could be to offer only limited access or lifetime access to a recording. Automating and offering flexibility with regards to how to structure subscriptions will be a common request to ticketing platforms.
How Can We Help?
It will take cooperation between industry professionals, venue and event folks, the ticketing platforms, and other third parties to successfully reopen venues and restart events. Some of the issues that have been discussed will be here for the long haul and perhaps long after social-distanced events will be a distant memory.
While we do not know exactly what the future is going to bring for events, we do know that they will go on, and we know that tech is going to play a part in it. We are happy to continue the conversation with you on these and any issues your clients may be experiencing.
1Concerts to return to Italy in June. (2020, May 18).
2Let them play: Governors signal they're ready for sports to return sooner than later. (n.d.).
3Drone Developed To Disinfect Large Stadiums, Arenas. (2020, May 11).
4Baumann M. (2020, May 26). "Is MLB Going to Be Able to Pull This Back?" Health Experts Break Down Baseball's Plan.
5Young J. (2020, April 30). Sports arenas could require 'necessary renovations' for social distancing, architect firm says.
6Ticketing companies gear up for post-Covid-19 future. (2020, May 19).
7Garcia F., Lansley G., Calnan B. (2017, Feb.) Modelling Spatial Behavior in Music Festivals Using Mobile Generated Data and Machine Learning.
8Ticketing companies gear up for post-Covid-19 future. (2020, May 19).
9Shackleford T. (2020, May 13). Eventbrite Reveals Massive Q1 Financial Losses, Three-Tiered Plan For Ticket Refunds.