Because of the pandemic, contactless ordering is a way for ticketing platforms, venues, and event organizers to collaborate.
For many venues, concessions form a large share of revenue. For example, statistics show that sports fans spend on average $42 in concessions per game.1 Integrating contactless ticketing with food and beverage purchasing has benefits for the long and near term. It aids in the safety of fans for now, and can generate higher average check sizes in the future.
How can ticketing platforms support their clients in future of concessions ordering? Let's take a closer look into what ticketing combined with contactless ordering means for the industry.
Opportunity to Re-invent the In-venue Experience
Creating a safe in-venue patron experience is now a necessity. But this is also an opportunity to reinvent the in-venue experience from a holistic view.
Prior to the pandemic, patrons showed a real interest in using contactless ordering. No one wants to miss the big play or climax of the show. But everyone wants a VIP experience. Ticketing platforms can help their event organizer and venue clientele meet both demands by incorporating contactless ordering into the ticket purchase process.
Prior to the pandemic, 58% of fans would spend more on concessions if they didn't have to wait in line. Sixty-eight percent were highly interested in using a mobile application to place a food and beverage order.
COVID-19's impact on the live event industry is felt widely. Revenue is down because of social distancing regulations. For many venues, concessions form a large share of revenue. Concessions also present an opportunity to make up for limited ticket sales during social distancing. By upselling during the ticket purchase process and streamlining food and beverage ordering, all parties can approach event planning from a low volume/high margin strategy.
Nearly 30% of fans globally ranked being able to stay in their seats as the most important way to improve the food and beverage experience. This desire plays well into social distancing regulations by replacing an influx of orders during halftime or intermission with directly delivered orders.
What's more, 55% of patrons expect to use contactless ordering in venues post COVID-19.2 Contactless ordering is poised to become more integrated as the trend continues to rise.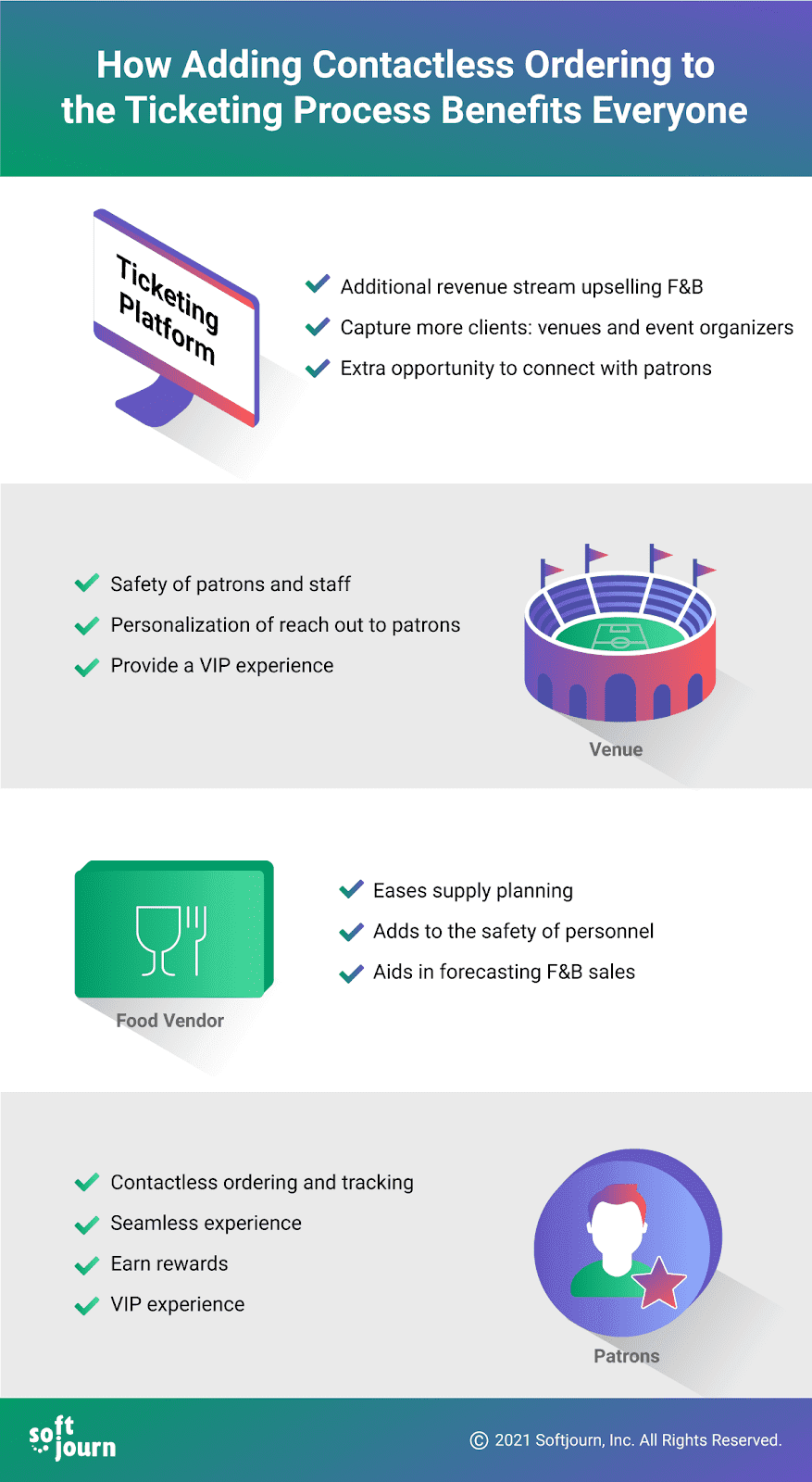 Contactless ordering has benefits for everyone involved in the ticketing purchase flow and event value chain.
How Contactless Ordering Enhances Ticket Buying
Contactless ordering fits well into the traditional ticketing platform flow. Following a similar upsell process as add-on merchandise, parking, reservations, and more.
Like other add-on items, API integrations enable contactless ordering during the ticket buying process. There are several parties involved in contactless dining: the ticketing platform, a digital order provider, and food vendor(s). We have devised workflows to resolve the complexity of connecting these entities. The tighter the level of integration, the more automation and options.
An attendee can make their food choices, select a time for delivery, and complete payment for their tickets, food and beverage, and any other add-on items at the same point in time.
On the fulfillment and delivery side, the digital order provider integrates with the food vendor's POS system. When an order is placed, the digital order provider transmits the details to the vendor's POS system.
This allows the vendor to organize inventory, food preparation, and delivery processes. How the kitchen receives the order from the POS service depends on the vendor's internal automation.
Here's a high-level look at the contactless ordering integration process between those involved: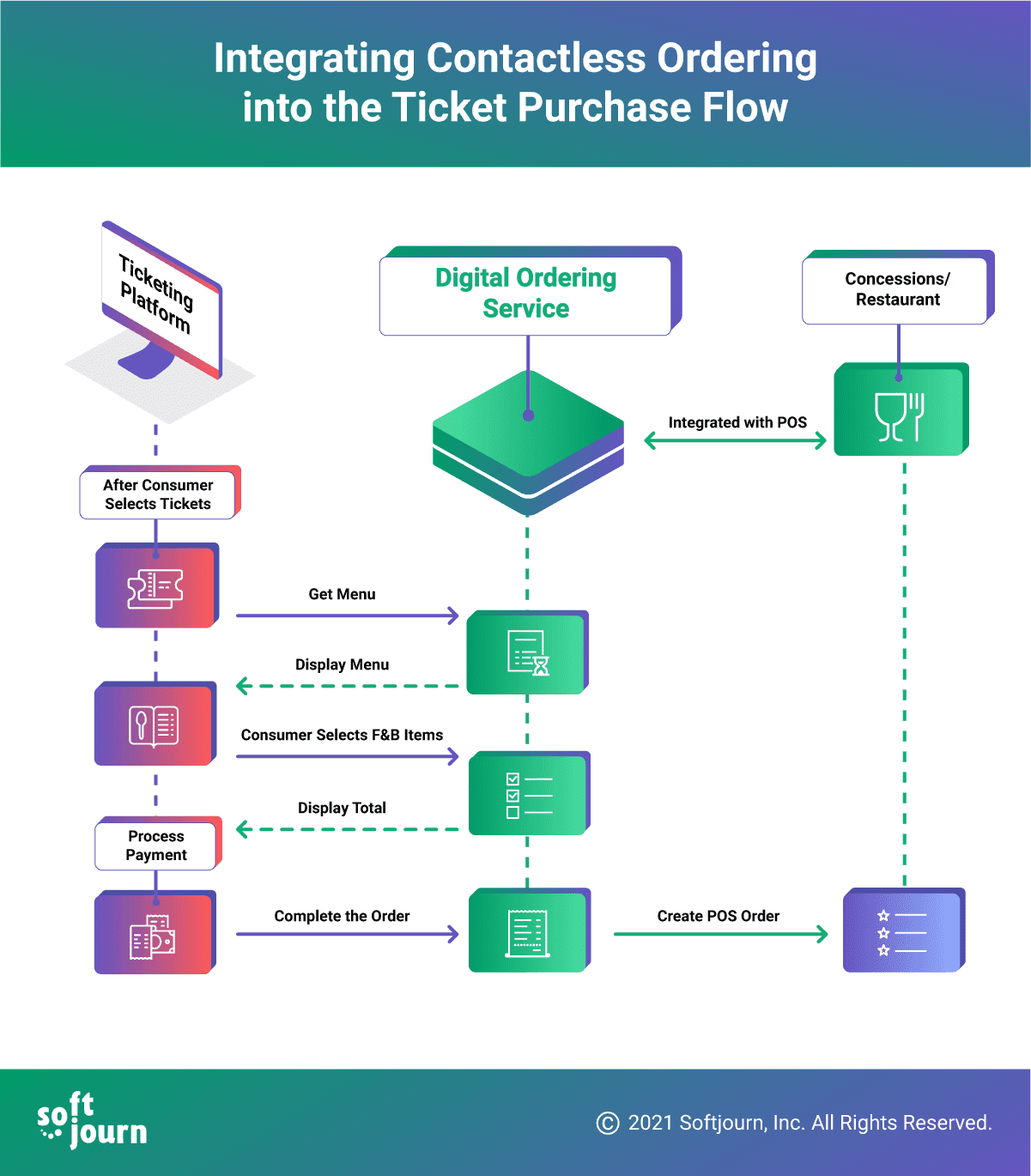 Connecting the three (or more) parties involved in implementing contactless ordering into the ticket purchase process can be complex.
Ticket sale confirmation would be the same as it is today. Whether email or app notification, it can include a sale list including any food and beverage. The receipt can also include a link to adding a ticket to the patron's preferred digital wallet.
Ticketing platforms can capture the patron's mobile device number and send a notification to the patron to confirm delivery. Patrons also must have a way to contact someone if their order does not arrive, or if they are not receiving notifications. The ticketing platform's access control app or confirmation notification should provide support details.
Benefits of Contactless Ordering
Improved Patron Experience
Venues and event organizers can create a better experience by engaging with patrons from the moment they arrive. Notification of a patron's arrival can come through the ticketing platform's access control app. Engagement can include welcoming them, confirming their order, and communicating with them via their mobile device to let them know when their food is on its way.
Encourage More Orders
No matter what a patron orders ahead of time, they always want more! It's in everyone's best interest to make initial and additional contactless ordering as frictionless as possible. When patrons receive confirmation for their ticket sale, there should always be a link to add extra purchases.
Patrons should get a confirmation for each new order, the status of said order, and the delivery time. The same as any order completed at the time of ticket sale.
Increase Opportunities to Connect With Patrons
Ticketing platforms and event organizers have direct contact with patrons through mobile devices. This can help reduce issues before they escalate to bad reviews or complaints in social media posts. By making contact centers accessible, patrons struggling with a process can reach out to get help.
Ticketing platforms, event organizers, and venues can collect data during the sale process. This can provide forecasting opportunities. Which can inform upsells, future event planning, and more to drive revenue.
For More Than Sports Venues
While it may seem that contactless ordering works best for sports venues, that is definitely not the case.
With ticket prices slowly going up from 2020 to 2023, they are still one of the most economical entertainment options, especially for millennials and Gen Zs.
In Marcus Theatres, 2022 was particularly successful with 44% of their annual revenue coming from concessions. According to Statista, in Q2 of 2023, Marcus Theatres reported $59.7 million in theatre concession sales alone.
By folding food and beverage sales in with the ticket purchase, cinemas can encourage patrons to buy more. Another idea is partnering with local restaurants to provide contactless ordering of food and beverages before, during, or after an event. Patrons order and pay for their food when purchasing tickets.
Patrons Want Delivery and Contactless Payments
Take a moment to think about the state of digital ordering. Most associate digital ordering with delivery services from their favorite businesses. Why should inside a venue be any different?
It's the same principle — moving ordering from a preparation area or kitchen to a mobile device. Instead of driving to a delivery location, servers walk to the seat and make the delivery.
Customers love contactless ordering because of its convenience. Forty-four percent of Americans cited convenience as the most important factor for ordering and paying for food and merchandise with their phone.5
Ticketing platforms able to upsell extra services are more likely to keep contracts with event producers. They can deliver better patron experiences.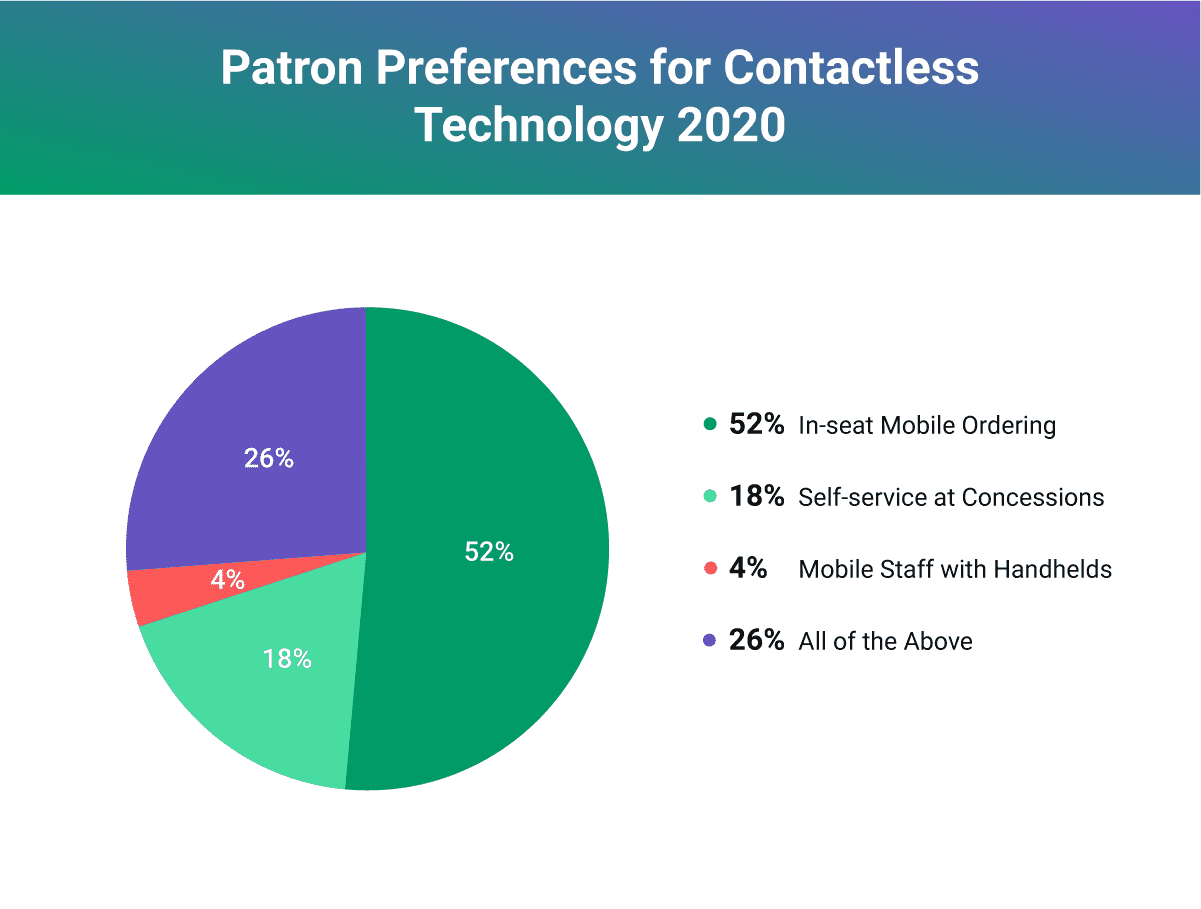 An Appetize survey in late 2020 shows that patrons have a strong interest in contactless ordering. (Stats Source Appetize)
How Touchless Ordering Impacts Operations
Operational Benefits
For socially distanced events, concession areas may not allow fans to approach, at least initially. Still, there are several ways contactless ordering can benefit operations.
Concessions or restaurants that receive orders ahead of an event can better manage inventory needed, as well as how much to pre-cook for the day.
Venues and event organizers can redistribute staff who had before been behind the counter to delivery. As the luxury of contactless ordering grows more popular, venues may need to add more staff to this area anyway.
Contactless ordering evokes a time when food vendors wandered within a venue, trying to meet demand as it rose. Mobile devices allow ticketing platforms, event organizers, and venues to meet demand, on demand.
Operational Considerations
Yet we can expect that physical POS systems won't disappear overnight. When patrons submit a contactless order, it needs to be seamlessly shared with many systems. Such as concessions' or restaurant's POS, through to the kitchen ticketing system.
Another level of integration could be a delivery service. If a concession or a restaurant uses one, order information can automatically be pushed through to that service. It can be complex. Any miscalculation in sharing information can result in issues with the ordering and delivery process.
Delivery times can be another concern. Patrons select a delivery time when placing their mobile order. Food vendors may need to override a delivery time. Vendors and venues both must be able to notify patrons of changes.
Modifying delivery times can be crucial, especially for socially distanced events. Delivery staff may be limited. Food and beverage may need to be one-hundred percent delivered to maintain the safety of an event.
Frequently Asked Questions
How much could integrating contactless ordering with the ticket purchase increase food and beverage sales?
The percent attributed to pre-orders will depend on the amount of communication and marketing a venue or event organizer does per event. It is not enough to add contactless ordering to the ticket purchase flow; patrons need to be made aware of it and the benefits it offers.
Still, assuming a 10-30% will convert on upsells of food and beverage during ticket purchase is dependent on the upsell product value and marketing promotions applied.
But increasing options and making it easier for patrons to order should increase the size of food and beverage spend.
How long would it take for a ticketing platform to get up and running with contactless ordering?
Depending on the delivery service provider chosen, it's tentatively possible to complete the integration in 6-8 weeks.
This type of integration involves many moving parts, including:
Integration with the digital order provider's API/SDK
Mobile app flow changes (i.e., showing a menu, selecting food, managing the shopping cart, delivery time, etc.)
Notification implementation
Building/updating any reporting capabilities
Invoicing changes
And much more
This estimate can also be affected by whether the delivery service provider is integrated with the food vendor you use or wish to use, menu setup, kitchen integrations, and other factors. If you'd like a more specific estimate, contact us to arrange a consultation.
Can contactless ordering work for a smaller venue?
The short answer is yes.
The longer answer is that safety is a primary concern for patrons, operators, and event staff. Contactless ordering has become a consumer expectation in many industries, and it behooves venues to consider this technology to ensure minimal physical distancing during COVID and meet patron demand in the future.
Contactless Ordering is the New Normal for Events
Even before the pandemic, 63% of consumers were highly interested in ordering online or via an app, over any in-person experience.6 It makes perfect sense to include the contactless ordering process with the ticket sale. As well as give patrons the ability to order more via mobile while in the venue.
Venues can bring in more food vendors and let local restaurants handle the concessions' area, charging for the opportunity. It all leads to better profitability and a more lucrative, enjoyable, and convenient patron experience.
1Oracle. (2019, May 31). Survey: Sports Fans Call Foul on Long Concession Wait Times at Stadiums.
2Appetize and SurveyMonkey. (2020, November 18). Appetize Contactless Survey Reveals Customer Trends and Preferences.
3Morgan, C. (2019, August 02). 17 sneaky ways movie theaters get you to spend more money.
4Stoll, J. (2021, January 13). Likelihood of buying concessions at movie theaters in the U.S. 2018.
5Appetize and SurveyMonkey. (2020, November 18). Appetize Contactless Survey Reveals Customer Trends and Preferences.
6Oracle. (2019, May 31). Survey: Sports Fans Call Foul on Long Concession Wait Times at Stadiums.