Updated: 4/28/2022
The banking and financial sectors are going through a big digital transformation. Major US banks are shifting from tap-and-pay cards to digital wallets to make life even easier for their customers. The COVID-19 crisis has sped up the adoption of the digital wallet globally and its use worldwide is projected to spike at 70% by 2025.1
Services like Google Pay, Apple Pay, PayPal, Kakao Pay, and Samsung Pay, to mention just a few, are working on new digital products that will push the industry even more forward. Mobile commerce is expected to cover about 80% of all e-commerce transactions in value by 2025. The leading countries adopting digital wallets are Singapore, China and Hong Kong.
Essentially, the digital wallet is a digital service that benefits all sides: it helps banks save the money spent issuing physical cards and gives customers a more convenient way to manage their money on the go.
Fueled by the Pandemic: Rise of Digital Wallets in 2022
COVID-19 heavily influenced digital payment development across the world. In particular, the US saw a greater increase in NFC payments than any other country

Many Americans tried out mobile payments for the very first time during the pandemic. The early adopters of digital payments were younger generations, including millennials and Gen Z, but this technology is quickly on the rise for the US population as a whole.
While NFC is the most common type of mobile payments, there are myriad other mobile wallets used in physical stores, online, and for QR code payments.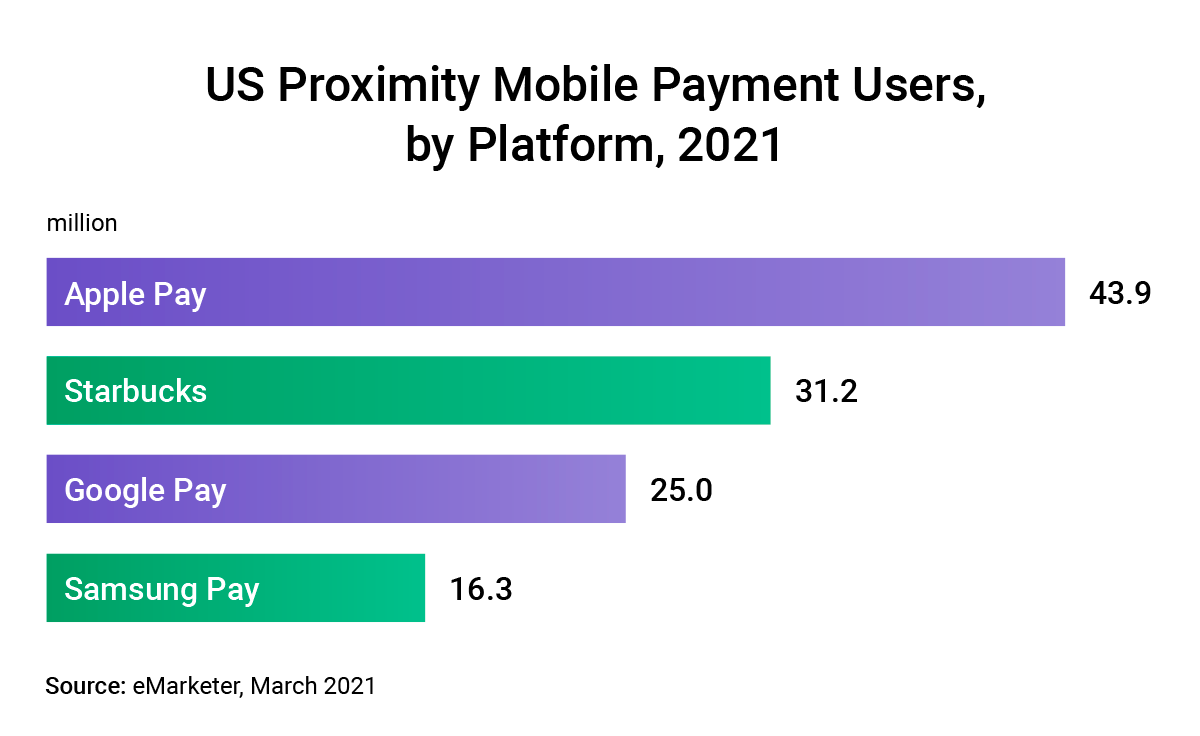 Apple Pay remains the dominant mobile payment platform, with 43.9 million users in 2021. Between 2020 and 2025, it is predicted that there will be an additional 14.4 million users, creating a significantly bigger gap between its competitors. Unsurprisingly, the growth of Apple Pay's market share might also increase its lead in the next few years.
Starbucks managed to beat out Google Pay and Samsung Pay with more users for POS transactions. In 2018, Apple Pay and Starbucks had similar numbers, but Apple Pay was able to overtake the market lead in the past three years.
Google Pay and Samsung Pay are showing stagnation, although their positions remain strong through 2021 and 2022. eMarketer research shows that with the increase in mobile wallet usage, the average annual spend is also growing, as annual spend per user rose by 23.6% in 2021, and is on its way to rise by an additional 33.3% by 2023.
Top Mobile Payments Apps
What's to Know About Digital Wallets?
A digital wallet is a payment service that stores an individual's information about their debit and credit cards. It in fact contains not just debit and credit cards but also loyalty and membership cards, so a person can access all of them while shopping.
While some wallets simply store debit and credit card information, others are more versatile, enabling holders to complete P2P transactions and access additional financial services.
As the global mobile payment market develops, it's becoming obvious how much the digital wallet can offer various industries. For retailers, it's convenience, speed and increased security for holders. Those same benefits apply to telecoms companies, big financial institutions, and many other sectors.
Finance
Banks and other services providing individuals with prepaid, credit or debit cards will find digital wallets a useful feature or add-on to their online banking apps. Offering a digital wallet could give banks access to personal information that will make it easier to conduct customer checks and other regulatory actions.
Retail
Digital wallets are a great addition to mobile apps in retail and an important part of the mCommerce landscape. The growth of mobile commerce skyrocketed as mobile platforms began making it possible for customers to shop using digital wallets. Moreover, retailers can use digital wallets to store information about sales, coupons and loyalty cards, or just to notify customers when a sale starts.
Telecommunication
As technology progresses, telecoms have become more flexible and responsive to their customers' needs. Since all of these providers operate services for mobile devices, the digital wallet has become a great solution to their customers' changing needs.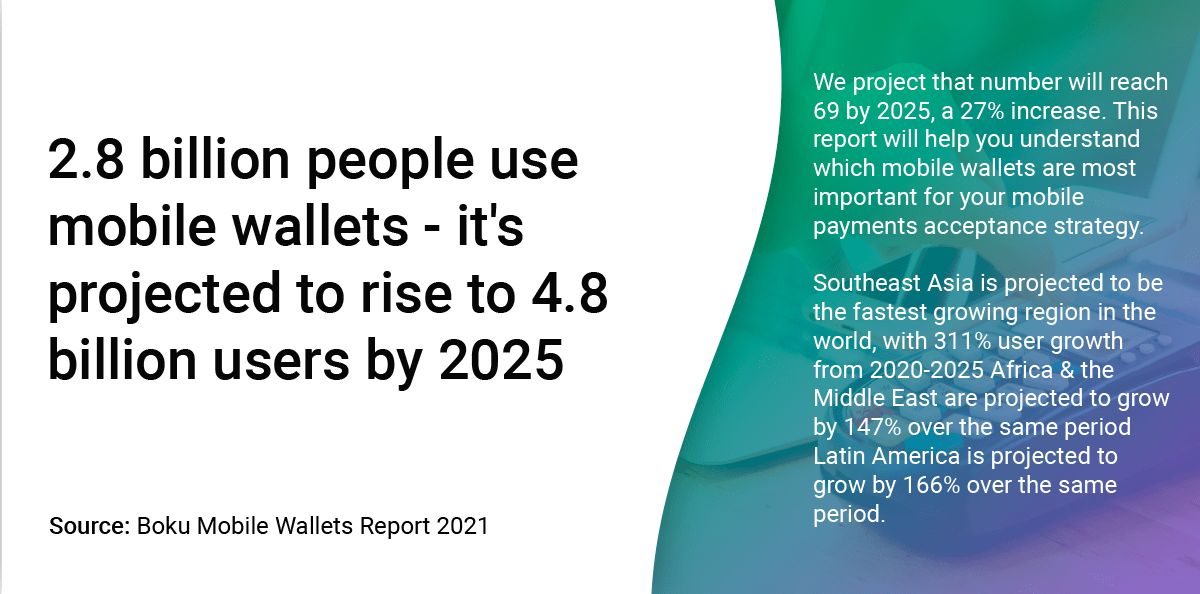 How Digital Wallet Benefit Individuals
The growing popularity of digital wallets is due to a number of advantages that they offer:
1. Easy holder registration
2. Loyalty cards stored in one place
3. Utility bill payments as easy, simple transactions
4. Rewards and cashback collected through in-app activity and purchases
5. Mobile payments through tap-and-pay technology or wallet QR
6. Access to different payment models
Digital Wallet Types
Every digital wallet app is directly connected to mobile communication service providers, financial institutions, or banks, and the core function of every wallet application is related to payments.
The Basic Technologies Behind a Digital Wallet
Wallet apps are fairly simple to use. The customer opens the app, uses a PIN code or fingerprint, and chooses the card they plan to use. Most digital wallet apps use NFC technology to transfer card information and complete a purchase.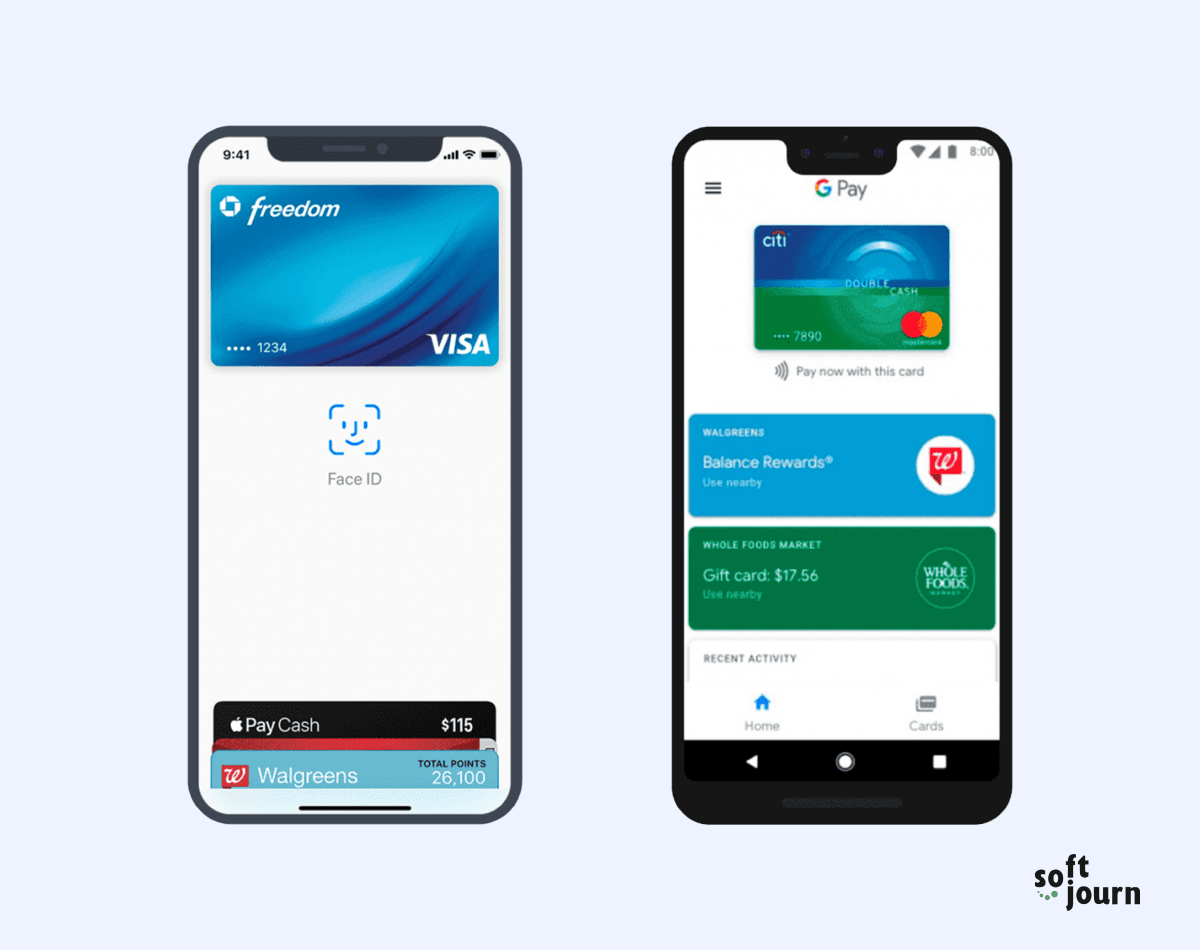 Simplicity of design is important with any digital wallet as it provides frictionless, easy-to-use transactions. The smoother the experience, the higher the adoption rate for a variety of users. With an intuitive product design, it's easier to navigate the wallet, find the right function, and incorporate that feature into everyday payment practices.
NFC. Contactless technology plays a major role in providing secure communication between smartphones and POS devices. The technology is somewhat similar to Bluetooth, but it has a shorter connection setup time, with three fields of application in payments: card emulation, reading mode and P2P mode.
Bluetooth and iBeacon. Most smartphones already support iBeacon or Bluetooth technology. iBeacon also allows merchants to send personalized offers in various advertising campaigns and discount coupons once they are in the range of radio beacons.
QR codes. QR codes have become the norm for a variety of services. What's more, merchants are adding QR codes to every bill to ensure a seamless payment experience.
Digital Wallet Security
Another key component of any digital wallet is a high level of security for every transaction. Holders want to know their money is safe, and you can ensure it by offering P2P encryption, tokenization, and passwords.
Point-to-Point encryption (P2PE). P2PE is an advanced tool that protects transactions. It starts encrypting transactions when you swipe your phone over the POS terminal: your transaction is then in transit and needs to be authorized. This type of protection has to be included in the security features of every digital wallet.
Tokenization. This technology uses a reliable data encryption system to ensure the security of every e-payment. All card information gets encrypted and turned into tokens.
Passwords. One of the best-known ways of protecting personal data is through passwords. A strong password is key to increased protection levels and makes digital wallets more secure.
Must-Have Features
Good-to-Have Features

The basic features of any app are tightly connected to its functionality. The key elements of every digital wallet are:

User registration

Banking account or card authorization

The option of adding and checking account balances

Fund transfers and transfer receipts

Bill payments

Building a full-fledged solution for your business is an effective way to increase your loyal customer base. To make your app more appealing, expand the functionality and add more features:

Loyalty cards

Bill splitting

Loyalty reward offers

Gift cards

Push-notifications

Geo-targeting

Exclusive offers

Membership cards/discounts
Each of the features listed here can bring your business more customers and increase their commitment to using your product.
Rewarding and encouraging customers in new ways leads to greater loyalty, more revenue, and greater overall engagement. Today, when every customer matters, you can get them on your side with an app they will enjoy using.
By doing serious market research, you might even find that your customers need something specific. With a reliable software development partner, you can support your customers by leveraging the latest technology to make your digital wallet stand out in a highly competitive market.
Simplified Design
Simplicity in design is becoming increasingly important. Simplifying the layout of your digital wallet will contribute to a smoother overall experience so customers can integrate it into their everyday habits.
There are still a lot of shoppers and retailers alike that have a tough time adopting new technology. With a clean UX/UI, even if their first payment doesn't go through, your customers will be able to understand what went wrong and do it right at their next purchase. When the effort needed to make a purchase is reduced, the shopping experience more enjoyable.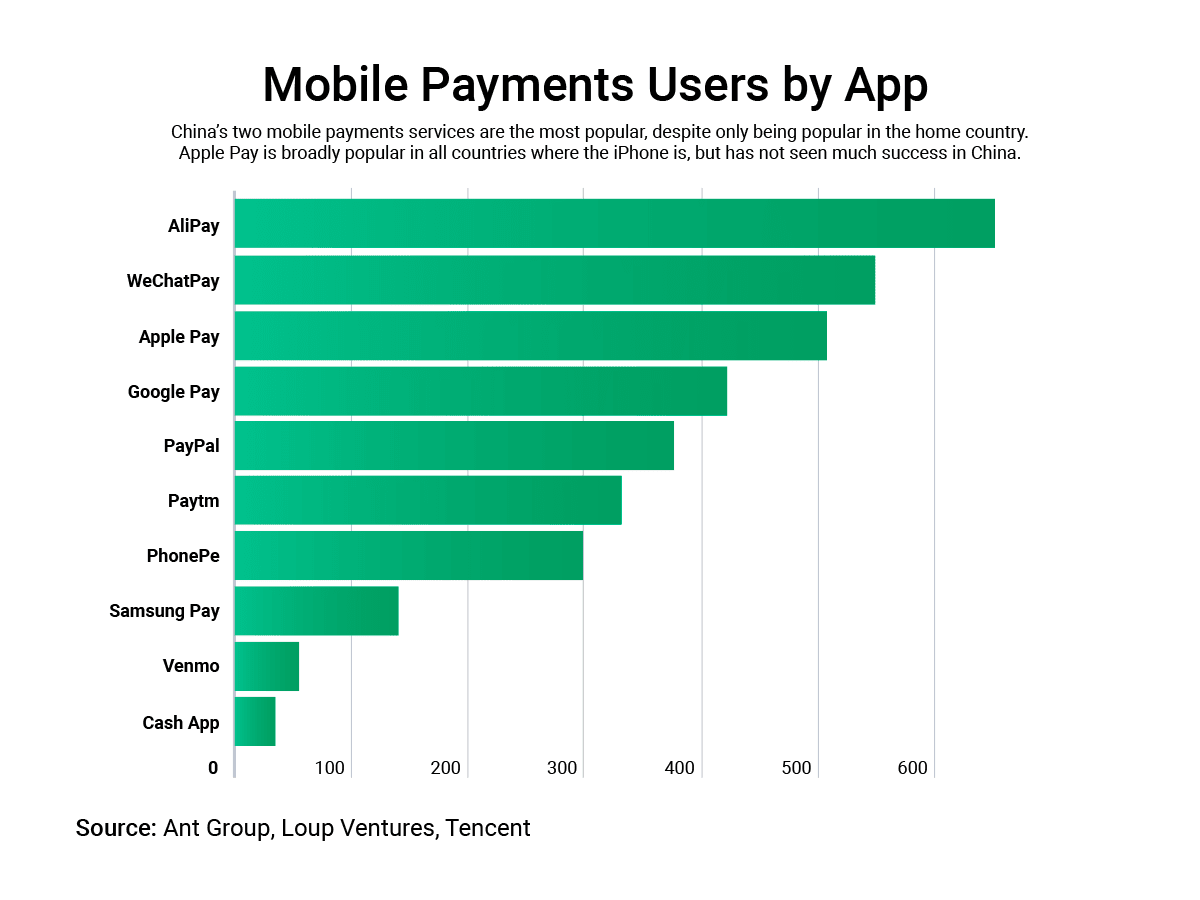 The Future of Mobile Payments
About 2.8 billion mobile wallets were active worldwide at the end of 2020, and that number is expected to jump by 74%, reaching 4.8 billion in the next five years. While digital wallet usage in North America is on the rise, overall adoption of e-payments is lagging in the US compared to China and other parts of Asia. This is the main reason why AliPay and WeChat Pay are still the dominant mobile wallet providers globally.
The consumer mindset around the use of mobile payments is changing rapidly. As payment innovation continues to make mobile payments more secure and as businesses continue to make it easier to use and integrate mobile payments, it's expected that adoption will continue to rise. By 2024, digital wallets are projected to grow an additional 38.2% over 2020 levels, and will account for 40.5% of North American e-commerce payment volume.
It's clear that mobile payments are poised for growth in the U.S. Both B2C and B2B mobile payments adoption will continue to expand, and companies will continue to integrate mobile payments as part of their payments mix.
However, it is user experience that will ultimately drive overall adoption. As companies who haven't adopted this technology begin to see the benefits mobile payments provide customers and employees, they won't be far behind on the adoption curve.
Partnering with Softjourn
For more than 10 years, we've collaborated with different financial institutions and fintech companies, building creative fintech solutions or augmenting in-house technical teams to provide incremental technical support and project-specific expertise—which has resulted in revenue-generating features.
We have experience and knowledge to help you to:
Set up your digital wallet.
Integrate with third-party wallets.
Determine whether a custom solution is within your budget for this year, and help estimate what it will take to develop one.
Final Thoughts
Today, customers are looking for fintech products with a human-centered approach. That's why the financial landscape is changing and innovating to meet to high expectations among customers.
Building a customer-oriented digital wallet that comes with a myriad of functions is the ultimate goal of all our clients. Here at Softjourn, we know how to develop successful products.
Our professionals can streamline complex ideas and make products your company can be proud of. If you are interested in understanding how digital wallets might benefit your business or how to build your own, just contact us.