On day three of INTIX 2021, our ticketing team lined up at our booth to take a photo. This year, unlike years before, coordination was a little more difficult.
"Move forward a little."
"No, back… watch out for the blue line!"
"Oh no, we've lost him to the other place. He's muted now, he can't hear us."
If that sounds a little strange, that's because this year's conference was different.
INTIX's 42nd annual conference, running from Jan. 25 to 29, 2021, occurred in an immersive 3D environment. We were all standing in a digital exhibitor's hall, virtual avatars clustered around our virtual booth, trying to get an angle that captured not just us but also our booth and company logo.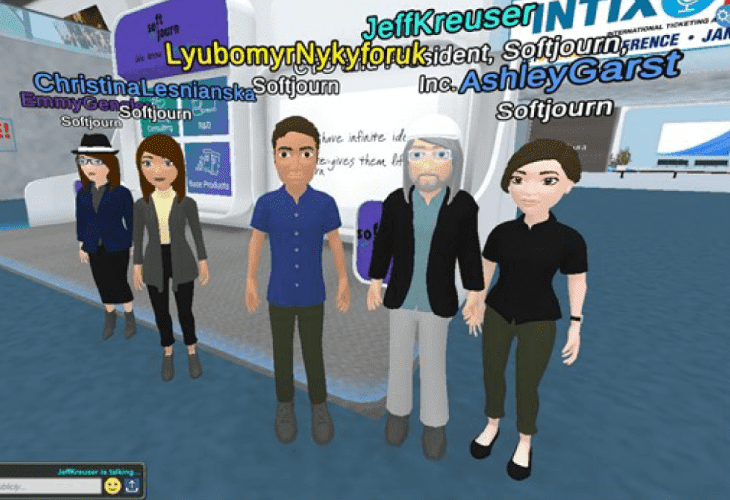 Softjourn's ticketing team lines up outside our virtual booth during INTIX 2021.
Are Virtual Events the Future?
Virtual has become a semi-permanent part of our lives during the pandemic. It has certainly become a mainstay for events that have had to either winnow down audience sizes or close their in-person offerings completely. But will it be a permanent mainstay of the events industry?
It is entirely possible – a panel at Ticketing Business Forum 2020 estimated that the livestreaming of live events is expected to become 17% of internet traffic by 2022. The same panel mentioned that a Goldman Sachs survey stated 84% of respondents were interested in attending a livestreamed live event from their home, although only half said they would be interested in paying to do so. Still, there are multiple benefits to livestreaming a live event.
While virtual is necessary for now, EventMB reports that the biggest obstacle to holding a successful virtual event is creating engagement. Another 50% of respondents said they were frustrated with virtual event tech's inability to match live engagement.1
INTIX might have found an answer to that patron attention puzzle. This year, they held their annual conference not in some distant and exotic location, but in a virtual one – Virbela, a 3D environment that brings attendees into an immersive space through avatars, digital buildings, and voice chat.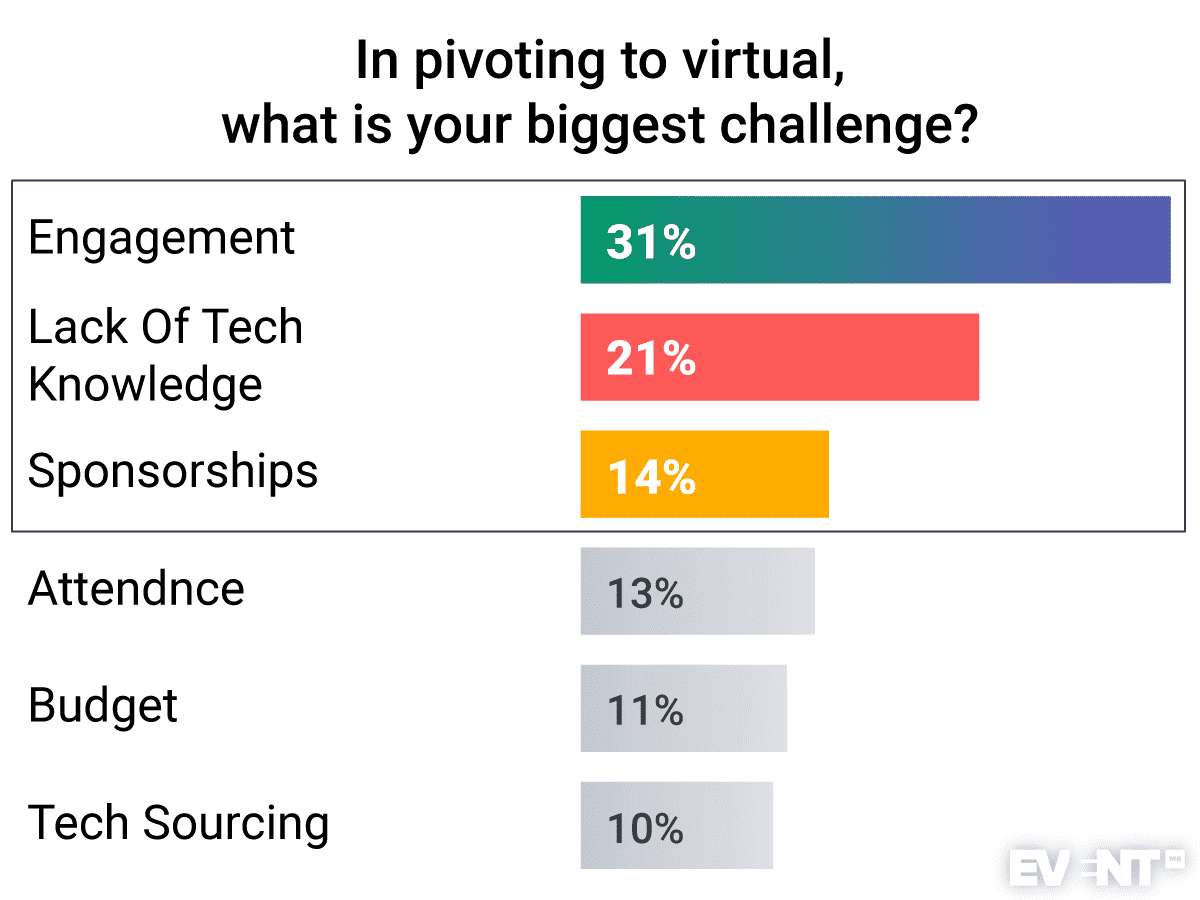 EventMB's survey shows engagement, lack of tech knowledge, and sponsorships as the top three obstacles to holding a successful virtual event. (Credit to EventMB)
How Virbela is Facilitating the Future of Remote Collaboration
INTIX describes Virbela as "a world that is completely different, creative, memorable, and gives short- and long-term value to the industry." Built on the Unreal Engine, the same gaming engine that powers Fortnite, Virbela offers an alternative to Zoom meetings and Skype chats.
Founded in 2012, Virbela attempts to provide the presence and emotional connection of being together in person. The platform was originally created to give MBA students the opportunity to work remotely on teams across cultures. After the onset of the pandemic, Virbela partnered with Event Farm to provide an affordable way for any group to create, manage, and host events.
The strategy switch worked – according to a press release, Virbela reported a 260% revenue increase in the second quarter of 2020 compared to Q1.2 They also noted a five-times increase in monthly active users and six-times increase in new users.
Erik Hill, Virbela's vice president of engineering, reports that 10,000 users log in each month. eXp Realty, which acquired Virbela in 2018, runs its operations entirely through the virtual platform, enabling 18,000 agents and hundreds of staff who operate out of 50 states and four countries to collaborate.3
Glenn Sanford, the founder of eXp Realty, estimates that transitioning his company to completely virtual has saved $30 million a year.4
6 Virtual Event Engagement Best Practices
The standard virtual event these days is a livestream. The main area of interaction for users is a chat box that facilitates text dialogue, sometimes with the addition of emojis or stickers. Users can listen through speakers or headsets, but hosts typically mute the audience to prevent interruptions during the presentation. Instead of being together physically, users are looking at each other in a video conference call or not at all.
Virbela takes all of that and adds another layer – attending a trade show or industry conference usually involves meeting up with people or randomly coming across both new contacts or old friends. With a virtual avatar, INTIX attendees were able to wander around a digital campus, interacting with both other attendees, INTIX and Virbela staff, and the environment itself.
Although Virbela offers a virtual reality aspect in its platform, many of its best practices can be used in other forms of virtual events. Even if your event can't provide patrons with personalized avatars, the focus should be on how interaction can be fostered.
Manage Expectations with Easy-to-Find Information
INTIX 2021's attendees had few ideas of what they were getting into when it came to participating in a virtual reality event. INTIX proactively communicated to provide as much insight into the event, the platform, and what attendees might expect.
They held two days of orientation to get newcomers comfortable with the digital platform. This is a fantastic way to increase event engagement.
Playing to an international audience can be a difficult balancing act. Softjourn's employees are global, which meant that some could not attend all that the virtual conference had to offer.
"The biggest con was the time zone shift," Nykyforuk said. "There were some activities we couldn't join in, like the concert that was held at 3 A.M. our time. Not the end of the world, but that's a big challenge in planning a virtual event when appealing to an audience around the globe."
Provide Different Levels of Interaction
Conference attendees didn't just have the opportunity to interact directly with one another, but also with the environment. Animations made for a fun jumping off point, whether someone was showing off their Gangnam style or samba dance moves or waving hello.
Soccer fields offered a quick game between conference sessions. Speedboats let users take a few laps around the island to enjoy the digital environment.
"The overall experience was good," said Lyubomyr Nykyforuk, Softjourn ticketing expert. "Transitioning from one place to another quickly was a huge benefit — being able to participate in the conference from home and avoid things like jet lag was a big plus."
"Still being able to participate in INTIX was great," said Christina Lesnianska, Softjourn ticketing business development manager. "Although I haven't had a chance to attend many conferences or travel much, so I wouldn't mind jet lag!"
While the beach wasn't just like getting sand between your toes and going to the top of the lighthouse didn't have wind whipping your hair away from your face, all of the different environments certainly provided attractive options that differed from the typical meeting screen.
The Takeaway:
For livestreamed virtual events, interaction can come in the form of chats, polls, and/or trivia. Asking patrons to submit questions pulls them away from potential multi-tasking to instead engage fully with the content. Trivia can provide icebreakers to get discussion going in the crowd. Another type of interaction are "interactables," or clickable actions that can show different emojis or even set off animations, like throwing tomatoes at a screen. Softjourn developed
such interactions
for ClipSync's social viewing experience.
Facilitate Networking
Throughout the island, attendees could find cordoned off areas where they could have a private conversation. Audio in public spaces was freely heard by anyone within a certain distance, which is why INTIX cautioned attendees to mute their microphones if they weren't talking to anyone.
Tables, office spaces, booth areas, and anything else surrounded by a glowing blue line indicated a private space for a quick chat with a colleague or a conversation with a prospective client.
"I really enjoyed that Virbela's platform offered opportunities for networking," Lesnianska said. "In the Exhibition Hall, there were always representatives at the booths, so you could drop in to have a quick chat."
A directory of those presently online was visible in the top left-hand corner of the screen. Attendees could scroll through the names, and if they wanted to introduce themselves, could immediately jump across the digital landscape to that individual.
The Takeaway: For livestreamed virtual events, patrons want to network with one another. This can be facilitated with different levels of chat boxes, both private and public. Integrating with a service that offers a speed networking system is another idea. Such a service might offer a QR code that patrons can scan with their mobile device and be automatically connected with presenters or exhibitors.
Pre and Post-Event Communication
During the conference, presenters had the ability to follow up with attendees and connect through the platform and email. INTIX kept up a steady stream of communication both before and after the conference to keep patrons connected and informed.
"Events are about connections, relationships," said Lesnianska. "Event organizers and venues want to create and sustain long lasting relationships with their audiences. Ticketing platforms should offer ways to facilitate those connections, whether through technical means or other channels."
The INTIX Virbela platform is available for the next nine months — offering the potential to reconnect with those who attended before, partake in a team chat in a virtual conference room, or even revisit some of the on-demand presentations.
The SecuTix-sponsored Inspiration Stage will continue to offer its bite-sized, 15-minute presentations. The longer, hour-and-half hybrid workshops are available on demand in a separate area of the Virbela platform.
The Takeaway:
For livestreamed virtual events, the follow-up is a crucial time. Personalized communication keeps events and venues in front of patrons' eyes. Ticketing platforms can support this connection with integrations to CRM systems and social media platforms, or mobile app push notifications.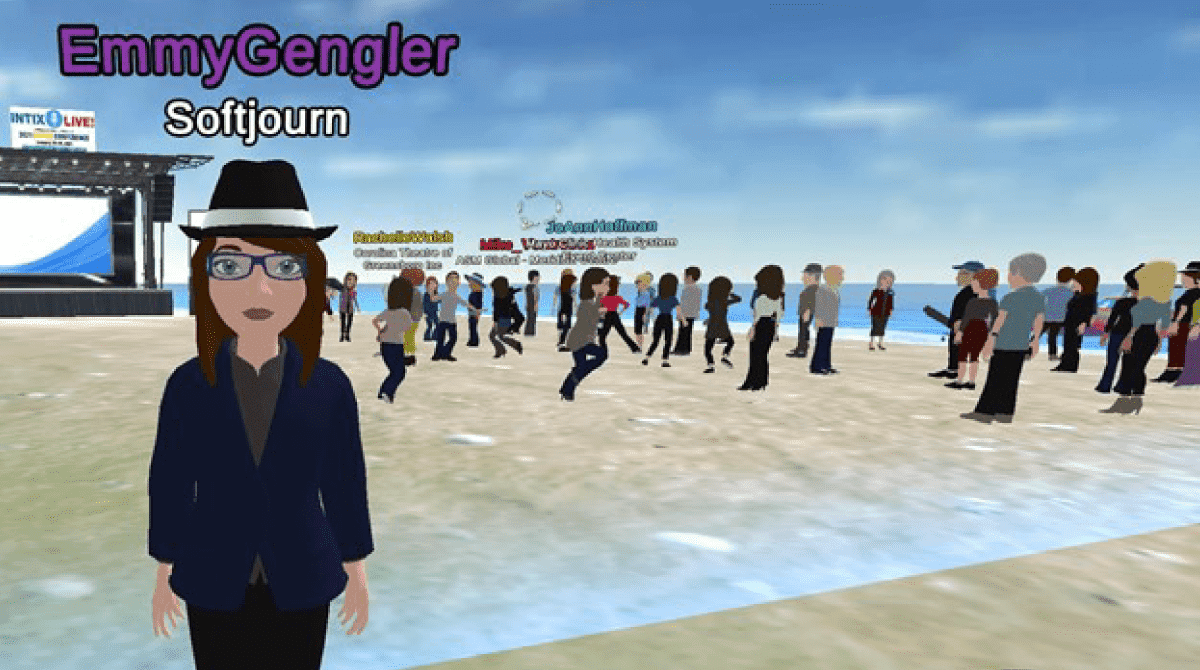 Softjourn's CEO Emmy Gengler attends INTIX 2021's virtual beach party.
Provide Technical Troubleshooting
While getting into the Virbela platform was generally not an issue, staying in the platform was another topic.
"I have heard that some people were kicked off the application a few times," Lesnianska said. "I was kicked off once, while we were trying to take a photo."
Though there are many ways a virtual event can go wrong, it is possible to test for them. One example is load testing to ensure the system can handle whatever number of patrons show up for an event. Anticipating attendees' hardware is a taller hurdle to overcome, however. One potential solution, albeit one with its own pros and cons, is to consider a browser-based platform over one installed locally.
Beyond testing, being ready with helpful staff ready to mitigate issues is another way to provide a great customer experience. INTIX and Virbela staff were quick with resolutions to issues, providing either setting adjustments or links to additional troubleshooting material.
The Takeaway: Give yourself a safety net when preparing to handle patron questions and technical issues by testing before the event, but also preparing materials and support staff to help during the event. Because this leads to a better customer experience, patrons can focus on the event instead of being distracted by problems.
Connect Sponsors, Presenters, and Exhibitors with Data
Attendees who purchased a booth had several customization options available to them. Exhibitors could choose from a range of colors to decorate their booth, and embed their own links for graphics and videos. We saw some booths that had downloads for attendees to "take home" with them.
However, we had questions about data collection and whether that information would be made available to exhibitors.
"At past INTIX conferences, we're typically scanning badges, getting different information about visitors," said president and CTO Jeff Kreuser. "This time we were doing it manually. It would be great if a digital platform could automate that process for us."
With more technology comes more data, which can be useful for exhibitors and conference organizers alike. As we move forward into a more connected world, being able to curate experiences and learn about audiences benefits both businesses and customers in the long term.
The Takeaway:

While this is more for presenters and content owners, it's still valuable for growing patron engagement. The more that event organizers and content owners understand what patrons want, the better events can be developed that meet those wants — in the long run, greatly improving engagement and event ROI.
Two members of Softjourn's ticketing team, Lyubomyr Nykyforuk and Jeff Kreuser, stand in front of our booth inside the INTIX 2021 Exhibit Hall.
Conclusion
While virtual events can never replace live events, virtual and hybrid events are likely to be here for the long term. The pandemic has accelerated a trend that was already happening, as mobile phone adoption increases access to content all over the world.
Although social distancing currently limits live events, virtual and hybrid events offer ways for ticketing platforms and event organizers to reach their patrons, earn revenue, and remain present for donors and subscribers.
An INTIX representative told us that they were considering augmenting their annual conference with a virtual event. It would come down to whether it made sense to have a national or regional offering, what access would look like compared to the in-person experience, and, of course, budget.
1 EventMB. (2020, October 29). Keeping Attendees Engaged Is the Biggest Challenge for Virtual Events
2 VirBELA. (2020, August 06). VirBELA Accelerates Growth 260% in Q2 2020
3 VirBELA Brings the Virtual Reality Workplace to the Real World. (n.d.).
4 Schlosser, K. (2020, April 25). Together again, virtually: Inside two worlds where social distancing is irrelevant.