Updated: 6/7/2022
Over the last decade, particularly since COVID-19, the ticketing industry has evolved in leaps and bounds, and for the most part, the days of will call, box offices, and printed tickets have fallen by the wayside; most tickets are now purchased online and scanned at the venue.
Even before the pandemic, digital tickets had been gaining popularity over paper tickets due to convenience, low costs, and fraud reduction. Since COVID-19, however, the trend of ticket digitization has skyrocketed.
In 2021, the event ticketing market saw high adoption rates of mobile ticket purchasing via ticketing apps. Juniper Research asserts that mobile tickets for sports events will surge 64% by 2023. Even with COVID-19 shaping the event industry, ticketing profits are not slowing down - in fact, event ticketing revenue is projected to reach $72b in 2022 in the US. It will continue to grow to a forecasted $94b by 2026.
It is indisputable that mobile tickets will continue to rock the industry and it's still not too late to jump on the digitization train. If you are interested to learn more about digital ticketing and its impact on patrons' event experience, read on.
What Are Digital Tickets?/ Why its hard to define digital tickets
Electronic tickets, also known as digital tickets, are the digital equivalent of traditional, paper tickets.
Paper tickets are validated without the use of an Access Control app. Most commonly, paper tickets have stubs that venue staff tear off when patrons enter an event. However, defining digital tickets is complicated, because they can take many different forms.
When most people think of e-tickets, they likely imagine mobile tickets. These work as a pass to an event using a unique QR code that patrons must present on their mobile device at the entrance of an event. The venue is often equipped with ticket scanners or an access control system. After entering the venue, tickets are validated and considered expired, so they cannot be reused, unless there is a "scan out" option enabled for the event.
Similarly to mobile tickets, a common form of digital tickets is a scannable PDF. When patrons buy tickets on websites, they often have options to download their tickets as a PDF or receive the PDF tickets through their emails. PDF tickets may use QR codes or other barcodes that will be scanned at the entrance. Some people choose to print PDF tickets, but they can also be scanned from a mobile device.
One type of electronic ticket that might go overlooked is Boca thermal tickets. While thermal tickets may seem like any other paper ticket (since they are printed at the box office), they typically include QR codes that must be validated by an access control app, thus we consider these to be digital tickets.
Perks of Using Digital Tickets
In response to problems stemming from traditional paper tickets, the biggest ticketing companies have started adopting digital ticketing. Unlike traditional paper tickets, digital tickets bring advantages for event organizers and fans alike. These include a smoother buying process, lower costs, last-minute ticket buying and selling, and the collection of useful data for event managers.
Fans no longer have to print their tickets or pick them up at will call, as all they need to get into an event is a smartphone. Event-goers can easily scan the ticket, know that it's safe in their phone, and keep it with them at all times. With e-tickets, there is no longer the problem of losing a paper ticket.
Patrons can also easily sell, gift, and purchase tickets safely using event apps and partnering ticketing platforms.
Additionally, here are the biggest reasons why event organizers are making the switch to digital:
Improved efficiency and security.There are many ways digital tickets provide protection to consumers. Using delayed tickets, dynamic QR codes, and in-app tickets greatly reduces ticket fraud, reselling, and counterfeiting.
Frictionless event entry/re-entry. With options to scan in and scan out, fans can easily enter and re-enter a variety of events. This quick and simplified process has led to reduced time waiting in line and has eliminated the need to give patrons a wristband or stamp to exit and return.
Collect valuable data. Selling and upselling products is easier when event organizers have a clear understanding of audience demographics, such as age, financial situation, interests, and many other factors. Digital ticketing systems, including both apps with mobile tickets and e-tickets delivered as PDFs, allow organizers to collect precious data about fans. This information is often gathered through consumer bios and pre/post event surveys, which can lead to better marketing practices.
Increased convenience and safety. Removing box-office transactions through contactless ticket-buying was especially important during Covid-19 as it offered a more convenient and safer way for patrons to purchase tickets.
Sustainability. Paper tickets have a greater carbon footprint and impact on the environment. Digital tickets reduce the need for paper as the ticket exists only in a digital format on fans' devices.
Combatting Digital Ticket Fraud
Digital tickets have solved many of the problems of physical tickets, yet ticket fraud and other issues live on in new forms. Resale is important and inevitable, but if the secondary market is not regulated, resellers can use technology to take advantage of the situation.
This is why many big sports clubs and performers insist on having more control over the ticket selling process, and may even create new ways of allowing fans to gift or sell tickets all in one place. Innovative ticketing platforms are regaining control over the reselling process by using non-transferable and in-platform-only ticket selling.
Tickets have different codes at different times, reducing counterfeits and reselling since screenshots of purchase confirmation wouldn't have any value.
Mobile App Tickets
There are more ways than ever digital tickets can provide protection and convenience to consumers. For instance, with ticket delivery delay fans are receiving an immediate purchase confirmation and general ticket information is visible within the ticketing app. On the day of the event, the ticket QR code will appear, allowing less of a chance for the ticket to be resold or stolen.
Additionally, there are some tickets that use dynamic QR codes which change periodically, so the ticket information is never static. QR codes can expire, but it's entirely up to the ticketing platform to decide when and how they will expire.
NFT Tickets
NFT tickets are valuable digital assets that serve as access credentials for event attendees and can come with some unique perks. NFT tokenized tickets allow event attendees to access both in-person and virtual experiences.
When fans purchase an NFT-based ticket, a smart contract is triggered and the NFT is sent to its new owner. The ticket is then stored in a digital wallet with easy access from any mobile device. Once the event is over, NFT owners continue to potentially earn royalties every time their NFT changes ownership.
Patrons can easily sell and purchase NFT tickets using various NFT marketplaces in order to generate additional revenue streams. Programmable NFTs often come with built-in rules for sales, resales, and royalty splits. Most marketplaces allow users to easily calculate any profit-sharing percentages and keep a watchful eye to prevent price manipulation.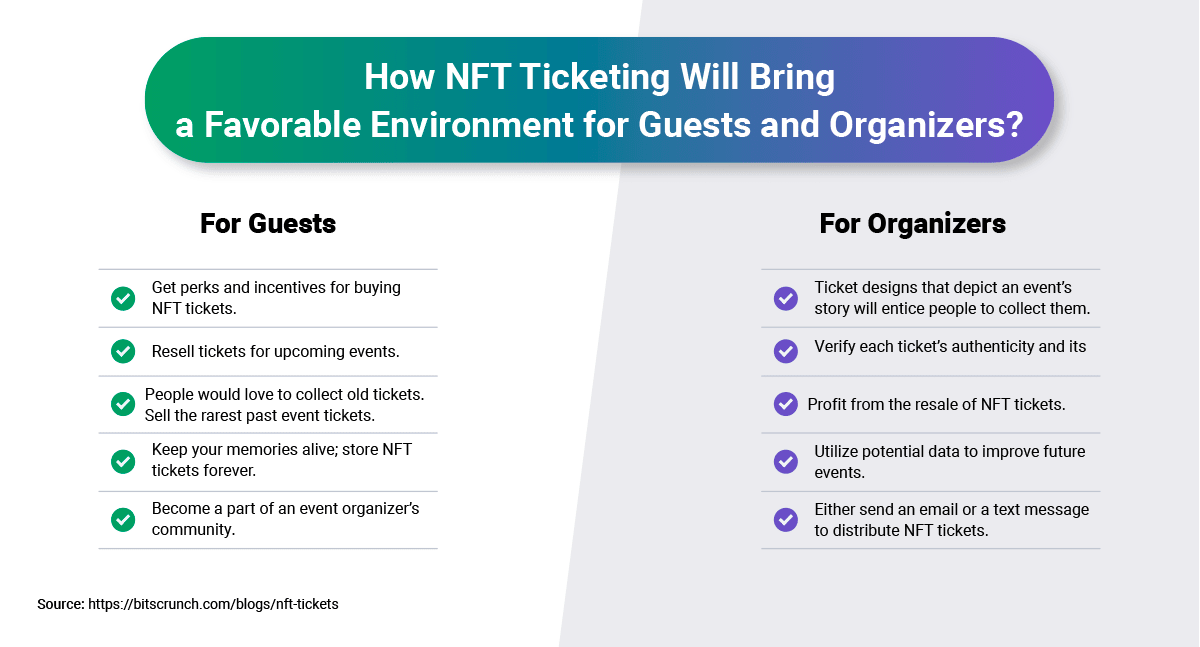 What Does the Future Hold for Digital Ticketing
It is clear that since the pandemic, enormous changes have gripped the ticketing industry. Modern ticketing technology has revolutionized the event industry, and it will continue to provide conveniences that improve consumers' experiences.
There are still instances where venues use physical tickets, like paper tickets at carnivals and fairs, but even in these cases, digital solutions can optimize the overall sales and inventory processes. While physical tickets have not completely faded out of existence, digital tickets have quickly taken over and will likely become the future of ticketing.
New technologies always present new challenges, but through exercising extra vigilance to new forms of fraud and continually adapting best practices, digital ticketing can be a huge asset to event organizers and can provide more convenience and safety to patrons.