Do you have a great product idea to bring to market but need support to develop it? Or maybe you need to grow your team to maintain and expand your product's features? The software developer shortage has made it harder than ever to hire high-quality engineering and tech talent.
The Tech Talent Shortage
There has been a lack of qualified candidates to fill open job positions in the last couple of years – in fact, in 2019, U.S. companies had around 1 million unfilled IT jobs, failing to find the workforce necessary for the scope of work. The situation is unlikely to change in the future as software developer employment is projected to grow 21% in the US alone by 2028, which is faster than the average projected rate of growth of 5% for other occupations.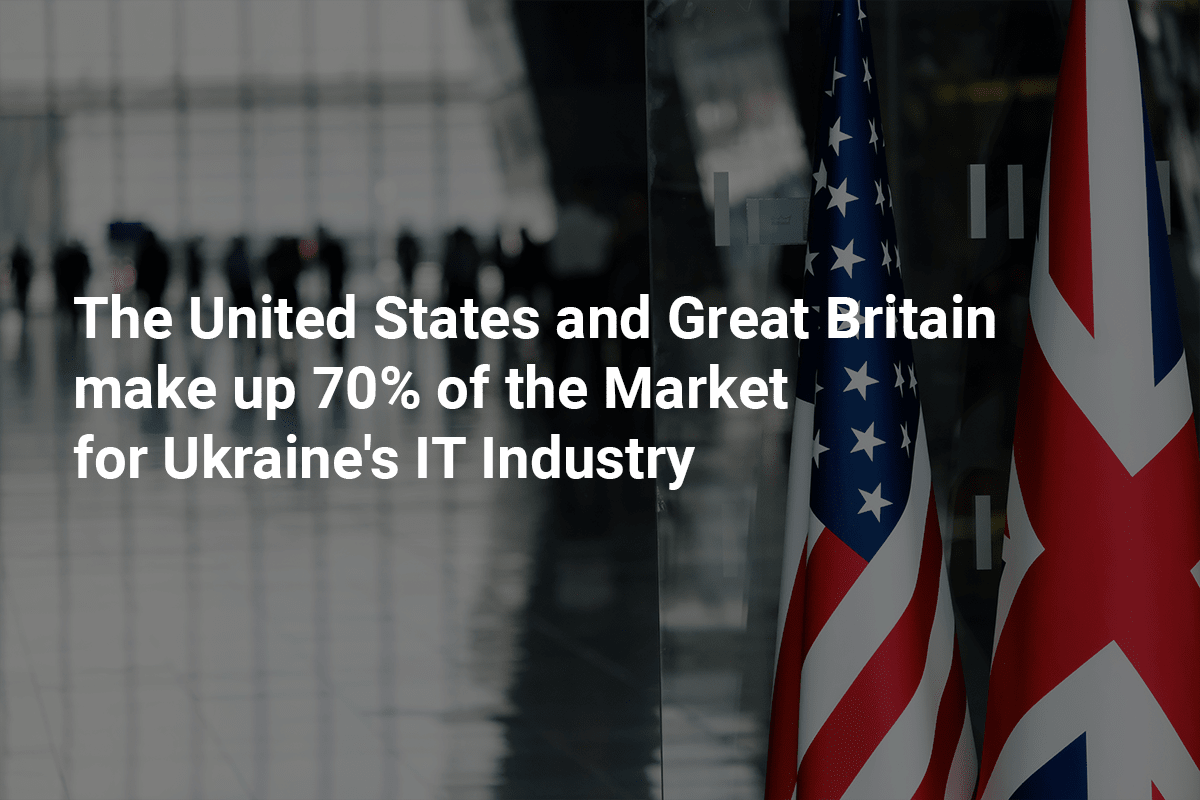 To bridge the gap of available developers, more technology companies are moving their research and development abroad. Companies such as Apple, Google, Microsoft, Oracle, Snap, Ring, Samsung, Huawei, Siemens, and BigCommerce are moving development to Ukraine and hiring from Ukraine's large tech talent pool.
According to the Amsterdam-based company, Daxx, 20% of Fortune 500 companies have remote development teams in Ukraine. Why do so many global companies choose to hire in Ukraine?
These companies know that developers from Ukraine are globally recognized for having the necessary hard and soft skills that set them apart from developers from other countries. Plus, Ukrainian developers offer high-quality coding and software development skills at a lower price point than their American and European counterparts.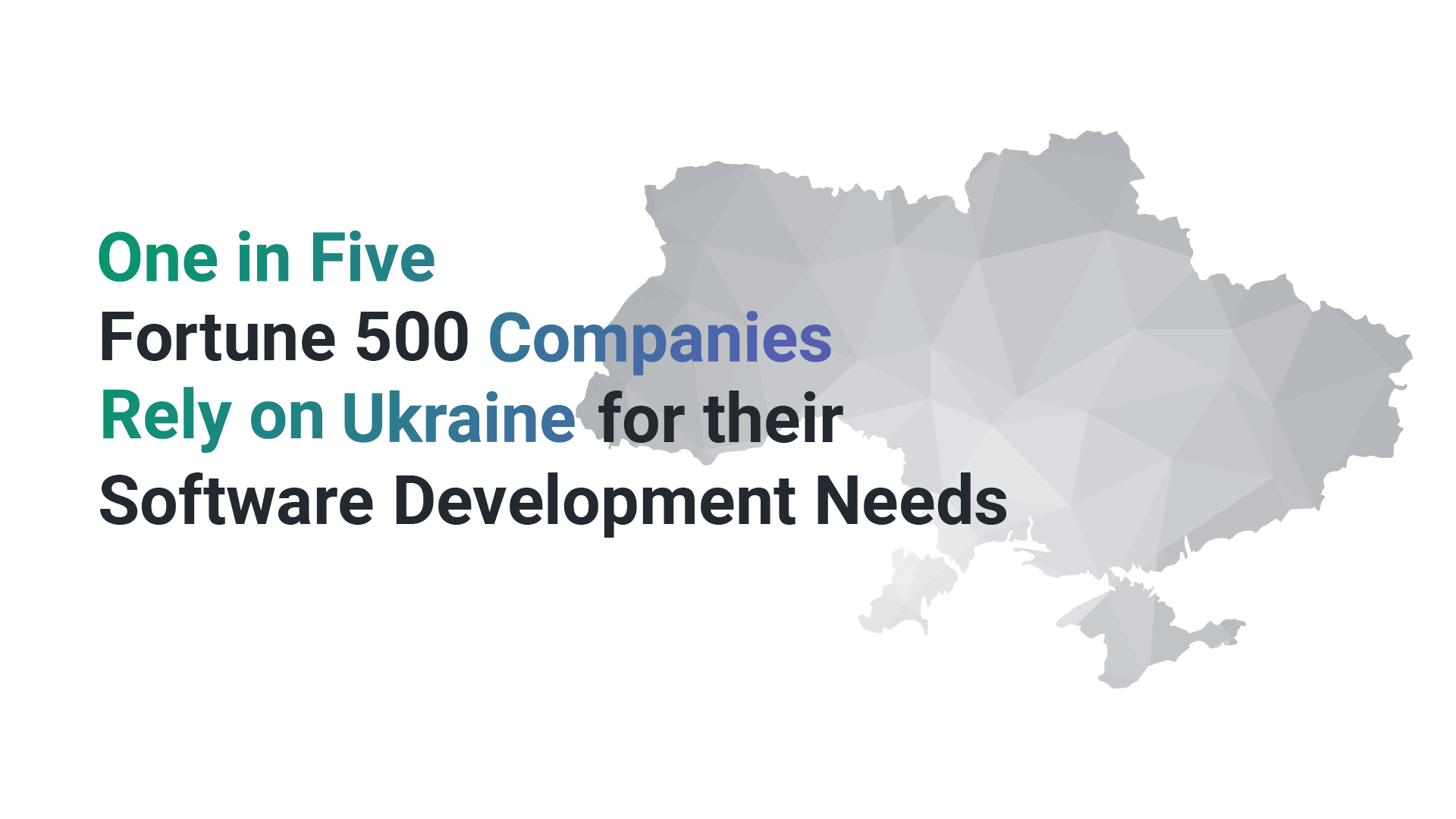 Why Consider Ukraine for Your Software Development Needs?
Ukraine ranks among the top ten countries in the world in terms of technological skills, so it's safe to say Ukraine has an incredible reputation in the tech industry. From Grammarly to GitHub, it's clear that Ukraine has had enormous triumphs in the tech sector.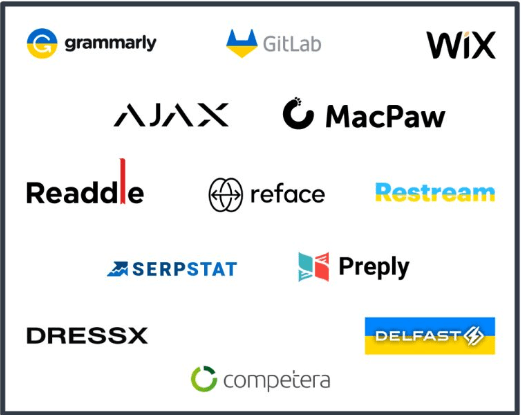 With over 285,0001 Ukrainian developers in 2021 and an additional 25,000 people graduating from tech universities every year, the Ukrainian IT market is growing exponentially. When it comes to expanding your technical teams, Ukraine is a great choice to consider as there are many developers eager to work on interesting projects.
Aside from the sheer number of developers, what else makes Ukrainian programmers stand out? Here are the top reasons to hire software developers from Ukraine:
Wide Range of Technological Knowledge
Ukrainian software developers have expertise in many technologies. Do you want to hire developers to build your Java-based application? No problem, tens of thousands of talented developers in Ukraine have deep knowledge of Java. Do you intend to focus on Python development? Ukraine's tech sector has you covered. From performing tricky migrations to smoothly upgrading your Elasticsearch, Ukrainian software development teams are skilled in a wide range of programming languages and frameworks.
Ukrainian programmers use extensive coding languages and technologies, including but not limited to .NET, JavaScript, Java, C#, Python, PHP, Typescript, Swift, Xamarin, Ruby, and Kotlin. Not to mention that the country is home to the largest community of C++ specialists in the world!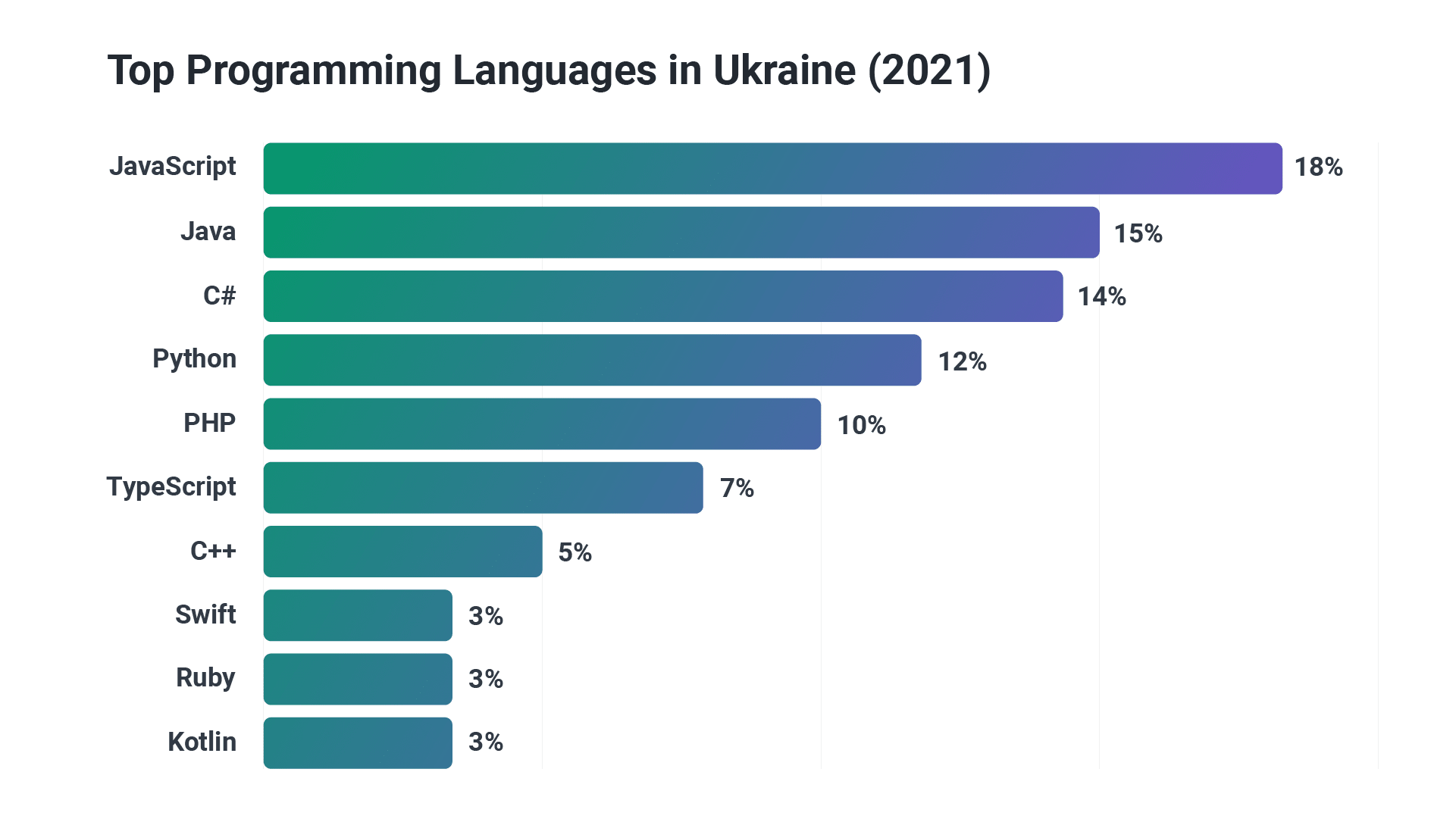 Source: DOU
More than half of Ukrainian programmers work in the back-end, with almost 20% doing web or front-end, and about 8% in mobile development. Not to mention the many others who specialize in data processing, desktop, system, QA, and more.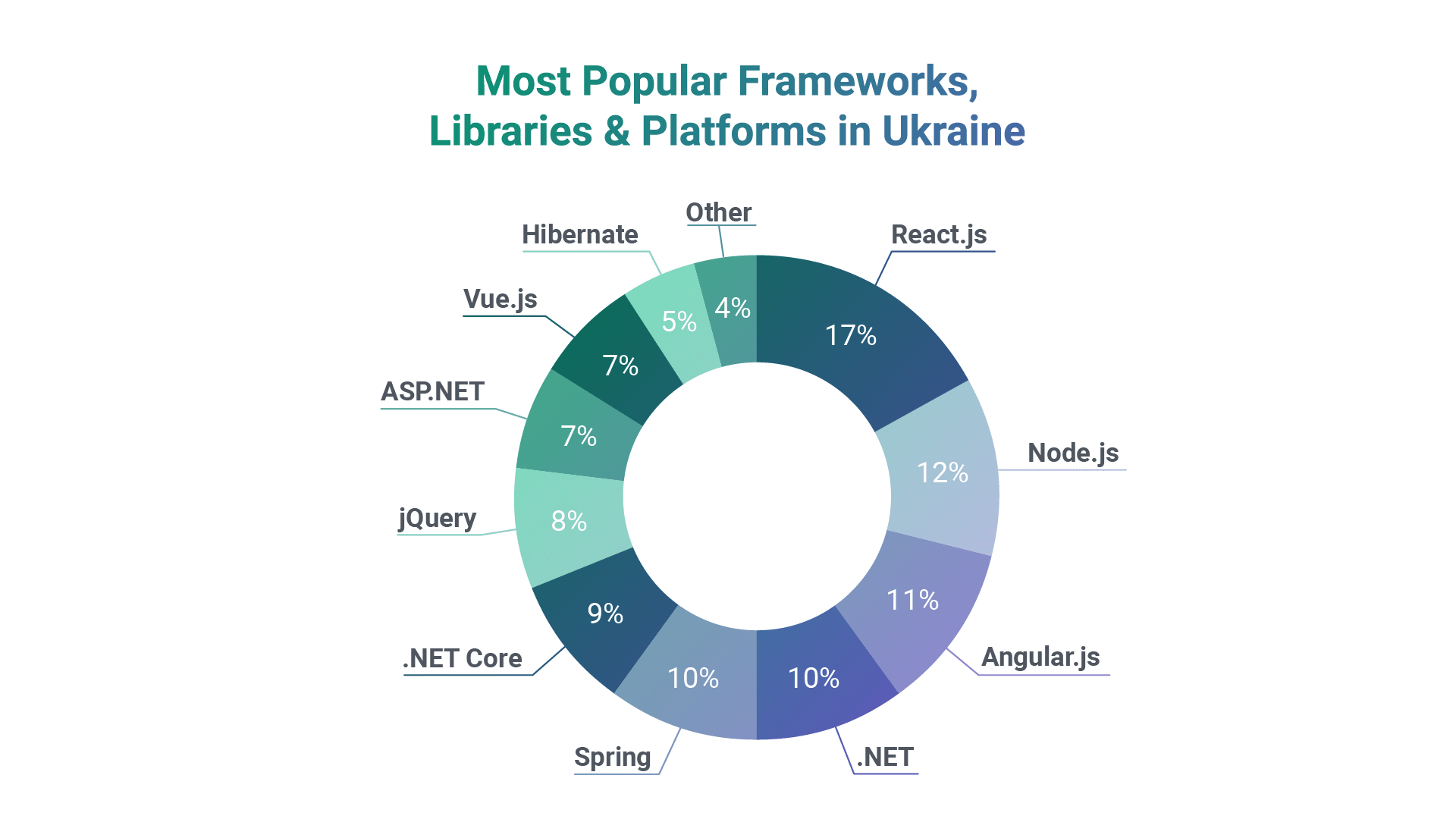 Specialized industry knowledge is something that separates many Ukrainian developers from the rest of the pack. While banking and fintechs are currently the biggest client industries in Ukraine, there are many developers with deep expertise that specialize in industries from Media & Entertainment to Digital Health.
Experienced in Tech
When you hire Ukrainian programmers, you can count on them to be experienced with high qualifications, with about 42% of developers being mid-level and 26% at the senior level. 17% of developers in Ukraine have 5 to 10 years of experience, nearly 30% have over 3 years of experience, and only 1% of developers have a year or less of experience.
High-Quality Code
Ukrainian developers were identified as the most efficient at producing high-quality code by BlueOptima Global Benchmark's analysis. The 2019 Kearney Global Services Location Index pinpointed that Ukraine has better financial attractiveness than China, Poland, and India, with a cost efficiency rate nearly 10% higher than the latter. While Ukrainian IT initially was considered a low-cost offshoring destination, it now is recognized as a higher-end value-added work for systems architecture, business analysis, and experience design.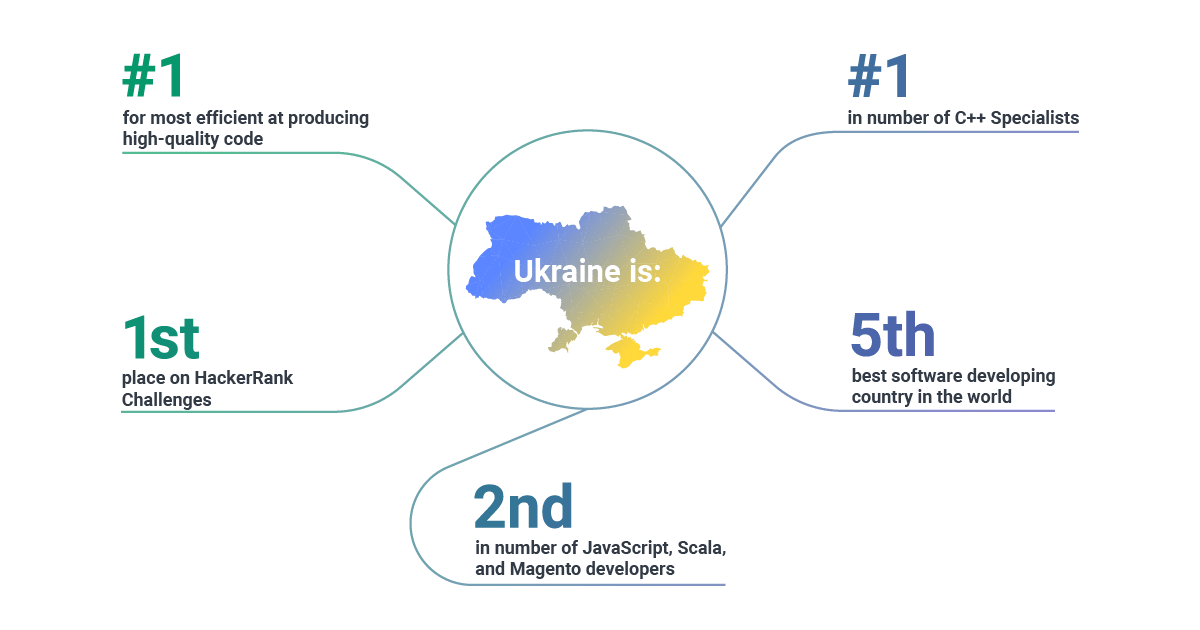 Ukraine's Pledge to its Tech Sector
IT services are Ukraine's third largest export, and their development sector exported $6.8 billion in IT services in 2021, which was a 36% increase from 2020. The government of Ukraine recognizes the importance of investing in its tech sector and creating laws to draw tech companies to Ukraine. Ukraine was ranked 17 in the Global Index Fund for software spending, and the country has minimal bureaucratic hurdles, favorable tax policies, and investments in education in the tech sector.
High Technical Education Level
Nearly every Ukrainian software engineer has at least one or more specialized higher education diplomas, and many tech specialists also have a foreign education or experience working abroad. At Softjourn, over 82% of our employees hold a Master's degree or higher.
Ukrainian developers are known for consistently honing their skills as 85% of programmers continue their learning with courses, by attending lectures and seminars, reading professional literature, and participating in events, competitions, and conferences. Over the next several years, more than 80,000 IT professionals will graduate with degrees, adding more software developers to the already strong workforce.
As the software development industry in Ukraine continues to grow and make a name for itself on the global stage, it's essential to recognize the educational institutions that contribute to this success. Ukraine's thriving IT sector owes much of its strength to the high-quality education provided by its top universities, which are dedicated to producing skilled IT specialists.
In this table, we will explore the state of the software development industry in Ukraine and highlight some of the top universities playing a crucial role in shaping the future of this dynamic sector. The following table presents ten leading Ukrainian universities known for their exceptional IT programs, including Computer Science, Information Technology, and Software Engineering.
These institutions are fostering the next generation of IT professionals who will drive innovation and excellence in the Ukrainian software development industry.
Ukrainian Universities Powering the Future of the IT Industry

University Name

City

Programs Offered

The National Technical University of Ukraine "Igor Sikorsky Kyiv Polytechnic Institute"

Kyiv

Computer Science, Software Engineering, Information Systems, Cybersecurity

Taras Shevchenko National University

Kyiv

Computer Science, Information Technology, Software Engineering

Kharkiv National University of Radio Electronics

Kharkiv

Computer Science, Software Engineering, Information Technology, Artificial Intelligence, Cybersecurity

Lviv Polytechnic National University

Lviv

Computer Science, Information Technology, Software Engineering, Data Science

Odesa National Polytechnic University

Odesa

Computer Science, Information Technology, Software Engineering, Information Systems

National Aerospace University "Kharkiv Aviation Institute"

Kharkiv

Computer Science, Software Engineering, Information Technology

Dnipro National University of Railway Transport

Dnipro

Computer Science, Software Engineering, Information Technology

Zaporizhia Polytechnic National University

Zaporizhia

Computer Science, Software Engineering, Information Technology

Ivano-Frankivsk National Technical University of Oil and Gas

Ivano-Frankivsk

Computer Science, Information Technology, Software Engineering

Vasyl Stefanyk Precarpathian National University

Ivano-Frankivsk

Computer Science, Information Technology, Software Engineering
Certified & Talented
Ukraine is recognized as a global leader in various tech rankings, and IT specialists from Ukraine often win in programming and software development competitions on the international level.
For instance, Ukraine was recently ranked fifth in a league of the best software developers in the world and was ranked second in JavaScript, Scala, and Magento developers. When it comes to coding abilities, Ukraine is second to none. Ukrainian developers scored 88.7% on HackerRank Challenges, the highest score of all countries. All of this serves as evidence of Ukrainian programmers' high-performing level and top-notch expertise.
Proficient English Communication
When you hire in some countries, there is no guarantee that there won't be communication barriers that prevent project progress. However, in Ukraine, 80% of developers have an intermediate or higher command of English. Since English has been a mandatory subject in Ukraine for about 25 years, you will not have to worry about difficulties in understanding Ukrainian tech teams. Additionally, Softjourn provides regular business English lessons and one-on-one tutoring for our employees.
Dedication & Drive
Ukrainian software engineers often have a passion and deep interest in technologies. Over three-fourths of engineers are enthusiastic about technologies and say they are driven by what they do for their job. It's been reported that more than 70% of IT specialists in Ukraine would work in IT even if they didn't need to earn money. You can be assured that the developers you hire in Ukraine will be motivated and excited about working on your project.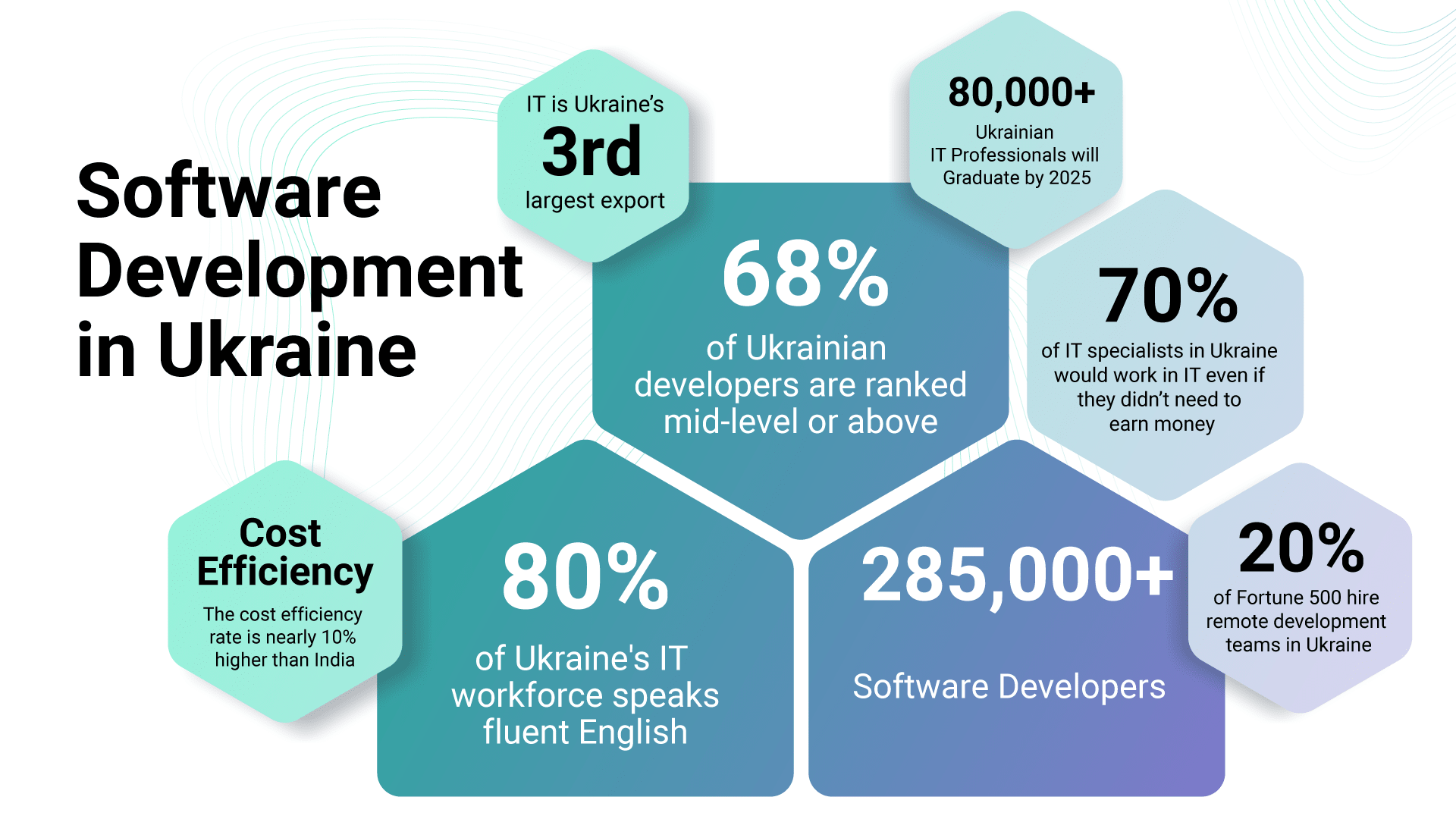 What Makes Ukraine's Software Development Teams Shine?
Softjourn is proud to have the largest R&D presence in Ukraine, and over the last 20 years, our international clients and team members have seen firsthand the incredible value, support, and dedication our Ukrainian team members provide in everything they do.
The greatest strengths of Ukrainian tech teams include:

Effective Communication

Efficient Time Zone Adjustment (for US and EU Companies)

Cultural Similarities

Shared Values, such as time management, hard work, and integrity
Ability to work independently or on a team
Strong desire to learn

Passion for technology
How Will the War with Russia Impact Ukraine's Software Development Talent?
In February 2022, the Ukrainian tech industry set an unprecedented record of exports at $839 million. While Russia's attack on Ukraine comes at a risk for some organizations in the country, the conflict does not have much effect on the country's technology sector. Nearly all tech companies in Ukraine have reported no disruption in their ability to deliver services, including our Ukrainian team at Softjourn.
Even after the full-scale invasion, the tech sector maintained 96% of services exports when compared to March 2021, proving the country's technology sector will continue to thrive, with or without war. According to the National Bank of Ukraine, the country exported 23% more in IT services compared to the previous year, totaling a whopping $3.74.
Russia's invasion has also not stopped Ukrainians from enhancing their IT skills. Approximately 60,000 Ukrainians have registered for courses on Coursera since the start of the war, with the most popular being training for new tech sector professions. Ukraine also currently boasts a completion rate of 80% among those who sign up for courses on the platform.
A number of Ukrainian tech workers continue to work not only as a distraction, but because they realize that by continuing to work, they prove Ukraine's resilience, strength, and defiance of the illegal invasion. Plus, working allows them to support Ukraine's military, economy, and infrastructure.
Many tech companies in Ukraine, including Softjourn, have had contingency plans in place since Russia first invaded Ukraine in 2014 to ensure safe, stable, and secure operations. The staff of most Ukrainian companies still have access to modern amenities such as electricity, water, internet, and heating supply, necessary for an uninterrupted working routine.
Softjourn has and continues to support our Ukrainian employees in Ukraine with flexibility, empathy, and financial support. We work with our team members to consider the best plan for them and their families, whether it be relocating to one of our offices, working remotely in Ukraine or abroad, or serving in the army.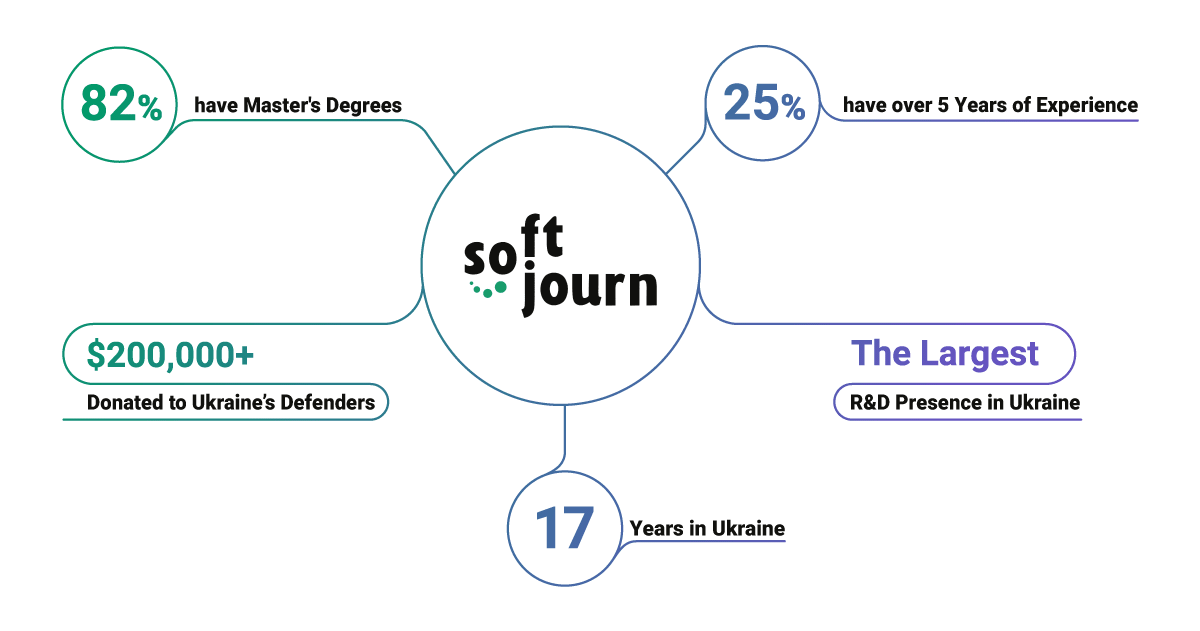 UPDATE: 1/4/2023
Softjourn's Contingency Plan
Around the world, during the last 9 months, people have watched in despair and incredulity as Russia bombed civilian buildings and energy infrastructure in an attack on Ukrainian citizens and Ukraine's economy.
There has been a high volume of articles about how the war is affecting Ukraine's tech community, which isn't surprising considering Ukraine has one of the largest populations of computer programmers in the world.
Some stories that have received international attention feature programmers who work while being bombed in underground bunkers as well as the fact that some of the top Python developers remain in Ukraine, which could potentially affect the continuity of Python language- which Youtube, Google, Facebook, and Amazon rely on.
While these stories bring awareness to some issues that are occurring in Ukraine's tech sector, the cynical perspective the media has brought can negatively impact Ukraine's local economies, as businesses are less likely to hire and invest in Ukraine tech if they feel it is too big of a risk.
Instead, we must highlight ways in which Ukraine's tech community has triumphed through adversity and continues to bring incredible value internationally. There is an enormous opportunity for the international tech community to help Ukraine by continuing to do business in the country, thereby supporting the economy during wartime.
However, we understand that some businesses and clients are hesitant about the risk of investing in Ukrainian tech talent, and so we'd like to address some common concerns about our operations in Ukraine.
Read on to find out about our carefully-crafted contingency plan – including energy and internet backups– why we continue to hire talent from Ukraine, how we keep our employees safe, what we have contributed to Ukraine's Army, and our plans to stay in Ukraine.
How Does Softjourn Deal with Power Outages?
Unscheduled power outages are unfortunately occurring in many parts of Ukraine. While this can be extremely detrimental for many people and companies, we'd like to share how our well-prepared contingency plan has helped our office stay powered during blackouts.
Our Ivano-Frankivsk office is equipped with an 18-20 kilowatt diesel generator, which can provide comfortable work conditions for up to 100 computers for over a week before requiring more diesel stock.
Recently, we had a central power failure in Ivano-Frankivsk due to Russian attacks on Ukrainian infrastructure, and this served as the first 'real-world test' for our generator.
The switchover to our backup generator and communication channels was extremely smooth for end users and the workflow in our office remained uninterrupted until the central power was restored about two hours later. The only thing missing was a plug-in for the coffee machine, but we will work on that!
We can now confidently say that our backup powers are tried and tested for energy emergencies.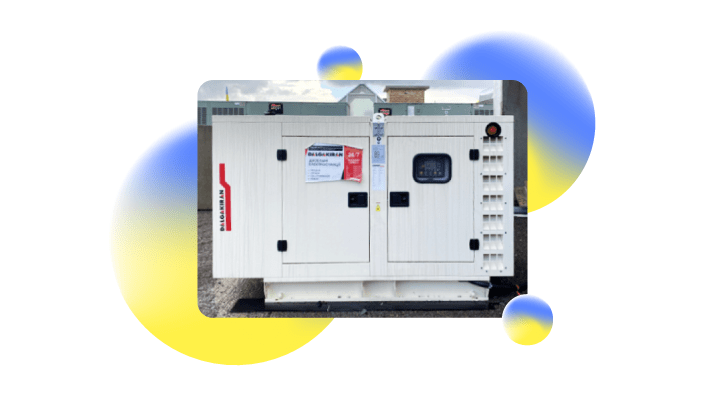 What is Softjourn's Plan for an Internet Outage?
For handling internet outages, Softjourn has three independent internet uplink connections in our Ukraine office. We have 2 dedicated fiber optic lines (directly to ISP) and one 2-way satellite "Starlink" for emergency situations.
Our gateways work in redundancy mode - this means we have two routers working in parallel, where one of them could be disconnected without halting our services.
When blackouts caused issues with mobile data and wifi connectivity, our dedicated fiber optic lines worked exceptionally well to keep our workers connected.
What is the Plan for Remote Workers in Ukraine?
In 2014, we began switching our employees from using desktops to laptops, so they would have more flexibility if there was ever a power issue.
We have some employees in Ukraine who have their own backup strategy for their home offices. For the most part, they use a UPS with powerful batteries or an industrial generator to power their office or home for short periods of time.
We make sure our employees working from home have backup internet service as well as power banks to charge their laptops and other work equipment.
Additionally, we have compiled multiple options of coworking spaces that have Starlink, fiber optic lines, and backup generators, for our employees who work across Ukraine.
What has Softjourn Contributed to Ukraine?
Softjourn's employees, management team, and some of our clients have been a strong force in supporting Ukraine's army through the power of donations.
We have been active in donating money and supporting Ukraine since Russia first invaded in 2014 as we are passionate about protecting the independence and freedom that Ukraine has fought for and continues to fight hard for.
Our Softjourners understand the importance of uniting during tough times to achieve enormous goals together in just 9 months. Since February 2022, Softjourn has collected over $300,000 in donations to support Ukraine's Army and its defenders.
Together, Softjourners have collected funds to supply Ukraine's defenders with the most needed equipment, including vehicles, communication devices, bulletproof vests, thermal goggles, and even a drone! Some of our Softjourners organize the purchasing of the equipment, as well as the delivery of goods and humanitarian aid to the front.
For our employees who would like to serve their country, we provide funds to support their families during this time. We also donate money to the families of our Softjourners who bravely laid down their lives for their country.
Why Hire Developers in Ukraine?
Ukraine ranks among the top ten countries in the world in terms of technological skills, so it's safe to say Ukraine has an incredible reputation in the tech industry. Companies originating from Ukraine include Grammarly, GitLab, Ajax, and Preply, so it's clear that Ukraine has had enormous triumphs in the tech sector.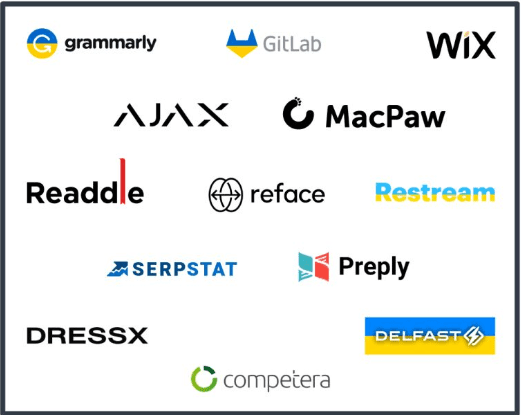 We proudly hire in Ukraine both because of the world-class talent and because supporting Ukraine's tech sector is the best way to provide jobs and prop up the local economy. Plus, we benefit by having an incredible workforce from Ukraine that is dedicated to tech and their country.
Are Your Employees Safe?
While there have been some devastating stories in Ukraine's tech community about developers coding in underground bunkers and offices needing to evacuate workers, this has not been the case for Softjourn's office in Ivano-Frankivsk, Ukraine.
Our contingency plan began in 2014, soon after Russia annexed Crimea. This influenced our decision to have power and internet backups and put in a diesel generator before the war in 2022.
Since our office is in Western Ukraine, we have seen very few of the airstrikes that parts of central and eastern Ukraine have been experiencing. Softjourn's managers closely follow technology that warns them of potential airstrikes so they can prepare accordingly.
We provide many options to keep our employees safe, including the opportunity to relocate to Western Ukraine or our offices abroad, or they can choose to work remotely from anywhere in the world.
We established a company-wide 'Emergency Chat' for quick collaboration and providing immediate help to employees in need. We frequently check in on our workers and ensure they are safe and comfortable, and we do everything in our power to help them through tough situations.
We know that it is an emotionally and mentally taxing time for our team during the war; we allow flexibility in time off, free counseling services, and mental health days when needed. The safety and health of our employees are our top priority.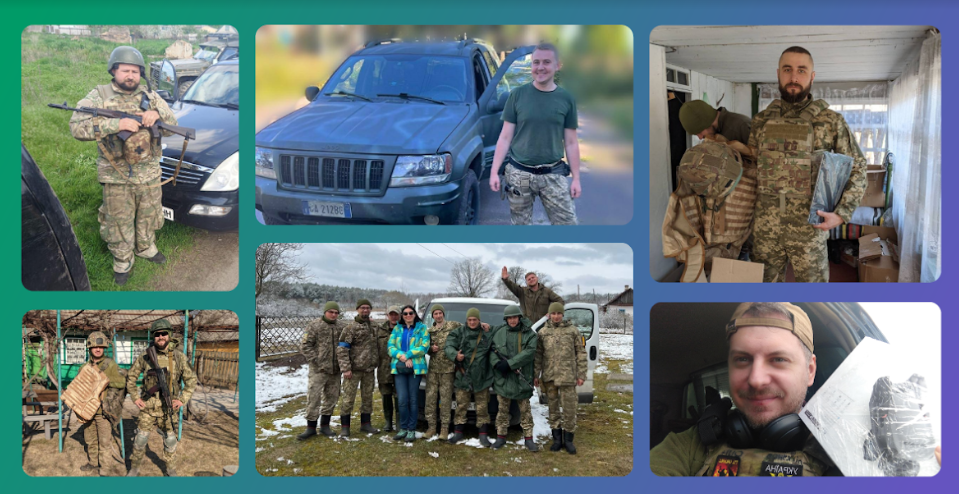 Will Softjourn Continue Operating in Ukraine?
We opened our first office in Ukraine in 2005 and now have many Ukrainian employees who help make up the heart of Softjourn!
Even during the 9th month of the full-scale invasion, Softjourn continues to work hard for our clients. We are fully accountable for the work we do for our clients and this will not change during the war.
We are dedicated to our talented teams and have no plan to leave Ukraine. We stand strong with Ukraine's tech sector and do our best to support Ukraine's economy and its people by continuing to hire and do business within the country.
We believe that by staying in Ukraine, companies can help drive Ukraine's economy during the war and provide jobs to many people. Sergiy Fitsak, the Managing Director of Softjourn, found that by continuing to work, many tech workers feel they are fighting on the "second front" - by supporting Ukraine's economy, military, and infrastructure.
Exploring Trends and Figures: Recent Statistics on the Ukrainian Software Development Market
Exports of Ukrainian software development services in July 2023 exceeded last year's figures. According to the National Bank, in July, the volume of IT exports from Ukraine decreased by 2.4% compared to the previous month but increased by 3.1% compared to last year. In July 2023, the revenue amounted to $559 million, $17 million more than in July 2022.
It should be added that the figure for June of this year was $573 million. Since the start of the full-scale war, the volume of IT exports per month has been at $500-600 million with slight fluctuations. In July 2022, this figure was $542 million, in July 2021 - $574 million, and in June 2020 - $413 million.3
How to Support Ukraine's Tech Sector in 2023 and Beyond
For Western companies with strong ethics who want to make a difference, there is great potential to support Ukraine by hiring their software development teams. You can show your support by standing with Ukrainian business partners, licensing and purchasing products and services, and exploring new business and consulting opportunities to solve your tech challenges. Even small contracts can help Ukrainian companies preserve their workforce and provide economic support to individual workers.
Investing in companies that actively employ Ukrainians is a great way to showcase your social responsibility while receiving great services. You can expect that the funds you pay won't go to waste, as most Ukrainians are continually donating parts of their salaries and volunteering.
Ukraine's tech community has spent decades building industry knowledge, and this will not be destroyed by the war with Russia. If you'd like to learn more about how you can support Ukraine's tech sector, read our article which was featured on TechCrunch and reprinted over 150 times.

Are you considering hiring a talented software development team from Ukraine? Softjourn is proud to have the largest R&D presence in Ukraine, and our world-class developers have created invaluable solutions for numerous clients. Share your software development needs with us, and our specialists will help you achieve your project goals.