Elasticsearch
Elasticsearch Consulting and Implementation Services
We combined our expert Elasticsearch consulting services and deep experience in implementing Elasticsearch to ensure that your ES application will be optimized and tailored to fit your specific needs. With Softjourn, you'll get more value from your Elasticsearch application due to the customizations you choose. Plus, you'll experience the open communication, transparency, and trusted guidance that drives our clients to work with Softjourn time and time again.
We combined our expert Elasticsearch consulting services and deep experience in implementing Elasticsearch to ensure that your ES application will be optimized and tailored to fit your specific needs. With Softjourn, you'll get more value from your Elasticsearch application due to the customizations you choose. Plus, you'll experience the open communication, transparency, and trusted guidance that drives our clients to work with Softjourn time and time again.
Get the Most

Out of Your Data with Elasticsearch

Softjourn is a leader in providing end-to-end Elasticsearch advising for clients all around the world. We use the best industry practices to create customized solutions and deliver insightful recommendations to our clients.

Elasticsearch is the most popular and widely deployed open-source search engine for all types of structured and unstructured data, including textual, numerical, and geospatial. We offer a full range of consulting and implementation services including Elasticsearch and Elastic Stack development, upgrades, migrations, scaling existing deployments, and ongoing support services.

For nearly two decades, Softjourn has been building brilliant tech solutions for clients in Finance, Ticketing, and Media & Entertainment, so we understand exactly what is needed to have an edge over the competition in these industries. Leverage Softjourn's extensive expertise to harness the full power of Elasticsearch and provide your users with a seamless experience.
Elasticsearch Services We Offer
Since 2015, Softjourn has helped clients on their journeys of utilizing Elasticsearch to build a real-time and frictionless experience for their users. By partnering with Softjourn, we promise you clear communication and thorough documentation, while providing personalized, expert recommendations each step of the way. Additionally, we lay out the architecture and a roadmap to your idealized search experience for users and will assist you in implementing even the most difficult and unique Elasticsearch projects. Beyond offering Elasticsearch advising and implementation, when you partner with Softjourn, you get a full team focused entirely on your project's needs to quickly accelerate your project.
Implementation
Whether you're deploying Elasticsearch for enterprise search or a public website search, log analytics, security applications, or other various business cases, we will assist you in every step of the implementation.
Elasticsearch Migrations
Ready to take your current search to the next level? We can help with migrations from older versions or other environments, to a cluster that is optimized through precise configurations tailored to your data, queries, KPIs, and use case.
Upgrade
Don't stress about your next Elasticsearch upgrade. No matter how big of a leap between versions, we will assist you in upgrading your Elasticsearch to optimize spend, stability, and performance. Plus, there will be no interruptions to your users during the upgrade.
Search Assessment
We'll improve your query speed and relevance, using advanced search engineering techniques. We will also evaluate your technology infrastructure and provide recommendations for deploying and improving search performance.
Consulting
Not sure if implementing Elasticsearch is right for your company? We will assess your needs and find the best technologies to help you reach your goals. No matter if you select Elasticsearch, or a different solution, we will create a clear strategy to ensure a smooth development process. For Elasticsearch, this means we'll define an effective path forward in assessing, implementing, and supporting, from beginning to end.
Scaling
While operating Elasticsearch at a small scale can seem simple, once on a larger scale, it becomes more complicated. This is why we dedicate time and resources to choosing the best infrastructure, tools, and methods for optimal operations for your business needs. We'll help you choose the right tools and methods for automating day-to-day tasks, scaling correctly, and more.
Cluster Audit
We dive deep into your cluster configuration, Elasticsearch queries, and code base to become familiar with your cluster, so we can provide suggestions tailored for your use case and data cluster. We always follow the best industry practices to help you avoid common pitfalls.
Data Protection & Visualization
Forget about data catastrophes. Our team will walk you through the right steps and measures to take in order to make sure you will be covered, especially ensuring that your data will always be available and recoverable. We also will assist you in setting up the right infrastructure to ensure clear data visibility, so you can see what story your data tells - from potential problems to intriguing patterns.
Search UI & Dashboard Development
We'll deliver clean and easy-to-use interfaces for both your users and admins. We often recommend our clients utilize Kibana for analyzing data, monitoring and securing the health of their clusters, and controlling user access, all in one accessible dashboard.
Ongoing Support & Maintenance
Our managed services allow your internal staff to focus on core priorities while ensuring peak performance and providing continual support over time. We also will continuously score and fine-tune your Elasticsearch application's relevancy.
Data Security
We always strive to help you protect your Elasticsearch cluster from security breaches, which might lead to data loss, hijack, ransomware and downtime. Our team will cover all aspects of security, ranging from secure communication, data encryption, access restrictions, query protection, and more.
Team Extension
Enrich your Elasticsearch initiatives with Softjourn's team extension services. Our Elasticsearch experts seamlessly become part of your team, providing their deep knowledge and experience to accelerate your Elasticsearch consulting and implementation projects.
Benefits of Working with Softjourn
Knowledgeable engineers with extensive hands-on experience managing large Elasticsearch deployments and maintaining Elasticsearch clusters in production.
Open communication and flexibility to make sure the project meets your goals and high expectations.
End-to-end advisory services that will help you accelerate your Elasticsearch projects with ease. Plus, we are here to answer any concerns you have along the way.
Clear and thorough documentation to create milestones and timelines for reaching goals we set with clients.
Custom-made solutions giving each client the perfect solution for their project.
The highest standard of data security and protection.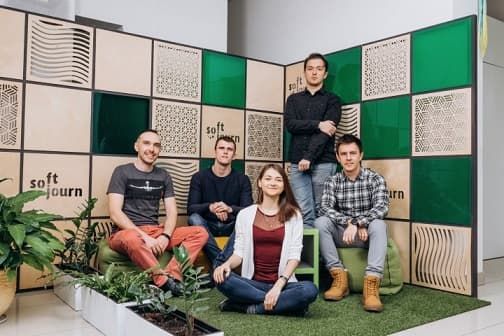 Softjourn's Custom Comparison Tool Offers Seamless ES Upgrades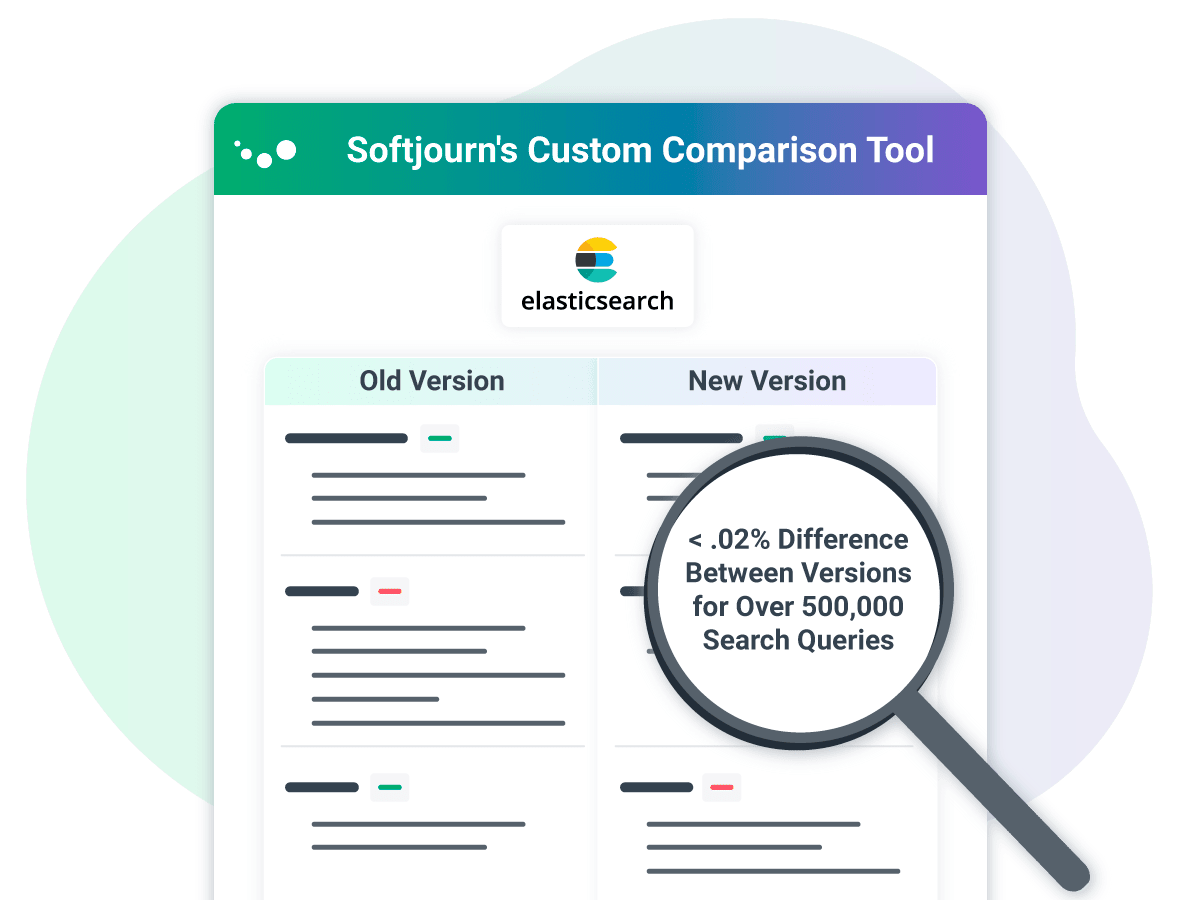 If you are dreading your next Elasticsearch upgrade due to potential disruption to your users, worry not! Softjourn recently developed a comparison tool that gives our clients total confidence to launch an upgrade of their Elasticsearch, knowing the implementation won't affect their users' experiences.
This customizable tool has helped our clients with over 10 types of different searches retain a .02% difference between the old and upgraded versions of Elasticsearch. With our extensive knowledge and experience in Elasticsearch upgrades, our clients can rest assured knowing that their end users will have the same (or even better!) experience during and after the upgrade.
Not only do our clients appreciate the frictionless upgrade, plus the quicker and more accurate search results that come with it, but they also can use our custom comparison tool for future Elasticsearch upgrades to ensure smooth transitions in the future.
ElasticSearch Case Studies:
Softjourn's Custom Comparison Tool Makes for a Smooth Elasticsearch Upgrade
Our large-scale expense management client needed to upgrade their Elasticsearch from version 2.3.4 to 7.9. This large leap between versions is already a difficult upgrade but was made more complicated as the client has a very complex Elasticsearch system. Softjourn developed a comparison tool to ensure the accuracy of the upgraded search before the client launched the product to their users. With the tool, they were able to make sure there would be no disruption to their users' search experience during and after the upgrade.
Using Elasticsearch to Create an Application with Data-Tracking Capabilities
We utilized ElasticSearch in order to search for and gather information from reports, filters, and different options, which were needed to build a stand-alone application for our client, a leading provider of digital publishing and conversion solutions. The solution we created helps our client provide its users the ability to track data packets sent from their existing applications and publications, plus allow reports on that data to be viewed by authorized users.
Building a Multi-Feature Interface by Utilizing Elasticsearch
A client who specializes in digital publishing and conversion worked with Softjourn to develop a new interface that would receive tracking data from the client's existing technology and would allow users to view and export relational data. Softjourn's team adjusted ElasticSearch so it would eliminate the need to design for specific use cases, the way some NoSQL databases require. Elasticsearch application helped us secure a big win for our client.
Softjourn is ready to take your Elasticsearch project from a great idea to a brilliant solution. Talk to our experts to see how Softjourn will help you achieve the best that Elasticsearch offers.
Successful Elasticsearch Upgrade: From 2.3.4 to 7.9
If you've been dealing with issues like Lucene Syntax errors or poor performance, it may be because your Elasticsearch version is outdated and it's time for an upgrade.
Want to upgrade your Elasticsearch without the stress?
Reach out to us today for a free consultation to learn about how we can help you achieve an upgrade faster, easier, and with no downtime for users. Plus, your new version will have faster and more accurate searches as well as better security and resilience.
What Services We Offer