What is the future of events? Are they going to stay the same, or are we witnessing the birth of a new type of hybrid event? These are some of the questions that participants of this year's Event Tech Live tried to answer and offer its own domain experience.
As the pandemic hit many industries very hard, event organizers were among the first to feel its consequences. If they were to continue working, the entire industry quickly realized that the only way forward was migrating to cloud and online platforms.
Let's walk through some of the biggest ideas and takeaways from Event Tech Live 2021, including hybrid events, the role of data in event management, blended experiences, and much more.
From Virtual to Hybrid Events
COVID forced us all to change our behavioral patterns as we found ourselves spending more time at home. Most of us stopped traveling and moved many of our social interactions online. Without the opportunity to go to an event, virtual events allowed us to participate without leaving home.
Once it became possible to attend events in person again, everyone noticed a big shift in people's behavior. "If you look at the surveys, fewer people will attend face-to-face events," said Baptiste Boulard, CEO and Co-founder of Swapcard. Boulard believes that the entire industry is moving online, and hybrid events are the industry's new reality because of their capacity to adapt and engage as many attendees as possible.
Hybrid events combine the best of both worlds, as they balance in-person and virtual elements to provide a very engaging event experience. According to Boulard, there are four reasons why everyone is turning towards hybrid events:
The potential for larger audiences and exhibitors from different countries and time zones.
The ability to capture a lot of data and see what people are looking at and interacting with.
A scalable business model with more digital revenue.
"Interaction 365 days a year" regardless of venue availability
Back To Live or Not?
Going to events was a habit for many people, and the global pandemic gave them a chance to revaluate their choices and make different decisions. Today, participants carefully consider whether an event provides added value, since they no longer have to go "because they did it last year."
"When they try to sell a product, every company wants consumers to buy through habit because people don't normally think over a product each time they buy," says Guy Champniss. "The minute the buying habit is broken, the seller has to work harder."
Another noticeable change is that it has become hard for people to decide where to invest their limited time. With an abundance of online events on offer, people often sign up or even pay the entrance fee but later reconsider their choices.
"Most attendees will be revaluating whether attending gives them what they want," Champniss points out. "The whole concept of a value proposition for events will have to be reimagined. It's a huge opportunity as well as a challenge."
Focus on Value
People no longer want to spend their time on events that don't give them value. Research showed that it has nothing to do with COVID restrictions or networking, but it is closely connected to what participants regard as an important value.
"It was interesting that over a third of people said that they actually plan to attend fewer events, and it has nothing to do with whether it's going to be safe or whether protocols will be in place or any concerns around contracting the virus," says Toby Daniels.
A Tech-Driven Future
Hybrid events change the nature of event participation as they allow the audience to communicate and generate a flow of ideas, comments and shared feedback. With the increased use of new technology and an innovative approach to event management, the participant's journey will no longer be passive.
"49% of marketers say that audience engagement is the biggest contributing factor to a successful event," says EventsCase's Jose Bort. With attention spans reduced in the last decade to on average 8.25 seconds, companies need to step up their game not only to attract attendees but, more importantly, to keep them interested and not overwhelmed by content.
One of the most flexible solutions for keeping an audience engaged is the hybrid event. The hybrid event itself is not something new, but the technology that surrounds it is. By blending live components with virtual ones, events are now more scalable and accessible to more people. With insights acquired through data, event organizers can see how people react to their event's activities and develop strategies to improve the quality of content for future events.
Engagement
Another important theme during the Event Tech Live conference was distinct ways to engage individuals and communities to interact before, during and after events.
Jose Bort noted that some of the best ways to use technology for audience engagement are live polling, live chats and Q&A sessions. During an event, the audience can give feedback using polls, ask questions in live chats, and leave comments after every presentation, lecture or Q&A session. By being active, most participants will exchange experiences and share their industry insights. In this way, every attendee feels heard and perceives the event as a worthwhile investment of time and money.
"Make the audience the leading actors by having them address their questions live to the speakers," says Bort.
Technology also plays a key role when it comes to audience engagement. Wearable devices like mobile phones, tablets, and smartwatches can help participants find the lectures they're most interested in, learn more about the participants, and use an event app to set up a personalized schedule based on recommendations.
Keeping all this in mind, one thing is certain: the future of hybrid events is tightly bound to a blend of different yet complementary technologies.
In-Seat Ordering (Video)
The newest trend in ticketing is frictionless delivery and in-seat ordering.
The COVID-19 pandemic confronted event organizers with the problem of limited staff mobility, as well as problems with planning food and beverage distribution across a venue. Frictionless ordering and in-seat food delivery were big topics at one of this year's sessions hosted by Softjourn CEO Emmy Gengler and Tacit VP Gajen Indrakumaran.
"We still want to maximize the speed of delivery of food and beverages, but we want to make it easy to change the experience when the opportunity arises," said Gengler. The event experience now starts within a mobile app during the ticket purchasing process. With more opportunities to connect with fans, organizers can create a safe experience for everyone involved in the event, from staff to spectators.
Tacit is a leading provider of integrated digital ordering solutions, with experience in the hospitality, sports and entertainment industries. They see in-seat, mobile ordering and self-serve kiosks as the safest way for spectators to order food and enjoy the best event experience.
By configuring different venues to meet various operational flows, organizers can tailor the food and beverage ordering experience based on stations, sections or services. The patron's journey starts with a ticketing purchase and continues through the food ordering process.
"There's going to have to be additional communication with patrons about the fact that they can purchase food and beverages upfront, what that means for them, and what their options are, for getting food pickup or delivery," Gengler said.
Checkerboard Seating as the New Reality (Video)
Social distancing is a must for in-person event planning during the pandemic. At this year's Event Tech Live, Softjourn's CTO Jeff Kreuser and Ticketing Expert Lyubomyr Nykyforuk explained how venue-mapping tools work to benefit both event organizers and their audience.
"With social distancing for venue seating, a couple of different social distancing algorithms are currently being used," Kreuser explained. "The two most popular are predefined venue seating and dynamic seat allocation. There are two ways dynamic seating allocation can work: one is with delayed seat allocation and the other is at time of purchase."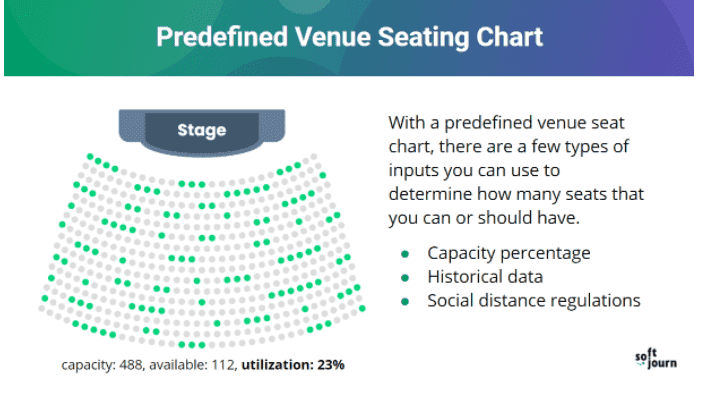 A predefined venue seating chart can be generated using different kinds of input, such as a restriction or historical data.
Lyubomyr Nykyforuk addressed the two types of dynamic seat allocations to show how they can be used for real time events. "Time-of-purchase allocation can mitigate some of the issues that come up with delayed allocation," said Nykyforuk
"With this option, a venue seating chart is presented to the patron with available seating. But once a patron has chosen their seats, all surrounding seats are blocked off to establish social distancing."
Social distancing is not the only solution for future in-person events, but it has an important role in developing a safe environment for patrons as well as a long-lasting impact on ticket inventory.

The Importance of Data
One overarching theme throughout this conference was the importance of collecting data and using it to improve the participant experience. There's no better way to know how people feel and what they expect from an event than data, as it can pinpoint potential problems, allowing you to eliminate them and move forward.
Ian Webb and Daniel Slabin mentioned new challenges and opportunities to understand how data collection can affect the current market.
The role of data in hybrid events is growing. Eventforce's Daniel Slabin has studied how event planners work with the data they collect. In the past 15 months, data management has become more important and more complex.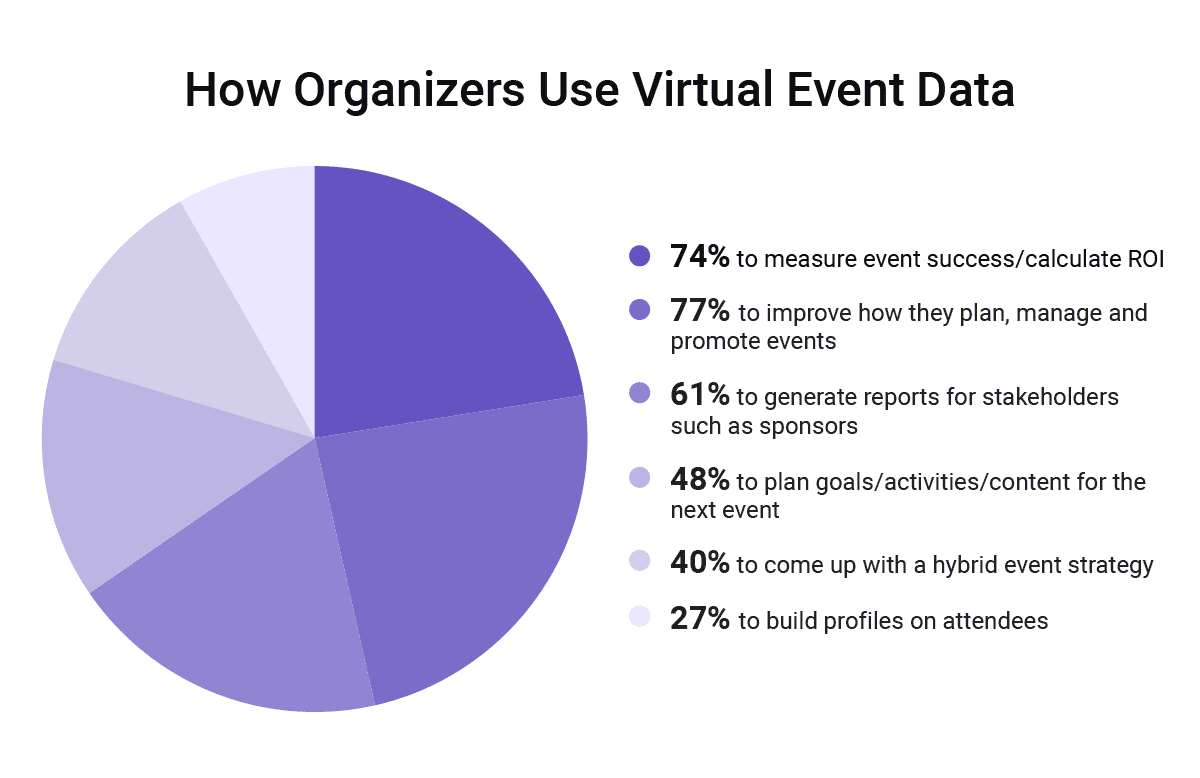 In the final analysis, it will be necessary to invest more time and resources in data management to make it an integral part of the event planning process. With more experience, event managers can start using a variety of technologies to make all their events more interactive and accessible to audiences worldwide.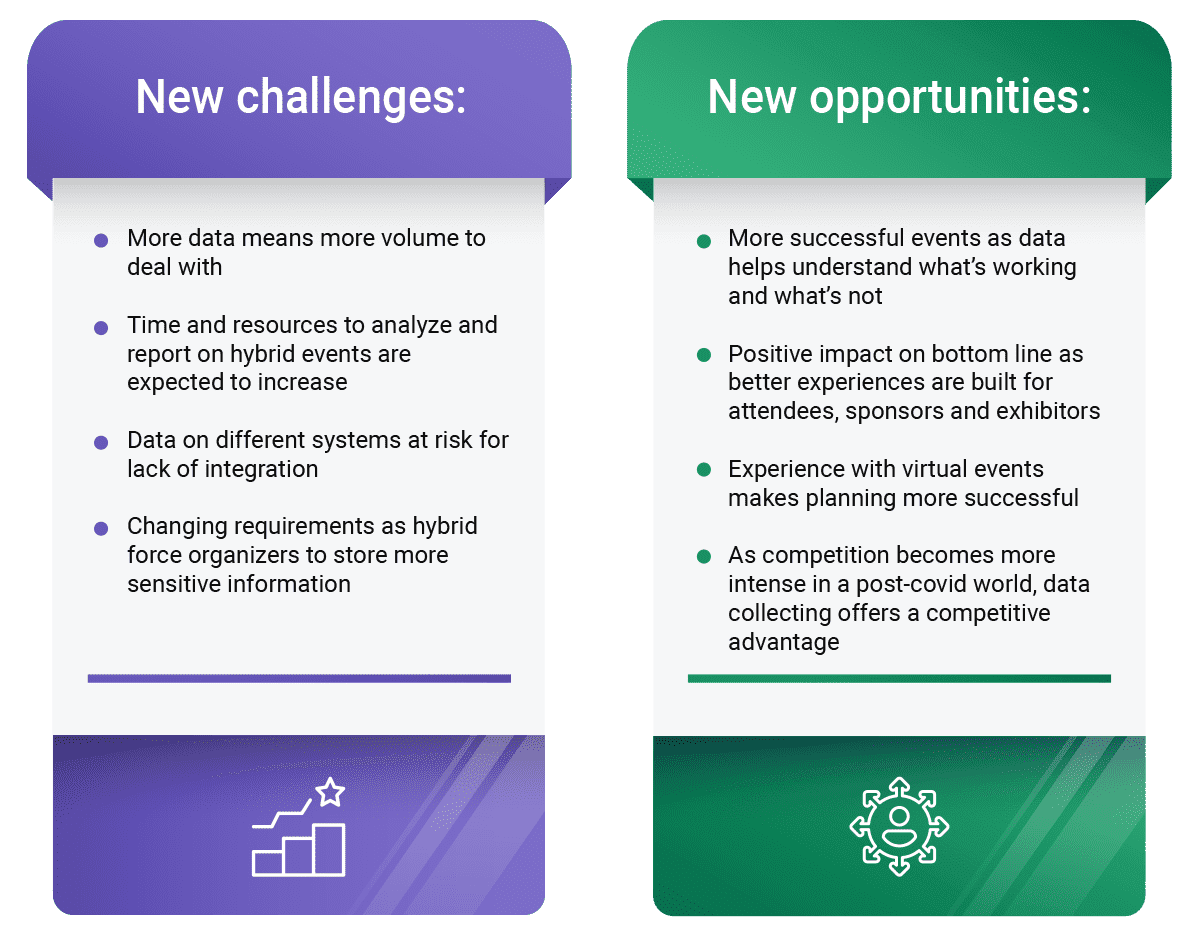 Audience Engagement
The pandemic has accelerated the development of hybrid venues. More than ever, the experience of an event has become the primary interest for event organizers. One of the biggest questions remains how to create memorable experiences.
DRPG's Matthew Franks believes that gamification is one of the ways to include audiences in an event and ensure that they're following it. However, for games to work, every event needs to have a distinct purpose and clear outcomes. Live polls, quizzes, challenges and brainstorming sessions, or rotating coffee rooms allow people to socialize, even when they are following an event from different locations.
Hybrid events need to be more personalized, connect people more effectively, record and share content across platforms, and offer content that lasts longer than the event itself.
Eventcore CEO Jose Bort talked about steps that could help event managers boost audience engagement. The first step, he suggested, was to schedule audience participation and spark interest. Collecting user feedback during and after an event is pivotal for analyzing participant engagement and satisfaction. Lastly, Bort mentioned post-event opportunities like surveys where people could express their opinion of an event, its themes, the lectures and presentations, and share valuable insights into the quality of their overall event experience.
Bridging the Gap Between Events
The fundamentals of event management have changed dramatically. The focus is no longer about the event alone, but also its aftermath and follow-up activities.
Growing content reach means making the content available to many people even after an event has ended. The goal is to start with in-person event content reach, then live stream to people who are interested in the content, organize a session recording for those that couldn't make it, and prepare for the asynchronous future hybrid event. In this way, the content can bridge the gap between events and reach more potential participants.
Humphrey Chen emphasized that future events will need to be more personalized, connect people better, and offer a long-lasting effect with recorded content that anyone can access even after the event.
A Final Word
The insights offered by Event Tech Live 2021 make it clear that the event industry is undergoing a massive transformation. Since many events had to be canceled in 2020, 2021 has been about change and adjusting to a different environment. Hybrid events are definitely bringing a lot to the table, as companies look for ways to process more data than ever before and prove its value.
As the event industry's landscape continues to shift, whether under external influences like the COVID pandemic or the internal drive to innovation, everyone agrees that these changes can be overwhelming. But they're also necessary for the industry to keep growing.