If you're planning a live event – no matter the size, venue type, or nature of the event – you'll want to feel confident about your seating plan. Making a well-informed decision about the number and placement of seats will ensure the best possible experience for your audience.
General admission and reserved tickets are the most common ticket types in the industry and are likely the ticket type you will choose between for any live event.
Reserved tickets are a popular choice for attendees who would like the best view or who want to sit in a group, while general admission tickets are often preferred for those who like to move around at an event.
As both music and sports events are predicted to grow by 2024 and surpass $20 billion in revenue, event organizers who understand the seating needs of their audience will have a greater likelihood of success.
Over the last 20 years, we've gained deep insights into seating and meeting audience preferences. We are ready to share the most essential information to help you make informed decisions when it comes to seating for your next event.
General Admission: Something for Everyone
What Does "General Admission" Mean?
General admission (GA) is a type of ticket that allows a person entry to an event but does not guarantee a specific seat assignment.
With a general admission ticket, you may be given a specific area to sit or stand in, but you won't have a specific seat reserved for you. General Admission ticket holders are usually admitted to an event on a first-come, first-serve basis.
One of the main benefits of General Admission tickets is that they are often less expensive than Reserved Seating tickets. They are also usually easier to obtain for popular events since there are typically more General Admission tickets available.
In addition, General Admission tickets allow for flexibility and the ability to move around and experience the event in different ways.
General Admission for Event Organizers
General Admission is one of the most common ticket types. Organizers will offer General Admission seating if reserving a seat is unnecessary – for example, if there is standing room only – or if their target audience is looking for an affordable ticket type.
Many event organizers choose to bundle General Admission tickets with food and drinks to earn more money per ticket. Additionally, General Admission tickets tend to attract more attendees who will bring along their families or friends.
For a live concert or a big game, many fans prefer to stand or dance while watching their favorite artist perform, so general admission tickets or unreserved tickets can be used for seating or standing, depending on the time of arrival.
With this type of ticket, there are no special prices or assigned places, so the first people who show up will generally get the best spots. Event managers use this type for both large and small events, as it's generally more budget-friendly than reserved seating.
General Admission tickets work especially well for last-minute purchasers and are a great way to make sure every ticket is sold, thus avoiding dreaded orphan seats.
Benefits of General Admission:
Attendees can stand or sit wherever they'd like.
Attendees move about the event space.
Check-in is faster.
No need for a seating chart.
Easier to sell last-minute tickets.
No need to worry about orphan seats.
Challenges:
Attendees must arrive early to find a good spot.
There is a greater chance of chaotic seating.
Attendees may be more aggressive in selecting their spots.
Attendees may not buy merch or refreshments for fear of losing their "good spot".
Might not work best for some audience types, such as the elderly or families with young children.
Reserved Seating: A Premium Event Experience
What Does "Reserved Seating" Mean?
Reserved seating is a type of ticket that allows you to choose and reserve a specific seat at an event ahead of time. With a reserved seating ticket, you know exactly where you will be sitting and can plan your arrival accordingly.
This can be especially convenient if you have special accessibility needs, are attending with young children, or just want to ensure that you have a good view of the stage or performance area.
With reserved tickets, event organizers allow patrons to choose their seats and venue sections. This way, patrons don't have to rush, as their seats will be available to them whenever they arrive—even late, in some cases.
If you are hosting a large event like a music concert or a game, offer reserved seating to prevent long queues or impatient crowds outside the venue.
Some ticketing apps include built-in features like reserved seating that allow attendees to pick their seats according to their preference or the current social distancing policy.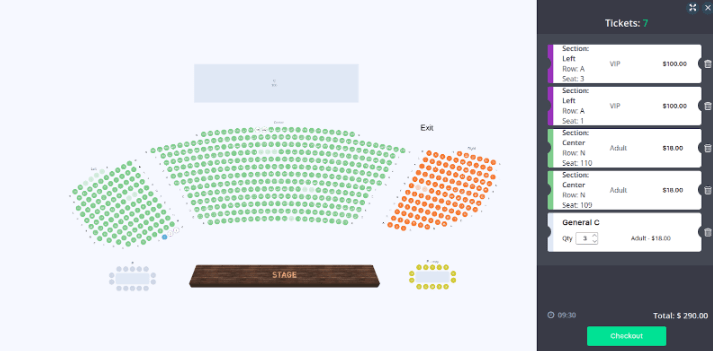 The screenshot displays the process of reserving seats for an event using Softjourn's Venue Mapping Tool (VMT).
Benefits of Reserved Seating:
Guests can pick their seats before the event.
Early sales are encouraged.
Prices will differ depending on the seat location.
Attendees with disabilities, children, or the elderly will feel confident knowing they have a spot that'll work well for them.
Families and friends can be sure they'll sit together.
There is less confusion during seat-finding.
Patrons feel more secure to leave their seats to buy merch and refreshments.
Challenges:
More expensive prices.
The best seats sell out first.
Higher likelihood of orphan seats.
Some groups may have to sit apart if there are not enough seats sold together.
Why Offer Various Ticket Types?
Using multiple ticketing types comes with several advantages, since customers can find exactly what they are looking for and discover deals that work best for them.
While most people will usually opt for General Admission, if they see are "sold-out", they may still consider buying more expensive Reserved Seating tickets.
The fear of missing out is a powerful tool that motivates potential customers to shop, especially if the offer is adjusted to their specific needs.
For example, by offering family packages that bundle tickets, you will likely encourage attendees to purchase more expensive tickets so they can sit together.
Additionally, event organizers may consider adding other revenue-increasing options, such as early bird tickets and discount codes, but most often, people will still go for the simplest option.
Ultimately, patrons appreciate the gift of choice, and by allowing buyers to select between General Admission or Reserved Seating tickets, you give them the option to decide what works best for their unique situation, without being overwhelming by too many choices.
Use a Venue Mapping Tool (VMT)
Smart event organizers know how valuable a functional seating plan is and how it directly affects venue capacity and the overall number of tickets sold.
If you'd like to leverage a venue mapping tool to ensure every visitor can find the most comfortable seat, we recommend partnering with experts who can help you take advantage of the full potential of your venue.
Softjourn's VMT solution allows venue managers and event organizers visualize their venue and better plan for events. The benefits of the VMT tool are twofold: it provides more comfort to audiences and it helps event managers define venue sections (including accessibility and companion seats), generate accurate price models, and reduce orphan seats.
Conclusion
Both General Admission and Reserved Seating are instrumental for event managers, seeing as they're the most basic types of tickets audiences recognize.
With more technological solutions than ever, venue organizers have the opportunity to make live events more comfortable and convenient while ensuring that attendees feel safe and have fun on the day of the event.
If you are interested in using our Venue Mapping Tool to drive more people to your events, we're happy to discuss how it'll work for your unique venue and let you demo the latest in venue mapping technology.
FAQ
Is general admission standing?
Yes, "general admission" (often abbreviated as "GA") typically refers to a type of ticket that does not have a specific seat associated with it. Instead, attendees with general admission tickets are usually allowed to stand or sit anywhere within a designated area, often on a first-come, first-served basis.
In the context of concerts or live events, a general admission ticket often means that attendees will be standing, especially if the event is at a venue where the main floor area is flat and without seating (like at many concert halls or nightclubs). This allows for a more dynamic and often more intimate experience between the performers and the audience, but it can also mean that visibility might be limited if you're behind taller people or far from the stage.
It's always a good idea to check the specifics of the event or venue when purchasing a GA ticket to understand the setup and any potential limitations.