Touchless scanning is gaining traction in a multitude of places, from workplaces and retail, to arenas and venues. This technology offers a lot of promise for the return of live events, creating a VIP experience that can entice patrons back to venues, stadiums, and theaters.
From using mobile devices to even just your palm to validate entry, touchless scanning offers convenience and safety for both attendees and venues. But what about existing access control technology? Now that contactless ticketing will become the norm, how difficult is it to implement touchless scanning with your current access control mobile application?
Here we'll go over everything that's involved in touchless scanning, plus how to incorporate it into your existing access control process and the additional areas it may impact.
What is Touchless Scanning?
Touchless scanning, touchless entry, or contactless entry all refer to entering a building without touching anything, such as a door handle.
Touchless scanning systems remove the need to touch surfaces by hand, instead providing ticket validation for an event with a hardware reader that can trigger a door or turnstile for entry. The hardware reader is triggered by a device such as a smartphone.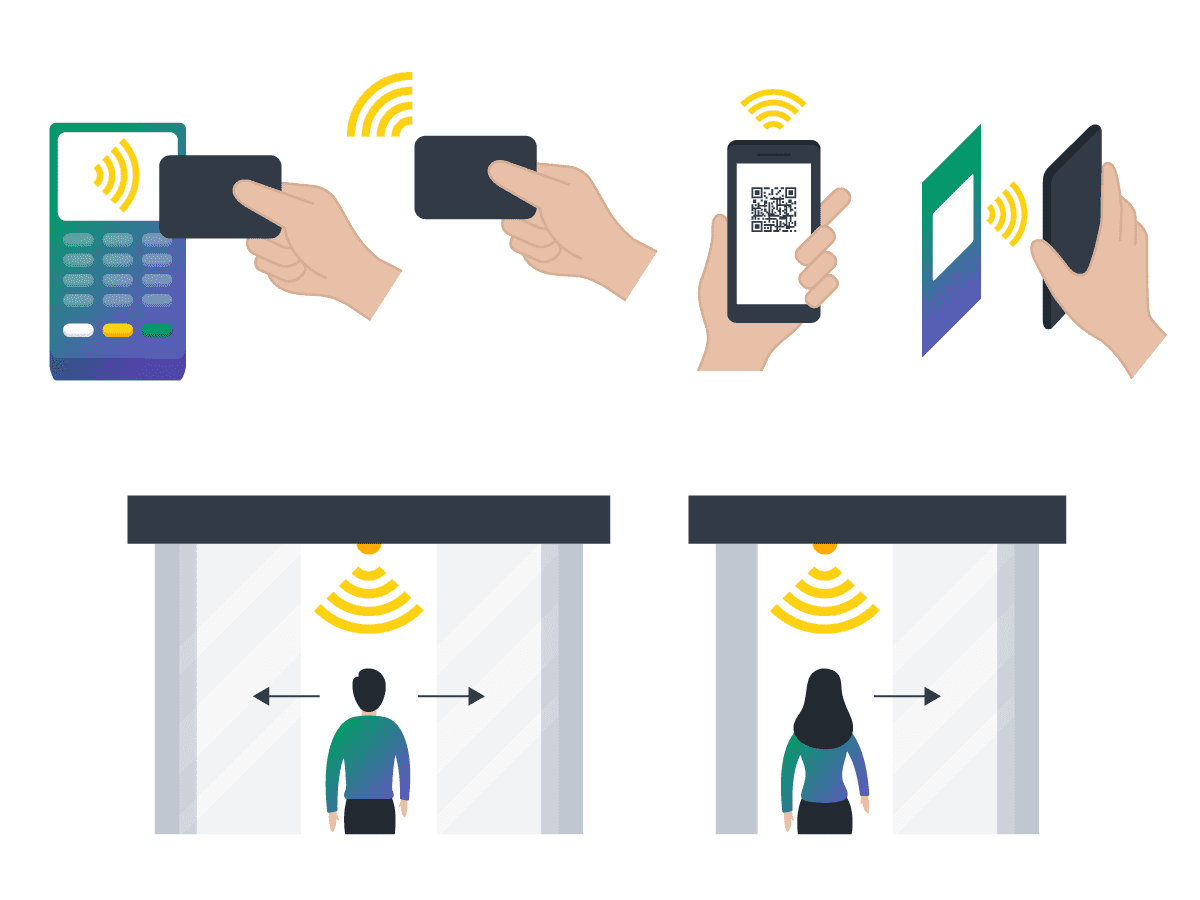 Touchless scanning removes the need to touch surfaces, instead using automatic doors or readers triggered by a device like a smartphone or wearable.
How Does Touchless Entry Work?
Touchless scanning requires a hardware reader that can communicate with another device that verifies a user, whether that device be a smartphone, a wearable such as a smart watch, or even a paper ticket that has a barcode or QR code.
Hardware readers can use wireless technologies like NFC, Bluetooth, WiFi, or beacons to communicate with the device. The device holds the user's verification, in the form of a ticket or other ID, in a digital wallet. Hardware readers can come as standalone pedestals, wall-mounted readers, or turnstiles, for just a few examples.
Hardware readers can come as standalone pedestals, wall-mounted readers, or turnstiles, for just a few examples.
Touchless scanning puts the onus of scanning on the user, often referred to as self-scanning. A user approaches the hardware reader and verifies their ticket or card, depending on what technology the reader uses. This can involve placing the barcode or QR code under a laser scanner, or holding their smartphone device near an NFC reader. Upon validation, they gain entry to their event.
Touchless entry is already used in many industries, and has seen an uptick in adoption during the pandemic. One example in the workplace is offered by Openpath, which upgraded 10,000 legacy doorwaysthat required fobs or badges for entry to touchless in 2020.
Their solution originally required a user to scan their device and then authenticate by pressing their hand on the reader. Since the onset of the pandemic, they've implemented contactless biometrics in their hardware to allow users to wave their hands over the reader instead.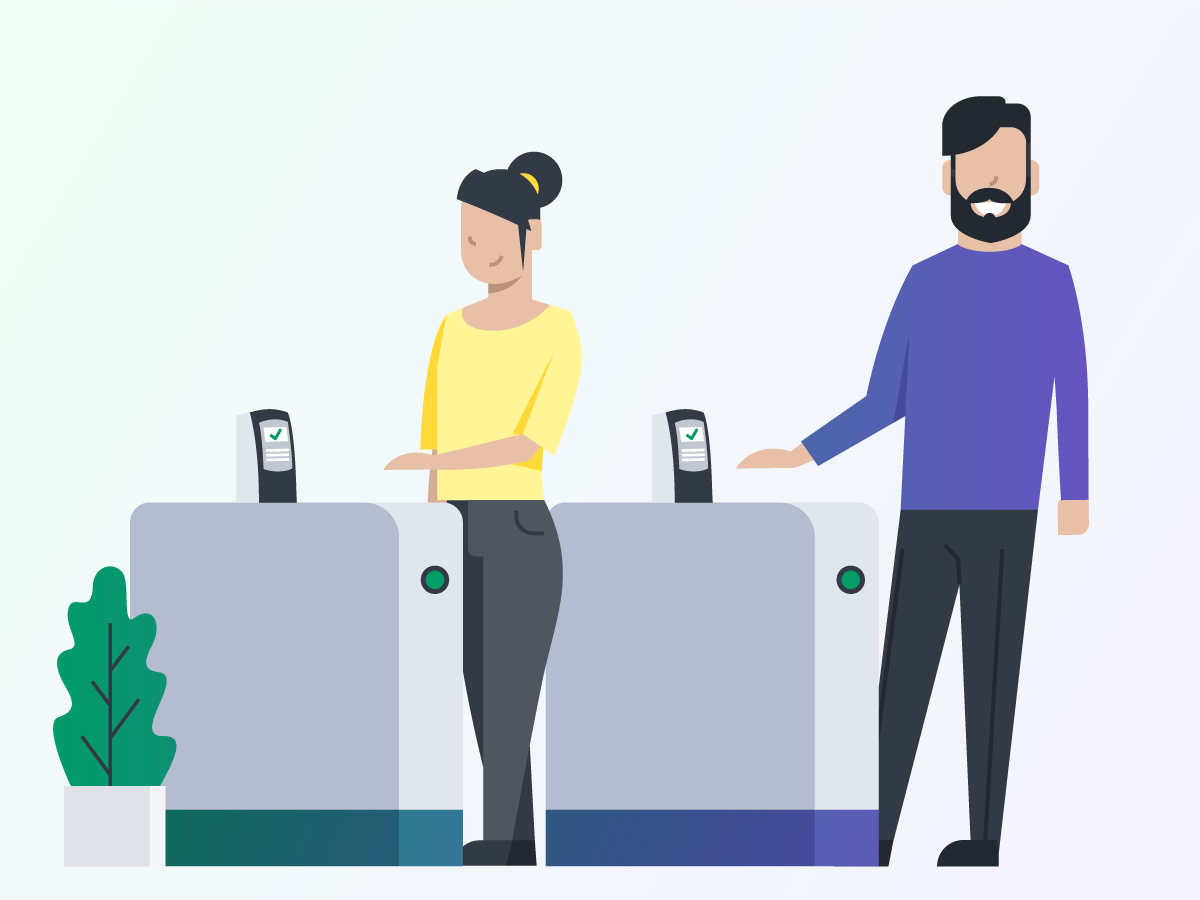 Biometrics can also be implemented in touchless scanning.
Amazon and Apple have also implemented touchless scanning; the former in retail, the latter in education.
Amazon's 'Amazon One' is a palm-reading biometric scanner that enables consumers to pay for purchases using just a hand swipe. Implemented in Amazon's own Go stores in Seattle 2020, the reader identifies consumers using a combination of surface-area details like lines and ridges, alongside vein patterns to create a "palm signature."
Apple Wallet enables students at participating campuses to hold a digital copy of their student ID in their mobile phone. They can then use their mobile phone to pay for on-campus purchases, such as meals or text books, and now can also gain access to their college dorms. All they have to do is hold their phone to the doorway reader and, if they have appropriate permission to enter that location, access is granted.
Apple Wallet is an excellent example of how digital wallets can play a larger role for events in the future. Beyond simply holding a ticket and allowing patrons to participate in touchless scanning, venues can:
Offer contactless ordering during the ticket purchase process,
Support contactless payments within the venue,
Create augmented reality experiences during the event,
Provide games to encourage interaction and engagement,
And much more.
Half of the world's population is expected to use digital wallets by 2024, according to a Juniper Research study, increasing from 2.3 billion to nearly 4 billion. This will push transaction values up by more than 80% to $9 trillion per annum.
Benefits of Touchless Scanning
Even as the pandemic begins to subside, there are still safety measures that ticketing vendors need to help their event organizer and venue clientele handle. Touchless scanning fits well into the access control flow, and is likely to remain around even after the pandemic because of the benefits it offers.
Safety: From discussions held at last year's AXS and Sports Business Journal's conference, safety remained at the top of patrons' concerns in regard to live, in-person events. A survey from the conference reported that nearly 63% of respondents were more concerned about other attendees' mask wearing than anything else. Over 30% of respondents to another survey from the conference felt that social distancing might become a permanent part of live entertainment events.
Whether promoting health and safety or creating an elevated event after the pandemic, touchless scanning reduces the need for patrons to approach ticket scanners or one another.
This can reduce the spread of germs and the risk of transmission in what would normally be crowded areas, such as main entry points for stadiums or theaters. Contactless entry also reduces the number of areas that are high-touch, such as door handles, since they are automated instead.
Throughout the pandemic, contactless technologies have become widely adopted and praised for their ability to support social distancing and contribute to overall public safety. As vaccines become available and patron confidence returns, ticketing platforms can aid their event organizer and venue clientele to offer the health and safety safeguards that patrons want.
Convenience: Touchless scanning means doors are touched less, which translates to needing to be cleaned less often.
Patrons are also empowered to handle their own ticket scanning, much like using self-checkout at a grocery store. In the most recent Omnichannel Grocery Report from PYMNTS, more than a third of shoppers (65 million shoppers total worldwide) were willing to switch to a merchant that offers touchless payment technology such as QR codes, digital wallets, or cards on file. Over 40% of respondents who had already tried the technology would commit to such a change.
Grocery shopping is a ubiquitous task all over the globe; as the ease of contactless technology continues to become the norm in those spaces, it's not difficult to extrapolate that touchless services would become expected elsewhere.
While self-service ticket scanning can seem like a minor convenience, patrons will (perhaps unconsciously) come to enjoy the quickness and ease of being able to power through their own entry. This also has the added benefit of speeding queues through doors and getting patrons to their seats faster, overall creating a better patron experience.
This can also become a benefit for venues, too. Fewer staff members are needed to monitor patron entry. Those staff can be reallocated to other areas, such as delivery of contactless orders.
For another, venues can net efficiency gains when it comes to queue processing. While there might be a learning curve for patrons depending on the event type (e.g., sports venues that hold games weekly have an advantage over concertgoers who attend more sporadically), this can also remove any ticket scanning blocks caused by scan position staff members experiencing issues with ticket scanning.
Adding Touchless Scanning to Access Control Workflow
Before the pandemic, patrons would purchase a ticket either online through a primary ticketing vendor website or secondary ticketing vendor website. This ticket would either be available at will call, printed at home, or loaded onto a mobile device app.
They'd then arrive at the venue on the day of the event and queue. Staff members with hand scanners would process patrons one by one; this often involved patrons digging into pockets or purses to find their ticket, or pull it up on their phone.
Then those tickets would be scanned, and patrons would be allowed into the venue.

Touchless scanning replaces traditional handheld barcode scanner, and can seamlessly fit into an existing access control flow.
Even after the pandemic, touchless scanning is expected to become the norm for many venues. Ticketing platforms that wish to offer contactless entry will need to either partner with existing hardware manufacturers on the market or develop their own.
Once hardware is chosen, appropriate changes to their existing access control application can be made, such as adding a continuous scanning mode or an interval scanning mode.
Venues and event organizers will also want to think about how to educate their audiences about this new ticket validation method. While there are many instances of self-service in different industries, there will likely be a learning curve at the first few events before audiences become familiarized with this change.
Softjourn has experience not just in developing access control applications in several mobile app development platforms (such as Xamarin and React Native), but also in making necessary changes to enable touchless scanning. Interested in understanding how to modify your specific access control app? Contact us to set up a consultation.
Conclusion
The pandemic has been hard on the ticketing industry, but this is also an opportunity to review the in-venue experience holistically. Events will return, and technology will play a large part in bringing them back to center stage.
Touchless scanning is poised to become the new norm at events. Hardware readers are on the market, and adding touchless scanning to your existing access control workflow doesn't have to be a headache.