Corporate expense and travel (E&T) is the second-largest controllable expense for companies, following only behind the actual cost of labor. While corporate travel had decreased somewhat during the pandemic, the Global Business Travel Association expects business travel to fully recover from the impacts of COVID-19 by 2024. This means that expense management companies are headed into uncharted territories when it comes to post-pandemic effects, new tech advancements, and rapid industry growth.
Source: Statista
Softjourn spoke with top industry leaders about the future of expense management – from managing new types of expenses and different payment methods to dealing with a global workforce shifting towards hybrid and remote work. They shared with us their thoughts about how the industry has changed since the pandemic, the technology and industry trends that will drive the industry forward, and how the landscape of expense management will change in 2023 and beyond.
Softjourn compiled predictions, anecdotes, and statistics from top expense management companies
COVID-19 Impacts on the Expense Management Industry
In 2020, we witnessed business travel spend plummet by an unprecedented 50%. This was an unprecedented decline that we had not seen in the past decade. This year, lockdown orders have mostly been lifted which has quickly grown business travel spending. Currently, the SaaS-based expense management market size is valued at nearly $4.1B and is projected to grow to $12.7B by 2031. However, just because the market has returned to pre-pandemic levels does not mean that COVID-19 hasn't left a remarkable impact on the industry.
With a sharp rise in business travel and expenses, corporate executives and HR teams are experiencing problems that had gone forgotten during the pandemic. In a recent MasterCard report, 43% of senior leaders surveyed said that E&T management is emerging as one of their biggest challenges in post-COVID times.
Softjourn spoke with Itamar Jobani, CEO of PayEm – a global spend management platform with a holistic and multinational approach – about the changes he has seen in the industry since COVID-19:
As workers have become more remote or hybrid, finance teams have had to shift away from paper and manual work to cloud-based systems that allow for budget requests, digital payments, and in general, finding tools that increase their efficiency. It's the reason why corporate card companies have seen massive growth and investment.
Since COVID-19, many businesses have used specialized software to help them keep all their corporate expenses organized since many of their employees no longer work in the same office, or even in the same country.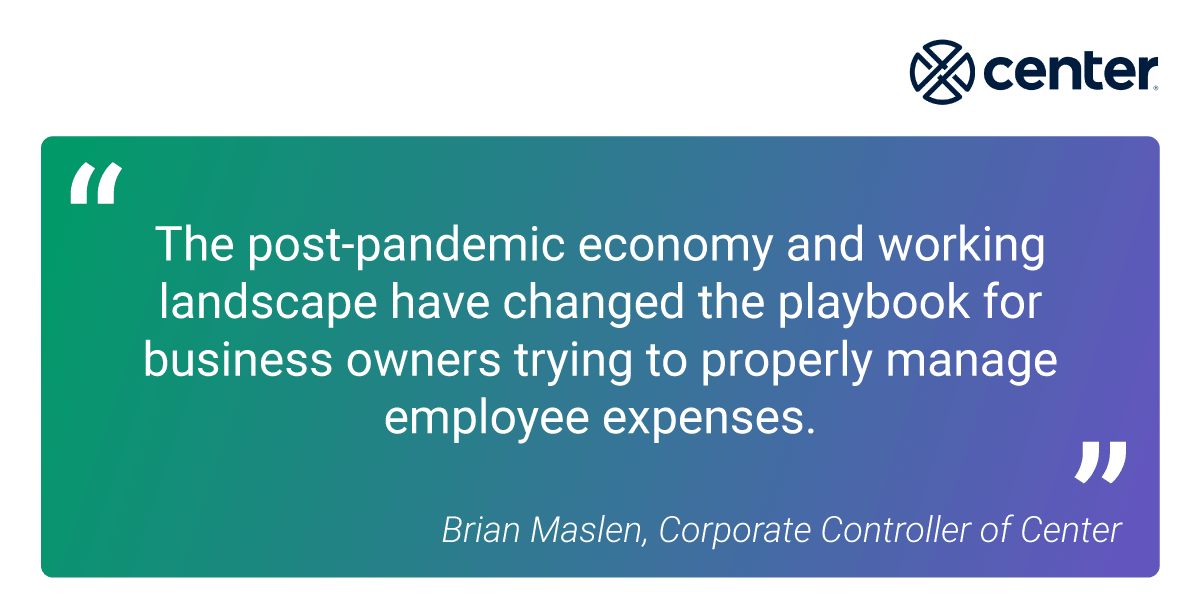 Brian Maslen, the Corporate Controller of Center, shared that the "post-pandemic economy and working landscape have changed the playbook for business owners trying to properly manage employee expenses."
Malsen posits that with inflation, economic turbulence, the consumerization of employee spending, and hybrid work, businesses will be forced to reckon with fiscal discipline as they look to identify opportunities for saving. And where should businesses look for savings? He recommends ditching antiquated business processes and legacy expense management solutions that lack configuarability, extensibility, and burden users and finance teams to reconcile expenses manually.
Other challenges that many businesses are facing are dealing with complex operating systems with no flexibility and scalability, a lack of infrastructure for accessing necessary data, and the need for expense management platforms to be integrated across adjacent systems.
These issues are the main factors currently driving companies to heavily invest in innovative SaaS E&T solutions and are clearly reflected in corporate spending on E&T technology. The International Data Corporation expects the worldwide E&T management software market to reach $2.7 billion by the end of the year, and continue growing by 8.7% annually in the years to come.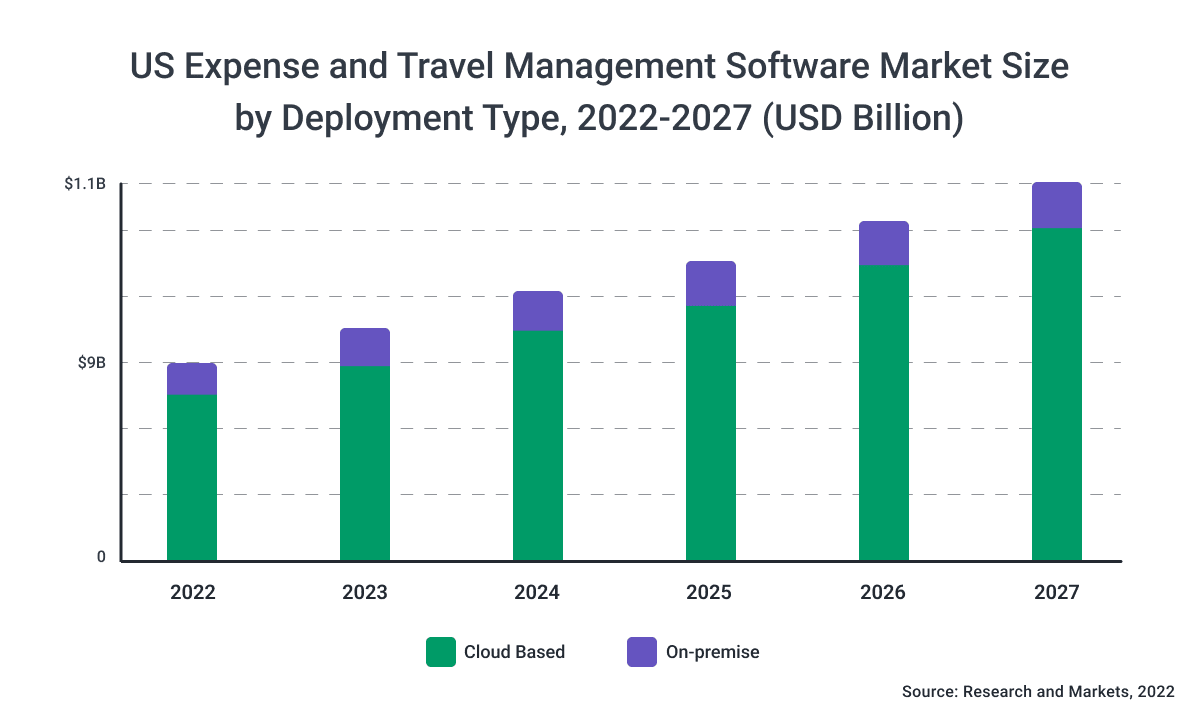 Source: Research and Markets
Solving Modern Problems with Modern Technology
As the SaaS-based expense management market grows, so do user expectations. This means that to stay competitive, expense management platforms must provide precise solutions that use advanced technologies to reduce human errors, ease integrations with accounting platforms and API-enabled application services, and automate parts of expense reporting and spend workflows.
Going Paperless
Between 27- 53% of companies, varying mainly due to size, were still using paper and other forms of manual entry as their main form of expense management in 2019. However, with the rise of hybrid and international workers, we predict that these numbers will be greatly reduced in the next few years.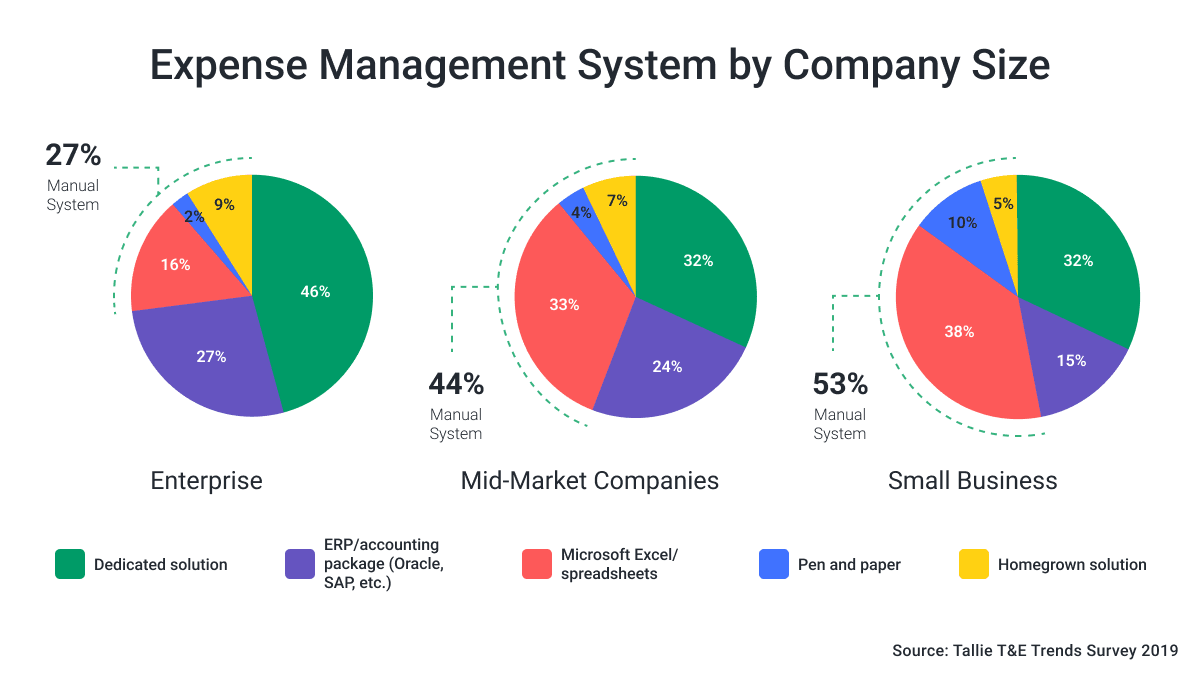 Source: Tallie Travel and Expense Management Benchmark Report, 2019
This is because more companies are depending on dedicated E&T Web-Based Platforms for submitting, approving, and tracking requests, as well as integrated expense and travel management platforms with Enterprise Resource Planning (ERP) and other types of accounting systems.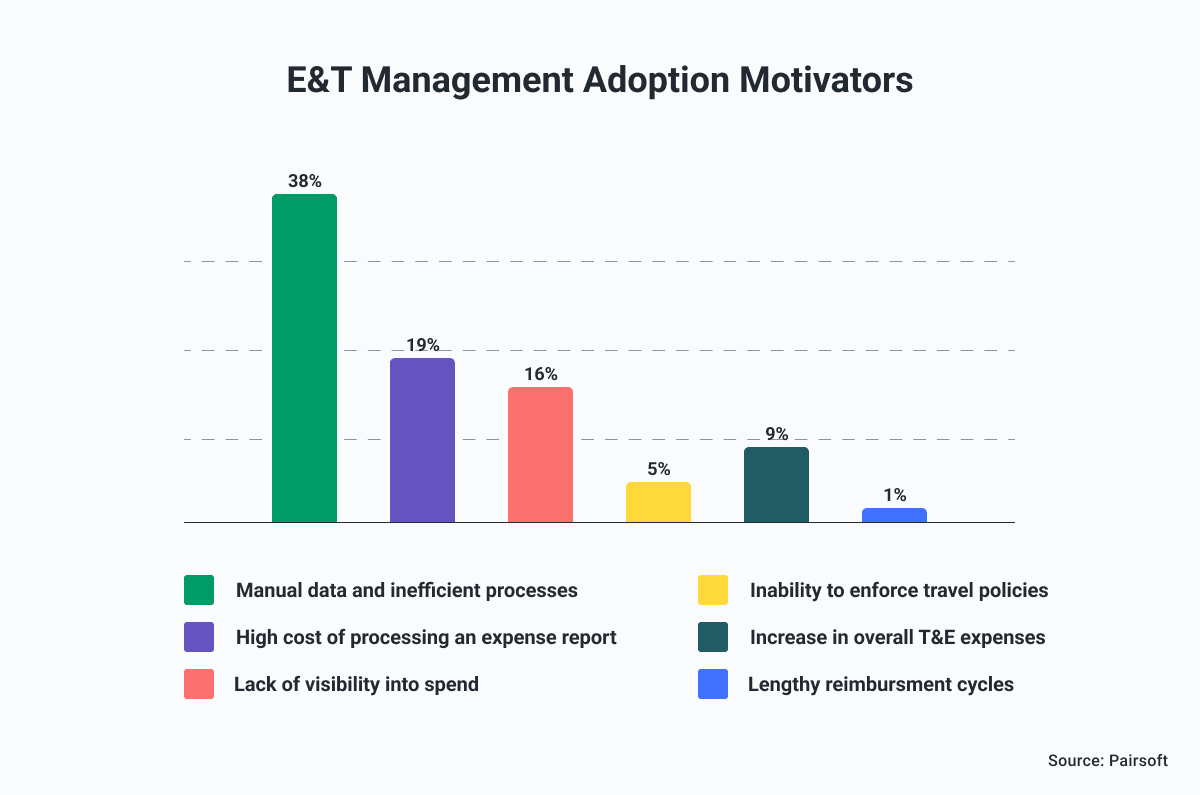 Source: Pairsoft
ERPs have been found to greatly benefit both HR and finance departments and employees. For workers, it's easier to follow the progress of expense reports from approval to payment, while HR and finance departments have a more consolidated view of expenses. Plus, ERPs tend to bring down an organization's overall E&T spend.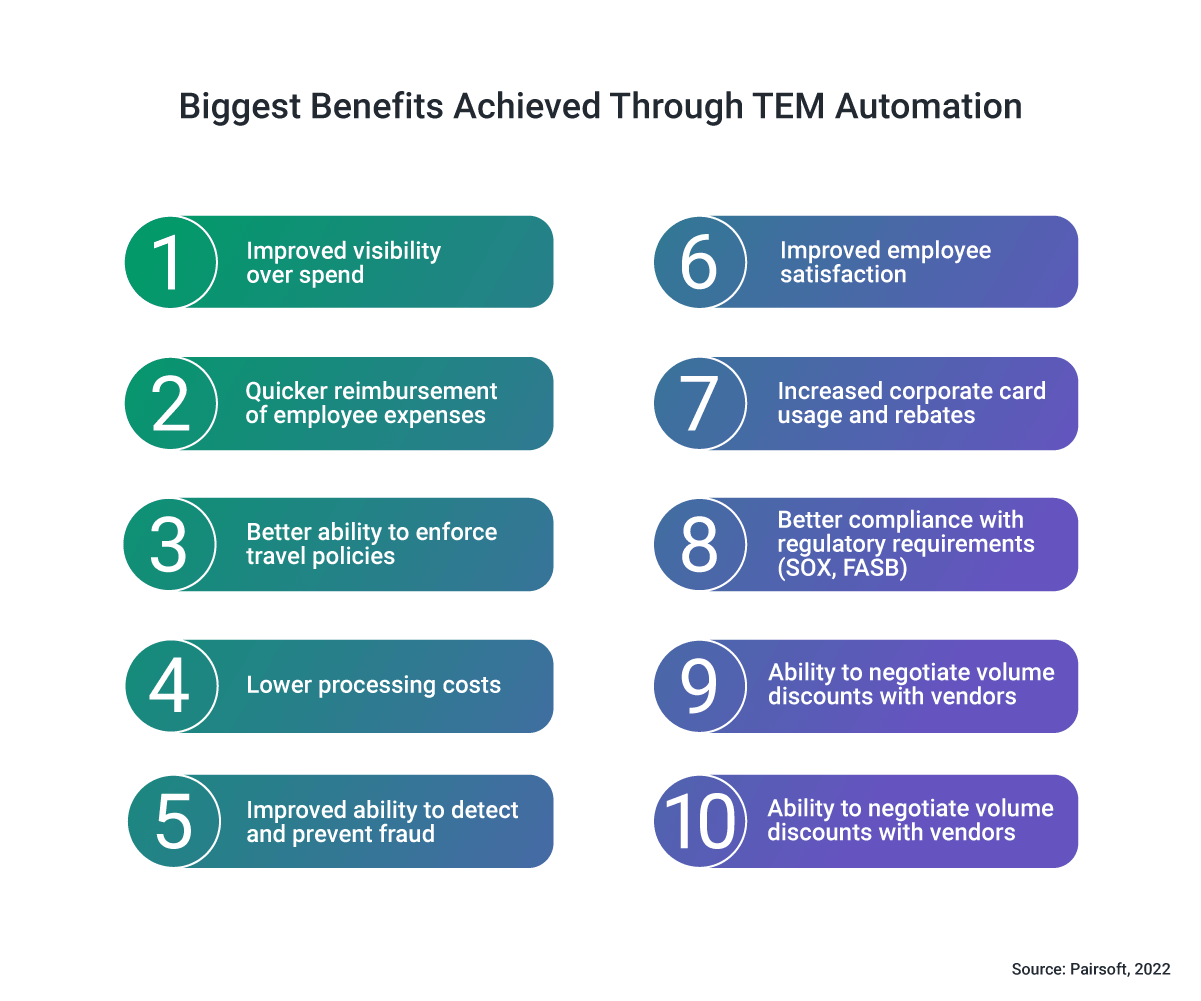 Source: Pairsoft
Software Integrations
With more strategic integrations, expense management processes will become increasingly frictionless for many aspects of businesses. In the past few years, large companies have created strategic partnerships to offer better services to their customers.
For example, Zoho Expense – a part of a large-scale SaaS company -- partnered with Uber, allowing Zoho could automatically import Uber's Business trip receipts into their Expense reporting software. Direct integration enabled Uber users to select Zoho Expense from the Uber app and store their receipts automatically in Zoho's expense app for auto-reimbursement.
Similarly, in 2018 SAP SE joined forces with Qualtrics. Both companies introduced Concur Experience Optimizer which enabled them to improve their E&T management through new and improved dashboards, diagnostic feedback templates, and enterprise-grade XM platform.
One of Softjourn's own clients, a leading expense management platform, wanted to keep up with the competition by integrating with popular payment services. They partnered with Softjourn to successfully integrate US Bank, Finicity, and Wise, as well as some additional features from Wise, like different credit card types and more currencies. Working with an experienced partner helped them avoid common pitfalls during tricky integrations.
Automation
Alan Tyson, CEO of DATABASICS – an expense management company with decades of experience in next-gen technology – said that "the old dream is the "touchless" expense report — a report that is produced for the employee but not by the employee." This 'touchless' expense report would be "totally automated, accurate, and provide all the detail anyone could ask for," Tyson said.
Nowadays, the increased use of automation has become the new standard in expense management platforms. Since manual processes cannot scale, when a company grows too big, it is forced to invest in either new people to take care of expense reporting or a highly-automated platform. E&T systems that use automation features can help relieve companies of tedious manual processes.
Omar Qari, Head of Corporate Strategy and Business Development at Emburse, shared with Softjourn, "We expect that the smart expense management players will differentiate themselves with increased automation as well as AI and machine learning capabilities, which will give them the competitive edge in today's turbulent market."
With their highly-automated platform, Emburse has reported that 78% of their customerswho've implemented E&T automation solutions increased employee productivity in less than two quarters. In a similar study, Emburse also found that 98% of their customers agreed that automating tedious manual tasks made it easier to supervise remote workers.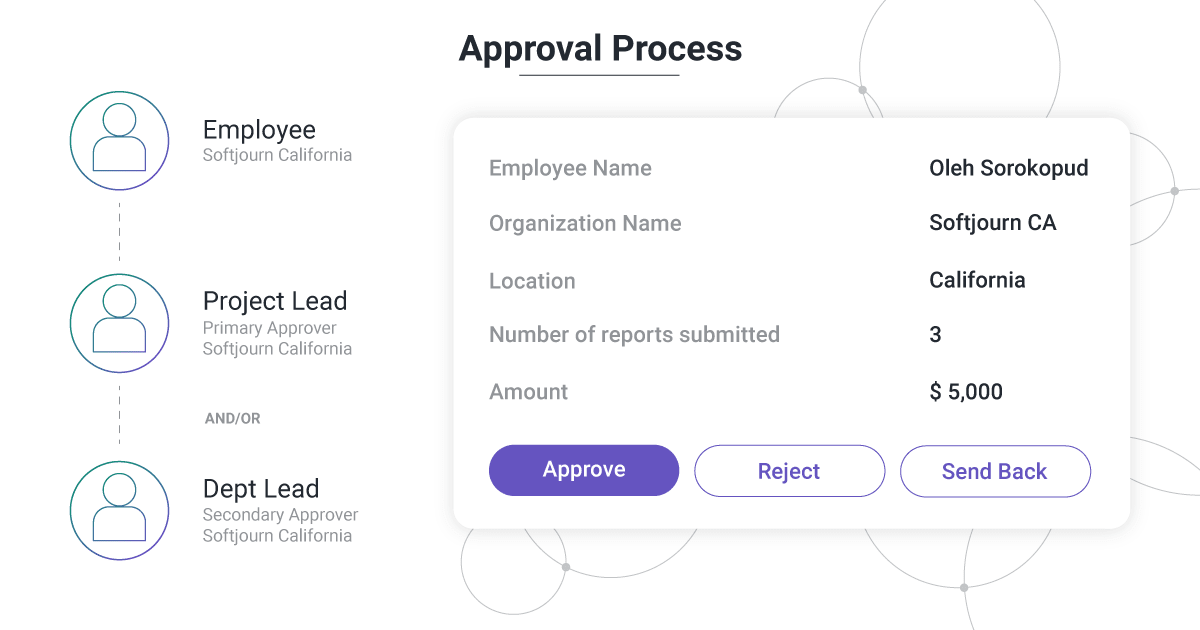 An automated approval process helps users quickly approve employee expenses.
Technology to Reduce Errors & Violations
The rise of remote work and the recent increase in business travel have influenced the creation of completely new expense categories and employee behaviors.
A SAP Concur study of spending patterns showed a staggering 292% increase in violations between 2019 and after the start of the pandemic in 2020, as well as a 76% spike in personal spending violations in April of 2020. Recently, it has been reported that about half of all companies - from SMEs to enterprise-level, were impacted by employees submitting reports without receipts.
With the increase in risky transactions and violations, it has become clear that we must apply a different approach to expense reporting that is considerably more adapted to digital. The implementation of an E&T solution can help companies save many resources on fixing mistakes.
The adoption and implementation of automation can yield significant cost savings over the long term, increase the speed and accuracy of expense reporting processes, and greatly improve customer experiences, yet manual processes are still commonplace in the industry.
For companies managing travel and business expenses manually, processing just one expense report for a single employee costs $58 on average. Not to mention that each mistake in reporting costs a company about $50 and 20 minutes of time to correct. You can imagine that for expense management companies with thousands of clients - each with hundreds of employees - labor and mistake costs add up quickly.
An ML/AI-based automation solution can be used in expense management to help systems flag anomalies that indicate human error or fraud. Once the system studies enough data containing fraudulent behavior, it is able to more clearly identify fraud and will drive report processing expenses down.
Anticipated Technology Trends
As expense management platforms aim to offer better services, we asked experts to share with us the technologies they predict will become increasingly critical for industry leaders to adopt in the next few years to stay competitive and meet user demand.
Alan Tyson, the CEO of DATABASICS, shared with us that even with newly increased travel and expense spending, changes that affected the industry due to the pandemic, like reduced internal travel and hybrid work environments, now have a momentum of their own. "Going forward," he said, "expense reporting will be less about travel and more about home office provisioning and security. HR, Procurement, and IT will emerge as greater stakeholders in the employee expense management process."
Tyson believes expense management platforms will grow to encompass more features. He is hopeful that AI will "finally be able to bring together all the disparate pieces of the expense report puzzle—from Salesforce, Outlook, project management, vendors, etc.—and determine the full and proper business context of every employee spend transaction."
Omar Qari, Head of Corporate Strategy and Business Development at Emburse, similarly notes that the future of expense management relies heavily on specialized AI:
With the recent news that OpenAI's GPT-3 can be customized via an API, we expect the spend industry to start developing specialized AI models that transform processes like expense and spend management. For example, one model might provide the full rationale of any transaction based on emails, calendar, sales call notes, CRMs, etc so finance doesn't have to ask employees to justify expenses. Or an AI model might build better insights around the ROI of spend based on contextual evidence.
David Barrett, the CEO of Expensify, spoke to Softjourn about the connection he sees between expense platforms and the integration of communication features:
We've seen the value of blending travel and expense into one platform, and now it's time to step it up by adding communication features - like Slack, SMS, or WhatsApp - but optimized for financial conversations at work and between friends! In the end, we believe payments and chat are fundamentally the same thing; every payment is a structured chat to resolve some kind of debt tension between two people. There is a spectrum of functionality between freeform chat and expense management, and every form of payment is somewhere on that spectrum.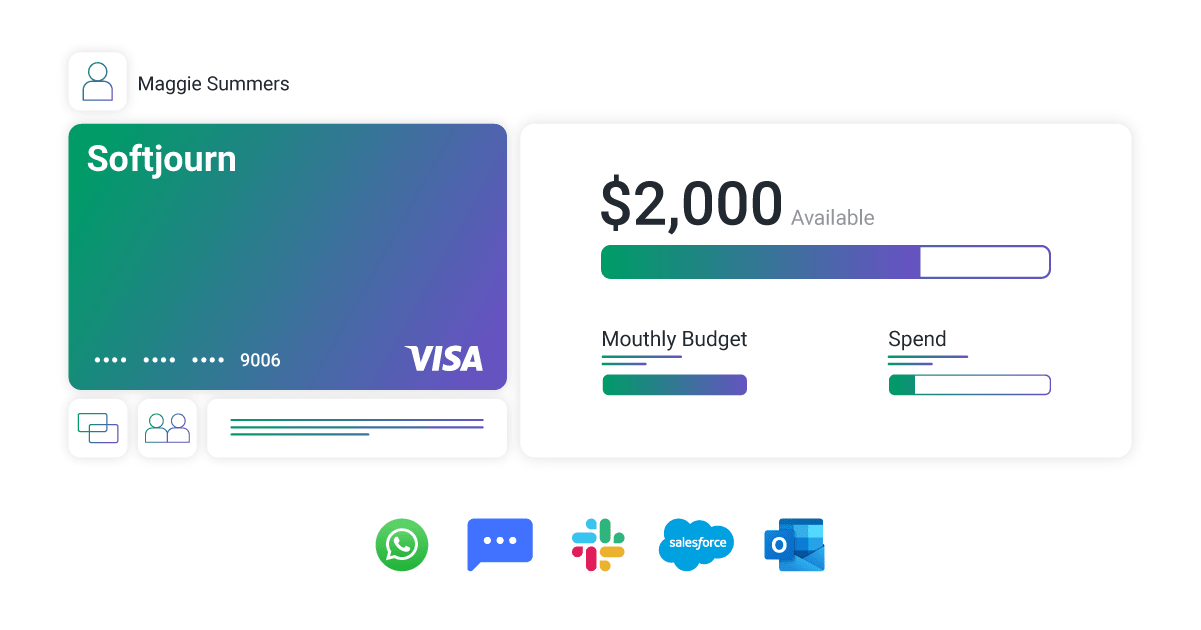 Leaders predict expense management platforms will soon combine chat and other app features.
The Future of Expense Management: 2023 and Beyond
As we reach new frontiers in the digital age of expense management, there are challenges that lurk on the horizon. Some of the biggest challenges our expense management clients and other industry leaders have mentioned to us include:
Updating antiquated tools and software
Dealing with a turbulent economy and inflation
Anticipating the effects of hybrid and remote work
Consummation of corporate buying
Managing the digitization of tax
Richard Ham is the CEO of Fine Tune, a company that partners with businesses across a variety of industries to manage complex indirect expenses. He told Softjourn that the two challenges he foresees in the industry are the "emergence of hostile supplier behaviors – including the ensuing vulnerabilities that leaned-out procurement departments face – as well as inflation."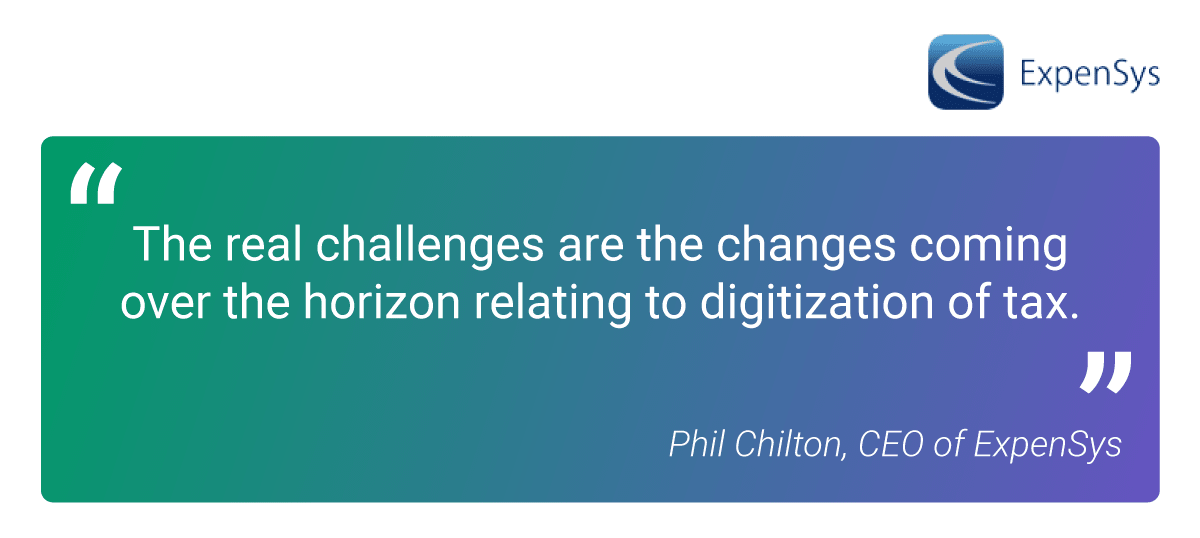 Phil Chilton, the CEO of the UK-based software provider ExpenSys, spoke to Softjourn about what he believes will be the biggest challenge in the expense management industry:
The real challenges are the changes coming over the horizon relating to digitization of tax. It will affect how wages taxes on expense claims are reported, and most particularly the automation of VAT recovery, the latter being about much more than capturing the VAT rates via OCR. It's about applying the rules and thresholds around VAT recovery in relation to certain expenses, which vary from jurisdiction to jurisdiction. Currently, most contemporary expense systems don't handle these effectively at all, let alone once full digitization is expected.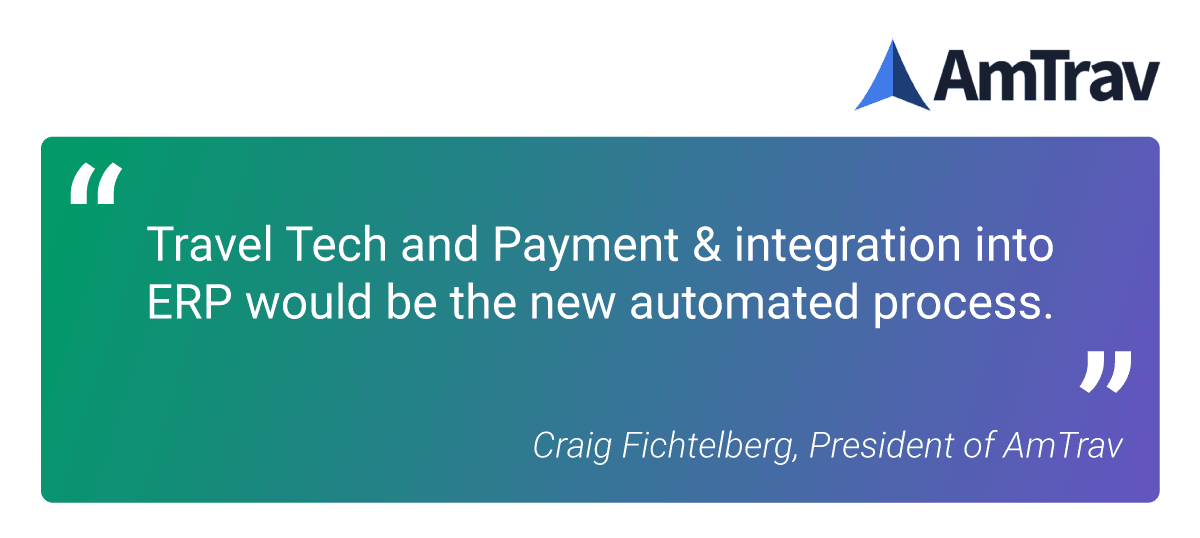 Craig Fichtelberg, the President and Co-founder of AmTrav – a travel expense platform that combines the ability to compare and book travel suppliers – predicts something else entirely.
He suggested that there may not even be a need for expense management companies in the future, as more robust payment platforms develop deep integrations with travel technology."In some scenarios, there would be no need for an expense management company to serve as the middleman in this equation," he said. Fichtelberg finds that likely, "travel tech and Payment and integration into ERP would be the new automated process."
Conclusion
Throughout the pandemic and beyond, expense management companies have had to recalibrate and redefine their offerings to respond to a number of new challenges. Industry leaders are working thoughtfully on future-proofing their platforms, by seeking the best technology solutions to meet customer demands and finding new opportunities for growth.
As an experienced partner to some of the top companies in the expense management industry, Softjourn knows the importance of making strategic decisions and creating disruptive technology to outcompete others in the industry. If you are interested in how Softjourn can help you reach new heights, we'd be happy to connect with you.